LE CLOS DE CAVEAU: PIONEER IN ORGANIC VITICULTURE IN SOUTHERN RHONE VALLEY
by Susan Manfull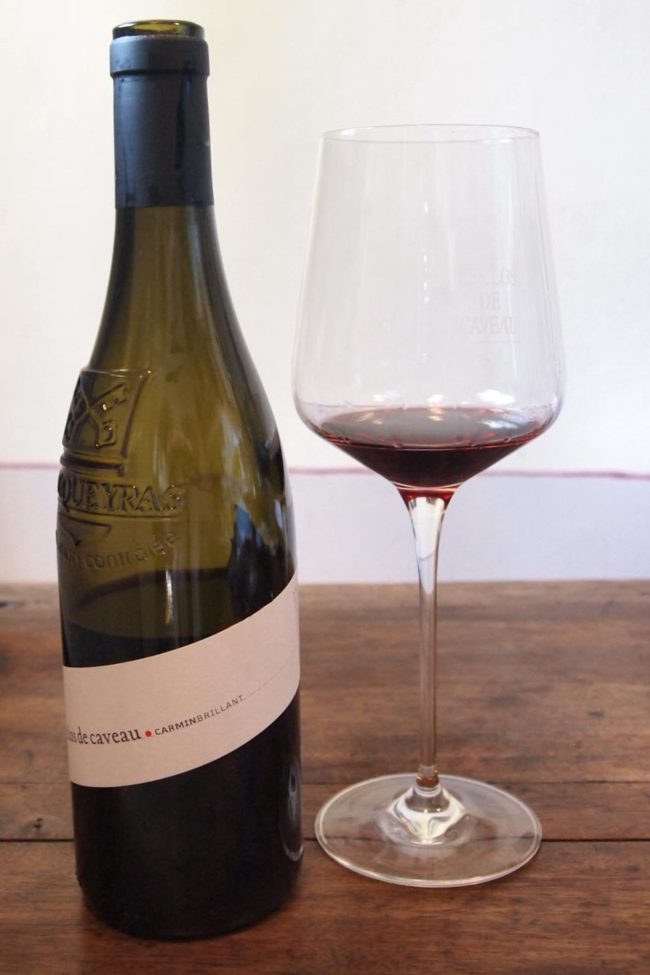 The magic is that the lovely wine in your glass comes from the ground, comes out of the dirt.
Henri Bungener, proprietor of Le Clos de Caveau
"Is there alcohol in that [wine]?" was a common question when Gérard Bungener, Henri's father, first adopted organic practices in his Vacqueyras vineyard. Now, twenty-five years later, it is hard to fathom such a question.
"It was quite a different time in the late '70s and early '80s when my father decided to go organic," Henri chuckled. "There were no organic vineyards in Vacqueyras or neighboring Gigondas in those days."
"People thought it was crazy and warned him that he would lose his crop to the insects," Henri said.
But Henri's father was personally committed to converting his vineyard to an organic one even though the practice was very controversial (probably fallout from the devastating phylloxera epidemic, thought by some to have started in nearby Lirac).
Gérard had suffered for over two years from a severe form of arthritis in which his neck was paralyzed (requiring him to wear a cervical collar) and walking was very difficult. For over two years he consulted one medical doctor after another, to no avail. Finally, he sought treatment from a naturopath in Lausanne, Switzerland.
Henri, in his early 20s at the time, recalls that the usual steak au poivre and cream sauces were abruptly pulled from the menu at home and replaced with steamed vegetables, rice and cereals, and flax oil, on orders from the naturopath who radically changed his father's diet. Complaints from the family soon subsided, though, because—voilà—the arthritis remitted.
Steven Spurrier, noted British wine expert and Paris-based wine merchant, most known for organizing the Paris Wine Tasting of 1976—the basis of the book, Judgment of Paris by George M. Taber and the movie, Bottle Shock—owned Le Clos de Caveau until 1976 when he sold it to Gérard Bungener.
Gérard, who retired from the renowned perfume manufacturer, Houbigant, and bought the vineyard from Steven Spurrier as something to keep him busy in his postwork years, was about to embark on a much bigger project. Convinced of the virtues of organic farming and natural wine making because of his own remarkable recovery through a more "natural" diet, he began to make the shift to organic practices as soon as he could.
"I found it quite amazing that my father was doing this," Henri told me recently, "but I don't think I saw all the implications at the time," referring to the risks and benefits of this venture (about which he is now intimately familiar).
"What my father was doing was 'hush-hush' and he told us not to tell the clients," Henri said.
It would not be until 1985 that "organic certification" would be introduced in France. In 1989, Le Clos de Caveau was certified organic and, since organic viticulture was no longer "hush-hush," added the tiny green and white 'AB' logo on the labels of their wines
I, along with good friend and photographer Pamela O'Neill, had the distinct pleasure of visiting Le Clos de Caveau in June. There we met up with Henri and had a long chat as we walked around the vineyard and later sat around the table to a wonderfully delicious lunch I suspect his father would have thoroughly appreciated.
The property, located 20 kilometers (12 miles) east of Orange and 35 kilometers (22 miles) northwest of Avignon, lies at the base of the Dentelles de Montmirail. Driving through the pine forest along the narrow Chemin de Caveau, on the final leg of the trip, Le Clos de Caveau seems to quite suddenly appear. The lovely ochre-colored mas is surrounded by a patchwork of vineyards and forest with the occasional cypress dotting the landscape. There are some 12 hectares (30 acres) of vines that comprise the estate, many of which go up the hillside that reaches as high as 200 meters (650 feet) above sea level.
Le Clos de Caveau lies in the Vacqueyras appellation, adjacent to Gigondas. Vacqueyras was elevated from Côtes du Rhône-Villages to its own appellation status in 1990. The appellation guidelines are similar to those of Gigondas and Châteauneuf-du-Pape although Vacqueyras wines are typically more rustic. I have long been a fan of wines from Vacqueyras and Gigondas as the best of these wines can be indistinguishable from their more famous neighbor…with a much friendlier price tag.
Henri told us that "If they were to reopen the books, I'd likely be in Gigondas and other plots would be declassified from Gigondas to Côtes du Rhone." (The family also owns about 3 hectares/7.5 acres of vines in appellation Côtes du Rhone.)
It is an exceptional location for organic agriculture, Henri explained: the forest protects the vineyards and provides the biodiversity necessary for organic farming. For example, there may be more insects due to the adjacent woods, but there are also more birds, thus contributing to a sustainable environment (and "chubbier birds" during a year with more insects, Henri has observed). In addition, the Mistral, the famous dry wind from the north, plays an important role, acting like a "hair dryer" after the rain.
Henri took the reins of his father's estate in 1993. He knew the vineyards well as he and his family had spent many holidays on the property. Although he continued his career as a clinical psychologist in London, he found that he was spending more and more time at the estate and was increasingly drawn to it. In 2005, Henri and his family packed their belongings and moved to Provence.
Although it was his older brother who was groomed to take over the property, I can't imagine a better match for organic viticulture and natural winemaking than Henri. As we walked up the hill, alongside one of the Syrah vineyards, I saw a man who is passionate about producing "the best [wine] with what nature gives you" and is endowed with the ability to attend to detail and the patience to do it.
Henri said that, even as a child, he was attentive to detail, a skill that was later honed in his professional training. His PhD research entailed many hours of observing mothers and their infants. Keen observation of details of human beings is an integral part of being an effective psychologist, especially one who, like Henri, practices psychoanalysis.
Not surprisingly, keen observation of details is pretty important in the wine business. For example, early on, Henri observed that blendings of the same grape varietals—Grenache and Syrah—tasted very different, depending on which parcels of the vineyards they came from.
"Some got together and had a real party while others pouted," Henri explained.
In an effort to tease out what was happening—so as to know how best to blend the grapes—Henri worked with a geologist who mapped out the terrestrial strata of his property which he then used to determine which parcels of Grenache would marry best with which parcels of Syrah.
When it comes to deciding when to harvest the grapes, the same skills of observation and attention to detail are critical to ensure the grapes are picked at the "precise" time when sugar levels are optimal but, most importantly, just before the natural acidity drops. "Like a pear," Henri explains, "there is a window of opportunity to enjoy that fruit but, if you wait a day or two, it will be too sweet and mushy."
When I asked him to elaborate on any other ways that he himself contributes to the personality of his wine, he first credited his team with the success of his wines and then added that he encourages people to experiment and not to be afraid of making mistakes. Experimentation, for example, led to the unusually long maceration phase (in air-tight tanks) practiced at Le Clos de Caveau, something Henri feels "accentuates the roundness or 'chewiness'" of his red wines (due to the higher glycerol levels).
To be an organic farmer, it seems to me, requires the patience of a saint and the tenderness of a model parent. Henri embodies such patience and tenderness in relating to his grapes. I suspect he talks to them in the same slow and deliberate rhythm he spoke with us, including the long pauses that often precede his answers. His patience is probably exemplified in the vineyard in many ways but a few that stuck with me include Henri's practice of taking cuttings from the vines every eight to ten meters and diligently depositing those cuttings along the base of the plants for mulch and also by collecting the marc (pulp left after the juice has been pressed) and spreading it along the vines, carefully working it into the soil. Finding the right dung for fertilizer is also essential. Henri has found a source for "organic" goat and sheep dung that he is very happy with and feels it plays a key role in creating the dark rich juice he extracts from his grapes. Vineyards are dug up every eight years (on a rotating basis) to protect the nutrients inherent in the soil. Every fourth row is left unplowed so as to allow weeds to grow (increasing biodiversity). One day in August when I called Henri, he told me that they had been busy that morning sprinkling talcum powder on the grapes—"like little babies' bottoms"—because he noted that the vines had not thoroughly dried from an earlier rain.
Finally, in a nod to biodynamic philosophy, Henri attends to the planets when he moves wine from one tank to another. "For larger particles to settle at the bottom of the tank, the sky has to be clear," Henri explained, likening it to lunar tides and adding that he only engages in such biodynamic practices that he personally has observed work.
While many of these practices would fall into the category of "tedious" in the minds of some people, Henri credits these practices with enabling him to bring out the best in the grapes themselves. "I am like a midwife," he said, "giving birth to something that wants to come forth."
We got to taste the wines that "come from the dirt" in the tasting room and later at an exquisite lunch prepared by Henri and—spoiler alert—both Pam and I agreed that whatever Henri is doing, it is working.
Like most vineyards in Vacqueyras, red wines dominate (although all three colors are permitted under appellation guidelines). The maximum yield is 28 hl/ha (and often lower). In the predominately clay and limestone soil at Le Clos de Caveau comes one rosé and at least three red wines; in exceptional years, a fourth red wine is produced. Le Clos de Caveau produces up to 55,000 bottles of Vacqueyras and 10,000 bottles of Côtes du Rhône.
La Rosé du Clos AOP Vacqueyras (2013) is a pretty pink rosé with a fragrant nose, hints of garrigue, and good acidity at the finish. A delightful blend of Grenache (60%) and Syrah (40%), it is perfect for lunch on a hot afternoon so it fit the bill brilliantly the day we visited. (13.5% alcohol, 8.90€ on-site)
Les Bateliers AOP Côtes du Rhône (2012) is a blend of Grenache (70%) and Syrah (30%) that filled the mouth with dark fruit and finished nicely. My notes are a little sparse here, but not for lack of enjoyment. The name refers to "the men and children who pulled the animals that pulled the barges up the Rhône and along the canals before the advent of the locomotive," according to Henri, who added that one of the men who worked on the estate had, as a young boy, been a "batelier" and had shared with Henri some of his memories about those long hours. (13.5% alcohol, 7.90€ on-site)
Fruit Sauvage AOP Vacqueyras (2010) is a blend of Grenache (60%) and Syrah (40%) that explodes with "wild fruit" flavors of assorted dark berries and licorice with strong hints of garrigue and pepper. Gorgeous ruby color, aromatic nose of black berries, luscious mouthfeel, well-balanced, and pleasant finish. Made from wines 20 to 30 years old, wild yeast fermentation, one year of maturing in cement vats and barrels, and aging in bottles before release, this is a favorite of mine and apparently many others—it was "Wine of the Week" in Parade Magazine (May 21, 2014). (14.5% alcohol, 12.75€ on-site)
Carmin Brillant AOP Vacqueyras (2010) is a blend of Grenache (60%) and Syrah (40%). Made from vines 25 to 50 years old and an eight-month longer maturation period (in which half is aged in 225-liter barrels), this wine is a much more complex version of Fruit Savage. Its color is reflected in its name, translated as "brilliant crismson". Concentrated like a compote of black fruit, there are strong hints of licorice and spices. The tannins are more prominent creating a pleasantly textured mouth feel. The aging potential is twice that of the Fruit Sauvage at 10 to 12 years. This wine received a Gold Medal at the Millésime Bio in 2014. (15% alcohol, 16€ on-site)
Lao Muse AOP Vacqueyras (2011), named after the hill on which the property stands, is made from the oldest vines (25 to 50 years) and is composed of about 60% Grenache and 40% Syrah. It is only produced in exceptional years. The intensely dark purple color suggests that a richly flavored wine will follow and one is not disappointed. The high alcohol (nearly 16%) is perfectly balanced with its rich cherry and blackberry tastes and pleasant tannins. The nose was full of flavor much like luscious dark berry compote with pleasing hints of vanilla and garrigue. The mouthfeel was silky. Very elegant. (15.91% alcohol, 27€ on-site )
Our lunch was prepared by Henri and was a menu based on the organic produce he had found at the local market earlier that day. We began with a gorgeous plate of composed appetizers. Like a piece of art, it was a beautiful canvas of colors with exquisite flavors to match. A particular favorite of mine was the stuffed courgette flowers, lightly fried in batter made with chickpea flour. Pâtisson (patty pan squash) stuffed with fresh vegetables and goat cheese came next; followed by scallops pan fried with a medley of more fresh vegetables; a simple green salad; and a cheese course. Each course married wonderfully with the accompanying wine. I am hard pressed to recall a meal as tasty as it was beautiful.
The conversation flowed easily, much of it centering on the rewards and challenges of owning a vineyard, all of it reinforcing my observations that Henri is a passionate viticulturist, dedicated to organic agriculture and natural wine production. And it shows in his wine.
"The magic is that the lovely wine in your glass comes from the ground, comes out of the dirt."
"I feel gratified when people enjoy [my wine]. I love it when they ramble about this dish and that dish that would go with it," Henri added.
When I spoke with Henri again recently, I told him that we were sitting 'round our table, doing just that the day before I called. I found a bottle of the Fruit Sauvage AOP Vacqueyras (2010) at Sherry-Lehmann in New York City (for about $23) and opened it with good friends Claire Fleming and Win Rhoades, proprietors of South Street and Vine Wine and Cheese Store in Portsmouth, New Hampshire.
We served the wine with Lamb Ragù atop a creamy white polenta, one of our favorite recipes (from David Scott Allen's Cocoa & Lavender). It was a match made in heaven.
Claire concurred, "It really goes with the meal. The fruitiness of the meal is a great match with the fruitiness of the wine."
"Nicely balanced, spicy, lively, vibrant," were a few of the descriptives Win said immediately, clearly delighted by the wine.
My husband Towny who, like me, is a huge fan of red wine from the Southern Rhône Valley, gave it a two thumbs up.
And then the rambling began….what else would this terrific wine pair well with? A big juicy burger, just about any meat right off the grill, Ottolenghi's "Surprise Tart," pizza with caramelized onions, roasted duck, cassoulet, and even roasted chicken.
We were rambling. We were happy. There is magic.
Notes:
Le Clos de Caveau
Vignoble en culture biologique
84190 VAQUEYRAS
Tel: 0 33 (0) 4 90 65 85 33
Fax: 00 33 (0) 4 90 65 83 17
domaine@closdecaveau.com
www.closdecaveau.com
There are also three lovely gites on the property available to rent!
Call or email to inquire about the gites or about visiting the tasting room at Le Clos de Caveau.
I would like to thank long-time reader of The Modern Trobadors, Bernadette Beekman, who reached out to me one day a couple of years ago and said, "You have to meet my friend Henri." She was right and I am grateful to her for making this connection for me. I recently had the pleasure of meeting Bernadette, too. (She promises to take me around to her favorite French haunts in Manhattan!)