THE MUSÉE EXTRAORDINAIRE CELEBRATES ITS 40TH ANNIVERSARY
by Susan Manfull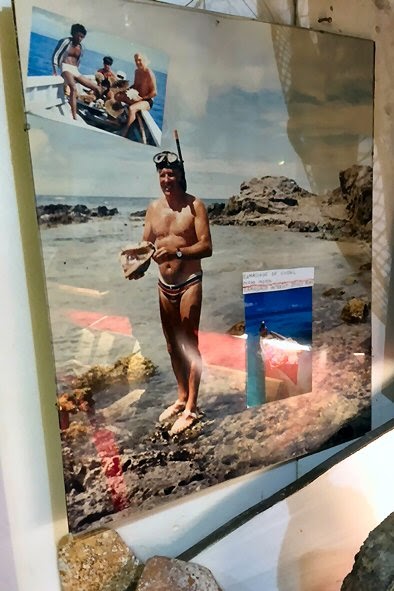 Forty years ago, Georges Mazoyer (1925 – 1996) opened his Musée Extraordinaire in the tiny Luberon village of Ansouis. Deep-sea diver, artist, and world-wide traveler, this extraordinarily unusual man spent ten years refurbishing the small space–a former stable–adjacent to his studio and filling it with the souvenirs of his adventures. Encouraged by friends to share his passion for underwater life, the museum was a labor of love that today is carried on by his daughter, Nicole, and her husband, Claude.
Last night, Nicole and Claude hosted a bash for the whole village to celebrate the 40th anniversary of the museum. I attended the event, along with Jerry Clark and wife Benedicte and at least 100 other people (at last count when we departed at around 10 pm). The Polynesian dancers had the crowd swaying and smiling. As an integral part of this community of around 1000 people, this was an opportunity to pay tribute to the man who founded this museum four decades ago and for the Mazoyer family to demonstrate their appreciation to the community for their support.
My invitation to this soirée stemmed from an impromptu visit to The Extraordinary Museum one very hot day last week.
Donning hats and hugging the walls of the narrow cobblestone paths and steep stairwells to escape the fierce Proven
ç
al afternoon sun, friend Barry and I made our way there from the
maison
village
where I am staying.
For the nearly twenty years that my family and I have vacationed in the neighboring village, Lourmarin, I have wanted to visit this museum with the unabashedly ambitious name but, for various reasons, had not done so.
Often and understandingly referred to as "quirky" (and sometimes dismissed entirely in tour guides), I had long been intrigued by the science-fiction size statues of sea creatures that grace the grounds of this small museum, located some 60 kilometers (35 miles) from the sea in the middle of a village that rose up around a château that dates back over a thousand years ago. It is just not what one expects to see in a medieval village.
Visitors are told that they will find "fascinating objects" including prehistoric objects such as fossilized fish and shellfish that once thrived in the Luberon countryside. Paintings, stained glass, and ceramic sea creatures, all created by Mazoyer, add color to the collections. Some antique Provençal furniture makes the rooms feel cozy. The highlight is said to be the "magical blue coral grotto" depicting a deep-sea dive, not unlike one of the hundreds Mazoyer took.
This menagerie is housed in a series of 16th-century vaulted rooms once stables that kept the mules that carried the stones to build the village back in the Middle Ages. The grotto stands where the original entrance to the stables once was.
The museum is part of the house Mazoyer bought in 1955 when he moved to Ansouis from his birthplace Marseille to be with the woman who would become his wife. Referred to as a "troglodyte" house, it is built into the side of a cliff (especially appealing on a very warm July day).
He created a studio on the second floor and later spent ten years renovating the first floor to exhibit the aforementioned collection.
The museum opened in 1975.
On the day that Barry and I went, we were warmly greeted by Nicole Le Drean, daughter of Mazoyer, who with her husband Claude La Drean, now oversees the museum and continues the tradition of creating ceramic sea figurines.
Nicole, who divided her time between us and another group of visitors, was filled with the same passion that undoubtedly drove her father to create his museum to showcase his collection of "extraordinary" objects that express his love of the sea. She told us her father's story as we toured the museum.
According to Nicole, her father's love of the sea and underwater life began at a very young age. Around 14 years old, he began diving in Marseille and quickly expanded his exploration to include Corsica, Sardinia, Italy, and Spain. Then, he went to the Caribbean, the Indian Ocean, and the Pacific Ocean. One of the highlights of his life was diving with Jacques Cousteau.
When he wasn't diving, he was painting. In addition to his work as a creative artist, he was a professional (restorative) painter, a job that took him to the Château in Ansouis where he assisted in restoration work there.
In 1991, for one of his last dives, he traveled to Polynesia which had a particular impact on him, as it did Nicole and her husband. (Hence the Polynesian dancers!)
Nicole said that her father stopped diving in 1992. He died just a few years later in 1996 at which time his wife took over as curator at the museum. Later, Nicole and her husband joined the effort and today the couple is dedicated to maintaining, curating, and hosting visits in the museum full time.
Mazoyer's studio may be visited, too. There, one can see the kiln, built into the rock wall, which is still used today. The large table in front of the fireplace is still a centerpiece of family gatherings. Nicole and Claude live adjacent to the studio.
Nicole, one of three daughters, was very close to her father. She shared his love of art and the sea. She often dove with her dad (although not as deeply he would go). After a 40-year career in managing a beauty salon in Apt, during which time she visited her parents and helped with the museum on the weekends,
she retired and moved back in Ansouis about two years ago.
If you find yourself in Ansouis (or in nearby Lourmarin), I definitely recommend a visit to Le Musee Extraordinaire.
The collection, as has been described by others, is "quirky," but it is also, in part,educational and, most importantly, the museum offers a window into the heart of one man and his passions.
Mazoyer's various collections clearly evoked emotions in the adventurer that were manifested in his ceramics, paintings, and his stained glass. How fortunate is he or she who chooses to live life with such relish?
The world might be a better place if a few more of us enjoyed such a zest for life, however quirky or eccentric the effort may appear.
Barry and I left smiling and feeling inspired.
Le Musee Extraordinaire de Georges Mazoyer is located on rue du Vieux Moulin 84240 in Ansouis.
It is open every afternoon from 2:00 to 6:00 p.m. (and until 7:00 p.m. in the summer). tel/fax:
04 90 09 82 64. Admission is a nominal fee. (Reduced rates for groups, children, and students.)
Notes: