Musings of a Wine Maven
TRAVELING THE WINE TRAIL FROM LUGDUNUM TO AVENNIO, WONDERING IF 1 WAS A GOOD YEAR?
by Jerry Clark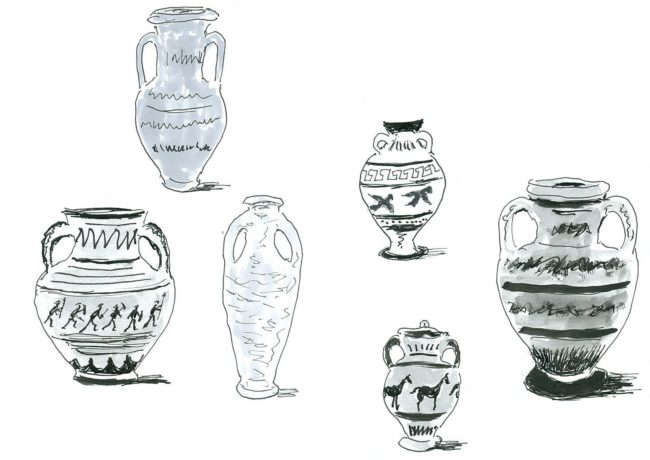 Growing up in Ohio I recall long car trips counting telephone polls, smiling at Burma Shave signs, and singing the bottles-of-beer-on-the-wall song. For the most part, the landscape was flat, flat, flat.
Fast forward more years than I would like to count, I still enjoy traveling by car, particularly when we take our annual holiday in France. Although Provence is our final destination, our trip always kicks off with a family visit to Lyon, otherwise known Colonia Copia Claudia Augusta Lugdunum back when it was founded by the Romans in 43 BC.
When it comes time to depart Lyon, we opt to take the Autoroute du Soleil (A7) as it accelerates our travel time to le Sud Luberon area of Provence and takes us by some of the most renowned vineyards of France, notably Côte-Rôtie, Hermitage, and Châteauneuf-du-Pape.
Over the years, while visiting various sites dating to imperial Rome's colonization in Gaul, I've had many occasions to reflect on how their civilization developed, particularly under the watch of Julius and Augustus Caesar. Especially evocative are the amazingly well preserved remains of the amphithéâtres and coliseums where, today, thousands of visitors flock to attend (outdoor) symphonic, operatic, and jazz concerts. In these venues across Provence, not only are we are treated to immediate musical gratification in gorgeous surroundings but, if we let our imaginations go, it is easy to conjure up images of what life might have been like for Romans sitting in the very same seats, some two thousand years ago.
While motoring to our holiday destination, bottles of beer on the wall are the furthest thing from my mind. I pass time by announcing the ascending temperature readings in our rental car and keeping an eye on the clock to allow adequate time to stop for food provisioning and, equally important, for selecting a rosé from the village co-operative that will serve as our go-to apéro during our stay.
Looking out at the numerous vineyards—stretching as far as my eye can see—I wish we could make a detour into the excellent wine country that exists on each side of the Rhône River between Vienne and Orange. In recent years, tradition has it that once we reach the foothills on the south side of the Luberon mountain range, we will rarely venture north again. At this point in our lives, we are content to settle in and simply relax during our annual visit to Provence.
But this summer might be different, thanks to Robert Graves and Stephen Sondheim. More specifically, due to watching A Funny Thing Happened on the Way to the Forum and reading I, Claudius.
Emperor Claudius was born in Lyon in 10 BC. Though he left Lyon for Rome after two years he returned there as emperor in AD 41 (while on his way to campaign in Britain) and notably visited nearby Vienne to re-dedicate its temple to Augustus and Livia (Claudius' grandmother). The temple is still very much in evidence in the center of Vienne.
Funny Thing, produced in 1962, was Sondheim's first Broadway musical for which he did both music and lyrics. The show was a success (although Sondheim received no acclaim). I did not see the New York production, but very much enjoyed Richard Lester's 1966 film adaptation of the musical. It was Buster Keaton's last role, and though his part was small, he was a pleasure to watch.
The most memorable personage, however, remains the legendary comedic actor Zero Mostel, playing the slave Pseudolus, who upon receiving a bottle of wine from a courtesan, studiously examines it and asks, "Was 1 a good year?"
In 1966, I was just beginning to wonder what wine was all about, and that line garnered a good chuckle (though working in Manhattan from 1964-69, I don't recall anyone ordering a glass of wine in a bar – it was the Mad Men era, after all).
Robert Grave's rendering of Claudius and ancient Rome makes it clear that drinking wine was an integral part of daily life, both for nobles and commoners. And as Claudius was reputed to be as comfortable mingling with plebeians as with his own class of patricians, I can imagine him slipping out one night during his return to Lugdunum to join the guys in a local boîte.
CLAUDIUS: Inn keep! Falerno for me and my friends.

INN KEEP: Sorry sir, but we have none.

CLAUDIUS: So be it. Then what do you have – Rhaetica, Hellinico?

INN KEEP: We only have local wine. The Vienne is one Sestertius for a congius.
Our Maximiacus is a fourth the price and a big favorite here. But
you may feel it more on the morn.

CLAUDIUS: (turning to the man seated to his right) Marcellus, where have you
brought us? No Roman wine to be had here? I cannot discourse when
drinking wine of suspect origin.

GEMELLUS (one the the five men in Claudius' party). Lord, all the Roman wine is
delivered to Fourviere. You will find none in any of these riverside
taverns. But do not dismay. My parents live in Maximiacus, and I have
often drank of the red wine there with no ill effect, though the Viennese
wines are well worth the premium. The Serine (Syrah) vines were
planted by the Phoenicians on a hillside across the river from Vienne a
long time ago, and while I have gladly drunk of Falerno in temple on the
hallowed days we honor the gods, I do not miss not having any to serve
in my home.

CLAUDIUS: Marcellus, what am I to make of this opinion? Good Gemellus would
have me think that what I have been enjoying at table in Rome all
these years may not be the best in our empire. Falerno has nourished
me as long as I can recall, and I cannot imagine any other wine
standing such a test.

GEMELLUS: There can be no doubt of that my lord. But the wet nurse that suckled
you to the contentment of each was most surely sustained by the wines
of this area. Your roots in Lugdunum reach deeper than you may
realize.

CLAUDIUS: (Lets out a great sustained laugh) As Bacchus is my witness, Gemellus
speaks the truth! Inn keep, serve us, nay, serve everyone in your
welcoming tavern from your best amphora of Viennese red wine. I want
to see if it tastes familiar. (Another sustained laugh leaps forth from Claudius).
Should you find yourself driving south to Provence, I urge you to forget the rapidity of taking the A7 Autoroute out of Lyon. Choose instead to imagine yourself leaving Lugdunum 2,000 years ago on the Via Agrippina, the main Roman passage to the south, that intersected with the Via Domitia just south of Avennio (Avignon). While most of that route has disappeared, there are still original slices to discover and even stroll on. I have read that the Route Nationale 7 in Valence was constructed right over it.
Let Gemellus be our guide to the Vinum in Itinere (route des vins) that, in places, dates back to a time well in advance of the arrival of the Roman legions. One only need plot out the Roman colonies–now thriving cities–and then draw a radius around them of say fifteen miles. See what present day wine appellations are uncovered. Begin with this handful of Roman sites:
a. Lyon (Lugdunum)
b. Vienne
c. Valence (Valentia Julia)
d. Vaison-la-Romaine (Vasio Voncontiorum)
e. Orange (Aurenja)
f. Avignon (Avennio)
g. Saint-Rémy-de-Provence (Glanum)
One-day touring will not suffice. Plan two or even three days if you wish to also view some of the extensive Roman architectural legacy and taste some wine.
This summer I will surely go back to the Rue de la Petite-Fusterie in Avennio, where Roman cavalry men raced their steeds full speed and, with their two meter long lances (pilum), plucked up rings. (Watch an early scene in Hollywood's 1935 The Lives of a Bengal Lancer to help you imagine what such an event might have looked like.)
Today Petite-Fusterie is known for its proliferation of antique dealers. But imagine the action in the wine shops of old Avennio when the races were on. They would have known whether 1 was a good year.
A special thank you to Mike Dater for his wonderful illustrations. Please visit Mike Dater's website to see more of his work! http://mikedater.com/