Provençal Pairings: Wine with Food
On the Marc
by David Scott Allen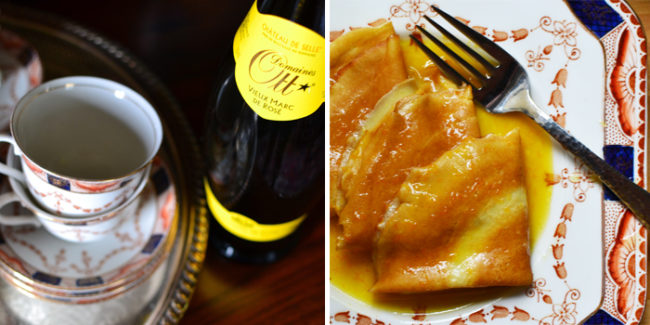 Winery: Domaines Ott
Cuvée: Château de Selle
Appellation: Côtes de Provence
Type: Vieux Marc de Rosé
Vintage: 2014, aged in oak barrels for 10 years
Alcohol: 52%
Average Retail Price: FR €44.50
Unless you are headed to France, or know someone who brought back a bottle (that was my method!), you probably won't be sipping Domaines Ott's Vieux Marc Rosé. Sadly, it is not imported to the United States!
I paired this vieux marc, made from the skins of grapes used to make rosé, with a really old-fashioned dessert: Crêpes Suzette. Although my recipe is toned down in its buttery sweetness, it still requires something special for pairing.
I could have paired the crêpes with the same cognac I used in the recipe, which would have been lovely, but I wanted something bolder – something to feed the faded flames of the crêpes, something that would stand on its own. I chose the Domaines Ott's Vieux Marc for its earthy vanilla and caramel overtones; it paired beautifully with the citrusy caramelized sauce the dessert has when flambéed. I cannot wait for my next trip to Provence to get my own bottle; this vieux marc is one very special spirit.
If you wanted to find something similar for pairing with the Crêpes Suzette, I recommend you visit your local wine store and search for an eau de vie (or its Italian cousin, grappa). Another pairing I like, but which is rather unusual, is a single malt Scotch; Laphroaig would be my choice.
For my Crêpes Suzette recipe, please visit Cocoa & Lavender.
To see more about Domaines Ott's Vieux Marc Rosé, click HERE.