Provençal Pairings: Wine with Food
Something from the Riviera
by David Scott Allen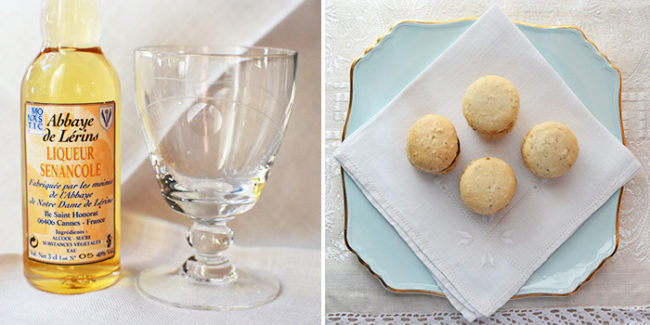 Producer: Abbaye de Lérins
Cuvée: Liqueur Sénancole
Appellation: Côte de Provence
Type: Digestif/liqueur
Alcohol: 40%
Average Retail Price (50cl): France €21.50
I am fortunate to have good friends. Friends who travel. Friends who think about me when they travel. More to the point, friends who buy me wonderful culinary gifts when they travel.
I've received mustards from Germany; Crème De Marrons from Angélina in Paris; a bar of chocolate from Guatemala; cacao nibs from Costa Rica; smoked salmon from Seattle, fresh salmon from Alaska; meloncello from Capri; Sel De Mer from the Camargue; Ras El Hanout from Marrakech; and ground lemongrass and other spices from Thailand and Burma.
My most recent gift was from Susan Manfull, creator of the Provence WineZine and The Modern Trobadors – a tiny bottle of Liqueur Sénancole from the Abbaye de Lérins, a Cistercian monastery located on the Île St. Honorat, just 20 minutes off the coast of Cannes.
My "airplane mini" of Liqueur Sénancole was just enough for one small glass full of the monk-made digestif, a complex mixture of 19 macerated herbs and plants. The recipe came to them in 1969 from the monks at the Abbaye de Sénanque, just outside of Gordes.
A digestif isn't usually paired with food. After all, the purpose of a digestif is to help you digest the meal that preceded it. However, if you have just finished a nice meal, ended with a lovely cheese course, and have moved on to the digestif portion of your meal, a little something sweet on the side can be just the right thing. "Little" is the operative word here – no big cheesecake or rich Mousse Au Chocolat, Merci. Une petite quelque chose. A cookie. A macaron.
And that is what I had with my Liqueur Sénancole. I made a batch of vanilla macarons filled with a not-too-sweet chocolate ganache for this week's post on Cocoa & Lavender. Chocolate and vanilla are very good foils for a liqueur of this intensity and herbal character, creating a nicely balanced pairing. Sénancole has a floral nose, and is smooth and mellow on the tongue with elements of anise, thyme, and bay, although no singular flavor dominates. It is a wonderful way to end a meal.
I know what you are about to ask… "Where can I buy some?" Well, the first thing you need to do is book a flight to the south of France… Honestly, I have only been able to find this special liqueur on the abbey's website in France. However, you can come close with yellow Chartreuse, a liqueur made by Carthusian monks in the Chartreuse Mountains near Grenoble. It will simply have to tide you over until you can get to the island of St. Honorat to pick up a bottle for yourself. Maybe you can do that while you are at the Cannes Film Festival.