CHÂTEAU LA COSTE: THERE'S SOMETHING FOR ALL AGES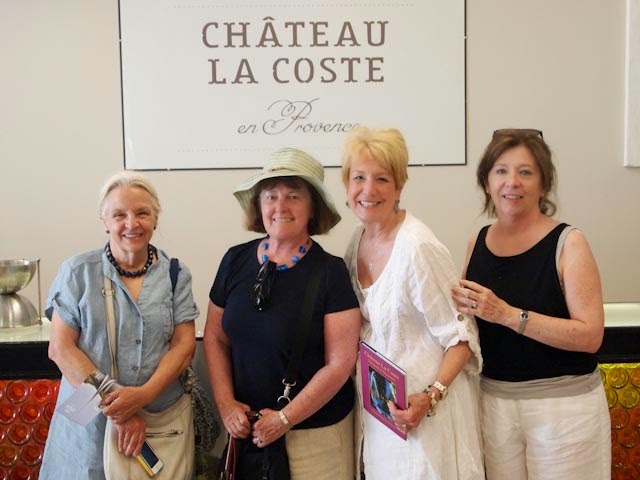 There is no shortage of places to go, people to see, or things to do in Provence, especially in August when festivals of every sort abound. But many of these events, understandably, are not geared to include children.Let's agree that children typically sit too much nine months out of the year, generally don't like to sit, and are better off reaping the benefits of moving about in the fresh air and sunshine, particularly on vacation. (Ahem, perhaps this rings even more true for adults.)
Our daughter traveled everywhere with us—from the time she was four months and came along to Buenos Aires to now, when at 22 years old, she still, blessedly, likes to travel with us. She always rose to the occasion for Mom and Dad's various vacation whims, but when we found a place that had something for everyone…well, everyone was happy.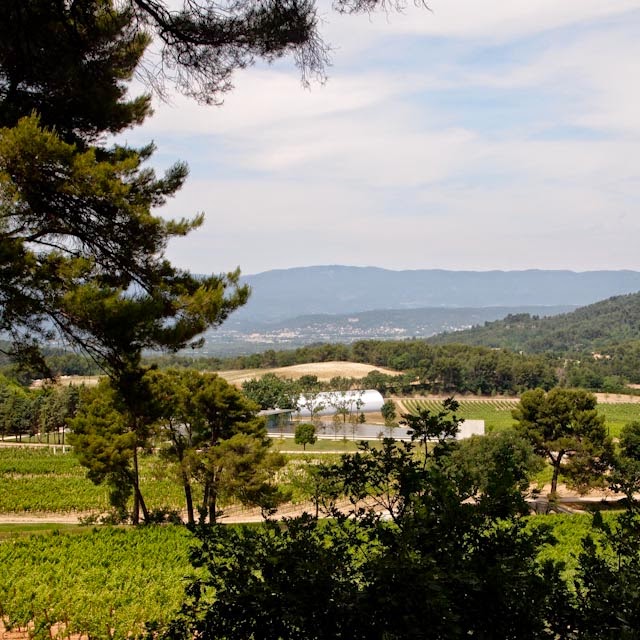 Château La Coste with its "wine making chai," designed by architect Jean Nouvel, shown
in the center. Photo by Susan Manfull
Château La Coste is a great destination, whether you are traveling with children or not. There is a little something for everyone. I am prompted to write this post now because a series of concerts is about to begin for the rest of the month of August—I know, I know, that involves sitting but there is a lot more to do on this gorgeous property of gently sloping forest-covered hills, olive groves, and 125 hectares (300 acres) of beautifully tended vineyards (all of which are identified by grape varietal).I just visited Château La Coste in June, with three other women. It was a fabulous day of wine tasting, music, lunch, and a stroll along the paths where we reveled in the beauty of the landscape and its sweeping views across this corner of Provence as much as we were moved by the modern art and architecture juxtaposed with the diverse natural landscape. I so wished that Château La Coste had been open when we were regularly traveling to Provence as a young family.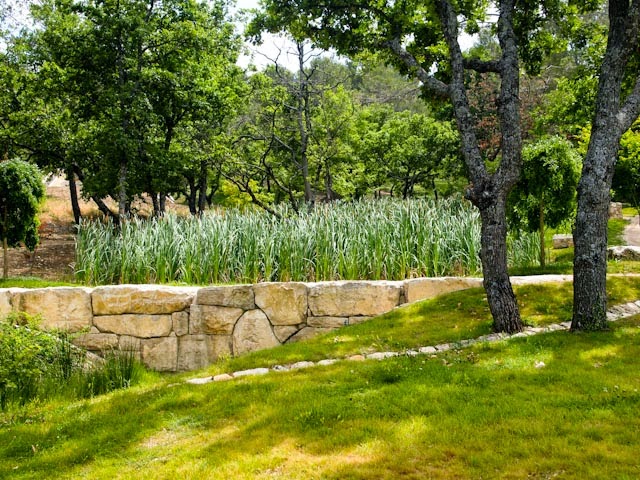 The grounds at Château La Coste. Photo by Susan Manfull
It opened in its latest incarnation in 2011, although it is clear that the Romans were farming the land (including vineyards) some 2,000 years ago. Look for Gallo-Roman pathways and "dry stone" walls and bridges, for example, which are currently being restored. The Venetian style villa dates back to 1682.Acquired in 2004 by Patrick "Paddy" McKillen, a hotel owner and international real estate broker from Ireland, this property is the culmination of his dream—and a whole lotta work—to have a special place where art, architecture, and wine come together. McKillen enlisted the help of his sister, Mara McKillen, and artists, architects, and winemakers to bring his dream to reality.
McKillen invited internationally-renowned contemporary artists to tour the property and select a place for which he or she would like to construct a piece of artwork and, likewise, he asked architects to build something for the sites that appealed to them. (Some pieces were created earlier and moved into befitting spots—like one of my favorites, the "Crouching Spider" by Louise Bourgeois, which resided in the Tate Gallery prior to landing at the château.) The result is exquisite.Walking along vineyards and into the forest among art and architecture (psst, kids, it's okay to run!)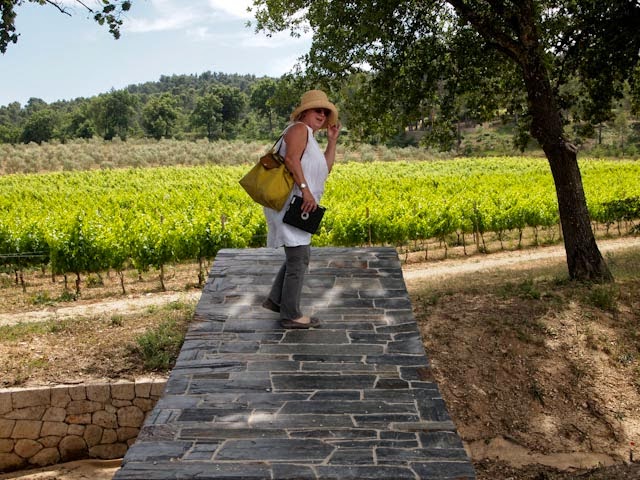 "Donegal" (2013) by Larry Neufeld at Château La Coste. Friend Lis Steeden crossed to the other side.
Photo by Susan Manfull
The result of the McKillen labors is the opportunity to walk around the vineyards and admire the work of such well-known artists as Alexander Calder, Andy Goldsworthy, and Tom Shannon and such renowned architects as Frank Gehry, Norman Foster, and Tadao Ando.
Friend and travelling companion Germaine Juneau who spent her career working in traditional museums discovered La Coste shortly after it opened. Now retired, Germaine travels frequently and is always on the lookout for interesting contemporary art venues—La Coste certainly falls into that category and has become a favorite visit for Germaine.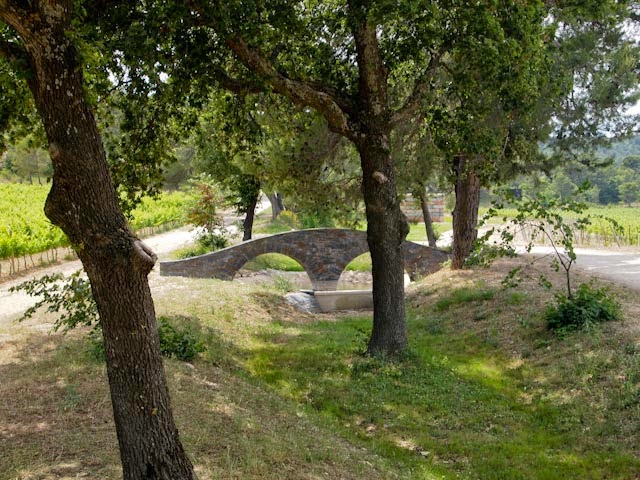 "Donegal" (2013) by Larry Neufeld at Château La Coste Photo by Susan Manfull
"The opportunity to experience contemporary art and nature, to appreciate artists working pieces into the environment is fantastic," Germaine said of La Coste.
It can also be described as a very relaxing, peaceful, and contemplative experience. The whole walk might take as much as several hours but it is also very appealing to do a little at a time. Some people I know have been many times, returning again and again for the solace it provides.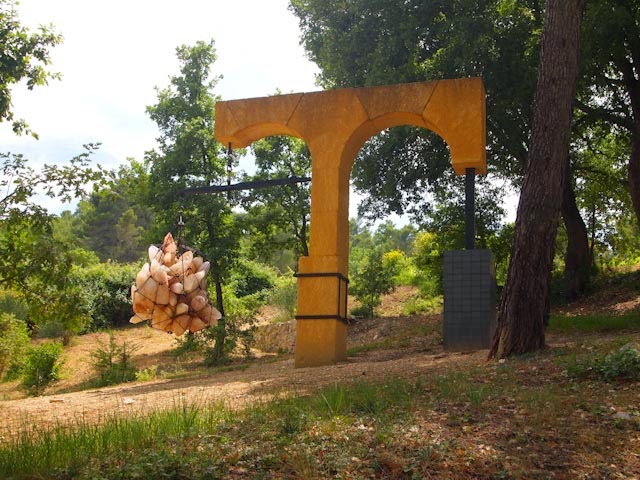 "Portails" (2011) by Tunga at Château La Coste. Photo by Susan Manfull
On the other hand, others find the stark style of the art and architecture too jarring a contrast with its Provençal setting. Like it or not, it is interesting and fun!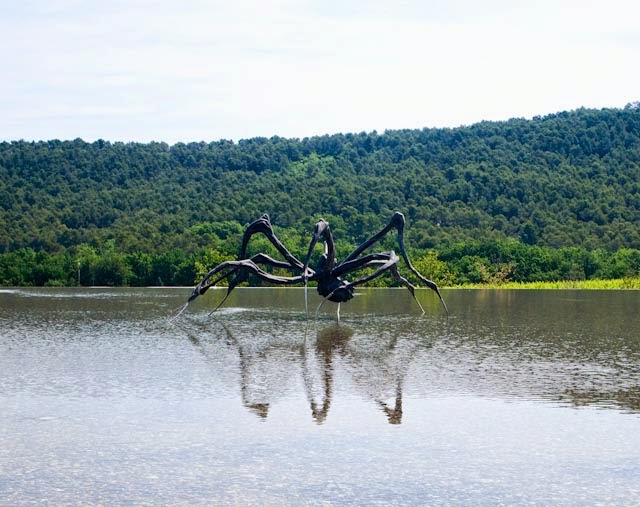 "Crouching Spider 6695" (2003) by Louise Bourgeois at Château La Coste. Photo by Susan Manfull
Children will find the experiential nature of the venue intriguing. At the very beginning, they will no doubt be excited, as we all were, with Bourgeois' gigantic spider crouching in the middle of a huge pool of water. I could hardly take my eyes off it. (Arachnophobics need not look, I suppose, but this gorgeous piece of art may be therapeutic for one's fear of spiders!)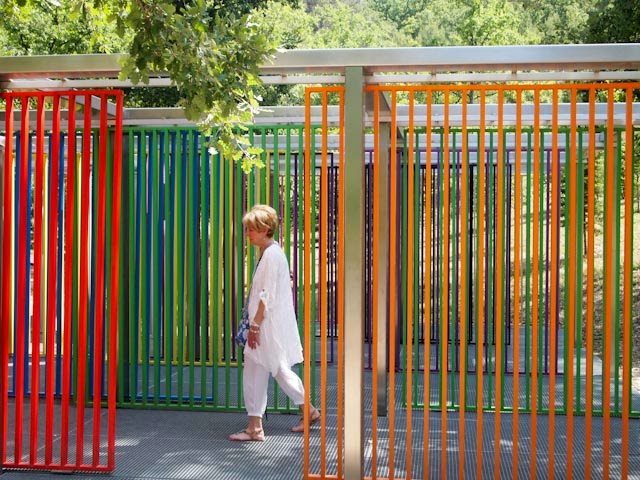 "Multiplied Resistance Screened" (2010) by Liam Gillick at Château La Coste
Photo by Susan Manfull
"Foxes" (2008) by Michael Stipe at Château La Coste. Photo by Susan Manfull
As the walk continues, they, like the adults who are accompanying them, will love walking into Liam Gillick's "Multiplied Resistance Screened" and Andy Goldsworthy's "Oak Room," counting "Foxes" by Michael Stipe (former lead singer for R.E.M.), experiencing Paul Matisse's "Meditation Ball," and perhaps even tossing some change onto Tunga's "Portails." Many of these installations are interactive.
Another friend, Connie Suchta, really liked Sean Scully's "Wall of Light Cubed." She said, "I loved the naturalness of the contemporary pieces [embedded] in the environment….and, with this piece, I wondered if the lines [on the block] related to the vineyard."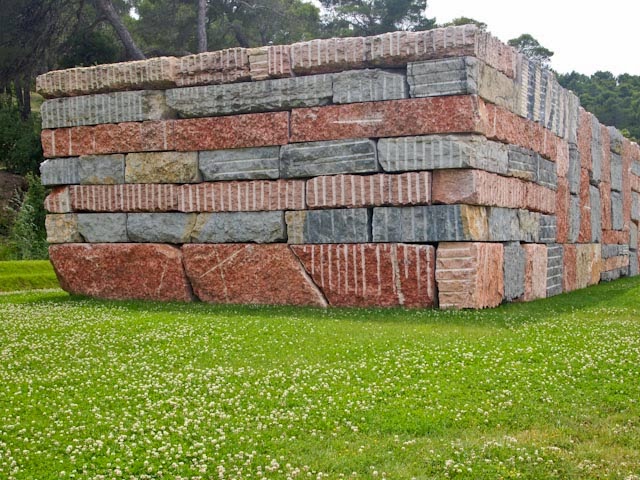 "Wall of Light Cubed" (2007) by Sean Scully at Château La Coste. Photo by Susan Manfull
I, too, liked this piece; I found it very meditative. For others in our group, the giant block did not resonate with them, which is, I suppose, what makes such a walk so interesting. It's an especially good opportunity for children, who are often reticent in the typical museum setting to express their feelings, particularly if they are contrary.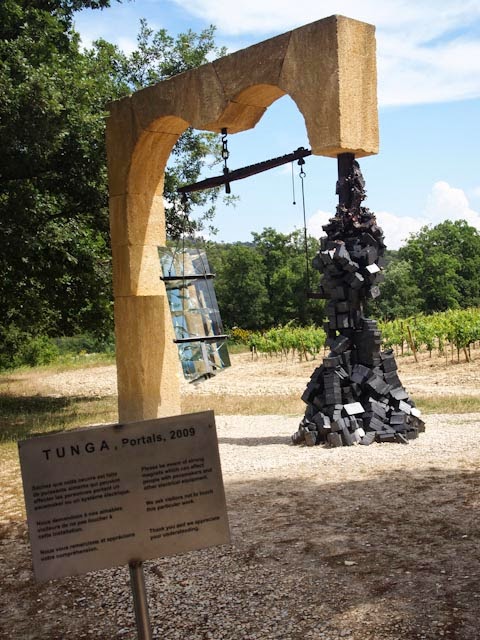 "Portails" (2011) by Tunga at Château La Coste. Photo by Susan Manfull
We generally agreed that we would have enjoyed more information about the pieces exhibited. Who is the artist or architect? At minimum, when was he or she born and is he or she still with us? What inspired the piece? What was the vision of the artist? Germaine, who did not accompany us that day but has been several times before, strongly disagreed, arguing that, without a lot of background information, the viewer can experience the piece for what it is to him or her.
Mary Norcross, photographer and friend, in summing up her experience, said "I like that their guiding principles—promoting ecology and sustainability—are practiced in their exhibition," a view that is a nice segue to the next section on viticulture and wine.

Wine Tasting and Tour Biodynamic principles are strictly followed in the château's vineyards and in the winemaking. The latest technology is employed to realize the fullest potential of the grapes and the natural expression of the wine. The vinification facility was designed by French architect Jean Novel.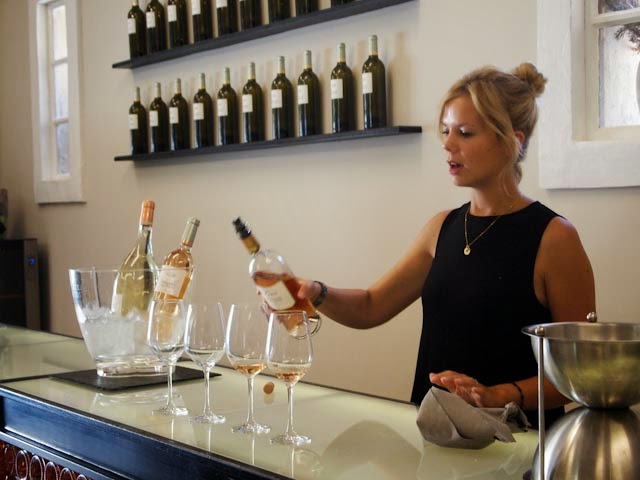 Wine tasting at Château La Coste. Photo by Susan Manfull
Our tasting was abbreviated in order to get to our lunch reservation on time. Still, it was fun and informative, giving us something to think about when we ordered wine to go with our lunch. There is a small boutique and limited café menu for casual dining on a lovely terrace in this area, too.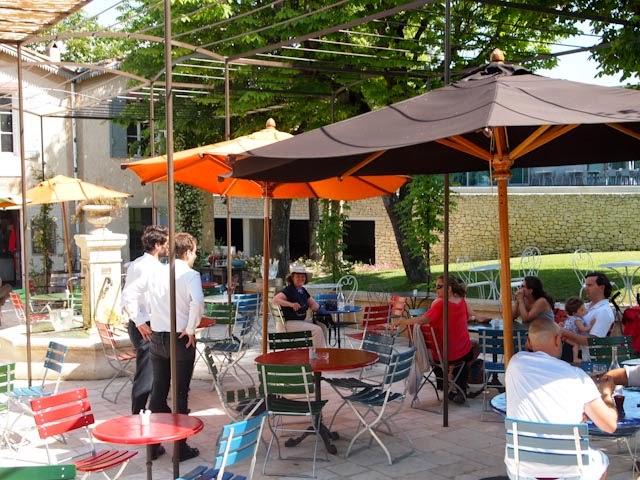 Café terrace at Château La Coste. Photo by Susan Manfull
Tours of the vinification facilities are also available at 11:00 am and 3:00 pm daily; at 1:00 pm in English; and by appointment. I was not able to take a tour (but that just gives me more incentive to return!)

Lunch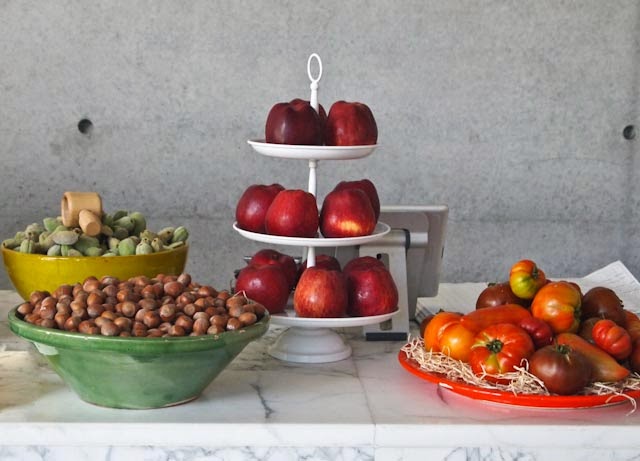 Café at the Centre d'Art at Château La Coste. Photo by Susan Manfull
We opted for lunch in the Art Center (designed by Tadao Ando). It is open daily from 10:00 am to 7:00 pm and was empty when we arrived at 12:30 but very quickly filled up. Thus, lunch reservations are advisable.
Having just enjoyed a taste of the Cuvée Bellugue Rosé (2013), a blend of Grenache (80%), Syrah (10%), and Cinsault (10%), we selected that wine and were very happy.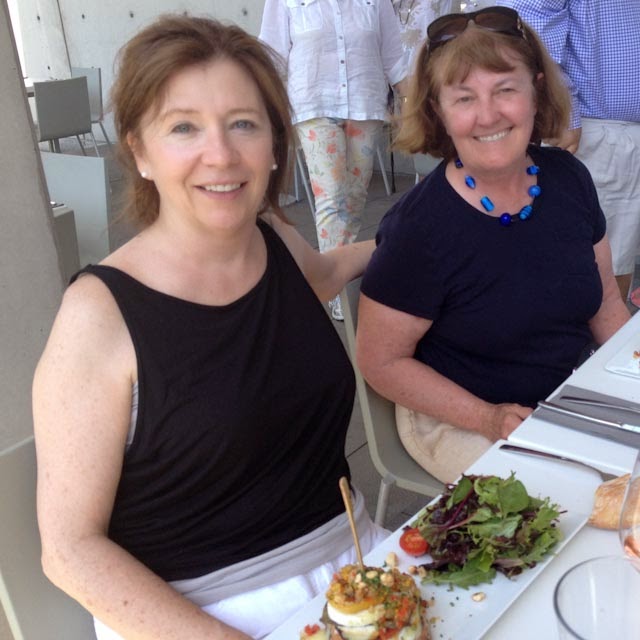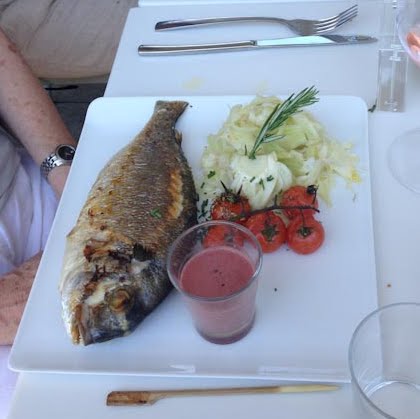 Mary and Susan enjoy a terrific lunch at Château La Coste. Photo by Susan Manfull
Mary and I ordered the prix fixe menu of a very fresh green salad accompanied by slices of chèvre layered with roasted peppers and nuts. This very large portion alone would have been sufficient for lunch. The main course was a perfectly grilled and roasted white fish, accompanied by a whipped sauce of cherry and red wine, thin slices of marinated fennel, and a confit of cherry tomatoes. Dessert, for me, was a crème brûlée. Mary ordered a "Café Gourmand" for dessert, which was an espresso with three small desserts (e.g., macarons, cannelés, Madeleines, or maybe even a miniature pot de crème. (It is, apparently, the gourmet restaurant's answer to fast food—serve dessert and café at the same time!)
Enjoying a seafood pie at Château La Coste. Photo by Susan Manfull
My lunch was excellent as was the seafood pie that another friend ordered. Unfortunately, the green salads with shrimp, ordered by two of my companions, Lis and Connie, were decidedly bland.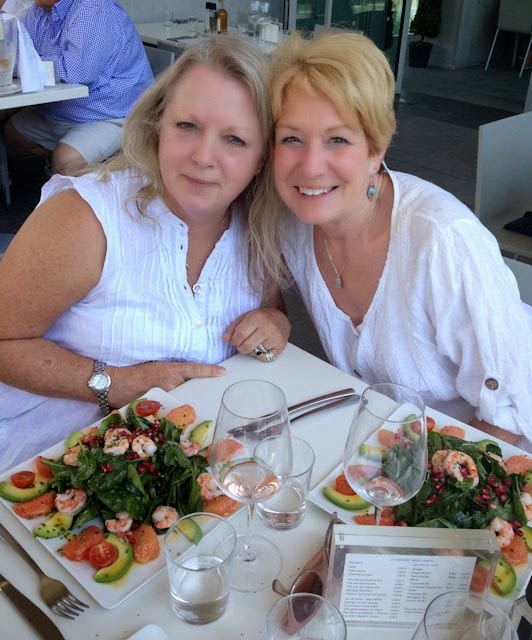 Lunch at Château La Coste. Photo by Susan Manfull
I am compelled to report that the service was inconceivably slow once the tables began to fill up. It seemed that there was simply not enough wait staff to go around. Whereas they were smiling and affable when we ordered, they virtually disappeared as more diners arrived. We waited close to an hour between the first two courses and I don't know when we would have been served dessert and coffee had one of us not left the table to retrieve a waiter (who now appeared stressed and inpatient). Perhaps it was an off-day in the kitchen, but plan your afternoon accordingly.
August Concerts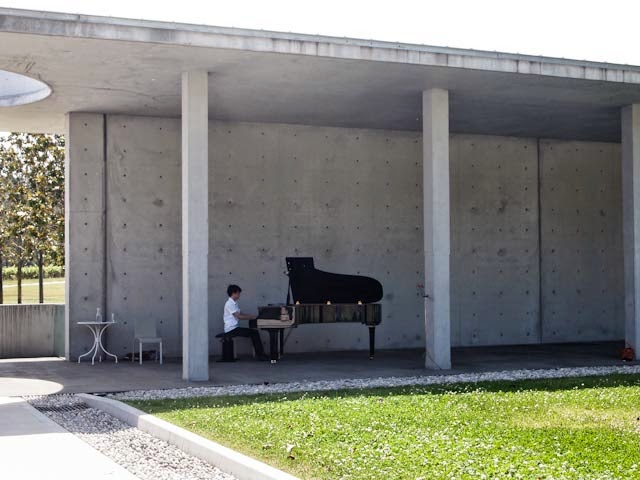 A little Saturday morning music at Château La Coste. Photo by Susan Manfull
Having just wrapped up the outdoor cinema series, a series of seven "classical and romantic music" concerts commence on Tuesday, August 19th. The concerts feature renowned pianists with prelude performances by up and coming musicians. The terrace café will be open before the concerts begin at 8:30 pm. Tickets are 35€ and 15€ for adults and children, respectively. Reservations recommended (04 42 61 92 92 or reservations@chateau-la-coste.com).As the title suggests, there is something for everyone at Château La Coste. I highly recommend planning a visit!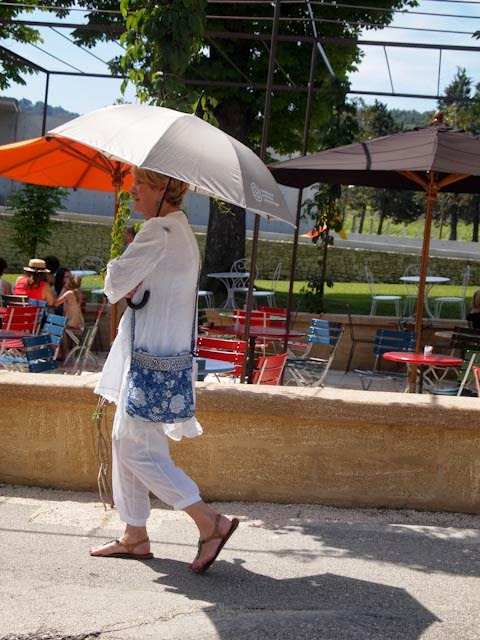 Walking near the Terrace Café at Château La Coste. Photo by Susan Manfull
Notes:
Château La Coste is located 21 kilometers from Lourmarin and 14 from Aix-en-Provence.
2750 Route de la Cride
Le Puy-Ste-Réparade 13610
Tel : +33 (0)4 42 61 92 90
Tickets are 15€ (adult), 12€ (student, senior, job-seeker), and free of charge for children under 10 years old. See website for additional information about tickets for the vinification tour.
You are on your own for these walks so you may go at your own pace and in your own direction. Wear good walking shoes! The trails are not handicap-accessible but there is a "bubble car" tour around the grounds that may be arranged (ideally) a week in advance.
Maps of the walk (and the pieces of art and architecture along the way) are available in the shop. As I wrote above, there is not much supportive information, so if you are the curious sort, you might want to do a little googling before you go to find out more about the art and architecture.
Parking is free and the lot is a work of art as well!