FOLLOWING CHÂTEAU COUSSIN'S ROSÉ FROM NEW YORK TO PROVENCE
by Susan Manfull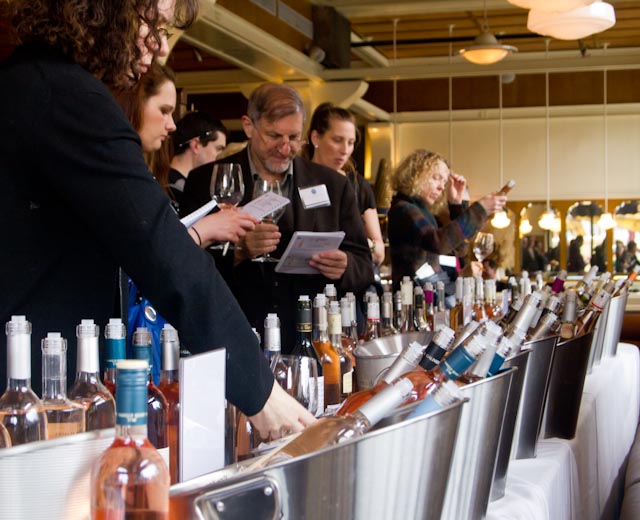 Have you ever locked eyes with a stranger from across the room and wondered what it was about that person—among all the other handsome folks in the room—that caught your attention? That happened to me at Lafayette Grand Café & Bakery in New York's NoHo neighborhood last March. Only it was a bottle of rosé that my eyes were drawn to.
I moved toward the enticing array of rosés that extended across several banquet tables for a "Provence in the City" wine tasting hosted by the Provence Wine Council. With so many to choose from, I don't know why this particular bottle lured me in but, like a moth to a flame, I followed. I suspect it was its beguiling rose color that drew me in…. "luminous rosewood pink" was how I later saw it described.
I filled my glass with enough for a tasting. The nose immediately evoked Provence with its garrigue aromas of thyme, rosemary, and lavender. The taste was fresh, revealing a harmonious balance of citrus acidity and red fruit. There was a pleasing feel of minerality in the mouth and a finish that lingered long enough to encourage another sip. Its medium body was very satisfying.
I met many rosés I thoroughly enjoyed that afternoon, both at the tasting and at the luncheon that followed, but this one—Château Coussin (2013), Côtes de Provence Saint Victoire from Famille Sumeire Vignerons en Provence—was one of the stand-outs and I knew I wanted to know more about the Château that makes this wine. So, I looked them up when I was in Provence this past June and learned that it produces other excellent rosés and that it came to the Sumeire family through a dowry.
Château Coussin, sits near the foot of Mont Sainte Victoire in Trets, in a beautiful venue where wine has been made at least as far back as the 17th century when Jean-Baptiste Coussin owned the estate (mais oui, the Romans were there first!).
Monsieur Coussin sold the winery in 1903 to Jean-Baptiste Gautier, who was a grain merchant and farmer (whose properties included vineyards). A little over thirty years later, his granddaughter, Nelly, would marry Elie Sumeire and, as her dowry, bring the Coussin winery into the Sumeire fold. (My husband, upon hearing about this nuptial bounty, reminded me that I brought an old cranky Siamese cat to our marriage.)
The Sumeire family already had ties—as merchants—in the wine business as far back as to the early 19th century. Elie's father, Gabriel Sumeire (and his three brothers) received "a wine business" from his father in the early 20th century. Gabriel was given a wine business in Trets. It appears that Elie was the first Sumeire to shift his focus to winemaking, when he married Nelly and her dowry.
Getting back to Elie and Nelly, after they married in 1936, they had two sons—Gabriel (1937) and Jean-Pierre (1946)—who both entered the wine business. Most relevant to our visit to Château Coussin, Gabriel married Marcelle Marty and, in 1967, Olivier was born and, a year later, Sophie was born. These siblings, part of the ninth generation of Sumeire family members in the wine business, now operate Château Coussin.
This château is one of three estates, owned and cultivated by the Sumeire family which has deep ties to the area around Trets, extending back at least as far as 1238. The other two estates are Château l'Afrique in Cuers (acquired by the senior Gabriel in 1953) and Château Maupague in Puylobier (acquired by the younger Gabriel and his brother Jean-Pierre in 1991).
Château Coussin has vineyards in both Côtes de Provence and its denomination, Sainte Victoire (about two-thirds and one-third, respectively). The family practices a minimum use of pesticide (Agriculture raisonnée) and engages in the "Mediterranean Nutrition in Provence" guidelines (NMP), a charter that aims to respect the environment and the consumers by focusing on natural methods that prevent disease and promote the potential of the soil according to the needs of each terroir.
On the day that photographer Pamela O'Neill and I visited Château Coussin, we were met by Annabelle Sumeire who, in 1999, married Olivier. Annabelle brought to Famille Sumeire a resume any Château would welcome, including a Master's degree in "wine management" from L'Organisation Internationale de la Vigne et du Vin (OIV) in Paris and additional oenology studies at the University of California, Davis. She invited us into a resplendent "old cellar" which looked far more like an 18th century hunting lodge than a place where wine was once fermented by the warmth of the fireplaces.
We tasted wines from all three Châteaux—one white, four rosés, and one red—including the rosé that caught my eye in New York earlier this year, the impetus for our visit. Considering the terroir, it is not surprising that rosé is the focus of production for Famille Sumeire at these Châteaux and for the vin de pays (IGP) wines it markets under its label (17 vin de pays rosés!).
We began with a white wine, Château Coussin (2013) Côtes de Provence, made from 100% Rolle (Vermintino) grapes from vines averaging 30 years of age. This pale yellow wine had a citrus nose, a crispy citrus taste, and a faint floral finish. Its light-bodied nature makes it ideal as an apéritif. White wine comprises only 3% of production.
Our next wine was from one of the other Famille Sumeire estates: a Château Maupague rosé (2013), Côtes de Provence, Sainte Victoire. This very pleasing blend of Grenache (55%), Cinsault (40%), and Syrah (5%)—harvested from vines about 20 years old—created a pale pinky-peach-colored rosé that was very dry. The fragrant nose evoked stone fruit which I also detected again at the finish. The taste was fresh with hints of flint belying its Sainte Victoire origin.
I was not surprised to learn that this rosé garnered the Silver Medal at the Vinalies Internationales (2014) and recently received a '90' from Wine Enthusiast.
The name "Maupague" comes from the old Provençal, L'Occitane language, and means "giving little" or "does not pay well," an apparent reference to the low quantity of grapes produced but completely unrelated to the quality of grapes produced by these vines on the rocky hillside of Monte Sainte Victoire.
Mon amour de jeunesse, Château Coussin rosé (2013), Côtes de Provence Sainte Victoire, was just as fresh and minerally as I had remembered. With Grenache (70%), Cinsault (25%), and Syrah (5%)—from vines approximately 30 years old—is created a perfectly balanced, lively rosé that packs exceptional flavor from start to finish.
"It's a crowd pleaser," Annabelle said. Further evidence of its appeal is a Silver Medal awarded at the "Concours de la Confrérie des Echansons du Roy René" (2014) and a "Commended" medal at the International Wine Challenge (2014).
The familiar triad—Grenache, Cinsault, and Syrah—also comprises the next rosé we tasted, although in slightly different proportions (60%, 35%, and 5%, respectively). The average age of the vines was 30 years old. This wine stole the show: César à Sumeire rosé (2013), Côtes de Provence Sainte Victoire.
The name of this wine was inspired by a longtime family friend, sculptor César Baldaccini (1921–1998), whose father conducted business with Olivier's grandfather, Elie, a relationship that evolved into a close friendship. César, the diminutive name by which he is best known, was already under contract with Mouton Rothschild to design labels for their wine bottle but, wishing to contribute to Famille Sumeire, he designed the cover for boxes to package trios of wine for the château. The Sumeires used a slice of that design as well as his famous thumbprint on the label of his namesake wine.
Unfortunately, this wine is not available in the States, but because I brought one home in my suitcase, I was able to taste it again (with a fresher palate), along with my husband and another good friend, just last week. Only 3,000 bottles were filled but, suffice to say, it would be worth the effort to seek out one if you are reading this in Provence. Please see our "Notes from the Cellar" for more detail.
Château L'Afrique rosé (2013), Côtes de Provence, was the last rosé we tasted. This château, named as such because the early 19th-century owners had just returned from Africa, is located in Cuers in the center of the new terroir denomination, Pierrefeu. This rosé is typical of wines from this area, with its distinct minerality, round mouth, and long finish that tends to elicit a small pucker response. This rosé was a blend of grapes from vines with an average age of 35 years: Grenache (50%), Cinsault (30%), Syrah (10%), and Tibouren (10%). I enjoyed citrus nose (grapefruit?) and the tad bit of spiciness on the palate from the Tibouren although it is just a little fruit forward for my tastes. The finish was pleasant and interesting because it seemed to change as it lingered. (This is one I would like to try again when my own palate is fresher!)
The last wine was a red wine from the César à Sumeire cuvée (2011) Château Coussin, Côtes de Provence Sainte Victoire. This blend of Syrah (85%), Grenache (10%) and Cabernet Sauvignon (5%) from vines averaging 35 years of age was rich, silky, and complex. "All the flavor comes from the grapes," Annabelle said, which never came in contact with any oak although its taste and mouth feel might suggest otherwise. Unfortunately, this wine is not available in the States.
We concluded our visit by meeting Olivier who, with his sister Sophie, oversees operations at Château Coussin as well as at Château l'Afrique and Château Maupague. I wanted to ask him more about his grandmother's dowry but suppressing the "Nosy Parker" side of my personality in favor of the professional side, I attempted to convey my enthusiasm for meeting him and, midway through my story about how it all began with a bottle of luminous rosewood pink rosé that stood among many other enticing bottles at a tasting in New York City, I realized that my French was utterly inadequate. We both smiled and shook hands.
As we stood in Provence in blazing heat with Mont Sainte Victoire in the background, I thought of that brisk March morning in Manhattan just north of Houston—where I used to walk with my grandparents to buy pastrami sandwiches—and it occurred to me, what a long strange trip this wine tasting avocation can be.
Address:
Château Coussin
1048 Chemin de Coussin
13530 Trets FRANCE
Tel:
00 33 (0)4 42 61 20 00
Email: sumeire@sumeire.com
Open hours:
Call to arrange a tasting
Distributor in USA:
T. Edward Wines