CHÂTEAU MIRAVAL: A CELEBRITY LONG BEFORE BRAD AND ANGELINA MOVED IN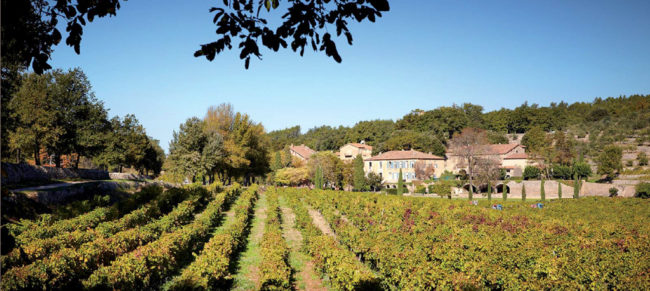 Château Miraval, summer home of the uber famous Brangelina family, was celebrated among rosé lovers and baby boomer rock and rollers long before the renowned family moved in. Pink Floyd anyone?
Readers of a certain age may be able to dust off an old album that was recorded, in part, in this château: Pink Floyd's legendary The Wall.
French jazz pianist Jacques Loussier, who owned the property from the late 1970s to the early 1990s, installed a recording studio in the chateau. Loussier initially recorded his own work and later invited French clients like Maxime Le Forestier and Pierre Vassiliu. In 1979, the popular British rock group, Pink Floyd, came to this studio to record their historic rock opera, The Wall.
After Pink Floyd, and the addition of France's first "Solid State Logic" mixing console—read really high-end recording gear—the list of prominent musicians who recorded their work in Loussier's "Studio Miraval" grew to include AC/DC, The Cure, Muse, Wham!, Sade, Steve Winwood, Yes, UB40, the Gipsy Kings, Queen, Sting, and Elton John.
When Loussier wasn't recording music, he produced vin de pays wine in all three colors.
In 1993, American winemaker Tom Bove purchased the property and added a few amenities like a spa, a Jacuzzi, two gyms, and an indoor pool; modernized the wine production; and eventually made a highly acclaimed rosé he named "Pink Floyd" in recognition of the rock band that made the chateau famous in the music world. He also produced white and red wines.
The 1000-plus acre (500 hectare) estate is located in the heart of the Var Department of Provence, in the plain but pretty village of Correns, just north of the rather unremarkable town of Brignoles (which you may have to drive through to get there but which bears no resemblance to the lovely and lush environs of Château Miraval).
Although this area was inhabited by… people long before the Romans arrived in the 3rd century BC, their via Aurelia, one of the main roadways from Rome to new territories, cut through this area and encouraged Roman settlement (along with requisite vineyards and baths). In the 13th century, a monastery was built on the land and vineyards were planted. In the 15th century, members of French nobility occupied the estate. In the mid-19th century, Joseph Lambot, inventor of reinforced concrete, lived in the property and is said to be responsible for the huge wine cellar.
The château comprises 35 rooms and includes a separate chapel and a moat. It is surrounded by gorgeous gardens and a rich forest of evergreen and white oak. Water is plentiful and fills the many fountains that dot the grounds. Ancient stone terraces, planted with grape vines, traverse the property and provide protection from the Mistral. Thirteen varieties of olive trees grace the property and abut the other vineyards which, all together, total over 100 acres (over 40 hectares) of grape vines. The Cinsault variety vines are quite old.
Even from their helicopter, Brad and Angelina are said to have fallen in love with the property and, in 2008, they leased the estate for three years with an option to buy. In 2011, they consummated the deal with a purchase price of $60 million. In March, they released their first rosé, called simply "Miraval."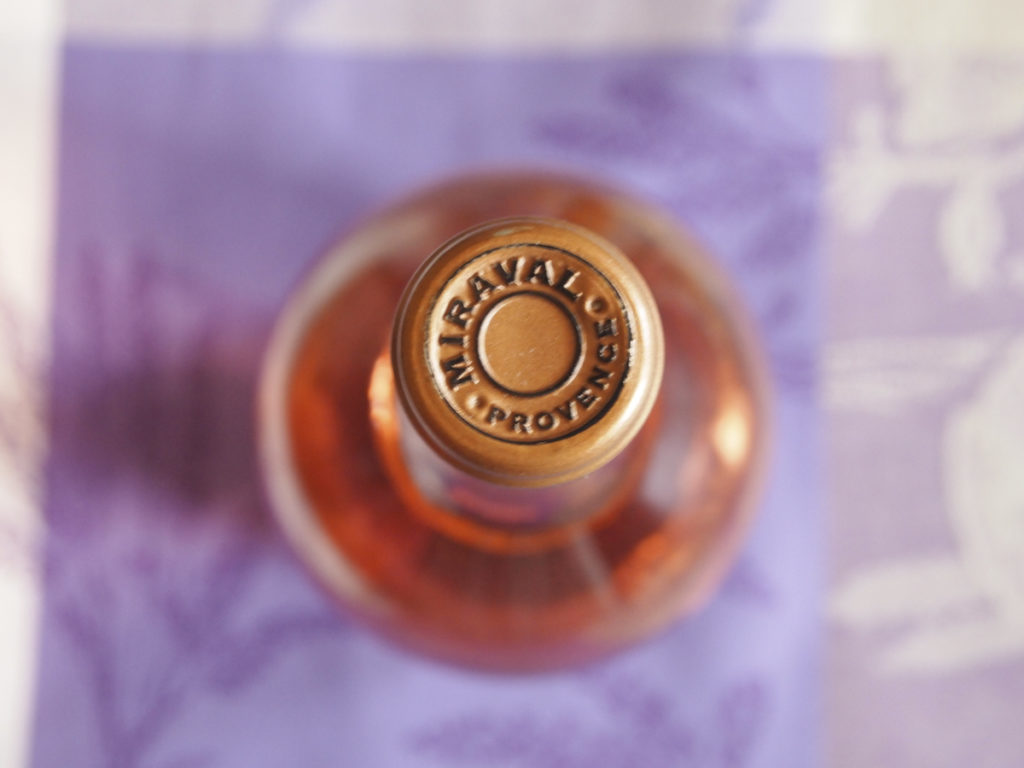 Could the glam couple produce a good rosé? While they are not known for their viniculture skills, they did have several things going for them.
First, Provence, according to the Conseil Interprofessionnnel des Vins de Provence (CIVP), is the birthplace of rosé wine. This wine region, according to the CIVP, is the largest producer of AOC rosés in France, making 40% of France's rosés and 8% of the world's rosés. Most of the rosés hail from the Var department in the appellations of Côtes de Provence and Coteaux Varois en Provence. (Coteaux d'Aix-en-Provence is the third major appellation in this region.) This region, where days are sunny and nights are chilly, is the home of excellent pale, dry but fruity, fresh, well-balanced and substantive rosés.
Second, the vineyards had already provided grapes over the years for the widely acclaimed Pink Floyd rosé. Most of the wines—rosé, red, and white—are produced under the Côtes de Provence appellation although the whites are also made under the Coteaux Varois en Provence appellation.
Third, Brad and Ange teamed up with Marc Perrin and family, owners of the highly esteemed Château Beaucastel in Châteauneuf-de-Pape, to produce (and distribute) this wine (as well as the whites and reds). (Although it is this CdP wine that is most often referenced in Château Miraval articles about Jolie-Pitt's partner in winemaking, let it also be noted that Famille Perrin makes other rosés at the opposite end of the price and quality spectrum: notably the ubiquitous and quite quaffable La Vielle Ferme Rosé and the distinctly unpalatable La Ferme Julien Rosé, sold at Trader Joe's.)
Apparently Brad and Angelina took a very active role in making the wine: they invested in new equipment (including stainless steel tanks), participated in the blending sessions, and contributed to the development of the new (squat, Champagne-like) bottle shape, and the understated style of its label.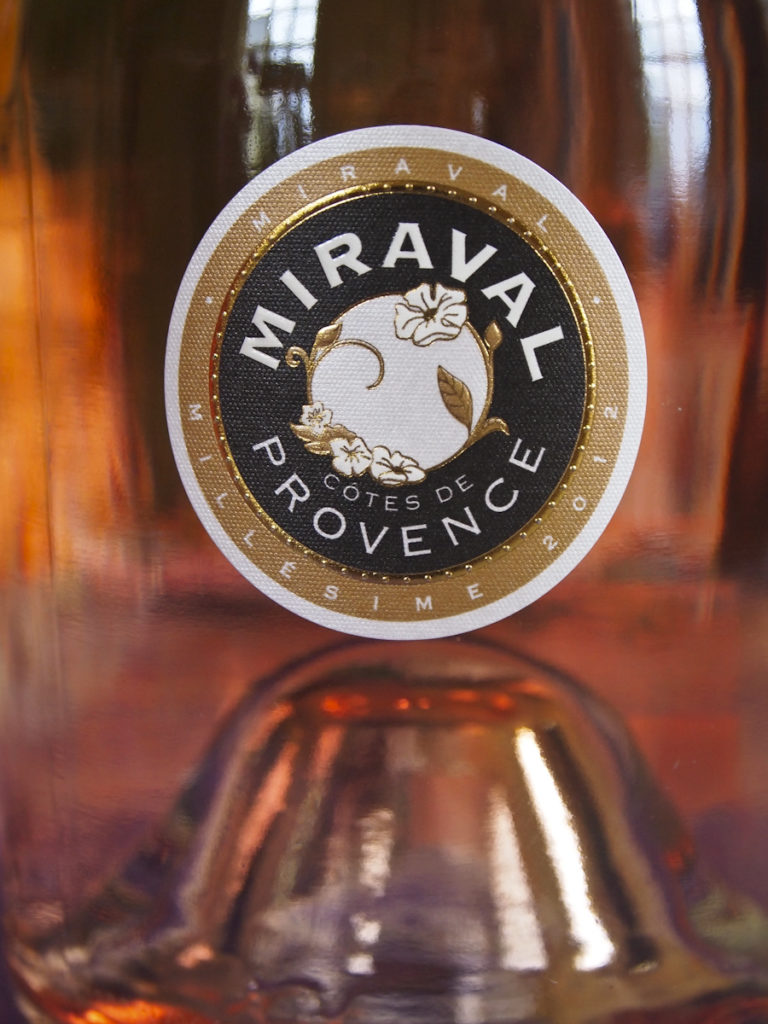 The first 6,000 bottles of this much anticipated rosé sold out in six hours in France. But is it good? Up until the point that the wine actually crossed the lips of one of the wine critics, it seems that, in spite of the chateau's pedigree, all pundits were skeptical about the Brangelina release. (I mean, really, there must be something they don't do well….but, apparently not.)
The wine is terrific and is garnering scores in the 90s (on a 100 point scale). It received 90 points—outstanding—in a Wine Spectator blind tasting of several rosés from Provence.
The wine is made from grapes from several of the domaine's "best parcels" as well as grapes from selected nearby vineyards. It is a blend of red grapes—Cinsault, Grenache, and Syrah—and the white grape, Rolle (also known as, Vermentino). The grapes are hand-picked and hand-sorted, something a good friend of mine can attest to—because she did exactly that in the Miraval vineyards a couple summers ago. According to the chateau's website, "The Syrah is vinified by saignée, the other varieties by direct pressing and about 5% of the cuvée with batonnage." (Batonnage refers to "stirring by hand.")
This wine, like all Château Miraval wines, is organic, a quality that immediately endeared the Perrin family to this estate. The Perrins were early converts, back in the 1950s, to organic grape growing.
Because this rosé was said to be so scarce, I didn't think we would be able to try it. But, while in New York recently, I stumbled upon some in the Morrell Wine Store in Rockefeller Plaza. There it was: the short squat (but elegant) bottle practically hidden by the adjacent taller bottles of rosé. Thinking that there would at least be a sign promoting the celebrity rosé, I couldn't believe that it was actually Brad and Ange's wine. I couldn't find my reading glasses to read the very small and faint letters stating "MIS EN BOUTEILLE PAR JOLIE-PITT & PERRIN," but, clearly, the shape of the bottle smacked of Jolie-Pitt and Perrin.
I was thrilled, a feeling easily recognized by the three Morrell wine consultants. They were excited, too (or perhaps just amused at my exuberant response). But, a long interesting conversation ensued about the purported scarcity of the greatly anticipated rosé—Ken Maykut, one of the wine consultants, told me that while reading an article about the scarcity of this wine, he was thinking to himself that he was sure he had seen upwards of 200 bottles in their stock room—and the growing trend of celebrities producing wine and other forms of alcohol (like Dan Aykroyd's skeleton head of vodka which Morrell also carries). The wine retails there for $27.95—très cher for a bottle of rosé but its allure was too great for this writer to resist. With research in mind, of course, I bought two bottles.
Today, I found out that one of our local wine merchants, Dave Campbell of Ceres Street Wine Merchants, also has a supply of Château Miraval rosé! They go for $23 a bottle in his store.
Is it good? An unequivocal "yes."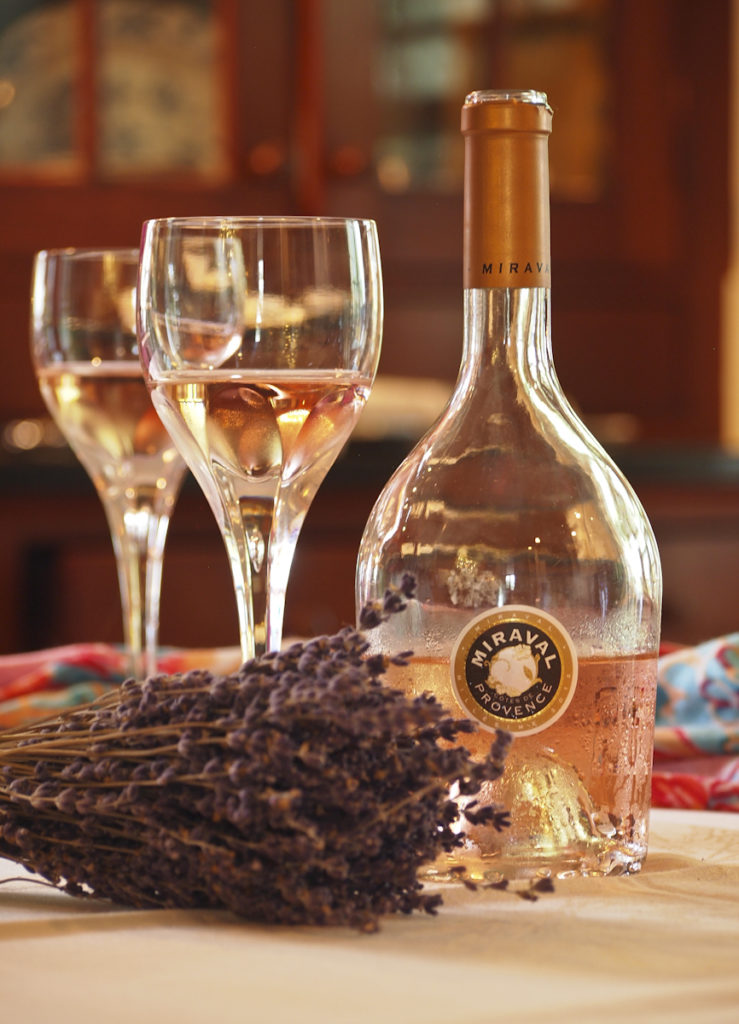 It is elegant and soft but with a substantive finish. I taste fruit and flint. The pale pink color is very pretty. Win Rhoades, proprietor of South Street and Vine Wine and Cheese Store in Portsmouth, New Hampshire, said that it is "light in mouth with a surprisingly large finish." Dave Campbell tasted strawberries and agreed that the finish pleasantly lingered. My husband tasted hints of citrus that became increasingly apparent on the finish. All agreed that it is a very pleasing wine.
Are there as good rosés for less? Absolutely and, in the coming weeks, The Modern Trobadors will recommend some of our favorite rosés from Provence. But, Château Miraval rosé is a serious wine, a celebrity in its own right, and I would recommend splurging for this rosé for the sheer fun of it.
Put The Wall
on the turntable and enjoy.