Easter Monday Brings Omelets and Rosé Chez Nous
by Susan Manfull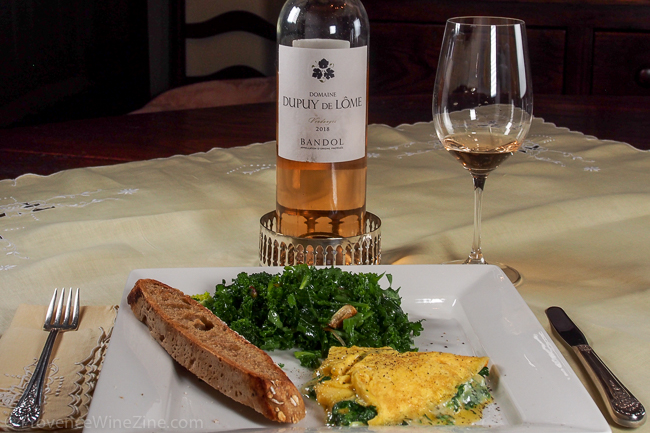 Twenty years ago, in April 2000, we were tooling along the Canal du Midi with five friends. We rented a barge – a péniche — and slowly cruised from Toulouse to Argens-Minervois, each of us taking turns behind the wheel and in the galley kitchen. Easter coincided with this trip and we produced a fabulous lamb dinner with all the trimmings to celebrate that occasion. The next day, we made omelets.
We learned from someone during our market explorations near the canal that the Monday after Easter was also a holiday and that post offices, banks, stores, and most other businesses would be closed. Called Lundi de Pâques or, in English, simply Easter Monday, it is primarily a day to relax. We were unable to establish any religious significance, but we did learn that the French in the south of France make omelets on Easter Monday. Et Dieu sait while in France, we wanted to do what the French do!
In Bessières, a small village in the Haute-Garonne department of Occitanie, not too far from the Canal, they take Easter Monday omelets very seriously. Every year since 1973, le Confrérie Mondiale de Chevaliers de l'Omelette Géante, as their name suggests, make a giant omelet. As many as 15,000 eggs are used to make this omelet in a frying pan that measures about four meters (a little over 13 feet) in diameter. It is said to take 90 minutes just to crack the eggs! Legend has it that Napoleon Bonaparte fancied an omelet he had been served in the area so much that he asked the locals to gather as many eggs as they could in order to cook a huge omelet for his soldiers.
There will be no huge omelet in Bessières this year. COVID-19 took care of that. I will keep my fingers crossed for next year, and one of these years we will attend!
In the meantime, our family has adopted this tradition (the small-pan version) and I encourage you to do the same. If you hollow out your eggs before you color them (which I have never done!), you are all ready to make omelets.
We serve ours with rosé because what better wine to welcome spring? Our original omelet on the barge would have been accompanied by a local (Languedoc-Roussillon) rosé, probably from a cooperative. This year, it is a 2018 rosé from Domaine Dupuy de Lôme in Bandol in Provence. Comprised of Mourvédre (70%), Grenache (20%), and Cinsault (10%) from sustainably grown estate vines, this beautifully balanced wine with very pleasant acidity and just enough red fruit is a perfect match for our cheese and fines herbes omelets, chopped kale salad, homemade bread. It's also a bargain at just over $20
Happy Easter from Provence WineZine…and we hope you enjoy your Easter Monday, too!