DOMAINE DE L'AMAURIGUE CELEBRATES ITS 20TH VINTAGE
by Susan Manfull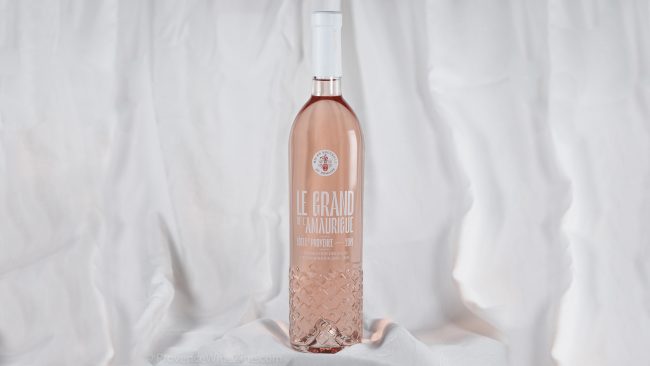 It's been 20 years since Domaine de l'Amaurigue released its first estate-bottled vintage. To mark that special occasion, Jean-Marie Quef, winemaker and director of the domaine, created a special cuvée of rosé made from only the best and oldest parcels of the property, including their 55-year-old Grenache vines. There was just enough rosé to fill 4000 elegant bottles.
Christened "Le Grand" because this (2019) rosé is certainly grand but also because it is the De Groots, a Dutch family, who own Domaine de l'Amaurigue and "De Groot," in Dutch, means "Le Grand."
Composed of 50% old-vine Grenache and 50% Cinsault, this rosé is simply exceptional. One is immediately engaged by the color – a light pink with coral highlights – and then completely captured by the nose which is characterized by freshly picked strawberries and notes of minerality. On the palate, the pleasure segues to lovely round mouth with notes of white grapefruit, as well as strawberry and minerality, filling the mouth and lingering into a long finish. As Quef told me before the rosé was bottled, he strived to create a special blend that would reflect the style of Amaurigue, especially the Fleur cuveé. He succeeded: This is a beautifully balanced rosé with refreshing acidity, fruit, and alcohol (12.5% ABV) but it diverges from Fleur in that Le Grand falls into the category of gastronomic rosés. It is a rosé of substance that is happy on its own but really shines with food…and celebrations!
When Dick and Eugénie de Groot purchased the gorgeous property in 1998, there was no winery. There were some vines, mostly planted in the 1960s by the previous owners, and they received just enough attention to encourage a harvest of grapes that could be turned into wine at the local wine cooperative. But the previous owners had chosen the best varieties and planted them on the best parcels of land and the soil, according to Quef, was exceptional and characterized by clay and limestone with "lots of stones." There was clearly potential, and the property itself is stunningly beautiful.
Located in the department of the Var, between Brignoles and Les Arcs, just outside the small village of Le Luc en Provence, this is the heart of Provence's rosé country. Perfectly aligned rows of vines juxtaposed with thickly forested hills characterize the landscape. Several mountains shield this area on the southern side, notably the Massif des Maures (771 meters, 2530 feet), from which the domaine probably takes its name; roughly translated, Amaurigue means "against the Masif des Maures."
The de Groots knew the area well because, for many years, they had traveled from the Netherlands, with children Fleur and Melvin in tow, to vacation nearby. It had been Eric de Groot's life-long dream to make wine. In 1998, the De Groots took the plunge. By 2000, they were making their own wine on the premises. Production was less than 100,000 bottles plus some additional sold in bulk. By 2003, everything was bottled.
Today, the estate is composed of 47 hectares (116 acres) of vines, surrounded by 110 hectares (270 acres) of thickly wooded hills. Fifteen of the 47 hectares were planted in 2008 after deforesting land already owned and purchasing additional land. They built a thoroughly modern winery, focusing on temperature and oxidation control and including four levels that would use gravity-fed production technology.
Eight different grape varieties are grown: Grenache, Cinsault, Syrah, and a little Carignan for the rosé wines; Syrah and Cabernet Sauvignon for the red wines; and Rolle (Vermentino), Ugni blanc, and a wee bit of Viognier for the white wines. Sustainable agriculture is practiced. The estate was awarded the High Environmental Value Certificate (HVE), signifying that Amaurigue actively respects biodiversity conservation, plant protection strategy, management of the use of fertilizer, and management of water. The wines have amassed an impressive collection of awards over the years.
Earlier this year, at Wine Paris, I saw Quef and Fleur de Groot whose namesake wine is one of my favorite rosés. There was palpable excitement at the Amaurigue stand about imminent release of their limited edition rosé, Le Grand. There is indeed much to celebrate and Le Grand marks the occasion of the 20th vintage perfectly.
To learn more about Jean-Marie Quef and Domaine de l'Amaurigue, read our previously published article here.
Address:
Domaine de l'Amaurigue
Route de Cabasse 83340
Le Luc en Provence
+33 (0)4 94 50 17 20
contact@amaurigue.com