Southern France Vineyards Struck by Severe Frost
by Susan Manfull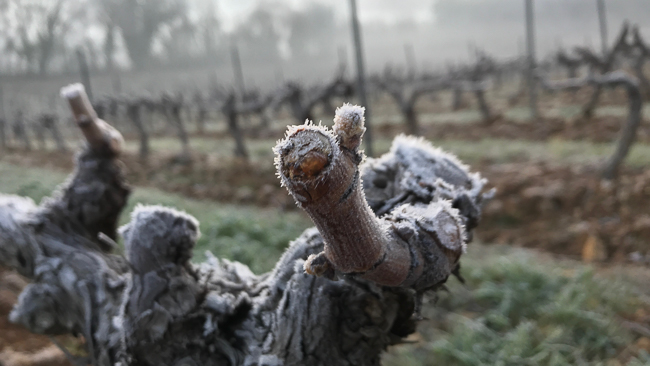 Temperatures as low as -7֯ C (19.4֯ F) were recorded in the Var in the early morning hours of March 25 and 26. Snow flurries were seen but it was the frost that caused damage to vineyards throughout the Var and apparently in parts of the Vaucluse, Bouches-du-Rhône, and Gard départements. It is highly unusual for the damage to be as widespread as it appears to be in the Var.
Of the six départements (i.e., administrative divisions) in Provence, the Var is the largest producer of rosé, a business sector already greatly affected by COVID-19 disrupting the supply chain and reducing marketing and sales opportunities (through the cancellation of trade shows).
In the département of Var, all the vineyards were apparently affected but the impact was different depending on the stage of growth; some appeared to be severely impacted and others not. I heard from winemakers in the Var who reported serious damage and others, also in the Var, who reported no damage due to their location in late-growth sectors or more protected areas
The above photos are courtesy of Domaine de l'Amaurigue. Click on each photo to reveal the caption.
Jean-Marie Quef, the winemaker at Domaine de l'Amaurigue in Le Luc en Provence, wrote, "We had -5֯ C and -7֯ C at l'Amaurigue, so there will be quite some damage on the new burgeons and the next harvest will be damaged, of course."
On the otherhand, François Miglio, winemaker at Château Gasqui in Gonfaron, and Phillippe Bru, winemaker at Château Vignelaure in Rians, both reported no apparent damage because their vines have not yet budded.
One source reported that the early sectors of Grenache, Tibouren, and Rolle were particularly impacted.
Time will tell the extent of the damage throughout the South.
It would be an understatement to say the 2020 is unprecedented in its challenges for the wine industry in the South of France, especially for rosé due to its dependence (more so than red or white wines) on marketing the current vintage. Consider COVID-19 wreaking havoc in production, marketing, and sales efforts; the tariffs imposed by the Trump administration; and, now, Mother Nature has wrought damage in the vineyard.