FOR OUR FIRST THANKSGIVING IN PROVENCE, WE TURNED TO LA RÔTISSERIE DU LUBERON AT THE WEEKLY MARKET
by Susan Manfull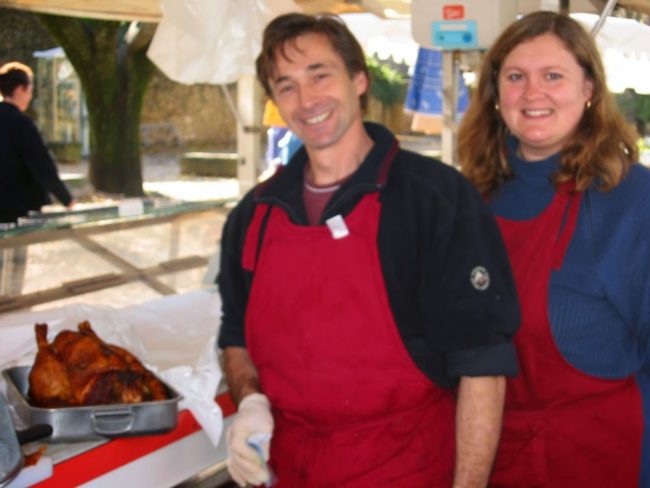 As the days move closer to Thanksgiving, I am thinking of the year we were in Provence—in the charming village of Lourmarin—on that quintessential American holiday. Like most people who are drawn to travel abroad, we love to learn about the traditions of other cultures and are eager to embrace them when we are in those countries. Some, we may even take home with us and celebrate as our own. I'm thinking of the Santon village that will soon grace a corner of our living room and the wheat that, with a little luck, will grow tall in the sunny kitchen window (and bring us a prosperous new year!).
Thanksgiving, on the other hand, is an American tradition we take with us wherever we go. And that is how we became acquainted with Christophe and Barbara Veyrier, proprietors of La
Rôtisserie du Luberon.
From the time we unpacked our belongings for our long stay in August 2002, we had quickly fallen into the routine of purchasing one of the Veyriers' perfectly roasted succulent chickens at the Cucuron and Lourmarin markets nearly every week. It may seem hard to imagine—and terribly self-indulgent—that a family of three could pick up a chicken—complete with the roasted potatoes and onions—on a Tuesday in Cucuron and be ready for another one from the same vendor on Friday in Lourmarin; but this scenario would only be out of the realm of your imagination if you've not had the pleasure of one of the Veyriers' very popular chickens.
The intoxicating aroma of the Veyriers' roasting chickens—about five birds to a spit and six or eight spits turning in the huge oven—wafts throughout the small market in Cucuron and dominates the west end of the large market in Lourmarin. The lines are always long in the summer and, lest you reserve a chicken upon arrival at the market, you may have to change your menu.
As regular TMT readers know, their chicken—hot off the spit—is the center piece of one of our favorite lunches. I like to place my order when I first get to the market and then stroll around, filling my basket with salad makings, olives, cheese, a little fruit, and artisanal bread for lunch and whatever else strikes our fancy for the next few days.
The Veyriers have been taking their rotisserie business to markets in the Luberon for about fifteen years. Having started the "entreprise," by chance, according to Barbara, they have built a very successful business with a following in five Luberon markets: Lauris, Cucuron, Lourmarin, Le Thor, and Ansouis. Their son, Benjamin, began working full time with them a few years ago.
The work of a market vendor is not easy, a reality seldom acknowledged by travel writers (myself included) who, like patrons of a gorgeous theatrical production, only focus (understandably) on what they see. But behind the glossy photographs of these beautiful markets, the vendors' days are long and arduous and, according to many with whom we have spoken, it is increasingly difficult to make a living in the current French economy.
"The typical day begins at 4:00 a.m. when we prepare the truck so that we can be at the market by 6:30 or 7:00," Barbara explained. "By 8:00 a.m., we are ready for sales."
"We are home around 2:00 p.m.," Barbara said, "and it takes about two hours to clean the truck."
And yet, in spite of such long days, I have never observed Barbara or her husband Christophe without their trademark radiant smiles as they greet their customers. When I saw them this past June—in the depths of some of the hottest weather Provence experienced this summer—they were as cheerful as ever, even as they toiled in front of the raging hot rotisserie.
Barbara said that it is very gratifying to interact with their clients, both those who regularly drop by and whom they get to know and those tourists who are just passing through. "Pas de patron" or "no boss" is another appealing part of their work.
La Rôtisserie du Luberon has much more to offer than their supremely good chicken…it just took us weeks to veer from that family favorite. They have a pork roast which we have come to love, as well as fabulous pork ribs, duck, and foie gras, among other offerings that slip my mind at this moment (but which I am confident I could recommend on blind faith alone).
When it came time to find a turkey for Thanksgiving, we only considered La Rôtisserie du Luberon. We talked with them a few weeks before the holiday and they said they could get one for us if that was what we really wanted but that a good chapon is what they would really recommend for a late November meal. (Turkeys, apparently, are widely available for Christmas although now, twelve years later, I gather they are more readily available earlier.)
A chapon we learned is a "capon" in English, which is a chicken that has been castrated, a procedure that is said to make their flesh more tender and flavorful. We decided that if the Veyriers recommended this bird, we would go with it, modify our traditions while in France (and pardon another turkey).
On that Thanksgiving Day, twelve years ago, we had the Ellisons, our old friends from New Hampshire, and Pierre and Muriel Schott, our new friends from a few doors down on la Rue de la Juiverie in Lourmarin, join us around our very humble collection of tables in our very petite maison de village. We were so tightly packed around that golden bird –accompanied by all the trimmings of a traditional American Thanksgiving and a few bottles of Provence rosé and Gigondas red wines—that no one could spread their elbows wide enough to cut what they had to eat. But, we learned that it didn't matter what we had to eat or whether we had to take turns cutting our food, it was the fellowship around the table that mattered most…although that chapon was pretty memorable, too.
I remember many Thanksgivings fondly but this one stands out because our old friends traveled so far to join us, our new friends embraced our American tradition, and La Rôtisserie du Luberon came through with a very tasty bird!
If you are an American in the Luberon and still looking for Thanksgiving dinner—or if you want to order your Christmas turkey—you know where to go. I suspect many people reading this article already know about le poulet rôti from La Rôtisserie du Luberon.
Notes:
La Rôtisserie du Luberon may be reached at 06 83 52 00 66
Market schedule:
Monday: Lauris
Tuesday: Cucuron
Friday: Lourmarin
Saturday: Le Thor
Sunday: Ansouis
Click here
for other
TMT
articles about Provence markets.