The Force is with Château Margüi as it joins George Lucas's Skywalker Vineyards
by Susan Manfull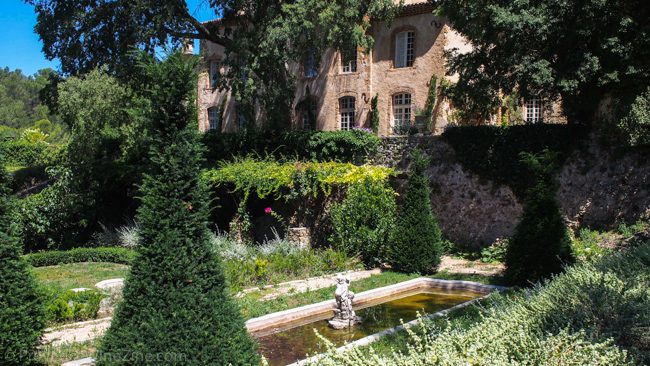 Rumors, swirling around the verdant green hills of Coteaux Varois en Provence for months, are confirmed: Skywalker Vineyards has acquired the sumptuous Skywalker Vineyards, located in Châteauvert in the center of the Var. There, accolade-collecting wines have been produced since 2004 under the meticulous care of Marie-Christine Baylet-Guillanton and Philippe Guillanton who bought the relatively barren land a few years earlier and grew it into the internationally known producer of award-winning organic wines it is today.
Today, Philippe Guillanton, now the winery manager at Château Margüi, confirmed that the deal was consummated on April 28, 2017. This Provence château joins Il Convento in Umbria, Italy and Skywalker Vineyards in Marin, California, all part of George Lucas's portfolio of "exclusive vineyards and wineries around the world."
The stunning property, long a very favorite of mine, is nestled into the Bessillon Mountain Range, northwest of Brignoles in the heart of rose-producing country. Graced by rolling hills, natural springs, beautiful French and English gardens—some perfectly coifed, others charming in their overgrown state—splendid aromatic garrigue as well as, of course, vines and olive trees untouched by chemicals for decades, the now fully-renovated 18th-century bastide stands sentinel. This land has been farmed since Roman times. The property totals 116 hectares (287 acres) of which about 17 hectares (42 acres) are devoted to vines and a little less than 3 hectares (7 acres) to olive trees.
Wine in all three colors flows from this estate. Two roses comprise the pink category—Perle de Margüi rose, among my very top roses, and, new this year, a very refreshing rose, Toscane de Margüi; two white wines—the outstanding Les Pierres Sauvages and L'Or des Pierres—make up the white wines; and the lovely Titien de Margüi is the sole red wine.
Fans of Château Margüi need not worry that the wines will change. Guillanton told me that the "crew is remaining the same," adding "Not much change at this stage!" Regarding the bastide, change is in store, according to Guillanton: "[A] plan is indeed for a high-range hotel residency, but that won't happen before a couple of years [as] a major reconditioning of the house has to be undertaken."
Elizabeth Gabay MW, who resides in Provence, said, "Margüi has stood out as a quality producer since the first vintage, so a good choice for a partnership and I look forward to welcoming George Lucas to the world of Provence."
I didn't ask Guillanton if Château Margüi , already the setting for several films, would be incorporated into "a galaxy far, far away" in a future Star Wars film. Do the Jedi drink wine?
Notes:
To see more photos of this lovely estate, visit this recent article: