Mon Dieu! How Much was that 20-Year-Old Rosé?
The Wine Snoop Report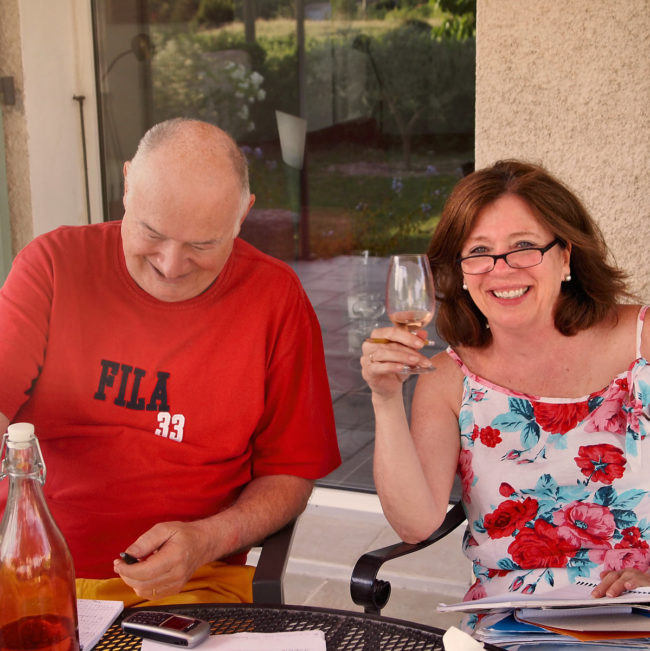 Buried in the middle of an otherwise humdrum article in Wine Spectator about the "Auction Index [Staying] Flat in Third Quarter of 2014," was the following sentence: "A two-bottle lot of Henri Jayer Bourgogne Rosé 1994 climbed above its $180 estimate by 1,222 percent; its $2390 price likely makes it the most expensive rosé ever purchased." (October 15, 2014)
A couple of points jumped out at me about this sentence. First, I knew it wasn't the most expensive rosé ever sold—in an earlier Wine Snoop Report, we wrote that "a large format double magnum of the Château d'Esclans "Garrus" rosé was auctioned off [in the Hamptons] for a record $15,000 for one bottle." This tidy sum went to Jeff's Kitchen at the Hayground School in Bridgehampton, New York and the Jeff Salaway Scholarship Fund.
So, the Henri Jayer rosé wasn't the most expensive rosé ever purchased—and I would learn in the course of asking around about the Henri Jayer sale, that neither was the Garrus rosé the most expensive rosé ever purchased, as the Snoop had reported. (More on this subject below.)
Second, I was curious was why anyone would pay over a thousand dollars a bottle for a rosé that was well past its prime. Even the esteemed auction house, Hart Davis Hart, did not expect such a wildly high price.
Rumblings from the peanut gallery frequently decry the $90 price tag of Sacha Lichine's Garrus rosé. Rosé is supposed to be cheap as well as quaffable and fun, 'they' say, something to sip by the poolside. The same folks, I suspect, also say that $16.80, the average retail price a decent rosé now commands in the States, is more than one should fork over for a bottle of 'lowly' rosé. I wholeheartedly disagree.
Curiosity piqued, I reached out to Pierre-Olivier Camou, Sales Manager in New York's Sherry-Lehman: Even recognizing we're talking Henri Jayer, why would this wine sell for so much?
"Henri Jayer was a cult winemaker. Among the three most expensive and sought-after wines on the planet, two are his. Any of his wines are going to retail for astronomical prices," Camou responded.
Anticipating my next question about whether the wine would be good, Camou said, "By the way, I don't think that a 1994 rosé would be drinkable by now."
I asked Paul Chevalier, National Fine Wine Director of Shaw-Ross International Importers, and importer of Château d'Esclans rosé wines, including Garrus, to weigh in.
"I think this wine is cooked and way too old," adding that there is "Nothing special about a Henri Jayer rosé [as it is] not a great place to make rosé to begin with."
To underscore this contention, Chevalier wrote to me that "Making rosé in Vosne-Romanée is like trying to make a white wine without bubbles using Clos de Mesnil grapes; can be done, but never will be great…." Chevalier's position notwithstanding, it seems to me that he has a point.
Increasingly haunted by the question of why this 20-year old bottle of rose, even given its legendary vintner, would yield such a remarkably high price when it is likely to have lost its (arguable) appeal on the palate, I talked with our local wine merchant, Win Rhoades, proprietor of South Street and Vine in Portsmouth, New Hampshire.
"Whoa, now," Rhoades said, "[that rosé] may still have some life left in it." He reminded me of the 2000 Jura Arbois Pupillin red wine we recently shared and that, although the vintage suggested it would be past its prime, we certainly managed to eke a lot of pleasure out of that bottle.
Perhaps '1994' was a good year for the buyer for personal reasons, Rhoades added. An anniversary?
My curiosity still not satiated, I called to Jerry Clark, good friend who happened to have had two lots of Burgundy wine—including some from Henri Jayer—sold in the same Hart Davis Hart auction on September 19th (as the rosé in question).
Clark, who has an impressive cellar by any measure, acknowledged that he "collects" wine but hastened to add that the wine is "for my own enjoyment" and that "[his wines] were never bought to invest for resale purposes."
Clark echoed Rhoades' sentiments, saying that "Maybe it is still drinkable." He added that Hart Davis Hart fastidiously qualifies the cellars from which they take their wines for auction. As part of the qualification process (that took about a year for Clark), a representative from the auction house traveled from Chicago to his home in New England to personally assess Clark's cellar before accepting his wines for auction. A detailed provenance accompanies each wine in the auction, instilling confidence in the buyer about the authenticity and storage of the wine.
"Maybe the wine was not purchased to be drunk," Clark mused. "Maybe the buyer needed that bottle to fill in a story." Clark himself has a soft spot for wines related to his children's birth years (although I am certain any birth-year wines that Clark would purchase would be with the idea his children could drink the wines).
"I don't believe anybody would buy a wine they knew was over the hill," Clark said.
Our conversation turned to another rosé that truly is the most expensive rosé ever sold. Camou had alerted me to a May 2014 Wine Searcher article revealing the sale of a single 1995 "Queen of Hearts" Sine Qua Non Rosé produced by the iconic Manfred Krankl for—gasp—$42,780. The final bid was actually $37,200—the rest was the buyer's premium. (FYI, the bidder was anonymous and the auction was conducted by the online site, WineBid.)
Krankl said, in the Wine Searcher article, that that rosé was not meant for sale; instead, he said, in the same article, that it was made for "ourselves" and that "[a] good portion of it we gave away to friends and associates and lo and behold some of these 'friends' went about and sold their gifts."
If the sale of two-bottle lot of 20-year-old Henri Jayer rosé piqued my curiosity, the sale of single bottle of 19-year-old Sine Qua Non rosé booted any curiosity into orbit. Mon Dieu!
This was not an auction for charity, as was the case with the $15,000 double magnum—that is, four standard 750 ml bottles—of Garrus. This was not a bottle said to have come from a certain US President's cellar.
"Staggering," was the only word Clark could muster up.
Would it be unbecoming to hope that the anonymous buyer finds himself with a pretty bottle of pink vinegar?
–SNM
Pictured above are Jerry Clark and Susan Manfull. Photo by Pamela O'Neill