MY DINNER WITH SACHA LICHINE
by Susan Manfull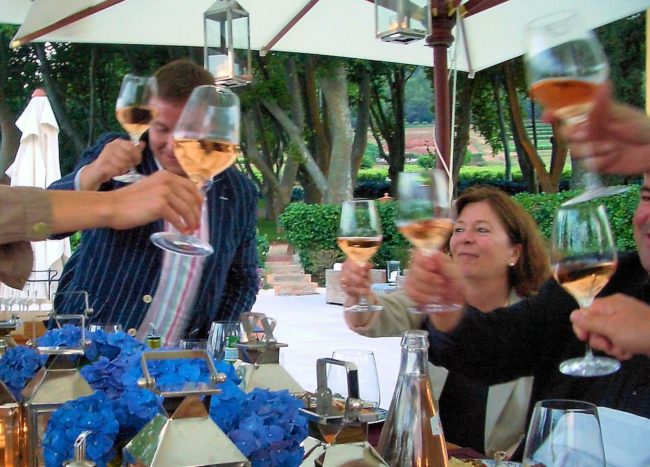 When the invitation for dinner with Sacha Lichine popped up on my screen, I couldn't help but think of my grandfather.
Just above my desk, wedged into the middle of a crowded shelf, stands a faded purple book entitled "Wines of France." The book belonged to my grandfather and the author was Alexis Lichine, Sacha's father, otherwise known as "the Pope of Wine."
I can imagine my grandfather, affectionately known as Grampi, feigning disbelief and laughing. "You're going to have dinner with the son of the Pope!" he would say, while theatrically slapping his knee and reveling in our exuberant response to his clever quip.
"Let's make something we'd like to drink in the event we can't sell it."
— Sacha Lichine
My grandfather, who made a career out of selling and later importing cork for wine bottles, beginning in California, as luck would have it just before the U.S. was brought into the war, was a life-long aficionado of French wine. He probably learned about Alexis Lichine in the 1940s when Lichine was working with Frank Schoonmaker in California to persuade wine producers to break with the tradition of naming their wines after European wine regions and instead label them by the grape variety (or varieties) from which they were made. If not then, certainly by the mid-1950s after the aforementioned book had been published and Lichine— Russian-born, naturalized American who had grown up straddling residences in France and the U.S.— was well on his way to establishing himself in the U.S., and indeed internationally, as the envoy of French wine.
The invitation read, "Please come to the Château at 6 pm on June 18."
My grandfather would have imagined that dinner would be in Bordeaux, probably at Château Prieuré-Lichine, the Margaux château that Alexis Lichine bought in the early 1950s. Who would have guessed that Alexis' son, born in 1960, would sell that château just shy of fifty years later, and buy another in Provence, of all places, where he would use grapes from 80-year-old vines to make rosé, of all things.
Sacha was certainly destined to step into his father's rather large shoes and follow him along one or more of the many paths he had forged in the earliest days of the modern international world of wine. Sacha told me that, as a child, he spent summers in Bordeaux and that he fondly recalls holidays along the Côte d'Azur, usually in Monte Carlo, where his father (and everyone else) was drinking the pale pink rosés for which the region has long been famous. Before he was out of college, he was conducting wine tours in France during the summer months and working as a sommelier at Anthony's Pier Four in Boston during his semesters at Boston University.
Sacha began his own import business in his early 20s and, before long, he had a négociant business called "Borvin" (which is still in operation as 'Sacha Lichine") "focusing on selecting the best wines from Bordeaux and Burgundy." At 27 years of age, Sacha took the reins of Château Prieure-Lichine. His father died just two years later. Sacha remained at the helm for another decade until 1999 when he decided he had done all he could do there and wanted to try his hand at something new. Maybe he wanted to forge his own path. He sold the property.
Sacha's career had centered on some of the finest and most complex red and white wines France produces. No one expected his next move and, as has been widely recorded, people thought he was crazy. "[But] I thought it was an exciting, new frontier," Lichine said.
After looking at 32 properties in the next eight years, finally, in 2006, he purchased Château d'Esclans, an estate he had seen (and loved) twelve years earlier. It was a rather run-down property but it boasted vines as old as 80 years, running as deep as five meters.
With the help of Patrick Léon—of Château Mouton Rothschild, Opus One, and Viña Almaviva fame, to mention just a few of his successes—he set out to make a "grand rosé."
My grandfather's corkscrew probably never opened a bottle of rosé from Provence, with the possible exception of a bottle from Domaines Ott or Tempiers. Grampi died before the potential of rosé as a serious category of wine was fully realized.
Now, his granddaughter along with photographer and good friend, Pamela O'Neill, whom Grampi had known and with whom he had raised more than one glass of wine to toast to significant occasions over the years, would be dining with Sacha Lichine and his family, enjoying some of the finest rosés Provence produces.
Pam and I were positively giddy. In the weeks leading up to the event, we spent equal amounts of time digesting articles about all facets of Sacha and his wines and discussing what we would wear. Even up to the last minutes before we got into my rental car to drive from Cotignac to La Motte, where Château d'Esclans is located, we were still trying on shoes and jackets, debating how best to present ourselves.
Both small villages lie in the Department of the Var, where the majority of Provence AOP rosé—considered the gold standard of rosé—is produced. It is about a 55 kilometer (34 miles) ride and we had left plenty of time but, owing to a bouchon in Les Arcs, we could see we would be a few minutes late, exacerbating our simmering anxiety.
The last stretch of D25 takes one through the gorgeous Vallée des Esclans (Valley of the Clans), where on either side of the rolling green hills that glistened in the late afternoon Provençal sun, there now lie vineyards owned by several different wine producers. When the original château on the d'Esclans property was built back in the 12th century, this land was owned by the Comte de Provence (the Count of Provence) who, in 1201, sold the château and its surrounding land to Gérard De Villeneuve, part of a wealthy family from Marseille. It is a beautiful drive.
We soon turned into the tranquil grounds of Château d'Esclans, and saw the stunning "Tuscan Villa style" château, a sight that quickly replaced any residual nervousness with a sense of awe.
This château was built in the 19th century and includes the original 12th century cellar, said to be the oldest in the area. Surrounded by a brilliant green lawn, perfectly manicured gardens, and a plane-tree lined drive, sumptuously adorned with rows of hydrangeas of various shades of lavender, it is one of those snapshots that will remain in my mind's eye for the rest of my life.
A large terrace on the left side of the château offers a commanding view, beyond the valley and the Massif des Maures, to the shining Mediterranean Sea, where , as long as 2500 years ago, the inhabitants of this area could watch for intruders heading toward ports such as Fréjus. We would all rendezvous on the terrace, later, pour l'apéritif.
Tour and Tasting
The affable Communications Director, Tom Schreckinger—with whom Sacha shared an apartment in Boston's Back Bay while the two were in their early 20s—led a brief tour of the vinification facility culminating in a tasting of the château's four tiers of rosés. Pam and I were joined by two guests from Moscow, Igor Zverev, Group Project Manager for Simple, an import company that now brings all four d'Esclans rosés into Russia, and Victoria Tselkovneva, who works in the French Embassy in Moscow.
Along the way, Schreckinger reminded us that the property consists of 267 hectares ( 660 acres) with just under 50 hectares (109 acres) planted with vines, devoted to, in ascending order: Château d'Esclans, Les Clans, and Garrus. At this point in time, all the grapes for the estate's entry level wine, Whispering Angel, are sourced from nearby vineyards (all Côtes de Provence) in an effort to meet demand of this popular rosé.
Château d'Esclans is well known for its state-of-the-art equipment. Because it wasn't harvest season, we didn't see the "vibrating table" and the "electronic eye" in action. Grapes are first hand-sorted and then sent along the conveyor belt where an optical sorter—originally designed for sorting garbage—scans the grapes, ignoring the ones that resemble a photograph of the ideal grape (as determined by the winemaker, presumably Léon) and signaling another mechanism that uses compressed air to "suck out" the grapes deemed inferior.
It was interesting to see the 600-liter French oak barrels for the top three cuvées and observe how each barrel is individually temperature-controlled using a cooling coil inserted in the bung hole. The upshot is the ability to fine tune fermentation temperature so that, for example, the winemaker can induce an "artificial winter" (thus slowing fermentation) for the desired length of time.
The stainless steel fermentation tanks for Whispering Angel are immense and the number of them continues to grow. The structural expansion of the facility to meet the rapidly growing demand for the increasingly popular Whispering Angel was, well, vraiment incroyable! (That is, really incredible!) We took note of where the grounds had been prepared for the imminent installation of new stainless steel fermentation tanks to double the production capability of Whispering Angel for the second year in a row! (More on this subject in an upcoming Wine Snoop Report.)
L'Apéritif
The prelude to every sophisticated French dinner is l'apéritif. Typically, this is a cocktail or a glass of wine, usually sparkling, white, or rosé. Guess what we had!
Sacha surfaced from his meetings to greet us and his gracious wife, Mathilde, was on the terrace to welcome us as well. Also joining what was feeling more and more like a party were Clement Malochet, the Commercial Director for Château d'Esclans, and two long-time friends of Sacha's family from Bordeaux.
The Lichine's three absolutely charming children also made an appearance now and again, with their canine companions in tow. Helping to provide some of the evening's most light-hearted fun in the photo ops, they were eager (well, at least willing) to pose for many photos—while we photographers exchanged cameras back and forth—as long as their dogs were included, too. (Sacha has two young adult daughters from his first marriage.)
In Provence, the summer sun does not descend until quite late and the warmth of the day does not readily yield to the night's slightly lower temperature, making the evenings seem boundless. Add the fabulous view that, as I mentioned above, stretches to the Mediterranean Sea where enemy ships endeavored to slip into ports under the watchful eyes of people who might have stood on the very hill where I was sipping fancy rosés and musing about why anyone ever questioned Sacha's choice of Provence.
This was Provence at its best. So much of Sacha Lichine's marketing is directed toward those who tie up their huge yachts into Saint Tropez and Cannes when, really, the "Provence Life Style" that folks like me gravitate to is best captured by the scene I was a part of that evening: simple conviviality, a bottle of good rosé, sitting around the table and the Provencal sun. With Les Clans rosé flowing like Aix's Fontaine des Neuf Canons, what could be better?
Les Clans, second to Garrus but made with the same varietals (50-55 year old vines) grown in similar soils and aged in French oak barrels (50% new and 50% one-year old) for the same length of time, is a stellar rosé and, in my mind, rivals Garrus.
Looking around, I realized that it didn't much matter which pair of shoes I had chosen—conversation and stories were flowing, punctuated by huge bouts of laughter.
Two of those stories propelled us from the terrace down to see the 19th-century chapel that adjoins the château. This wonderfully whimsical chapel elicited a collective "aww" upon entering. With its curious proportions and unusual collection of ornamentation, one had the feeling of having stepped through the looking glass. The large armored saint with his flag staff in the shape of a lance that is (oddly) bent at his hand and the cherubs with heads as big as the torso of the armored saint contribute to a delightfully warm ambiance.
The chapel was the site of Sacha and Mathilde's wedding and the inspiration for the name of the château's entry-level rosé, Whispering Angel. I can hardly imagine a whispering voice emanating from those oversized heads but, with enough rosé, we might even hear from the armored saint. That evening in the chapel, I heard nothing but spirited laughter from Sacha and Mathilde and their guests.
Dinner
Dinner party seating can send even the most seasoned host or hostess into a tizzy for days. I wondered how we would be arranged as we walked to the table.
Perhaps it was simply my good fortune that the table was more square than rectangular, thus eliminating the head of the table, or maybe it was the luck of the draw in the boy-girl-separate-the-host-and-hostess arrangement around the table; but whatever the reason, I was seated next to Sacha who was assigned to the middle seat along the side of the table.
I thought I had no shortage of subjects to broach with Sacha—recall the enthusiastic efforts Pam and I engaged in to prepare for the evening—but somehow not one of those topics came to mind as Sacha helped me with my seat. And for Igor, one of the Russian guests we knew was invited, and, to my delight, ended up on my other side, I could only recall what not to discuss—Putin, the Ukraine, and "The Americans," the popular FX television series (about Russian spies infiltrating American neighborhoods in the 1980s). But, none of this much mattered as conversation mixed with laughter flowed, just as it had earlier.
When I later reflected on the evening, I realized that I couldn't imagine Sacha's father taking such an egalitarian position at the table. I can't help but think that "the Pope of Wine" would not be comfortable anywhere but at the head of the table—or some semblance thereof—where he could hold court. Along with "entrepreneur," "pioneer," and "tour de force," there is no shortage of adjectives like "difficult," "arrogant," and "domineering" used to characterize the senior Lichine.
Although, words like "entrepreneur," "pioneer," and "tour de force" are used to describe Sacha, the same adjectives do not surface around discussions of Sacha. Sacha's long-time friend and early mentor, Peter Holt who was the Wine Director and a sommelier at Anthony's during the time the younger Lichine was employed there, speaks exceptionally fondly about Sacha and has told me on more than one occasion that Sacha is "terrific," the "real deal," and "what you see is what you get." Every person I have spoken with about Sacha talks about him with as much affection as they do respect.
Sacha is a man who, now in his mid-50s is comfortable in his own skin, so much so that he can take the middle seat along the side of the table and seemingly enjoy it.
The dinner was a simple—and perfect—preparation of white fish, served alongside a whole grain I am guessing might have been épeautre—known as einkorn in the States, it is one of my favorite grains—and roasted tomatoes topped with chévre. A salad and a cheese course followed and, lastly, dessert.
Somewhere in the dinner, the wine switched to Garrus, the grand rosé –or the concept thereof—that had beckoned Sacha to Provence and, in many ways, the reason that brought us all together around the table.
Garrus is a rich, opulent wine and, often likened to a classic white Burgundy Grand Cru, it definitely falls into a category occupied by few other rosés. It is made from very old vines that produce fewer grape bunches per vine, and aged for about 12 months in 600-liter French oak barrels that are 100% new and lighted toasted. Unlike the vast majority of rosés, this rosé is made to stay in the cellar for a few years. It is an extraordinary rosé and indeed an extraordinary wine. I wish my grandfather were still alive to try it.
After dinner, we followed the hosts into the château for digestives. Coming directly from the terrace where the modern teak furniture bedecked with off-white canvas umbrellas had created a light and airy feeling, I felt thrust back in time as we went inside, back to the period when the château was built. The room—I'll call the library— is lush and comfortable with a mix of 17th- and 18th-century furnishings, dotted with contemporary Oriental carpets, and covered with resplendent wallpaper reminiscent of the mid-19th-century Rococo Revival. I felt immediately embraced by history.
The heads of big game that adorn the walls remind one that forests once covered the land where vineyards now grow. Although I didn't see any heads of bear on the walls, they inhabited the area up through the 19th century and as far back as two thousand years. The Romans used the name "Garrus" –Latin for bear—to refer to the hilltop where now stands the single vineyard of 80-year-old vines that provide the grapes for Château d'Esclans Garrus.
Apparently, that hill was once covered with the woods that were filled with wild bears. I couldn't help but note the wild boar head. Sangliers, as they are called in France, have also made this area their home across the years and, much to the chagrin of property owners, still take the occasional romp through the vineyards. So much a part of the landscape are the sangliers that not only does one decorate the library wall but they are part of the family crest of the château and that crest graces each Château d'Esclans bottle. Look for the "chevalier" hat (knight's hat), representative of the Count who owned the property and oversaw of the Esclans Valley, and note the three wild boars.
I regret not asking about the provenance of the head of the Eurasian elk (otherwise known as a "moose" in North America) since I don't think they have been around Provence for a couple thousand years. (Perhaps the previous owner from Sweden brought it down with him.)
There is also Lichine history in the library—resting on table tops, hanging on the walls, and stacked on the floor. Photos of family and friends sit atop bureaus and shelves. Sacha showed me a quadriptych of eight individual paintings of various châteaux and insignia related to the deep involvement of the Lichine family in the wine business in Bordeaux and Burgundy.
Resting on the floor, against the wall are several tall stacks of very large leather-bound scrapbooks filled with newspaper and magazine clippings and other memorabilia of the life of his legendary father. A father such as Alexis Lichine will always loom large in the lives of his offspring and in the eyes of those who endeavor to understand his offspring. This is especially true, it seems, for his only son. Naturellement.
Sacha's circuitous path from Bordeaux to Provence and wherever else his own path may take him will always be intertwined with his father's but, since the first vintage of his quadriptych of rosés, Sacha Lichine has been making his own history. He has much to thank his father for but a pair of shoes is not one of those things. Sacha bought his own.
Notes:
Château d'Esclans – Domaines Sacha Lichine
4005 route de Callas
83920 La Motte en Provence
FRANCE
33 (0) 4-94-60-40-40
chateaudesclans@sachalichine.com
Shop is open every day during the season (May 15 – September 30) from 9:00 to 13:00 and 14:00 to 19:00 and week days during the rest of the year.
Special Tour & Tasting by request (reservation required)