EDITORIAL DEBATE: CAN WE SETTLE THIS OVER A ROSÉ?
by Jerry Clark and Susan Manfull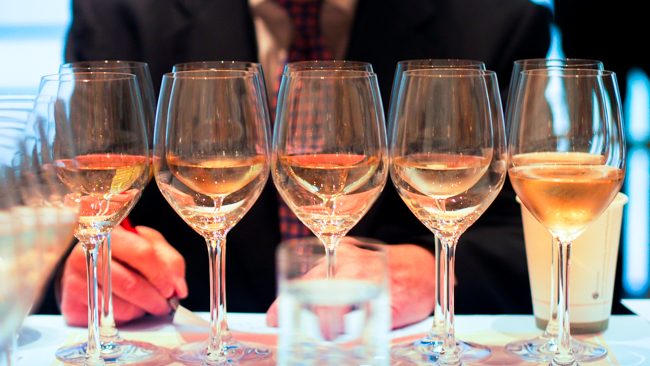 MY MEA CULPA TO SERIOUS ROSÉ
by Jerry Clark
Since I began to write for Provence WineZine in 2015, my colleague and publisher Susan Manfull and I have had a sort of running dispute on why I don't seem to take rosé as a serious wine. Frankly, she is rather incredulous about it, as evidenced by a conversation we had following her recent story, "Is Rosé a Serious Wine? Some Thoughts on the Subject." My position has been that, for me, rosé is a warm weather quaffing wine, and while I admit that surely some winemakers are giving it their best attention from a quality aspect, I have never considered cellaring any of the highly touted names to see how they might improve over time.
Today, two weeks after Susan and I had our conversation, I can say "shame on me." I am now ready to take that step and seek some top-end rosé to lay away. I experienced an epiphany on Wednesday, June 28, upon learning that a selection of five bottles of Domaine de Tempier Rosé, were included in an auction of fine wines conducted online by Skinner in Boston (lot #1353) and sold for $250, almost double its knock down estimate of $100 to $150. This lot included two bottles from 2009, one from 2010, and two from 2013. After adding the seller's commission and Massachusetts sales tax on to the winning bid price, the buyer laid out an average of $64.63 a bottle for his purchase. Given that the recent 2016 release of Tempier rosé can be found for $38 to $50 at various U.S. retailers, it's obvious to me that this wine was purchased not to enjoy this summer at a barbecue, but to go into seclusion, as it has been up to now.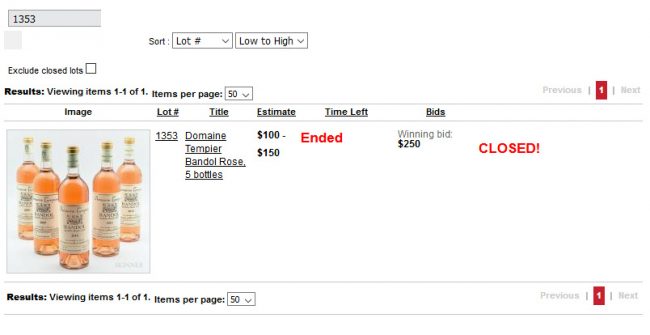 While I found the price for this lot of rosé a bit surprising, it alone is not what knocked me out. I sometimes follow such auctions and have often seen wines go beyond estimates. Of the few times I have had a winning bid, it was usually to secure a value in the low bid estimate area. In a way it's kind of like buying a $2 win ticket on a long shot at the track. You can get a rush, as I did two years ago when I scored a lot of nine bottles of 1990 Jordan Cabernet Sauvignon at $25 a bottle. It's our daughter Capucine's birth year, and she was delighted when I presented her with the wine.
No, what took me by total surprise was that there was even one lot of rosé in the auction. While I well recall a lot of two bottles of 1994 rosé by legendary Burgundian winemaker Henri Jayer selling at over $2,000 in 2014 (see PWZ Wine Snoop Report 10/23/14), I know of no other Provence rosé ever showing up on the auction circuit—except at a charity event, for example, in the Hampton's (see PWZ Wine Snoop Report 8/11/2014).
Now that I have raised my white flag, and no longer will bury my head in the sand on this point with Susan, the task of choosing what to buy stares me in the face. Tempier certainly has a lot of good press going for it. I believe it was the first rosé to ever make the famous Top 100 list at Wine Spectator when, in 2010, its 2009 vintage squeaked in at No. 99. Tempier made a second appearance in the Top 100 in 2015, moving up substantially to No. 75, the highest level yet ever achieved by a rosé.
Looking back at the history of Wine Spectator Top 100's, there were only three other times rosé wine made the list. (No more than one rosé has ever made the list in a given year.) As with the Tempier, they too were from the South of France: Domaine Lafond 2011 Tavel Roc-Epine No. 64 on 2012 list; Jolie-Pitt & Perrin's Miraval 2012 Côtes de Provence Rosé, No. 83 on 2013 list; and, most recently, Domaines Bunan 2015 Moulin des Costes, another Bandol, came in at No. 90 on the 2016 list, with a list price of $30.
Wine Spectator's apparent preference for Bandol notwithstanding, Domaine de Tempier is indeed revered. For example, British wine writer Jancis Robinson MW, after a 2015 visit to Domaine de Tempier in Bandol where she had a vertical tasting of rosé going back to 1981, reported that the 1988 sample was the finest rosé she had ever tasted. So for me, the Tempier immediately becomes a candidate though, even at the present retail price (for the current vintage), I find it very pricey.
On the same day as the Skinner auction, New York Times wine writer Eric Asimov listed 20 rosé wines from around the world, including five from Provence. All were between $15 and $20, which he rightly considers "the sweet spot for good value in wine."
I believe the best place to seriously start my research is in my home park, namely the great deal of coverage given Provence rosé by Provence WineZine. I can just hear myself when I initiate the call to Susan: "Can we talk seriously about rosé?"
IN VINO ROSA VERITAS
by Susan Manfull
Please, Jerry, come in from the cold. Let me welcome you with a long line of glasses filled with rosés that merit serious tasting. Some you can confidently cellar; others perhaps not.
For most producers, making rosés that age is relatively uncharted territory. However, some highly regarded winemakers have long produced certain cuvées for the express purpose of aging. Guy Négrel's Mas Negrel Cadenet Rosé and Patrick Léon's Garrus and Les Clans jump to mind although, of course, there are others. In fact, enough producers to compel the Conseil Interprofessionnel des Vins de Provence (CIVP) to add a category in 2015 entitled "Les Rosés de Garde" to the annual tasting competition, Concours des Vins de Provence.
Years from now, assuming you do carve out some space in your cellar, I suspect you'll discover a few winners as well as a few duds. As you have often said to me, "That's the fun!"
I recently attended a vertical tasting of Mas Negrel Cadenet rosés going back to 2002 and, very recently, a vertical tasting of Château d'Esclans Garrus (going back to 2010) and Les Clans (going back to 2011). What a fascinating experience to see the effects of evolution coupled with vintage variation. Pure fun! (There were no duds.)
I'll also have a longer line of glasses filled with rosés we can quaff. Just quaff. Rosé came to life as a quaffing wine and, there, most of it stayed for many years (albeit with gradually improving quality). About 20 years ago, some rosés jettisoned those shackles with a vengeance and went serious; but fun-loving rosés to quaff—without much thought or conversation—will always have a firmly ensconced place in Provence and beyond.
Perhaps "seriousness" is not the right word to describe the attention I feel good rosé merits. Win Rhoades, wine connoisseur, long-time wine collector, and recently retired wine shop proprietor, wrote in private correspondence that "'Seriousness' to me implies an element of gravity, a connection to important consequences. It bespeaks a solemnity, a (no pun here…) 'sobriety' that is not why I drink rosé."
I certainly do not want to detract from the pure pleasure of rosé which may be one of its greatest attractions over its red and white brethren. I just want people to think about good rosé, as they would red or white wine.
New York Times wine writer Asimov defends rosé from those who say drinking pink wine is "unthinking drinking." He wrote, in 2013, "Does anybody really want to think about rosé? Why, yes, we do, because we love rosé….Good rosé, that is."
Asimov contends that he both thinks about rosé and is transported by rosé. He writes "A good rosé, at a lunch outdoors, preferably seaside or at least poolside, or even a terrace, at a sidewalk table or on a tar-paper roof, will transport me to Provence as quickly as you can say Brigitte Bardot." And, then he goes on to present his thoughts on the rosés he tastes. Good rosé does both.
When can we talk? I'll chill a rosé de garde for the occasion!