Musings of a Wine Maven
Alternative Facts and the San Francisco Chronicle Wine Competition
by Jerry Clark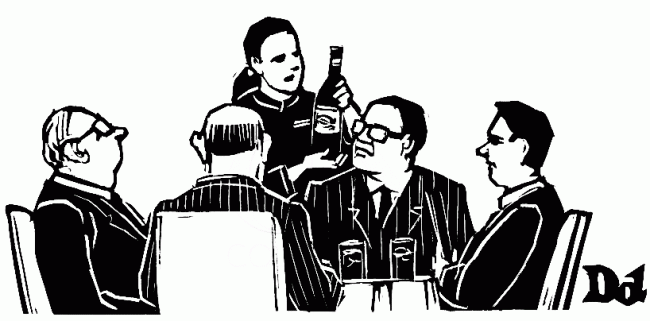 It would seem there is nothing unequivocal in the tag line to the San Francisco Chronicle Wine Competition (SFCWC) logo proclaiming it to be "The Largest Competition of American Wines in the World." So you can imagine my surprise when I was reviewing its listing of medal winners of the 2017 event held in January and started noticing clearly foreign-sourced wines copping some awards.Initially, I thought somehow a couple just slipped through the admission process. After all, with about 7,000 wines entered, I could imagine an interloper or two slipping past the gatekeepers. But even if only one successfully crashed the party, it just did not feel right, so I hunkered down and looked at the winners in all 138 categories into which the entries are divided. Happily, the origin of the wines are noted. Thus, I was able to come up with a list of 27 winners with juice coming in from outside our borders. Well, in all honesty, I guess 26 1/3 would be more accurate, as one award went to a three grape red blend that got their Grenache out of Mexico.
Given that just over 6000 awards were passed out, 27 is a drop in the barrel: not significant in the data, right? No, something was amiss here. This competition–hosted by the venerable San Francisco Chronicle–is supposed to showcase only American wines, which is not the case as I define wine, and given the transparency of the origin of the wine (see table below), surely the Chronicle knew what was going on. I probed further and found the specific eligibility requirements in the SFCWC guidelines for submission:
Any grape or fruit grown or bottled in the United States on a bonded wine premises is eligible for entry. Types of products include: wine, brandy, port, sherry, cider, low alcohol wine, de-alcoholized wine or vermouth. (sic.)
Aha! As with so many things, the devil is in the details: "Any grape or fruit grown or bottled in the United States on a bonded wine premises is eligible for entry." The grape juice seemingly can come from anywhere in the world provided it is bottled at a bonded winery here and SFCWC will accept it as being American. Prior to going on edition with this story, I brought this point to the attention of Cary Fraser, Entry Coordinator of the competition, and my suspicion was confirmed: "bottled in the U.S." means it can be entered. They volunteered that this rule may change for the 2018 competition, thereby only allowing juice coming from American vineyards. But I am still a bit mystified that such a qualifying definition was even created. Talk about alternative facts, this is right out of Kellyanne's thesaurus.
Well, it is the Chronicle's competition, so I guess that gives them the right to make the rules, even if they don't make any sense given that they are promoting "The Largest Competition of American Wines in the World." Does any injury come of it? Is the consumer going to be turned off to see that he or she can get some cheap and cheerful under $20 medal-winning whites and reds at more tempting pricing than the local bottle shop might normally recommend for similar varieties? Not likely.
What of the American artisanal producers? Even if they knew going into the competition that the flight their wine would be judged in is tainted, would they squawk? Hmmm. Maybe one would. The President's sprawling 1,300-acre Trump Winery in Virginia no doubt enjoy some pride from the awards and praise they have received. On their web site is a listing of those accolades, and, in fact, it reveals at the winery picked up a bronze in the 2017 SFCWC competition with a Meritage at $28. Of the 47 winners in his category (Red Bordeaux $25-$34.99), all used truly American-sourced wine. Can you imagine The Donald's reaction if an entry in the group where he was competing snagged a gold with juice brought in from Mexico! Love to see that tweet.
While SFCWC wrangles with the definition of "American" wine for the 2018 competition, I encourage them to give some credit to the foreign-sourced juice. The 27 medals in the 2017 competition are up from a total of 11 in 2016. (I did not come across any in the prior two years, so this may be a recent twisting of the facts.) As the Chronicle may not see the merit in this, let's do it right here for this year's foreign-sourced wines.
SFCWC 2017 FOREIGN SOURCED WINE MEDALS

(IN ORDER OF AWARD IMPORTANCE)
Award
Class
Vintage
Source
Price
Notes
Best of Class
Layer Cake
Malbec <$24.99
2015
Mendoza
$15.99
Double Gold
Smoking Loon
Pinot Noir <$14.99
2015
Chile
$8.99
Gold
Mosaico
Grenache <$19.99
2015
Spain
$15.99
Encendia
Grenache >$20.00
2015
Spain
$20.00
Chasing Venus
Sauvignon Blanc $15.00-$18.99
2016
New Zealand
$16.00
Alvarez
White Blend <$19.99
2015
Spain
$15.00
Pontic
White Blend <$19.99
2015
France
$18.99
Silver
Girl and Dragon
Malbec <$24.99
2015
Mendoza
$14.00
Tall Dark Stranger
Malbec <$24.99
2015
Mendoza
$15.00
Middle Sister Wine
Malbec <$24.99
2015
Mendoza
$12.00
Miguel Aime Pouget
Malbec <$24.99
2015
Mendoza
$18.00
Andás
Malbec <$24.99
2015
Mendoza
$20.00
Smoking Loon
Cabernet Sauvigon <$9.99
2015
Chile
$8.99
Pepperwood Grove
Cabernet Sauvigon <$9.99
2015
Chile
$7.99
Flip Flop Wines
Pinot Noir <$14.99
NV
Chile
$7.00
No Vintage
Pasa del Tiempo
Grenache <$19.99
2015
Spain
$18.99
It's a Headsnapper
Sauvignon Blanc <$14.99
2015
New Zealand
$14.99
Savor Collect
Sauvignon Blanc $15.00-$18.99
2016
New Zealand
$15.99
Espaldera
All Other Red Blends <$24.99
2015
Spain
$20.00
Insurrection
All Other Red Blends <$24.99
2015
Australia
$16.99
Pontic
White Blend <$19.99
2015
France
$13.99
Bronze
Pepperwood Grove
Chardonnay <$9.99
NV
Chile
$6.00
No Vintage
Pont du Nord
Pinot Noir <$14.99
2015
France
$16.00
Cupcake Wines
Malbec <$24.99
2015
Mendoza
$12.99
Black Box Wines
Malbec <$24.99
2015
Mendoza
$24.99
3 liter
Layer Cake
All Other Red Blends <$24.99
2015
Mendoza
$15.99
Ever wonder where these volume wine operators get their cutesy brand names? Try the Daily Racing Form. Just imagine legendary race caller Chic Anderson describing this exciting finish at Churchill Downs:
And here they come around the final turn. Smoking Loon and Chasing Venus are neck and neck, a half length ahead of the pack. Whoa, Middle Sister is pushing Layer Cake up against the rail. Insurrection and Girl & Dragon are losing steam and slipping back. Tall Dark Stranger is cutting to the outside and making its move. That horse is all heart. Flip Flop and It's a Headsnapper look to be inching up on the leaders. But no, Cupcake is turning it on. Holly molly, with 25 lengths to go its Cupcake only a head behind Smoking Loon and Chasing Venus. With 5 lengths Cupcake has caught the leaders, and as they cross the finish line its Cupcake the winner by a nose!
I fear at this point of my exposé I may be losing the purist, the one looking at the list of producers above and seeing only brands, and no artisans. True enough. What are largely behind the names on the left are profit-driven entrepreneurs. I suspect the total number of tasting rooms for the whole group above can be counted on one hand, with a few fingers left over, so don't go looking there for a fancy room to sample wine. Your questions for the tasting room staff about the ocean voyage these tanks of wine endured will have to go unanswered. Yet the Chronicle organizers assembled sixty judges to have at these 7,000 wines and I assume they performed diligently. Fully 22 of the award winning foreign-sourced wines listed above received silver or higher medals, and one a best in class.
For donkey's years I have been telling friends and clients interested in stocking up that it's really easy to recommend great stuff at $50 a bottle. The real challenge is sourcing the vin de table section with pleasurable under-$10 wines. It was when I started slicing and dicing all the SFCWC categories, looking for wines priced no higher than $20 that I began to respect the foreigners. None of the 26 winners noted above sell over $20 a bottle. Six are under 10 bucks. Smoking Loon's Chile-sourced 2015 Pinot Noir at $8.99 was awarded a Double Gold (I assume that means a higher quality gold alloy!).
Fully 21 of the categories in the competition listed wines under $20, and as a group, they took away 831 medals. What a treasure trove to explore. Thus, going forward, I am all for the Chronicle adding even more foreign juice and even a few new–appropriately named categories–for these invaders. How about "Freight Forwarders Favorites"?