OFF THE VIA DOMITIA
NAPA'S KALE ROSÉ GOES TO PROVENCE
by Susan Manfull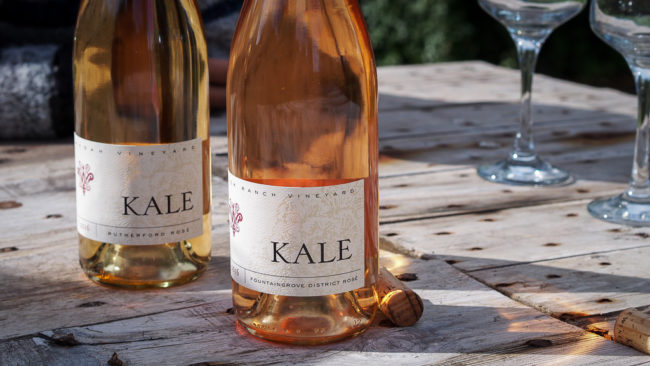 Rosé continues to take the United States by storm. France drinks the most rosé by a long shot, accounting for 35% of world consumption or 8.5 million hectoliters (mhl) of rosé, but the United States comes in a second (3.4 mhl). A distant second, yes, but we drink 14% of the rosé consumed by the world. That's nearly 453 million bottles of rosé a year. 1
The U.S. is the world's largest importer of rosé, by value. Retail sales of premium imported rosé (at least $12 a bottle) went up 60% on value and 56% on volume from 2014 to 2015. In contrast, total table wine sales went up by 5.3% on value and 1.9% on volume. The New York City metropolitan area accounts for almost 20% of all rosé imported into the U.S. and Miami accounts for 15%. If more domestic rosés were as enjoyable as Kale Wine's rosés, maybe we wouldn't need to import so much rosé.
France produces the most rosé (about 7.6 mhl), accounting for 31% of global production; the U.S. is the world's third largest producer of rosé, accounting for 15% of production (about 3.5 mhl). In France, 42% of AOP rosé comes from Provence, where pink wine is thought to have been born some 2600 years ago when the Phonecians arrived in Massalia (present day Marseille) towing their grapevines. Then came the Romans (who were apparently huge fans of rosé) followed by monks, popes, noblemen, and French and foreign business professionals—including at least one large American winery—who have supported the efforts of farmers and winemakers, and inevitably contributed to the growth of this particular shade of wine in Provence. In the last couple of decades, especially, significant financial investments in rosé winemaking have thrust rosé out of its by-product status into the dedicated goal of nearly 90% of winemaking in Provence.
Today, it is widely agreed that Provence sets the global standard for pink wine. From a sun-kissed terroir and a blend of mainly red grapes like Grenache, Syrah, Mourvèdre, and Cinsault emerges a pale, dry, and refreshing rosé with just enough fruit to balance its lovely acidity (and alcohol) that has aroused a passion for rosé perhaps not seen since the Romans.
Certainly other regions in France produce rosé. Across the Rhône River, in the Rhône Valley, lies Tavel, once world famous appellation for their rosé, a dry but darker and more savory rosé. The Luberon, wedged in between Provence and the heart of the Rhône Valley is turning out some excellent rosés these days. Corsica, often lumped in with Provence, produces a few very enjoyable rosés. More rosé comes from Languedoc-Roussillon than any other appellation and they are getting better and better. The Loire Valley is well-known for their Cabernet franc rosés. I even found an exceptional rosé from Burgundy of all places. Most rosé aficionados would say it is hard to beat rosé from France, especially Provence.
On the other hand, it is easy to beat rosé from the U.S. Despite being the world's third largest producer, until recently, "unremarkable" was the kindest thing I could say for the vast majority of my country's rosés. I came of age during the heyday of White Zinfandel. I was just finishing college when the White Zin, as we know it today, was inadvertently born in Sutter Home Winery as a result of a premature halt to fermentation which left about 2% residual sugar in the pink wine. By the mid-1980s, it was the most popular premium wine in the U.S. and, today, although sales are declining (-7.5% of volume share from 2015 to 2016), it remains a perennial favorite of many people (especially my mother).
With the popular White Zinfandel as the backdrop, other contemporary American winemakers followed a sure-fire formula: cloyingly sweet, way too fruity, and minimal acidity. With few exceptions—such as Randall Grahm's Bonny Doon Mourvèdre Rosé, Robert Sinskey Vineyards Pinot Noir rosé, and Heitz Cellar Grignolino Rosé—American rosés, in my opinion (but not that of my mother with whom I have a running feud over what defines good rosé), were best avoided at all cost. And, as a result, that is how I generally felt about all rosés; that is, until my family and I began traveling to Provence in the mid-1990s and, of course, you know what I met there.
At the same time I was falling in love with rosés from Provence, a tiny but slowly increasing number of American winemakers (especially those in California) were beginning to take an interest Rhône grape varieties and in blending (e.g., Grenache, Syrah, Mourvèdre, Viognier). They called themselves the "Rhône Rangers." Their focus was on red and white wines, but it seems to me, they inadvertently played an important role in hastening the movement toward dry, blended rosé-making in the U.S., especially California. With Rhône varieties already in their vineyards, they were primed to produce dry, blended rosés when the popularity of Provence rosé began to take off in the U.S. (I met many such producers at a Rhône Ranger tasting in San Francisco this past June.)
American rosés, produced mostly in California, Oregon, Washington, and New York, are, still today more often than not, single varietal. Other than Zinfandel—and there are Zin rosés that are not sweet—Grenache Noir, Grenache Gris, Syrah, Pinot Noir, Cabernet Franc, and Sangiovese rosés come to mind. But, thanks to wineries such as Tablas Creek (a Rhône Ranger) that imports cuttings from their Rhône Valley partner, Chateau Beaucastel, Rhône varieties are now more widely accessible, including those grape varieties typically used for blending purposes (e.g., Counoise and Cinsault).
American rosés and moi
American rosés—even those few said to be Rhône- and Provence-inspired—rarely spoke to me like a good rosé from the motherland. It is important to note that it is difficult to get one's hands on a really good American rosé because: One, there are very few good ones; Two, those that are good are made in very small batches; and Three, such small batches do not make it beyond their immediate environs as they are almost completely consumed by members of the winery's wine club. For someone like me, living on the east coast—even with internet access and shopping regularly in New York—finding a good domestic rosé is so hard that I confess I had stopped looking for a one. Since my focus is wine from Provence and Rhône, I have ample rosé to taste from those two regions alone.
So, you can imagine my surprise last February when, upon sipping a rosé simply called Sonoma County Rosé from a winery I'd never heard of, my socks were suddenly thrust off my feet landing clear across the handsome lobby of the Meadowood Napa Valley. There I sat, sockless, wondering what elixir had just crossed my lips.
I was In Napa, attending a symposium for wine and food writers, and at that moment, had been enjoying a roaring fire while reviewing my tasting notes. Unsurprisingly in a region renowned for its Cabernet Sauvignon and Chardonnay, most of the wines we had tried in the symposium were red and white. It was a chilly evening and, honestly, rosé was just not on my mind but, when offered a glass by the friendly man with a bottle in his hand, I said "sure."
California rosés, in my opinion, generally lack the acidity that underlies the refreshing zing of a rosé at its best. Not so with this coral-colored rosé called Kale. This rosé grabbed my attention from the first sip. It had brilliant acidity matched by just enough fruit—a little citrus and some watermelon—to feel perfectly balanced. There was wonderful minerality, some creaminess in the mouth, and a finish that lingered lovingly. It had the pale, dry, refreshing minerality of the best Provence wines with faint notes of savoriness, a characteristic of Bandol or Tavel rosés.
I didn't have time to linger around the bottle but I did note that the blend was mostly Grenache (97%) with a dash of Mourvèdre (3%) and was produced and bottled in Napa, California. I would later learn that the grapes came from a two vineyards–Kick Ranch in the Fountain Grove District in Sonoma and McGah Family Vineyards in Rutherford in Napa Valley—and that the native-Sonoma County winemaker is a graduate of University of California, Davis with a B.S. degree in viticulture and enology (although he began pre-med, planning to follow his father's footsteps into medicine) and that, among his many accolades, he is one of youngest winemakers to be awarded 100 points from Robert M. Parker, Jr. for the 2013 Pahlmeyer Cabernet Sauvignon Pièce De Résistance (which, notably was the first such score Pahlmeyer had ever received in their thirty year history). Anderson is also a Rhône Ranger. Kale Wines, established in 2008, specializes in small production, handcrafted wines a small operation founded in 2008.
As soon as I could, I drove to the other side of Napa (it seemed) to The Wine Thief where I bought the last bottle of 2015 Kale Rosé Sonoma County. I tasted it again at home where I loved it just as much, as did my husband and friends with whom I shared my only bottle.
A few months later, I met Kale Wine proprietor Ranko Anderson at the Rhône Ranger Tasting in San Francisco. She was pouring not one, but two 2016 Kale rosés. I was almost afraid to taste them for fear that they could not live up to my memory of the 2015s. But my husband, understanding my hesitancy, moved us forward to the tasting table and—no surprise given the title of this article—I loved both of the latest vintage rosés (as well as the white and two red wines that round out the portfolio and will be the subject of another post).
The Kick Ranch Vineyard cuvée, is a blend of Grenache (90%) and Cinsault (10%) with 12.5% alcohol by volume from the single Sonoma vineyard from which it takes its name. It is a smidgen lighter in color (as I recall) and body than the 2015 rosé but, like the earlier one, is perfectly balanced and had great presence from start to finish. Whole cluster gentle press for both varieties, followed by fermentation in stainless steel tanks for the Grenache and fermentation in completely neutral French oak barrels for the Cinsault (that undoubtedly contributed to the round mouth one feels with this wine). No malolactic fermentation. (261 cases produced, $30 a bottle)
The second 2016 rosé, McGah Vineyard, takes its name from the Napa vineyard by the same name. It is a very pale salmon-color blend of Grenache (84%) and Mourvèdre (14%) with 12.9% alcohol by volume. It is bigger than the Kick Ranch rosé, is fascinatingly complex, and is layered with delicate fruit and floral flavors that let the refreshing acidity share their limelight. Whole cluster gentle press followed by co-fermentation in Sonoma Cast Stone concrete eggs and neutral white French oak barrels. No malolactic fermentation. (280 cases produced, $35 a bottle)
We later served these two 2016 bottles with dinner to two friends, wine aficionados and huge fans of Provence rosé. The silence that follows the first sips of an exceptional wine were finally peppered with "ooohs" and "ahhs" and adjectives reserved for exceptional things. Our friends wholeheartedly agreed with our assessment, adding that the two Kale rosés were some of the finest rosés they had ever tasted. One of our friends said that he recognized the influence of Provence but felt there was even more going on in those two bottles, which led to more discussion.
Why don't more domestic rosés inspire such conversation?
What would they say in Provence, the land of the rosés that comprise the gold standard to which the rest of the world is said to measure its own rosés? I was leaving for a five-week stay in Provence and, for the first time ever, I packed American rosé into my wine carrier to be tasted in the motherland.
Tasting Kale Rosé in Provence
I contacted Viktorija Todorovska, co-author of Provence Food and Wine: The Art of Living and numerous other cookbooks, to see if she would be interested in giving us her thoughts about the two 2016 Kale rosés. Todorovska is a sommelier, cookbook author, and food and wine educator from Chicago who now lives in Nice. She is intimately familiar with Provence rosé, including the premier rosés that define the upper echelon of this region's rosés. While writing ProvenceFood and Wine, she traveled around the region, visiting wineries and tasting local cuisine, with her co-author François Millo who is the past director of the Conseil Interprofessionnel de Vins de Provence (CIVP) as well as the author of the just-released book about the history of Côtes de Provence. I have had the pleasure of tasting (and drinking) many wines with Todorovska and have long been impressed with her exceptional ability to articulate her thoughts about a given wine (as well as with which foods it may pair nicely).
It was a chilly day in sunny Provence when we met Todorovska at a wellness retreat called La Belugue. Located in an 18th-century village farmhouse in the tiny picturesque village of Beaumont de Pertuis, just north of Aix-en-Provence, it was a lovely setting for a winetasting (even with the Mistral beginning to kick up its heels!).
Both 2016 rosés were served, beginning with the Kick Ranch Vineyard cuvée from Sonoma, a blend of Grenache (90%) and Cinsault (10%). I did not provide Todorovska with any information about the wines ahead of time, aside from the fact they were Sonoma and Napa rosés. (Well, she also knew I was quite fond of them!)
There was a long pause after Todorovska smelled and sipped the Kick Ranch rosé. "I love the freshness, both on the palate and on the nose. It is very zesty," she began. Finally, she looked up and said, "Wow! This is glorious," adding "It is perfect, especially for such a well-traveled wine."
Todorvska continued that there was just enough fruit and floral aromas to make the nose very appealing and then elaborated more on the palate: "For me, I personally love acidity… I love the acidity and the structure of this wine. I can almost taste a little bit of salinity, which I adore. Is it from the minerality? It is very refreshing."
We continued to talk about what the wine might pair well with and Todorovksa continued to think about the wine.
"It's a surprising wine," she mused. "It smells delicate but it makes a really important impression on the palate. Even though it is an apéritif wine, it's one of those wines [that is] not forgettable. When you taste it, you think 'Wow! I need to pay attention here!'."
Given the wine's salinity, acidity, and structure, Todorovska said that she would serve it with something that has capers or anchovies, something that is really salty. Off the top of her head, she suggested a few pairings: a salad with a vinaigrette with a little garlic, a young chevre, perhaps tapenade, or maybe a garlicy aioli.
In beginning to sum up, Todorovska said, "The nose has the delicacy of a Provençal style [of rosé] but what is surprising is how impactful the palate is. I think it's rare to find a wine that is so delicate and yet so well-structured and unforgettable at the same time. It is a balance that is really hard to strike. I love it!"
Todorovska closed her eyes and thought. "I would love to see it aged. That kind of minerality and acidity would develop nicely. I've been talking for ten minutes and I can still feel structure on the palate and so I would like to see it in a year or two."
Summing up, she smiled and told us, "You were right to bring it here. For a wine to stand out like this—out of its context—I think it is impressive! It's a beautiful wine."
As we moved on to the McGah Vineyard rosé from Napa, a blend of Grenache (84%) and Mourvèdre (14%), Todorovska noted, "The difference in color is very interesting." Upon tasting it, she said "Ha! Very different texture—it's very much more lush and silky on the palate, kind of velvety" and then added, "It has a texture that is somewhat surprising given the fact that it also has a fair amount of structure."
We talked quite a bit about the differences between the two rosés. Todorovska seemed fascinated by the distinct structure that they shared but noted that the Kick Ranch rosé was more "austere" and "chiseled in the best possible way" and "vibrant" while the McGah rosé was "more robust and silky" and has a "richness" that works well with the structure. "Without such a big skeleton and strong backbone, the richness could feel heavy, but there is a very good balance of structure and richness here."
"The first thing that comes to mind is apéritif versus [gastronomic]," she began. In trying to highlight the nuances that distinguish the two, she said "They are both powerful but the first one is like a slim athlete, maybe a Tour de France bicyclist and the second one is like an athlete who practices muscle work."
In terms of the nose, Todorovska felt the Kick Ranch was vibrant and fruity and the McGah was about warm aromas. On the palate, she thought that Kick Ranch would say, "I'm here and by god you will notice me" while McGah has more lasting power and develops on the palate.
"I would serve them both at dinner and I think they would make a very interesting progression," Todorovka mused. For the Kick Ranch, she saw a zesty salad or fresh tomatoes with olive oil. For the McGah rosé, she suggested a tian de courgettes, tomates, etaubergines, perhaps a full-bodied fish such as cod or possibly salmon (although she said she'd like to explore these pairings a little more).
Later, upon recalling a veal tagine dinner she had had earlier in the week, she suggested that meal would be a good match for the McGah, adding that it has enough smoothness and richness on the palate for some spice in the food.
"It's fascinating that they've managed to make wine from two different areas from what I'm assuming are different grape varietals that have such a strong common element," Todorovska said, referring to the structure of the wines.
The Provenance of Kale Rosé
In my correspondence with Kale Wine proprietor and winemaker, Kale Anderson, he told me that he wanted the two rosés to be different, underscoring that point by writing "Making two rosés in the same style is not what I am going for." Clearly, he has accomplished that although a strong structure may turn out to be his signature. (The reader may be interested to know that both my husband and I noted the significant structure of the other wines in Anderson's portfolio of Kale Wines.)
For both rosés, he wrote that he wants them to be "light in color, fresh flavored, food friendly, low alcohol, and completely dry." Todorovska's input, as well as my own, confirms Anderson has accomplished these goals, too.
Acknowledging that Provence, Bandol, and Tavel have all influenced the rosés he would like to produce, he wrote "I can't say I'm employing the exact same techniques [as the aforementioned appellations], but I am definitely inspired by them."
Anderson points out that "The tools in California are different than the tools in France." In Provence and the southern Rhône, in particular, estate owners have made great investments in procedures that keep the grapes cold while harvesting and in technologies that, for example, contribute to quality grape selection (e.g., automatic sorting machines) and improve vinification (gravity-fed production and greater temperature and oxidation control).
"Make the wine the most beautiful expression of itself, then blend to harmonize the characters into something more interesting than its parts."
–Kale Anderson

In addition, Anderson makes the very important point that "Most California rosés are saignée. Making rosé and growing fruit specifically for rosé is newer in California, but something they have done in France for many years."
When I asked more about the influence of French rosés, Anderson responded, "I would say the McGah is a little more Tavel-like and the Kick Ranch is a little more Provencal."
The diversity of rosés in France and California couldn't help but come up in our conversation while tasting the Kale Wines in Beaumont de Pertuis in Provence. As evidence of the different types of rosé in Provence alone, one doesn't need to look further than the number of appellations and sub-appellations (technically called "terroir designations"). There are nine distinct appellations in Provence, each defined by factors like climate, geography, and geology; the sub-appellations, of which there are currently four with more under consideration, recognize nuances in terroir within a given appellation. Not surprisingly the wines reflect these differences and, in addition, differences in viticulture and viniculture as determined and enforced by the Institut National des Appellations d'Origine (INAO) and preferences of the winemaker (e.g., grape varietals, type of press, type of vessel for fermentation, and more). And, then, there are the growing number of Indication Géographique Protégée (IGP) wines that, unfettered from INAO, add more diversity to Provence rosés. In Tavel, the only appellation devoted to rosé, there is tremendous diversity in the terroir and in the wines: in one of the Rhône's smallest appellations (1000 hectares, 2471 acres), there are three distinct terroirs (and some properties have parcels of more than one terroir). In California, the diversity is also great due to some of the same factors (i.e., terroir and winemaking) although there is no regulating force as strict as the INAO. The bottom line is that sweeping generalizations are hard to make about either Provence or California rosés; still we tried.
The main difference between the Kale Wine rosés and the apéritif rosés of Provence, in general, centers on the amount of structure in the wines, according to Todorovska. "I love Provence rosé," she stressed (and I know she does) "but most aperitif Provence rosés are very light and they have the acidity but not necessarily the backbone of minerality." In sum, she said that "[The Kale wines] have presence and structure more so than your general apéritif style Provence rosé."
Todorovska said that the Kale rosés, especially the Kick Ranch wine, brought to mind rosés from Sainte-Victoire, one of the terroir designations of Côtes de Provence. "[The Sainte-Victoire] wines have the mineral backbone that I taste in these wines." She pondered a bit more, however, and said that the McGah is harder to compare to Provence rosé because, she said, "it has both structure and lushness at the same time."
We finally settled on Mas Negrel Cadenet rosé as being a possible comparison for the McGah. My tasting notes from last year about the 2014 Mas Negrel Cadenet rosé includes words like "structure," "round mouth," and "creamy texture." Too long to go into here, but we talked about the role of oak in these rosés—in both cases, oak played a role in providing texture not taste.
I have since thought of other Provence and Tavel rosés to which one might compare these Kale rosés, as I am sure Todorovska has, too. Clearly, France, where rosé is said to have been born, has influenced this winemaker but he also seems to have great respect for the terroir from which the wines came. Todorovska felt that their "sense of place" comes clearly through and remarked that Kick Ranch reflects its Sonoma roots through its more austere and chiseled personality while McGah shows its Napa roots with its lush and rich personality. A winemaker as talented as Kale Anderson usually leaves his own imprint on the wines he makes, too. Perhaps it is the significant structure apparent in his wines, across the color spectrum.
Perhaps most importantly here is that these two California rosés can come to the same bistro-style or linen-covered table as those diverse rosés said to comprise the gold standard for the world. They each inspired much discussion, many laughs, and great fun. Maybe rosé imports to the U.S. would begin to drop if, like Kale Wine, more domestic rosé producers would take heed from Provence and Tavel and seriously focus on making their rosé, as the goal rather than a by-product.
Todorovska wrapped up our tasting of the two Kale wines by saying, "Very impressive, both of them" and then "You could talk for hours about them."
Notes:
For more information about Kale Wines, please visit their website at www.KaleWines.com
For more information on the fires, including the economic effects and why vines are difficult to burn, read Esther Mobley's article in The San Francisco Chronicle.
For more information on the impact of the fires on the wine industry, read Eric Asimov's article in The New York Times.
Since I tasted the Kale Wines, I have met several other domestic rosés I like very much. Tablas Creek (in Paso Robles, California) makes two rosés that I found very pleasing at the Rhône Ranger (June 2017) mentioned above and I look forward to trying them again in a different setting. Kitá Wines (in Lompoc) makes an excellent Grenache rosé (from their Camp 4 Vineyard), one I tasted at the Rhône Rangers event and again at home, confirming my initial impressions. In 2017, Markus Niggli (in Lodi, California) introduced his first rosé to his Markus Wine Company line-up and Markus Zeal (64% Syrah, 36% Carignan) is a real winner. I will always make room for in my cellar for Acquiesce Winery's Grenache rosé and Onesta Winery's old-vine Cinsault rosé (both of which hail from Lodi). I am now on the lookout for more.
Footnote:
1 All data cited are taken from Conseil Interprofessionnel de Vins de Provence (CIVP) documents and refer to 2015 or 2016 statistics. If you would like more information about the specific CIVP document for certain data, please email me.