Provençal Pairings: Wine with Food
A Goddess in Our Midst
by David Scott Allen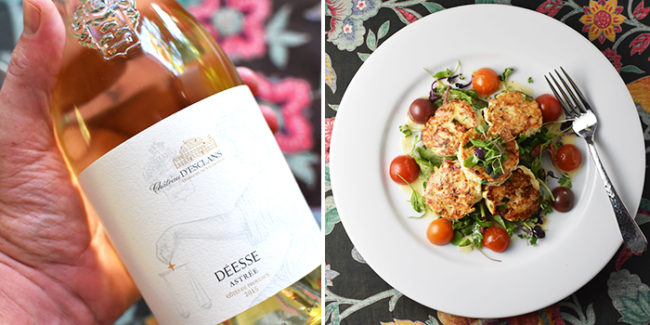 Winery: Château d'Esclans
Cuvée: Déesse Astrée
Appellation: Côtes de Provence
Type: White
Vintage: 2015
Grape Varieties: 100% Rolle (Vermentino)
Alcohol: 14%
Average Retail Price: France €26.00, Great Britain £30.00 (Currently available to enjoy in some U.S. restaurants)
Toward the end of my pairing notes last month, I suggested I might have remembered Rolle being someone softer, fuller, and rounder than its Italian counterpart, Vermentino.
It seems that I was right.
Disclaimer: I only tasted two of hundreds of wines out there that are made with 100% Rolle or Vermentino. Just two. However, they are both highly rated and come from well-respected vintners.
As I tested the Antinori Vermentino twice, I thought it only fair to do the same with the Rolle.
For one of two bottles of the 2015 Déesse Astrée from Château d'Esclans, I made a shrimp risotto similar to the one I made in Radda in Chianti, where I paired it with the Antinori Vermentino. The Déesse Astrée was a good, solid pairing for the risotto, and the flavors complemented it well. My suspicions were founded, in that, while pleasantly tart, the Rolle is definitely a more complex wine both on the nose and palate.
I saved the second bottle of Déesse Astrée to pair with a recipe given to my father by one of the most celebrated French chefs in the United States – Georges Perrier of the renowned, and sadly closed, Philadelphia restaurant, Le Bec Fin: his Galettes de Crabe. You can find the recipe on my blog, Cocoa & Lavender.
This is the kind of pairing about which a food lover like me dreams. The wine and food complemented one another perfectly. The wine itself is quite lovely – refreshing, crisp, and clean. The color of this wine is lighter than acacia honey, yet just as warm. It is lightly floral, with green apple on the nose and palate, and had a very pleasant acidity. It is perhaps the acidity that makes it pair so well with the galettes, which are served on the green salad with a tarragon and walnut oil vinaigrette. While most wines don't go so well with vinegar, this one does very well. The finish on this wine, with the crab and shrimp in the galettes, was of Comice pear – soft, round, and smooth.
Don't come away from this with the expectation that this wine is a knock-you-off-your-socks wine. It's not. It is light (in color, mouth feel, and taste), elegant, and understated. No showing off for this goddess. But when she appears, everybody is happy.