NEWS FROM AUBERGE LA FENIÈRE: REINE SAMMUT PASSES THE REINS TO DAUGHTER NADIA
by Susan Manfull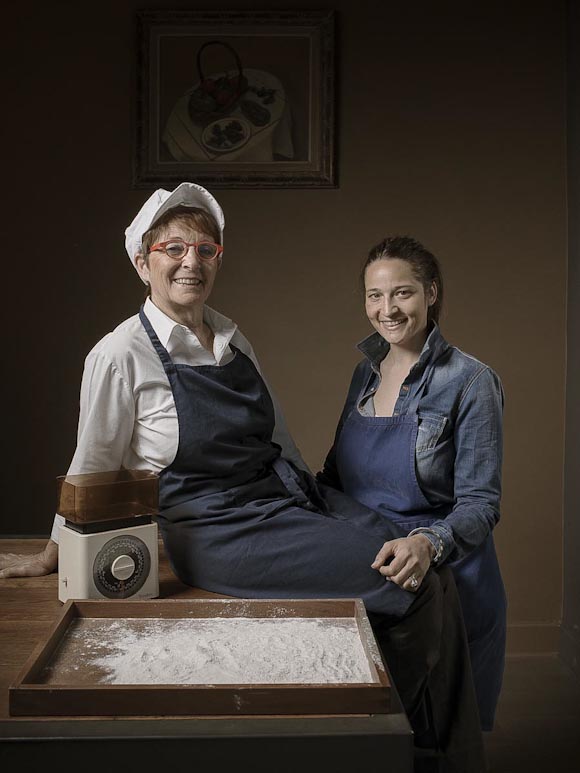 After 40 years at the helm of one of Provence's most renowned restaurants, La Fenière, Chef Reine Sammut and sommelier husband Guy are handing over the reins of the cuisine to Nadia Sammut in October. Nadia, who is the third generation of Sammuts at La Fenière, credits her grandmother and her parents for her culinary knowledge and passion for food but brings her own personal experience and education to the table, too: growing up with celiac disease and learning to cook creatively sans gluten (and dairy, too!).
The transition began a year ago, Nadia told me in a recent interview. By July, when I dined at La Cour de Ferme, the bistro restaurant in Auberge La Fenière, all the breads were gluten-free. In October, the change of leadership will culminate with a special opening in which the whole project will be introduced at 200-person dinner with a dégustation menu. The bistro restaurant will be renamed "Claudette," in honor of Nadia's grandmother, thus bringing the story full circle as La Feniere began in 1975 with Claudette in the kitchen.
La Fenière came to life because Guy Sammut wanted to be a musician….and, according to Nadia, his parents didn't think that was a very good career path for their son.
"My grandmother started a restaurant with my father….It was a job for my dad," Nadia explained, laughing a little. "He was playing rock and roll and his father wanted him to have a more [stable] job."
La Fenière was originally located in the center of Lourmarin, in an nondescript building on the narrow Rue du Grand Pré. Back then, Lourmarin was a sleepy Provençal village, filled with sufficient charm to attract the likes of Albert Camus and Henri Bosco, but not yet discovered by tourists toting copies of Peter Mayle's A Year in Provence. They would begin coming in the mid-1990s and by then another restaurant, L'Antiquaire, would occupy this space–and still does today–but I am getting ahead of the story….
As La Fenière was getting started, Guy was courting Reine who, at the time, was studying in Marseilles to become a dentist. It sounds like Reine was more enthralled with Guy than dentistry and it wasn't long before she left her medical studies to work with Claudette and Guy at La Fenière. Under the tutelage of Claudette–and a lot of reading, according to Reine's most recent cookbook, Reine Sammut: Mediterranean Cuisine—Reine learned to cook. And she excelled, much to the delight of Claudette, and eventually took the reins in the kitchen.
In 1995, 20 years after La Fenière opened its doors, Reine was awarded a Michelin star. She would go on to receive many accolades and awards, including "Best Female Chef" in France (twice) and the Legion of Honour award. By the time the coveted star arrived, Reine and Guy had two teenage daughters, too.
Nadia was born three years after her sister in 1980. "I was born in Aix-en-Provence because that is where the hospital is, but I think of Lourmarin as my birthplace," explained Nadia. "I grew up [in Lourmarin]," she added. "[La Fenière ] was my house and our restaurant."
Nadia was 16 years old when, in 1996, they sold the Lourmarin property and moved to the current location of La Fenière, in Cadenet, just 1.8 kilometers outside of Lourmarin. They opened Auberge La Fenière, a restaurant in 1997 and, later, the hotel .
Today, it is one of 83 restaurants in Provence with at least one Michelin star and one of only 14 restaurants in the Vaucluse that has at least one of the famous stars.
Like all restaurants with the internationally recognized star, La Fenière is a destination of those vacationers looking for a gastronomic meal, but this restaurant also has a very loyal local following, no doubt cultivated from its early days when the clientele was almost entirely local. The convivial atmosphere and warm hospitality extended to its clientele by Reine and Guy has engendered a dedicated group of regulars. On my recent visit, my daughter and I accompanied Jacques Monod who frequently dines at La Cour and we immediately felt like we were part of an extended family.
This was the backdrop of my first meeting with Nadia and, as she would later explain, the setting in which she grew up: a close-knit extended family, passionate about food and "pleasure at the table." Growing up with celiac disease in a gastronomic family–even a very supportive one–was not easy.
"Our family traveled a lot, and toured the best restaurants….[but] I was sick all the time," Nadia said. "I recall waiting in the bathroom, hoping I would be okay," Nadia shared with me but hastened to add, "Even though I couldn't eat, I learned a lot."
"I could smell everything and was able to learn about combining flavors," Nadia said, for example. (In fact, she considered becoming a 'nose' in the perfume industry.)
Nadia was diagnosed with celiac at a very young age and was put on a gluten- and dairy-free diet until she was 10 years old, at which time doctors advised her parents to reintroduce gluten and dairy, thinking that Nadia was old enough to tolerate these allergens.
"But, it was not true," Nadia said. "I started eating like everyone else but I was always very sick and very tired."
"[The doctors] always told me I was very stressful," Nadia chuckled, "but then at 29 years old, I became really, really sick."
Nadia ended up in the hospital with serious complications due to celiac and became bed-ridden from 2009 to 2011, causing her to leave a company she had started called "Travel Food," and to return to her parents' home. This was a very difficult time for Nadia but with the support of family and friends–and a vast culinary network–Nadia began to see an opportunity to help other people with food allergies.
"I could change some things in this world so people with such allergies [would not feel excluded]," Nadia explained.
Nadia began by creating an association called "With Love, Allergy Free" and traveled to other countries (e.g., the United States, Japan, Brazil) to learn how those countries deal with food allergies. She discovered that "substitution" was the universal solution. Coming from a family in which "pleasure at the table" was her primary experience, she wondered why the same experience could not be the goal (rather than simple substitution) when preparing allergen-free food.
Why focus on "gluten-free bread" instead of a luscious bread made with chickpea flour?
This research led Nadia to develop a two-fold approach to allergen-free cuisine, keeping in mind: 1) safety and security in the kitchen such that everyone can eat the food prepared in the kitchen and 2) preparing food that creates pleasure at the table for all rather than excluding those with and allergies. And, thus, both a culinary school and a consulting company, "Institute Cuisine Libre" was born, based on a philosophy of "Cuisine pour Tous."
The feeling of being excluded (in the area of food) is one that haunted Nadia from a young age. She shared with me a conversation about this subject that she had recently had with her mother Reine, with whom she is very close, and it certainly raised my level of awareness about how it feels to have food allergies. Nadia confessed to her mother that she intensely disliked growing up being served a special plate.
"All my life, every time I [went] to the table, I [had] my own plate….I hated that."
Reine, according to Nadia, replied, "I'm sorry, I never knew that you were thinking that. For me, I was preparing a special plate for you because it was your medicine."
For Nadia, her mission now is for everyone to feel included and experience "pleasure at the table."
"Everything I do is dedicated to maximizing the social impact of what I do," Nadia said. "When you wake up after two years being in bed, you don't want to be stressful and in the same world ever again."
In addition to the culinary institute and consulting, Nadia has three other projects: starting the large scale production of gluten-free biscuits and breads; creating an association that will include a foundation dedicated to supporting "Cuisine pour Tous" efforts; and of course, soon she will oversee the restaurant at Auberge La Fenière.
In all these endeavors, Nadia told me that she works with a team of scientists and medical professionals specializing in allergen-free foods to ensure her recipes are, for example, indeed gluten-free.
At the same time Nadia has been developing her business, she has served on an EU committee to establish a new law (UE 1169/2011) requiring European restaurants to identify any of 14 food allergens in the food prepared in the restaurant. Thus, each kitchen is responsible for preparing foods such that they are not contaminated by other foods that are allergens (or they must be identified as such).
Already, La Fenière is able to offer foods that consumers can be confident have not been cross-contaminated. It is Nadia's goal that all restaurants will be able to make the same claim.
Come October, "Claudette" will debut. Naming the restaurant "Claudette," Nadia told me, "is my best way to show that the family is always there." This is keenly important to Nadia as her grandmother Claudette died this past December.
"I have been really educated by my grandmother and she taught me a lot of things in food and in personal education," Nadia explained.
Nadia confirmed that her mother and father will continue to play key roles in operating the restaurant. "Their story has built me," Nadia said, "So, now I want to give them something, also." "We are transforming our knowledge into something different."
"My sister and I grew up in a very respectful family so we know that every one of us has a special place in it," Nadia said, as she reflected on the importance of one's family history. "It is because of my roots that I can do something now."
Being the chef of the only completely gluten-free restaurant with a Michelin star will be quite an accomplishment.
With Claudette, Nadia wants clients to learn that they can have a gastronomic experience–sans gluten and dairy–that is shared by all. "It is very emotional for me."
Notes:
Guy Sammut still plays the guitar and harmonica and sings. He has a band called H.B.U.S. ("Has Been Under the Shower") and occasionally performs at La Fenière. If you can't make it to a concert, you can see them here…
The gastro restaurant has closed.