A CHÂTEAUNEUF-DU-PAPE IN HONOR OF POPE FRANCIS
by Susan Manfull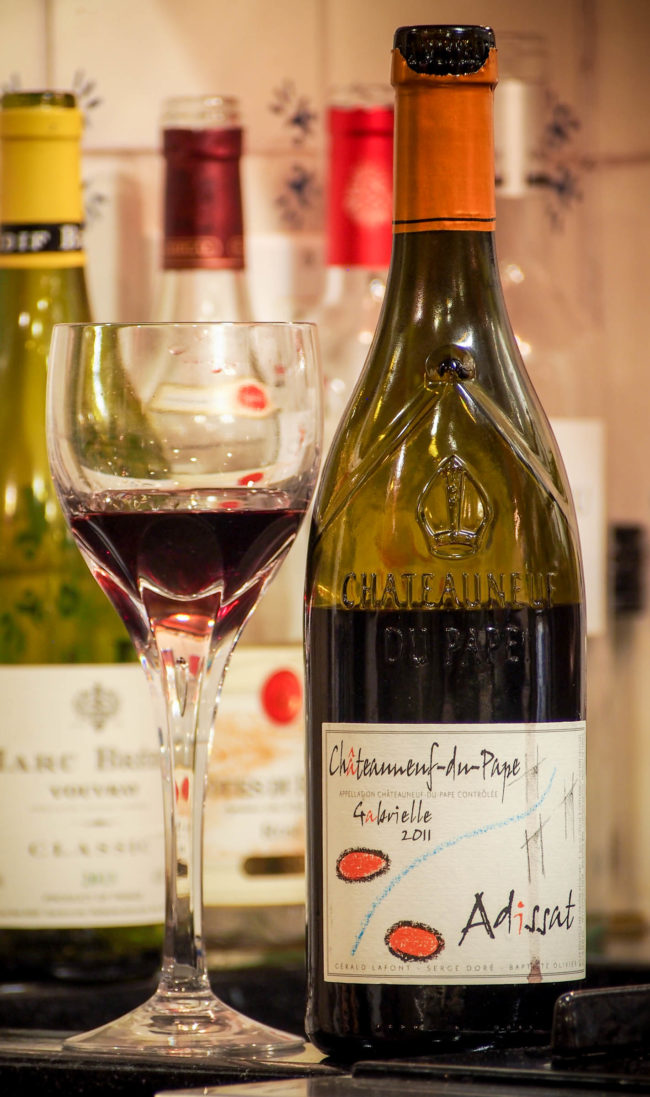 Since the arrival of Pope Francis in Washington, D.C. and his stirring address to Congress—rousing all but the most lackluster members of this elite audience—I have been riveted by his words to each of the disparate groups he would go on to meet. No matter what one's political or religious beliefs may be, there seemed to be something for everyone. It was the universality of his message and the words he chose to convey it that moved me. The Pope spoke to our most basic sense of humanity and urged what's best in each of us to come forth to make the world a better place and indeed to make better the world itself.
At the risk of appearing irreverent, I am going to do what any dedicated wine writer would do and open a bottle of Châteauneuf-du-Pape in honor of Pope Francis. Fortunately for my pocketbook, I don't think the Pope's profound selflessness would appreciate me draining my wine research funds—in his name—on a Château de Beaucastel (over $100), regardless of how heavenly it may be. I opted for a more moderately priced ($40) Châteauneuf-du-Pape from a relatively new producer, Adissat. The 2011 cuvée is called Gabrielle. It's in the dining room, breathing, waiting for me to finish this post.
Châteauneuf-du-Pape, literally means "Pope's new castle." It was the summer residence of the popes when, from 1309 to 1377, the Papal Palace was located in Avignon, along the Rhône River. During this period, the popes lived and conducted the business of the church out of this location in Provence—not Italy.
Vines had covered the ground around the village that came to be called Châteauneuf since Roman times and the good wine they produced was certainly no secret before the popes arrived, but it was the popes with their discriminating palates who made the wines so famous in the last part of the Middle Ages.
Although Pope Clement V, the first of seven popes to serve the Avignon Papacy, is credited with recognizing the viticulture possibilities of this area, it is his successor, Pope John XXII, who chose this elevated area, midway between Avignon and Orange, to be the summer residence of the papacy. As a former bishop of Avignon, he also would have known about the high quality of the local wines, which surely influenced his choice of location for the place of refuge that came to be known as Châteauneuf-du-Pape. It was close enough to Avignon to conduct business but far enough to discourage uninvited visitors. Work commenced on a fortified residence in 1317 (including, mais oui, the planting of more grapevines and olive trees) and was completed in 1333, just before his reign ended.
In 1334, records show that there were as many as 800 hectares (1977 acres) of vines in Châteauneuf. Wine quenched the thirst of those in the Papacy as well as many foreign dignitaries who came to visit. Barrels of this wine would soon find their way to other countries such as Italy, Germany, and England.
Today, Châteauneuf-du-Pape, now comprising 3,300 hectares (8154 acres) of vines, is an appellation within the Rhône Wine region. Located northwest of the Provence Wine Region, the Rhône valley is a predominantly red wine region—95% of the AOP wine is red—and it is filled with many renowned appellations (e.g., Hermitage and Condrieu come to my mind immediately).
Châteauneuf-du-Pape, unequivocally the most famous of its peers, is recognized internationally for its outstanding wines but, for wine aficionados, it is also known for its status as the first classified appellation and for the unusually large number of grape varieties allowed in the red blend.
The reds from Châteauneuf-du-Pape are powerhouses, packing as much as 15% alcohol into that iconic bottle with the famous embossed logo of a papal tiara and the keys of St. Peter with the inscription, "Châteauneuf-du-Pape contrôlé."
Thirteen different grape varieties—a remarkably high number—are permitted in AOP red wines, according to Châteauneuf-du-Pape appellation guidelines. Grenache is the grand dame of the appellation and with yields limited to 35 hl/ha, the best wines are full bodied with a well-balanced mix of luscious fruit, alcohol, and tannins.
The white wines are no slouches either. Typically made from Grenache blanc, Clairette, Bourboulenc, and Roussanne, these full-bodied whites are some of my very favorites. But they are hard to find. According to Jancis Robinson, only about one of every sixteen bottles of Châteauneuf-du-Pape wine is white.
No AOP rosés are permitted to be produced in Châteauneuf-du-Pape. (Not to worry, if you didn't pack some Provence rosés for the trip to Châteauneuf, there are some very good rosés produced in nearby appellations in the Rhône.)
According to the website for Serge Doré Selections, importer of our wine, Adissat means "hello" in the old Provençal language. "It is a term of endearment, and symbolizes the friendship born around a hearty Provençal meal in Châteauneuf du Pape…."
Our wine lived up to the reputation of its provenance, even in its youth. There are notes of black cherries and dark berries on the nose continuing to the palate where they become stronger and mingle with hints of garrigue and tobacco. The finish is pleasant if abbreviated. The 15.5% alcohol content does not dominate this medium- to full-bodied wine but is tamed by the soft tannins in this particular blend of Grenache (80%), Syrah (10%), Mourvèdre, and Cinsault (5%). Very enjoyable now but it would benefit from a few more years in the cellar (perhaps saved for the Pope's next visit).
As we raised our glasses of Châteauneuf-du-Pape in honor of Pope Francis, I suddenly wondered whether he would have preferred a Malbec. Mon Dieu! Should we open the Malbec our daughter just brought back from Argentina? Another time. I have a feeling Pope Francis will be on my mind for a long while.
In the meantime, per his request, I will, with pleasure, pray for him and send good wishes his way. Santé.