Provençal Pairings: Wine with Food
As Summer Slips Away…
by David Scott Allen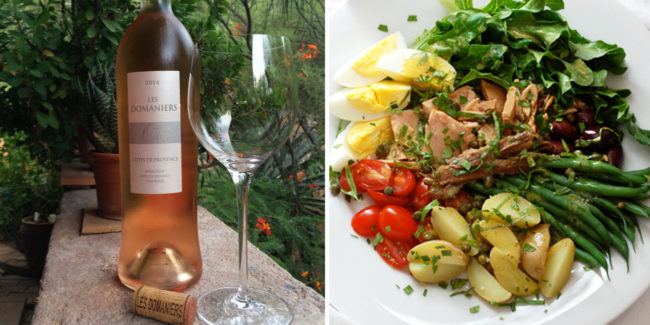 Winery: "Les Domaniers" Selection Ott
Cuvee: Côtes de Provence
Appellation: Côtes de Provence
Type: Rosé
Vintage: 2014
Grape Varieties: Grenache (65%), Cinsault (25%), Syrah (10%)
Alcohol: 13.5%
Average Retail Price: U.S. $15.00, FR €8.40, GB £11.00
I suppose, in the end, the title of this post should have been, "As Summer Sips Away."
We often think of rosés as "summer wines," and we rue the end of the long, hot, languorous days, and our sipping of that wonderful, pink, Provençal nectar. But, unlike putting away your white pants and shoes, you don't have to stop drinking rosé; it is a year-round wine.
This wine today is a very good reason not to stop. It comes from a winery with which you, as readers of the Provence WineZine, are well acquainted: Domaines Ott. (You may recall the Vieux Marc de Rosé from the food and wine pairing for July.) This is, to me, the quintessential Provençal rosé, full of summer fruits – strawberry, grapefruit, and a touch of apricot – with a fresh, floral aroma that brings late summer meadows to mind. The finish is incredibly silky with a pleasant mineral feel, and it pairs beautifully with bright acidic foods, specifically a Salade Niçoise.
A Salade Niçoise can be a tough pairing, as was the Pan Bagnat in August. In fact, the sandwich contains many of the same flavors as the salad: tuna, tomatoes, olives, and vinegar. A rosé such as this can easily stand up to these flavors, or it can be just as nice to sip on its own.
For my Salade Niçoise recipe, please visit Cocoa & Lavender by clicking here. I have been told mine is not "authentic" because it has potatoes. I beg to differ…
Other foods that would pair well with Les Domainiers Selection Ott would be fish, seafood, poultry, pork, and fresh cheeses.
For a fine quality rosé, the price is good.
Now, imagine yourself sipping it in January, as it brings back those summer nights…
Post and Photos by David Scott Allen