MEET JEAN-MARIE QUEF, DIRECTOR AND WINEMAKER AT DOMAINE DE L'AMAURIGUE
by Susan Manfull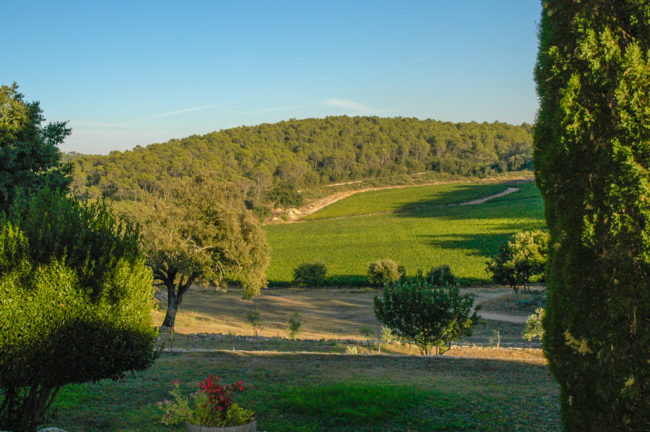 Almost a year ago, on New Year's Day, I received an email from Jean-Marie Quef, Director and Œnologue of Domaine de l'Amaurigue. Responding to my email sending best wishes for the New Year to folks in the wine business, he wrote back and wished the same to me. He added, "For your next trip in Provence, we will be happy to welcome you [to] the winery for a visit, tour, and tasting…. 2015 was a great harvest in Provence, so I [would like] you to discover some new rosé jewels still hidden from the U.S. Market."
"Still hidden" was no exaggeration. I didn't know Domaine de l'Amaurigue—beyond its listing on the Vins de Provence roster—and I could find very little content about the winery online and almost nothing in English. Not unexpectedly, I could not get my hands a bottle in the U.S. The property appeared lovely, the wines—especially the Domaine de l'Amaurigue (2015) Fleur de l'Amaurigue rosé—had garnered a few awards and favorable reviews, and what I could find on the story of the domaine's most recent incarnation seemed like promising material for a Provence WineZine article. "On' y va!" I said to friend and photographer Pamela O'Neill, and we made arrangements to visit.
Domaine de l'Amaurigue is located in the heart of rosé country, a smidgen north of the A8, midway between Brignoles and Les Arcs, just outside the small village of Le Luc en Provence. This part of the Var, the largest department in Provence, is known for its undulating countryside, covered with both thick forests and perfectly aligned rows of vines. Several mountains shield this area on the southern side, notably the Massif des Maures (771 meters, 2530 feet), from which the domaine probably takes its name; roughly translated, Amaurigue means "against the Masif des Maures."
The estate is located in a gorgeous setting of about 40 hectares (100 acres) of vines, surrounded by 110 hectares (270 acres) of thickly wooded hills. Fifteen of the 40 hectares were planted in 2008 after deforesting land already owned and purchasing additional land. The forested area was so dense that when it was cleared, everyone was surprised to find some very old restanques (dry stone walls that retain terraced landscape) probably dating back to the 1700s when the property was a farm and tasks consisted of growing wheat, tending sheep, and cutting timber from the thick forest that dominated the land.
O'Neill and I visited on a particularly warm afternoon in early September, just as the 2016 harvest was beginning. We met with Quef for what turned out to be a four-hour tour and interview, one full of surprises.
"To start from nothing is not easy."
"When the current owners, a Dutch family named De Groot, purchased the property in 1998, there was no winery. There were some vines [but] they were in very bad shape," Quef told us. Those vines, most of which have now been replaced, had been planted in the 1960s by the previous owners, the Excoffon family, who had relied on the local wine cooperative in Le Luc to make their wine. They had clearly selected the best varieties and the best parcels for their plantings, though.
Dick De Groot knew Provence well when he, wife Eugénie De Groot, and children Fleur and Melvin decided to take the plunge into winemaking. They had vacationed for many years in Mougins (about 45 minutes from Le Luc en Provence). De Groot said, in a recent video about Domaine de l'Amaurigue, that he fell in love with the property because of his "passion for wine and for France."
According to Quef, it was De Groot's life-long dream to make wine. De Groot's business is recycling and, at 55 years old, his career with Van Gelder Recycling Company had set the stage for him to realize his dream.
The new owner set his standards high from the onset. In a recent video about Domaine de l'Amaurigue, De Groot said: "The goal will be that we will produce the finest rosé people can imagine and that we will become one of the top rosés in Provence."
So, it is not surprising that the winery he would eventually construct would be thoroughly modern, focusing on temperature and oxidation control and, built on four levels using gravity-fed production technology. At the same time, investments were made in the vineyard (e.g., deforestation in order to plant new vines) and in the harvest process (e.g., sophisticated harvest machines and modern trailers that are each fitted with a large "vis sans fins" ("screw with no ends") that gently moves the grapes into an automatic sorting machine programmed to select a specified size of sphere-shaped berries and to discard the others.
"If you have good grapes—mature and healthy ones—60% of the job is done," Quef said. "We are not magicians," he added, chuckling.
Quef described the soil as exceptional and characterized by clay and limestone with "lots of stones" which, he added, "vines like." Eight different grape varieties are grown: Grenache, Cinsault, Syrah, and a little Carignan for the rosé wines; Syrah and Cabernet Sauvignon for the red wines; and Rolle (Vermentino), Ugni blanc, and a wee bit of Viognier for the white wines. Sustainable agriculture is practiced.
"Good winemaking [is essential] to bring those grapes to wine," he said. "People can't imagine how complex it is to produce the dry Provence rosés," sentiments universally shared by other rosé makers in Provence I have interviewed.
By 2000, the De Groots were making their own wine on the premises. Production was less than 100,000 bottles plus some additional sold in bulk. By 2003, everything was bottled.
"We started from nothing because there were no wines from Amaurigue on the market, [we] had to build a new market, new image…had to build everything," Quef reflected.
"It is already amazing that after three years, we were able to sell everything in bottles," Quef said. "To start from nothing is not easy."
Today, Domaine de l'Amaurigue produces two AOP Côtes de Provence lines—Domaine de l'Amaurigue and Fleur de l'Amaurigue—in all three colors and an IGP (Vin du Pays) du Var Fine Fleur rosé wine. AOP Production has nearly tripled to 300,000 bottles, 70% of which is rosé, 20% red, and 10% white.
"We cross our fingers that we continue this way," Quef told us.
"I could go into the music business or the wine business."
We were about to segue to the subject of gravity and its role in the quality of the grapes. We were enjoying some cold water, trying to assuage the effects of the intense heat of the afternoon. It seemed a good time to ask Quef to tell us a little about himself, as Director and Œnologue
"I grew up on a winery, not far from here," Quef said, blushing slightly.
"Oh, really," O'Neill and I said simultaneously. "Which one?" we asked, almost in unison. O'Neill and I have been to many of the estates in the area, together and independently, and between the two of us, it's likely we may at least have had the wine.
"It's now making famous wine," Quef said. "Miraval, I was born at Miraval and I grew up there."
Of course, we knew Miraval, as he knew we would. (Who doesn't these days?) I wrote several articles on that estate after Brad Pitt and Angelina Jolie bought it and partnered with Marc Perrin to produce their wine for them, the most famous of which is, naturally, the very popular rosé first released in 2013. Coincidentally, the next day, O'Neill and I were scheduled to meet Tom Bove, who owned Miraval from 1992 to 2008 and, in fact, sold the château to Pitt and Jolie. Bove now owns several other estates in the Var (and continues to make some fabulous wine in all three colors). I am often bowled over by how small and interconnected the wine business really is in Provence.
We wanted to hear more and Quef reluctantly obliged. How did he come to be born in the vines at Château Miraval? How did he come to be making wine just 35 kilometers from his birthplace?
Quef's father Patrice Quef, known in celebrity recording circles as a legendary sound engineer, created Studio Miraval, the world class recording studio on the grounds of Château Miraval. In 1977, Quef was hired by the famous jazz pianist Jacques Loussier, who owned Château Miraval, to build the studio. In addition to having the latest recording equipment and technical competence at the time, Miraval was a residential studio and, though often likened to Studio d'Herouvillé (that predated Miraval) in the north, near Paris, Studio Miraval was in a secluded location in sunny Provence where one could presumably really relax and be inspired.
Some of the musicians who recorded their work at Miraval include Pink Floyd—who recorded part of their album The Wall on the premises in 1979 and are credited with putting the studio on the map—Sting, AC/DC, The Cure, The Cranberries, Muse, David Sylvian, Steve Winwood, Yes, B40, Shirley Bassey, George Michaels, the Gipsy Kings, and Sade.
Jean-Marie was not born until 1980—so he missed Pink Floyd—but recalls many musicians well such as AC/DC, and The Cure as well as Sade who, he said, was there for three to four months. Alongside the rock stars whom Quef and his two older brothers surely delighted in observing from a distance, was jazz musician Loussier, who was, by then, good friends with Jean-Marie's parents and was also the young boy's godfather. In addition to the avant-garde milieu that was part of the lives of the young siblings, a certain intrigue must have also permeated their upbringing as it was widely known that famous bands were recording somewhere in the area, Quef told us, but few people outside of Miraval knew where.
In 1992, Loussier sold the château because, by then, he was living full time in Paris, giving concerts. Tom Bove, an American businessman with only a love of good wine and a reservoir of good taste to guide him, bought it. Bove was instrumental in renovating both the château and the vineyards—which is a story for an upcoming article—but relevant to this one is that even with Miraval under Bove's ownership, the studio continued to function.
Meanwhile, Quef was growing up and, like all children, his interests would be strongly influenced by his immediate environment; in Quef's young life, my guess is that music and vines and wine colored much of his life. By the time he was in high school, Quef was playing the drums and had accumulated a lot of time in the vineyard and the winery. When it came time to choose a career path, "I could go in the music business or the wine business," Quef told us.
"My father had three boys and he didn't push any of us to go into the music business. He didn't think it was good for the future and he was right. "We say [in French], 'Il nous a découragé.'" He pushed us to go into another business. I chose to go into the wine business.
Quef said that, growing up on a vineyard, naturally, afforded him the opportunity to be out among the vines. In the summer months, when he was older, he often worked in the vineyard. The seasonal cycle of a vineyard was undoubtedly imprinted in his psyche when it came time to choose career. He said that, by then, he also realized that he preferred working outdoors. Perhaps it was the familiarity of the terrain and of the rhythm of the work that pulled him toward winemaking, but if he had even a fraction of the passion that he displayed the day we met him, I would say that a real love of winemaking and wine drove him, too.
Quef majored in global (general) agriculture with a specialization in "wines and vines." This is a five-year program in Lyon, culminating in a master's degree in Ingénieur Agricole/Agronome (agricultural engineering). Following that work, Quef moved to Dijon where he continued to study enology and obtained Diplôme National d'Œnologue (DNO), the highest degree in enology awarded in France.
In 2003, Quef remained in Burgundy to intern at Domaine Leflaive with Olivier Leflaive in Puligny-Montrachet, Côte de Beaune. In 2004, he moved to Bordeaux where he worked at Jean Pierre Moueix, owner of several renowned châteaux in Saint Emilion and Pomerol, including the preeminent Château Petrus. To say that Quef honed his red and white winemaking skills with some of the best of the best winemakers would be an understatement.
In 2005, Quef began looking for his first "real job" and moved back to Château Miraval with his parents to do so. His father was in the process of closing the studio and his parents would soon retire just as their youngest son was embarking on his career. Other changes would soon be afoot at the château. A few years later, Bove would receive an offer to buy Miraval from one of the most famous couples in the world—Pitt and Jolie—who would eventually consummate the deal and roll in, entourage and all, in 2008. Quef''s parents continued to live on the grounds for a few more years until, according to Quef, "they felt they were too old and isolated." They moved to Toulon where they already had a house and would be closer to the amenities of a city (although not before Quef and fiancée Alice were married on the grounds in June 2007).
Quef applied for jobs all over France. "I am really attached to Provence," Quef told us, "but, as a young diplômé, I was applying for jobs all over France because you just want to find a job and, actually for the beginning, you are not selecting a special region but you are thinking that maybe in five years, you can come back to your origine. I was lucky enough to find it here. I had some propositions in other places, but the job offer from [l'Amaurigue] was exactly what I was looking for."
When I saw Amaurigue, my decision was made already.
"The previous director had left suddenly and they were looking for a new director and a new winemaker," Quef told us, "so I did an application and they did a selection and finally I went in the end."
"I was really lucky," Quef told us. "As a young oenolgue—I was 25—all this is not something you can expect. To become suddenly, as a young diplômé, the director of a place and have the owner put his confidence in you completely, well, that never happens…usually."
"I had my [second] interview on Friday or Saturday, I think, and started on Monday," Quef said, laughing. "I had to make the decision very quickly… but when I saw Amaurigue, my decision was made already."
When Quef arrived on Monday morning, he said that there was no one there. "The previous director was gone and the boss was gone. The workers were there but I didn't know where the vines were or even the wine!"
"For me, it was exciting, but I didn't sleep for six months," Quef recalled.
Quef conjectured that DeGroot "took a chance" with him, at least in part, because he is a "foreigner," adding that he suspected Tom Bove would "do the same thing." "I'm not sure a French owner would give this chance to such a young guy."
My hunch is that both men, being very savvy businessmen, can probably size up a candidate tout de suite. Jean-Marie Quef—with his Provence pedigree, coveted degrees, prestigious internship placements, and charming manner—would surely have been a sought-after candidate anywhere, by estate owners of any nationality. I hope to have the opportunity to ask DeGroot myself sometime. The sagacity of his decision would be in the wine bottle, one could say. And the accolades that would flow in certainly confirmed his decision was an exceptionally good one.
"We try to produce the rosé we like."
With almost three-quarters of wine production devoted to rosé—and with the inherent challenges in its production compared to the production of reds and whites—most of our conversation was devoted to that color wine.
"We try to produce the rosé we like," Quef said, referring to Dick and himself and their respective families. "I won't produce something I don't like…there would be no fun in that but we must sell our product so we must listen to the market, too."
If the Domaine de l'Amaurigue (2015) Fleur de l'Amaurigue rosé is reflective of the Quef-DeGroot palate, I will follow them anywhere. This line, named after DeGroot's daughter, Fleur, whom he describes as lively, lives up to its namesake. It is a wonderful blend of Grenache (80%) and Cinsault (20%) that I was quite fond of in the tasting room but was completely smitten with when I recently opened it at home. My first notes include "very pleasant fresh, fruity nose," "round mouth," "well balanced," and "very nice finish." In my second tasting, I confess that my husband and I drank nearly the whole bottle, sip after sip, as we endeavored to describe the layers of fresh flavors and textures in the wine. We finally settled on a slightly floral nose, round and creamy mouth, with cantaloupe, lychee, caramelized fruit on the palate. Enough body and acidity so that it will go well with food (and it did go exceptionally well with our pan-seared scallops). One of my favorite rosés. At €8 a bottle (in the tasting room), this is a steal!
Two notable points about this rosé. One, during our tour of the vinification center, Quef told us that he has adopted a procedure, relatively new to winemaking, called maceration de bourbes. Basically, this means that after debourbage (settling) rather than racking off the wine and discarding the bourbe, it is retained and added back into the stainless steel tank for debourbage again (and perhaps again). Quef said that the current thinking is that the bourbe contains the "précurseurs d'arôme," referring to the molecules of the juice that, in fermentation, may lead to more complex and concentrated aromas and flavors. As I wrote above, this rosé is full of intense but pure flavors. Also notable is that it contains less than 1 gram of sugar/ liter.
The Domaine de l'Amaurigue (2015) rosé (which also goes by the label "Château Amaurigue") is the entry level AOP rosé and was also very pleasant. This blend of Grenache (40%), Cinsault (40%), and Syrah (20%) was drier in the mouth, lighter, and lacked the explosion of flavors inherent in the Fleur, but was very enjoyable. Great price at €6 (in the tasting room).
Domaine de l'Amaurigue (2015) Fleur de l'Amaurigue single varietal Rolle, aged in oak for six months, is a very atypical Provence Rolle and, in fact, with its buttery texture, I might have guessed it was a Chardonnay. Aromatic with notes of honey and vanilla, I kept imagining scallops and lobster. Very nice. Great price at €8 (in the tasting room).
The Domaine de l'Amaurigue (2015) white (which also goes by the label "Château Amaurigue") is a 60-40 cuvée of Rolle and Ugni blanc. Very Provençal in style, it never sees a barrel and is fresh and lively and easy drinking. Ugni Blanc, the most planted white grape in France, is typically a high yield variety but these grapes come from vines that are about 40 years old and are becoming less reliable; chances are they will be replaced, Quef told us, probably with Rolle in the near future. (So, buy this wine now!) Priced at €6 (at the tasting room).
There is a tiny plot of Viognier on the property, planted about 10 years ago "for fun." Quef referred to the very small production as a "confidential cuvée" but I am writing to let you, dear readers, in on this jewel. The Viognier (2015) is a golden color with a very fragrant nose—of genêt or French broom, Quef said, the ubiquitous shrub dotted with yellow flowers found throughout Provence in the summer—and pleasing palate with hints of honey and maybe a little vanilla from its French oak barrel aging. It was luscious.
The Domaine de l'Amaurigue (2015) Fleur de l'Amaurigue single varietal Syrah was the last wine we tasted. After 10 months in French oak barrels, this wine had just been bottled the previous week. Normally, it would not be poured for at least a month after bottling but we got a sneak preview. Yes, yes, it will reap the benefits of a little more time in one's cellar—making some of the flavors rounder and further softening the tannins—but, it was a real treat right now. It has a pleasing nose with aromas of black pepper, nice volume in the mouth, dark red fruit and vanilla flavors, and, typical of Provencal Syrah, some licorice on the finish. Excellent price at €9 (at the tasting room).
"We produce red wines ready to be drunk. We age them [for the consumer]. Otherwise, we would not reach our target market…a market that doesn't want to wait," Quef said. "It's very difficult to explain to people that they have to age a bottle of red from Provence."
"We know that we have wonderful red and white wines and I think we are very competitive—price for quality—but the problem is that Provence has a big lack of image for reds and whites," echoing sentiments we hear frequently in interviews with winemakers in Provence.
Not surprisingly, customers begin with rosé and once they find they like it, they often toss in some reds and whites with the rosé order. "People are not looking for a red wine from Provence so it's a difficult sell for the retailer or the sommelier," Quef said. "To place a red Provence wine on the wine list in Germany or Belgium is not easy," Quef explained. "For red, they are looking for Rhône or Bordeaux."
Nonetheless, the reds are selling out. "The 2014 red sold out in mid-August," Quef told us. "So, I just did a small bottling of 2015 red."
I know I am not alone in hoping that the market for Provence reds and whites continues to grow, however incrementally it may be (with the rosés, understandably, on center stage). The portfolio of wines offered by Domaine de l'Amaurigue exemplifies perfectly why consumers should look at all colors of Provence wine. I know all eyes are on Provence for the best rosés but when you find a rosé you really like, ask to see the whites and reds. Chances are you won't be disappointed.
"Amaurigue is really a family business."
Almost 12 years have passed since Quef started work that first Monday in March when he arrived and found he was the directing the show without a script to follow or even a description of the scene or the cast of characters. Some winemakers are born into the role—it's in their blood—and others grow into the role through nurture. Quef was born in the vines and trained his whole adult life for this position.
"It was really exciting but it was stressful," he told us, as if it were all still very fresh in his mind. "In six months' time, you learn five years of information," he added, acknowledging wholeheartedly that it was very gratifying to start work from the beginning of a young winery and to be able to really put his own imprint on the estate.
Since 2005, a lot has happened, including his marriage to his long-time sweetheart Alice and the later arrival of three children. Jean-Marie and family live on the estate—with a commanding view of the gently rolling vine-covered hills framed by the thick woods. I can't help but wonder if the young Quefs might occasionally romp through the vineyard as their father once did at Miraval. Alice Quef works in the office on the estate and the Quefs and the DeGroots work very closely "as a family business."
"We really have a family ambience…we are all really part of the same family…Dick and his family and me and my family," Quef said.
"Dick and I call each about four or five times a week," Quef said, "and we speak not only about the work but we speak about anything." Quef added, "It's a special relationship…He's my boss, of course, but we have a special relationship."
And they are making some excellent wine.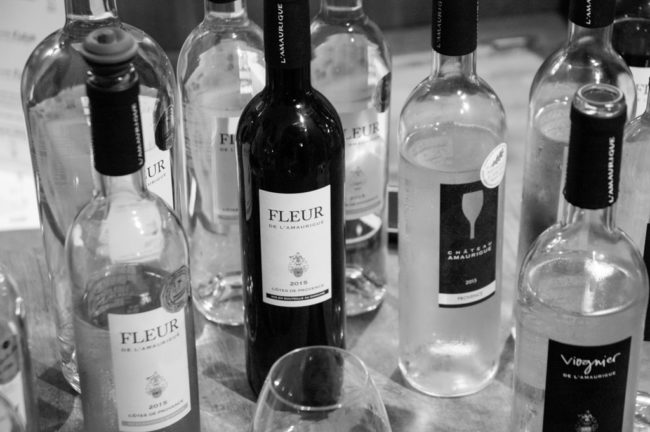 Notes:
Domaine de l'Amaurigue
Route de Cabasse 83340
Le Luc en Provence
Phone: +33 (0)4 94 50 17 20
Email: contact@amaurigue.com
www.amaurigue.com
Hours: Daily 9am-12pm / 2pm-5pm. Weekends by appointment only.