Provençal Pairings: Wine with Food

A Transcontinental Tasting
by David Scott Allen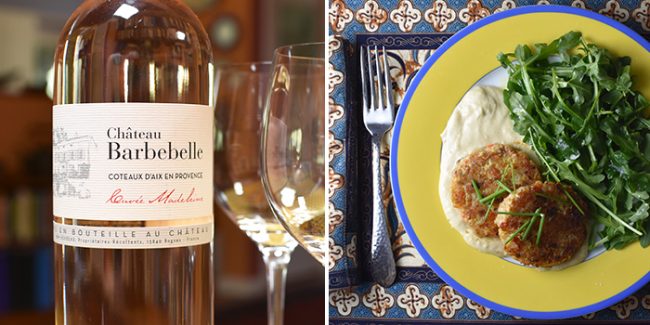 Winery: Château Barbebelle
Cuvée: Cuvée Madeleine
Appellation: Coteaux d'Aix en Provence
Type: Rosé
Vintage: 2019
Grape Varieties: 50% Grenache, 25% Syrah, 20% Cinsault
Alcohol: 13%
Average Retail Price: U.S. $20.00, France €9.00
A couple of weeks ago, Susan and Towny, along with several other friends, met with me and Mark on Zoom to cook a meal, taste some wine, and dine together — as if nothing about this was unusual. At times, it almost seemed as if we were together in the same room. But, every once in a while, there would be a hiccup in the technology and we would be reminded that, for the moment, we cannot be together in person and that we must carefully "come together apart."
The funny thing about this is that, with two of us in Arizona, two in New Hampshire, two in Illinois, and two in North Carolina, we could not have gotten together in person if we had tried! In the end, this strange pandemic brought us together in a way we wouldn't have thought before. Yes, it's the proverbial silver lining, but I will take whatever I can get!
I chose a simple menu of Shrimp Cakes with Lime-Ginger Mayonnaise and greens (you can find the recipe on Cocoa & Lavender); thanks to Susan and Towny's generosity, we each had a bottle of 2019 Château Barbebelle Cuvée Madeleine Rosé in advance. The wine was perfectly chilled when it came time to eat.
This rosé is a lovely pale shell pink; it is like looking at a bottle of summer. We all popped corks simultaneously, poured, and breathed in a bit of Provence. As is with any wine, any nose, and any palate, we all had different experiences to share. Grapefruit on the nose from one coast, and apricot from another. There were notes of tropical fruit with citrus, and a nice minerality.
Tasting for me was all about peach, while others noted grapefruit, raspberry, and some floral essence. Susan said she found the wine well-integrated, and we all agreed that it was very clean and fresh. It was a nice pairing for the shrimp cakes, and it went especially well with the lime-ginger mayonnaise. The wine had a lovely finish.
This wine pairs well with grilled fish and seafood, with Asian cuisine, and foods with some acidity.
I definitely recommend getting a bottle (or two… or six) if you can — it is a very nice way to have a virtual visit to Provence.