Provençal Pairings: Wine with Food

Love is in the Air
by David Scott Allen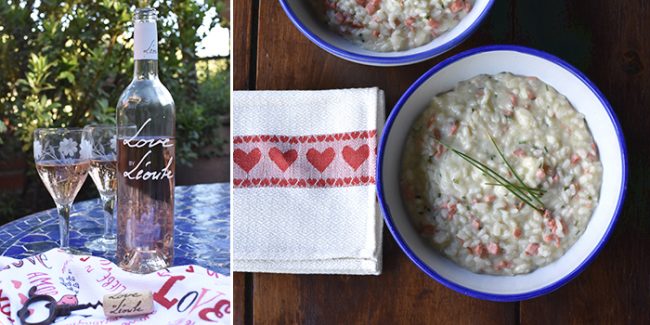 Winery: Château Léoube
Cuvée: Love
Appellation: Côtes de Provence
Type: Rosé
Vintage: 2019
Grape Varieties: Grenache 35%, Cinsault 35%, Syrah 20%, Mourvèdre 10%
Alcohol: 13%
Average Retail Price: U.S. $21, FR €14, UK £14
Love is in the Air… and in my glass. It's D'lovely!
This month, we continue our salute to 2019 rosé wines — a summer-long celebration of our mutual love of all (or most all) wines pink. Especially those from our beloved Provence.
Love, by Château Léoube, a certified organic rosé, is a truly enjoyable, perfect summer quaff. With all the difficulties in our world these days, it's so nice to have something pleasant and fun, like food and wine that sing together. You see, it's This Crazy Little Thing Called Love. (Please enjoy — or excuse — all the love song references this month!)
As with their other cuvées, the bottle for Love (updated design this year) is beautiful. The elegant white script compliments the beautiful, pale pink wine within.
Even well chilled, refreshing notes of strawberry and citrus were clear. On the palate the strawberry and citrus (lemon) were present with the addition of ripe yellow peach. The wine is crisp with a bright acidity, balanced with a soft mouth feel.
I created a smoked salmon (cold smoked), chèvre, and lemon risotto to pair with the wine. If you would like the recipe, please visit my blog, Cocoa & Lavender. Each element of the risotto paired perfectly with the wine — the slightly smoky salmon brought out the fruit, and the lemon underscored the citrus, as did the slightly tangy artisanal chèvre from one of my local farms.
The Beatles had it all wrong. It turns out that you Can Buy Me Love. At this price point, love is very reasonable.
I don't want to understate the quality of the wine with all these Silly Little Love Songs. On the contrary, it just made me smile when I sipped it — it's fresh, bright, and delightful. I think it's fair to say I think This Guy's in Love with You.