Provençal Pairings: Wine with Food

Alex's Wine
by David Scott Allen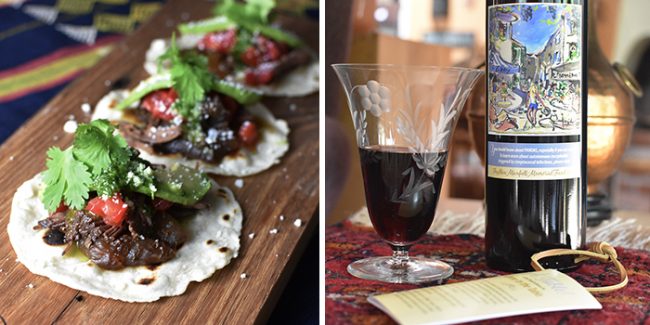 Winery: Château Barbebelle
Cuvée: Cuvée Madeleine Rouge Special Edition
Appellation: Coteaux d'Aix en Provence
Type: Red
Vintage: 2017
Grape Varieties: 40% Grenache, 30% Syrah, 30% Cabernet Sauvignon
Alcohol: 13.5%
Average Retail Price: U.S. $30, France €15
Tacos and wine aren't your average pairing. But Alex wasn't your average young woman.
This month, my pairing is dedicated to the memory of Susan and Towny's daughter, Alex, who died from complications from PANDAS (Pediatric autoimmune neuropsychiatric disorders associated with streptococcal infections). October is PANDAS Awareness Month.
If you have or know a child, teen, or young adult who—after a bout of strep throat—is suddenly exhibiting symptoms of OCD, ADHD, motor or verbal tics, separation anxiety, mood changes, sleep disturbances, skin disorders or even a change in handwriting, you should ask the question: could this be PANDAS? Make an appointment with your physician, and ask. Wouldn't it be better to be wrong than risk not having asked? For more information, please visit the PANDAS Network website.
Susan and Towny are working hard to fund research, and to educate both the public and medical professionals about PANDAS. They created the À Table! Project, designed to help people learn about PANDAS while they gather at the table, something Susan, Towny, and Alex did frequently. (À Table means "come to the table.") They worked with Château Barbebelle, in Rognes, Provence, France, to release a special edition of their red wine, which we now lovingly call "Alex's Wine." The label has a painting of Alex walking down a village street in Provence, by renowned artist Gérard Isirdi. The booklet that comes with the bottle has a lot of good information for you, or for you to share.
The wine is also good to share, especially if you live in a place where small group gatherings are safe. I wasn't able to share it outside my household, but that did not stop me from enjoying it thoroughly. This well-crafted, ruby-colored wine bore aromas of red currants and stone fruit while there was more red fruit on the palate—raspberry and cherry—with hints of licorice. It has a medium body, and is perfect for summer—or early autumn—grilled meats and poultry. I might also mention that it was perfect with a small square of bittersweet chocolate after dinner.
As I hinted, I paired this complex and lovely wine with tacos. Because Alex loved tacos and this was one of Alex's favorite summer reds. And because I had Susan's mother's recipe for homemade flour tortillas. And because Susan, Towny and Alex often prepared tacos together for their family meals. My tacos are shredded beef and melted onions (not caramelized – really melted!) with avocado, tomato, cotija (cheese), and cilantro, all drizzled with a chive oil. For the recipes, please visit Cocoa & Lavender.
More of Alex's wine is due in the United States soon. If you are interested, please visit AlexManfullWineProject.org for more information and be sure to sign up on the waitlist so they can contact you when the wine becomes available. Alex's wine is still available in Provence at De La Cuisine Au 20 in Lourmarin. A portion of each purchase will go to support the Alex Manfull Memorial Fund which is a part of PANDAS Network.
____________
Note: Susan will be part of a panel of speakers for PANDAS/PANS Awareness Day hosted by New England PANS Association. This year, the presentation is a virtual event, of course, and can be watched on Zoom via Facebook Live on NEPANS Facebook page on Friday October 9th from 11:00 a.m. to 12:00 p.m. (Eastern time).