Provençal Pairings: Wine with Food

Birthday Wines Never Go Bad
by David Scott Allen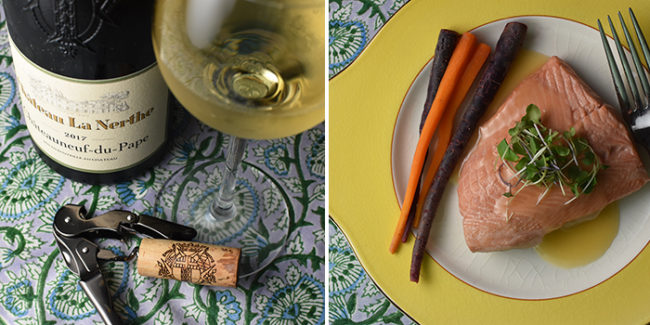 Winery: Château La Nerthe
Cuvée: Châteauneuf-du-Pape Blanc
Appellation: Châteauneuf-du-Pape, Southern Rhône
Type: White
Vintage: 2017
Grape Varieties: Grenache Blanc 40%, Roussanne 30%, Clairette 15%, Bourboulenc 15%
Alcohol: 13%
Average Retail Price: United States $44
As you may recall from my reviews over time, I have become a big fan of Châteauneuf-du-Pape Blanc. It is one of those wines that says "special occasion" to me. Thus, I decided to treat myself for my birthday and get a bottle.
The only problem is that my birthday—more than one month ago—got busy, and this specially-purchased bottle of Château La Nerthe Châteauneuf-du-Pape Blanc rested untouched in my wine rack. How on earth did I forgot that?
I decided that this wine, now lacking a special occasion, needed a special new recipe. I created a poached Arctic Char with a Pear-Vanilla Beurre Blanc. For the recipe, visit Cocoa & Lavender.
Naturally, I entered into this comparing the wine to other Châteauneuf-du-Pape Blanc wines that I tasted and my expectations were for unctuous, full-bodied, and redolent of pear and honey.
When poured some into my glass, the color of La Nerthe's CdP Blanc was much lighter than I expected—more straw than golden honey. The nose was also different from others I have tried. There was a strong aroma of green apple and tart citrus, with only a slight floral quality.
Tasting-wise, it was a bit flinty, with a pleasant minerality. Unlike the other CdP Blancs that I have tasted, I would describe this one as "crisp" and a little on the lighter side. Green apple, lemon, and apricot predominated, and I kept looking for other, more complex notes, but honestly didn't find them. Please don't read this as me not liking the wine. I did, and it was an excellent pairing for the fish, especially with the sauce I created. I found the wine, overall, was very refreshing.
This is proof for me that, when tasting wines, I should never have expected all Châteauneuf-du-Pape Blancs to look/smell/taste alike. That was unfair of me. It taught me that I needed to delve in with an open mind.
Creating a food pairing for a wine I have never tasted can be difficult and a bit tricky, and I was fortunate it worked well. I am sure it would have worked with other CdP Blanc wines, too—if you know the varietals, they will tell you what direction to take for the food.
To close, I think Château La Nerthe's CdP Blanc would make an excellent wine for aperitifs, and would pair well with all fish and seafood.