Provençal Pairings: Wine with Food
Holy Vin Rouge, Batman!
by David Scott Allen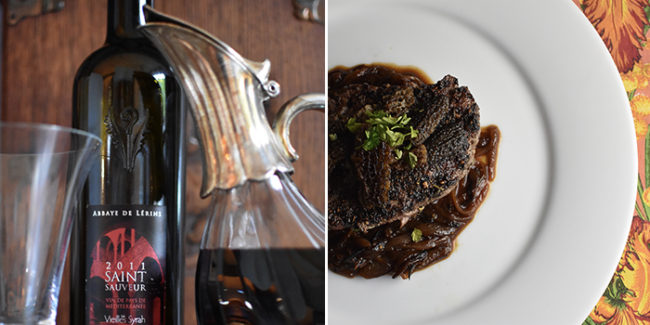 Winery: Abbaye de Lérins
Cuvée: Vielles Syrah, Saint Sauveur
Appellation: Vins de Pays de Méditerranée
Type: Red
Vintage: 2011
Grape Varieties: Vielle Syrah 100%
Alcohol: 15.5%
Average Retail Price: €42.00
Forgive the silliness of the title, because this is one serious wine.
Susan and Towny, and their daughter Alex, came to Tucson at the end of July. With them, they brought – among other wines – this gem. I am sorry to inform you that this isn't a wine you will be able to get in the United States, and it would be pretty hard to get it in France, too, unless you were to head to l'Abbaye de Lérins (on an island) and get a bottle yourself. That said, you just might want to do that. What are a few plane rides, a long drive, and a ferry ride when there is good wine to be had?
For dinner that evening, we were joined by our good friend and traveling companion, Barbara, and I made a recipe from Giselle Philippi, chef at Le Sud en Haut in Marseille. It is her delectable combination of two well known recipes – Steak au Poivre and Steak aux Echalotes. To get the recipe, head over to Cocoa & Lavender.
As with politics, we had a lively discussion about this wine and, as with politics, there were things upon which we agreed and disagreed, and those on which we agreed to disagree.
Things upon which we agreed: smoke on the nose, a note of caramel, significant spice that included pepper, cardamom, clove and cinnamon, and – finally – a leathery finish. The area which brought the most discussion and was the mouthfeel: was it velvety, satiny, silky, or unctuous? There was a lengthy discussion on this topic and wishes for a second bottle to keep the test going. We never fully agreed and, to be honest, for us it didn't matter. We were all very happy with our personal take on how this made our receptors feel. Consensus, however, was achieved in the realm of the tannins… they were soft and gentle on the palate. And while smoke wasn't present in the tasting, it returned for the gentle finish of this wine.
The one flavor that surprised us all was one that is usually a nemesis for wine: fennel. But my take is that, while fennel might not be the perfect pairing, fennel in the bouquet can be a significant addition to the flavor profile. (And, secretly, I don't find all fennel dishes and all wines – red, white, or pink – incompatible. A lot depends on the preparation and the grape varietals.)