Provençal Pairings: Wine with Food
The Game of Chance
by David Scott Allen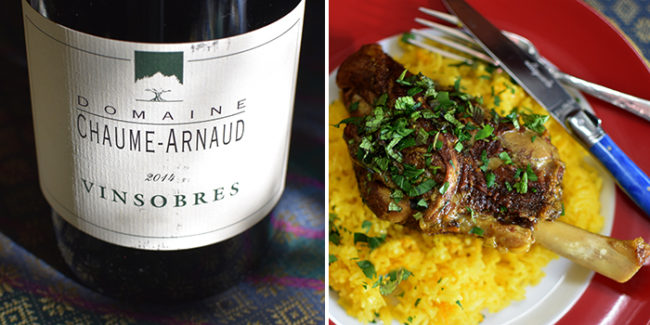 Winery: Domaine Chaume-Arnaud
Cuvée: Vinsobres
Appellation: Vinsobres
Type: Red
Vintage: 2014
Grape Varieties: 60% Grenache, 20% Syrah, 10% Cinsault, 10% Mourvedre
Alcohol: 14%
Average Retail Price: $20-24
Once again, I think I was very lucky with this pairing. I was serving Persian-spiced Lamb Shanks to friends who drink only red wine. And only red wine from France. Picky, picky. (You can find the recipe at Cocoa & Lavender.)
We had just returned from three glorious weeks in Sicily (stay tuned for a post about Sicilian rosé!), and the wine rack – at least the rack of quotidian wines – was pretty bare. But there was this bottle of Vinsobres sitting there.
Whenever I see a Provence or Côtes du Rhône red, I tend to scoop it up. Naturally, for the pleasure of drinking, but also because I want to share my thoughts with you. This was the case with the Vinsobres. I was at the local upscale grocery and asked the wine guy, "What do you have from Provence or the southern Rhône region?"
He came up with a few of the usual suspects in the rosé department, a few reds and whites that are well-distributed in the U.S., and then this Vinsobres. Honestly, I had never heard of it before and grabbed a bottle and took a chance.
I am really glad I did. Being from the Côtes du Rhône region, I was pretty confident that this wine would hold up fine to the lamb and its complex spices: bay, lime, mint, citrus, black pepper, cardamom, cinnamon, nutmeg, turmeric, saffron, and rose water… there is a lot going on in this recipe. When I popped the cork, the nose brought aromas of almond and leather; I could smell these simultaneously with the simmering lamb shanks and I knew I had a winner.
When it came to the tasting, I was surprised at the subtlety of the flavor of the lamb – with all those herbs and spices, I was expecting more intensity. But they melded into a warm, fragrant, and slightly floral sauce that showcased the meat, and brought out the best in the wine. Notes of plum, cherry, prune, cinnamon, and white pepper gave the wine a holiday feel without being cloying and syrupy. The body was medium-to-full (some of us said medium, some said full…), and the mouthfeel was smooth and silky.
This Vinsobres would be wonderful with any variety of roasted, grilled, or braised meats and poultry, but I think it would also be excellent with roasted or grilled salmon.
I love when taking chances works. It doesn't always and, for me, this column is about presenting you with good ideas. Perhaps someday we should get into what creates a bad pairing… maybe we can discuss that over a glass of wine. Or two.