Provençal Pairings: Wine with Food
A Gift to Remember
by David Scott Allen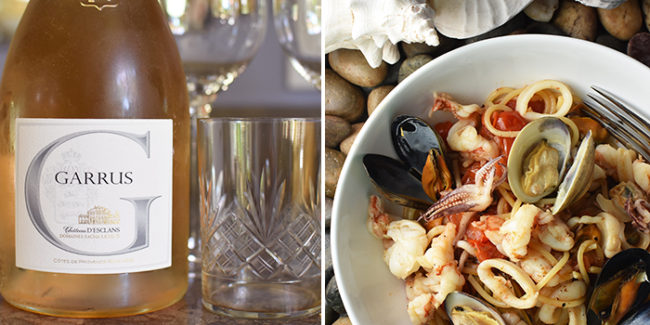 Winery: Château d'Esclans
Cuvée: Garrus
Appellation: Côte de Provence
Type: Rosé
Vintage: 2013
Grape Varieties: Grenache 50%, Rolle 50%
Alcohol: 14%
Average Retail Price: United States $100
We were gifted this bottle of wine; après tout, wines of this caliber are not in my normal wine budget. It is such a special bottle that it actually made me nervous when it came to pairing it with food.
I fretted for weeks about the menu. When doing some research, I found this sentence in a review by James Suckling: "I think that the 2013 Château d'Esclans Garrus may be the best rosé ever made." Oh, the pressure!
I had a world-class rosé in my future and I didn't want to blow it with a bad – or even mediocre – food pairing. Naturally, knowing her experience with Château d'Esclans and Garrus, in particular, I called Susan to run a few ideas by her.
My first idea was barely out of my mouth when she said, quite emphatically, "That's perfect." You can imagine my relief! I made a favorite dish of ours from the Amalfi Coast of Italy – Spaghetti allo Scoglio (Rock Spaghetti) – a dish that uses several types of shellfish in a light tomato sauce, finished simply with parsley and a drizzle of oil. For the recipe, please visit Cocoa & Lavender.
Garrus is cold fermented in French oak, and is one of the rare rosé wines that benefits from age. Five years is just about right for the 2013 vintage, but more wouldn't hurt. Personally, I couldn't wait any longer to try it!
The first thing I note about the wine is how incredibly pale it is. Depending on the light, it even looks like a white wine. But rest assured, it is a Rosé – and an amazing one at that.
My first tasting note is actual a preparatory note: don't drink this wine too cold. You will do yourself a disservice. Even the bouquet is much more open a few degrees warmer out of the refrigerator.
And, speaking of the nose, I often find that rosés have less to share in this category. Often, for me, it is of red fruits and banana. In this case, though, the nose is incredibly complex, especially with temperature variations. Pear, honey, jasmine, and hyacinth, followed by citrus blossom and vanilla. Soft. The bouquet is present, but soft. Like the air on a summer's evening in the hills of Provence.
On the palate, this wine is incredibly tactile. I don't usually think of wines this way, but I was struck so much by how it felt in my mouth. Soft and velvety, and thick and unctuous. It coated my tongue like a cashmere blanket. (Can you tell how much I loved this wine?) In light of the softness I describe, it has the body and strength of the best white Burgundies.
It paired beautifully with the pasta – I almost want to say that it doesn't matter what you eat with this, because you will probably forget the food. But you will remember the wine.
This is, by far, the best rosé I have ever had… or may ever have. If you have a [wine] bucket list, you should add it. This is a special occasion wine if there ever was one.