Musings of a Wine Maven
TWO BUCK CHUCK LOSES PLONK TROPHY TO THE FRENCH
by Jerry Clark
Background
In 1976, Englishman Steven Spurrier stunned the wine world when the results were announced of a blind tasting he organized in Paris. In the competition of top French red and white wines with California wines Spurrier had, a Cabernet and a Chardonnay from Napa landed on top of the red and white groupings. And, this phenomenal result came from principally French tasters, who comprised seven on the nine person panel. Sacrebleu! I doubt Steven Spurrier, though as deserving as Robert Parker, will ever be inducted into la Légion d'Honneur.
Termed "The Judgment of Paris," this initially little heralded competition put a fledgling California wine industry on the global map, and provided a rush of land investment and vineyard development that possibly provided the biggest single economic boon to that state since the Gold Rush of 1849. (The annual value of grape crop ballooned from $40 million in 1976 to over $3 billion today.)
Recommendation
Given the notoriety of the competition it should be of little surprise that it has essentially been replicated three times, most recently in 2006. Each time California has come out on top. I think it can now be put to rest. While it has not shaken the top growths of Bordeaux and Burgundy from the summit of most coveted wines (though perhaps there more for investment stats, rather than drinking pleasure), California has a cluster of cult wine estates whose reputation is firmly established, both by connoisseurs and investors.
What the wine world could use today is a different judgment style competition: for the lowliest rather than loftiest of table wines. Why so? Because finding a decent bottle of wine for under $5 is, to my mind, the greatest wine-searching challenge out there. At our home, this challenge is monetarily significant given that we budget to consume 120 bottles of what we term "weekday wine" each year. The two other categories in our cellar are "weekend wine" and "special occasion wine," each progressively more expensive.
It would be very helpful in our Quixotic fiver quest if there were an annual international competition for the best of the commonest wines. Let's call the award "The Plonk Trophy." I have always loved that term, first used by the Brits, or perhaps the Aussies. The French equivalent is "pinard," which dates back to military wine rations in World War I. Alas, in America we have yet to coin anything as charmingly descriptive as "plonk" or "pinard" for our very basic table wine.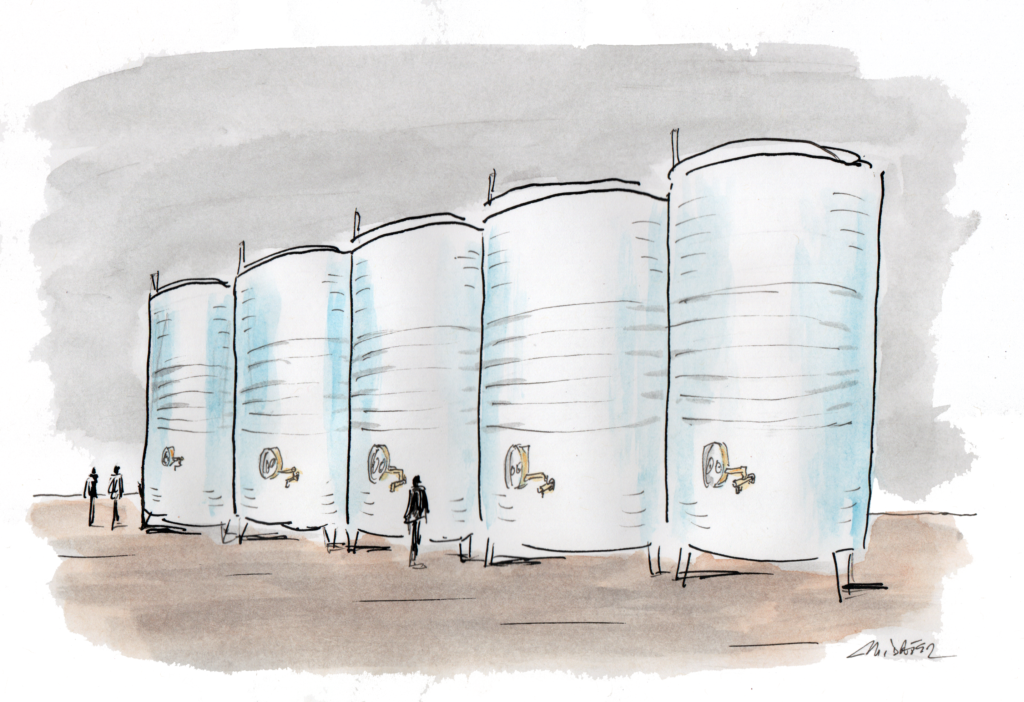 Mechanics
I would organize such a wine competition as an elimination tournament, like March Madness in college basketball. Some properly august body of volunteer personages would annually chose 16 countries that would each provide a producer of a white and of a red wine to compete. Immediately this would give us a list of 32 cheap wines that somebody thinks are pretty good. Competition costs could be covered by TV rights, or failing that, a bidding war among importers seeking to bring in the unknown ones here. Some ex-FIFA exec could advise us on this. Ten or so tasters would be chosen, and the Marcus 20 point system utilized to determine wine results (also discarding lowest and highest scores to minimize possible skewing from potentially compromised tasters). Retail prices in local markets would also be taken into account, adding a half-point to the total tasting score for each increment of 50 cents off the maximum allowed $5 shelf price. Thus, a $3 wine would have 2 full points added to its score.
Fantasizing

My Walter Mitty mind's eye envisions the semi-finalists with the United States competing with Argentina in Mendoza, and France up against Hungary on the shores of Lake Balaton. In tightly contested tastings, where winning wines scored less than a single point differential over their rivals, the Americans and French come away winners, going on to Marseilles for the finals, but first seeing the U.S. filing a flag of protest when learning that the tasting was to be the day before the International Pétanque Competition, and the only place to secure accommodation was 135 miles north in Valence, thus requiring supporters to rent cars or take the TGV. A last minute offer out of Corsica to send a cruise ship to be docked in Marseille for our use was rejected by the mayor of Marseille, who said he could not guarantee our security.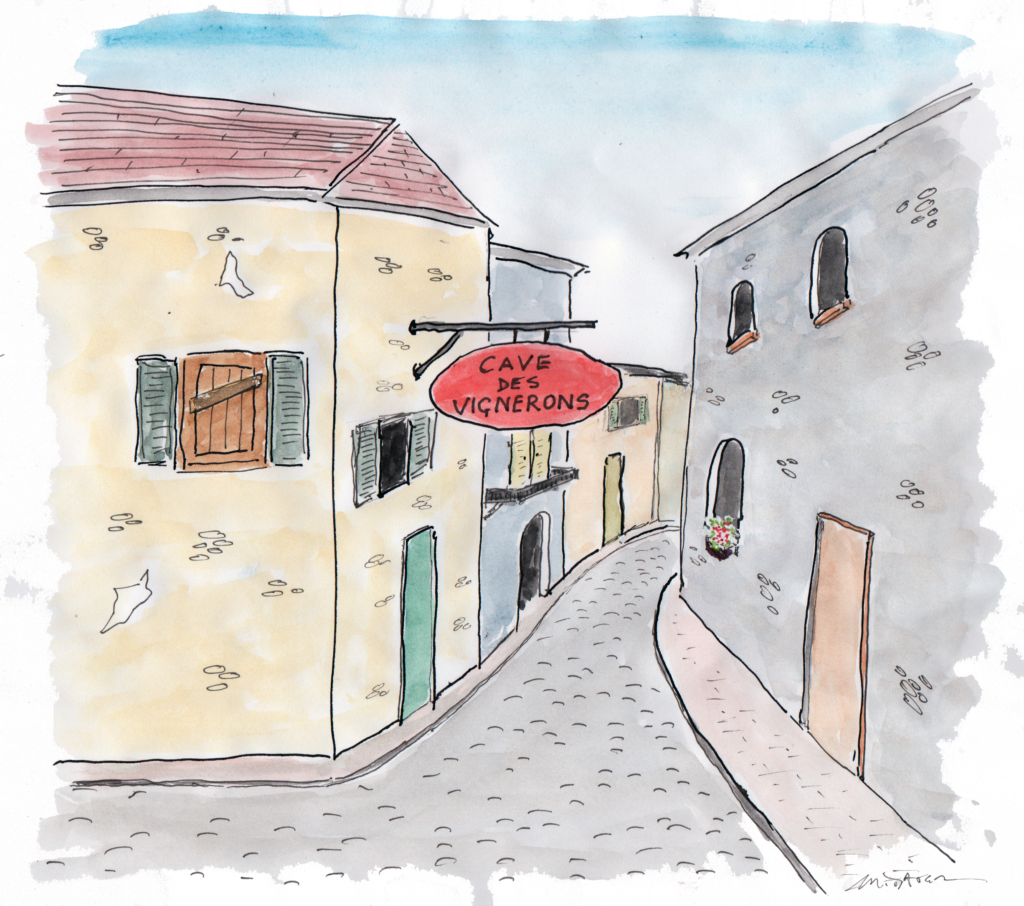 In spite of all these diversions, the French swept both the red and white categories, upsetting the Charles Shaw (Two-Buck Chuck) Chardonnay and Merlot candidates (which Vegas had down as 50-1 and 10-1 favorites). Both winning French wines came from the Cave des Vignerons de Cucuron, one of 600 wine-producing co-ops in France. The world was stunned by this upset! After all, the Chuck Chard has long been a perennial favorite—the 2005 vintage, then priced $1.99 on the west coast, garnered "Best Chardonnay" back in the 2007, at the California Exposition and State Fair, earning double-gold recognition.
First coverage in the U.S. came from the Onion News Network under the heading "ZUT ALORS!!" and continued "this is the biggest upset since Cassius Clay dropped Sonny Liston, since Rhonda Rousey arm-locked Cat Zingano."
Bedlam ensued in Marseille when Plonk Trophy executives, under the pressure of transparency, divulged that both U.S. wines were only awarded one bonus point based upon a retail price of $3.79 in its home market. American team captain Alfred E. Neuman countered that Charles Shaw is a California label and thus its west coast retail pricing of $2.49 should have been used, thereby giving it a total of 2 ½ bonus points.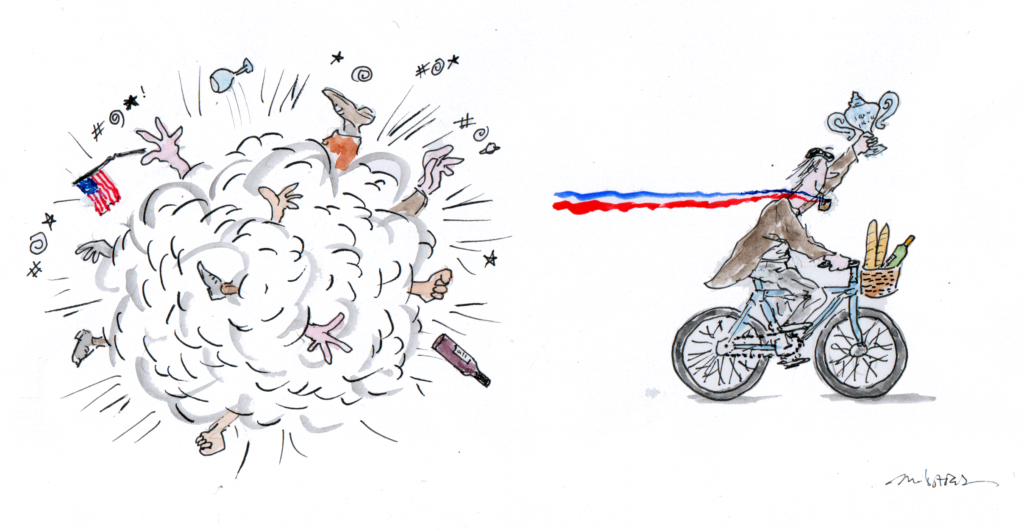 Trophy organizers proposed that the issue be settled by arbitration, but the ensuring chaos was already in full swing. A boisterous group of American protesters continued the dispute outside the hall prompting nearby pétanquers, upon learning of the source of their impaired concentration, to get in the ruckus, using their steel boules as projectiles, hurling them at the Americans.
Conclusion
Being a "caves co-operative" client over the past 20 years, my money was on the French. I was never in doubt of the outcome. To learn how the French hung on to their win after arbitration, and why selecting co-op (rather than vineyard) wines to compete for The Plonk Trophy stacked the deck against the U.S., stay tuned for Part Two. Perhaps this price list from the Cucuron co-op will serve as a clue.