Musings of a Wine Maven
FRANCE WINS THE PLONK TROPHY WITH A LITTLE HELP FROM THE CAVES COOPÉRATIVES
by Jerry Clark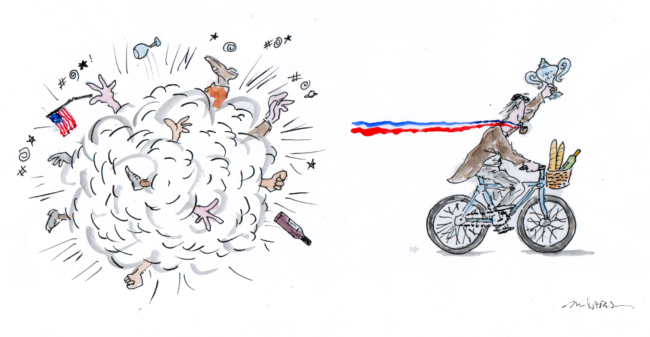 Part Two of  a Two-Part Series
Let us now continue with our little satire on the transmogrification of The Judgment of Paris into the imagined competition for the best of the lesser wines, The Plonk Trophy, and explain how the French victory, as detailed in "Two Buck Chuck Loses Plonk Trophy to the French," came to pass. It is best summarized in the Provence WineZine (PWZ) interview with French team captain Aimé de Bontemps, conducted shortly after the arbitrator upheld the decision declaring the French as winners.
PWZ: Thank you Mr. Bontemps for agreeing to our meeting. Let me first say that I regret that you sustained this broken arm in the dispute following the initial announcement of your win. As an American, I am embarrassed that one of my countrymen would use such rough house tactics upon you.
Bontemps: Mais non! It was a French Canadian who did this to me!
PWZ: But why?
Bontemps: The gendarme that came to my rescue later explained to me that it had nothing to do with the Plonk Trophy. Instead, the Quebecois zealot still blamed Louis XV for losing the Seven Years' War, thus Nouvelle France to England. I just happened to be carrying the trophy and leading my team in a rousing rendition of the Marseillaise as he drunkenly staggered into me upon exiting a bar. When I held up the trophy to him and said "voilà, a la nouvelle Jugment de Paris" he thought I said "Treaty de Paris" and threw me to the ground.
PWZ: I guess that would explain it. I seem to recall in a history class hearing that Voltaire in attempting to calm the distraught king over the loss of Canada uttered "Your majesty, it is only a few acres of snow."
Bontemps: Some old wounds still run very deep. But let us speak now of more pleasant things. I hope you are not too disappointed by our winning this trophy?
PWZ: Americans take all competitions seriously, be they marbles or motor racing. Thus we are very interested to know of your strategic planning, if you can share that with our readers?
Bontemps: Of course, we have nothing to hide there. Things fell into place for us pretty much according to plan. First of all, given the dearth of decent inexpensive wine produced in the U.S., we anticipated team USA coming at us with Charles Shaw selections, or as you kitschy Americans call it "Two-Buck Chuck." Our initial thought was to combat it wholly with our best quality, but then feared doing so would push us too close to the price ceiling and cost us valuable bonus points available based upon pricing.
PWZ: Uh-huh.
Bontemps: Determining that we first must substantially undercut Chuck's prices led us to choose our candidates from the extensive resource of Caves Coopératives here in France. Receiving samples from over 150 of our more than 600 Coopératives we selected one that offered both appealing red and white choices. We believe that the Coop decision was correct, even in light of some
criticism that the trophy should be awarded solely on the basis of the tasters results.
PWZ: The results that were announced publicly only gave total points. The French white had 14.5 points to the American 14, and your red 12.5 to our 11. Can you tell us of the influence of these bonus price points in the final determination?
Bontemps: The official rules prevent such discussion, however, given the attention your blog has gained here in France following the Vanity Fair item, I see no reason that I cannot control the Plonk organizers by attributing it to some sort of leak. I have learned much about these tactics watching "House of Cards." Personally, I would be just as happy if the Plonk Trophy competition ended now. The Judgment of Paris launched Napa, and now, almost 40 years later we French will have our revenge.
PWZ: Revenge? How so?
Bontemps: By exposing the lack of decent wine for the common American, at least grown locally. I recall reading many years ago of the head of a fail printing press manufacturer explaining why they were exiting the business.  He justified the plant closing by saying "we can grow bananas in America, but we don't, because we can't afford to pick them." With virgin land now selling at $500,000 per acre in Napa, it's obvious that wine is virtually a luxury product in your country. Look at your restaurant wine lists, wine publications and their advertisers. It all provides a telling tale. Ah, but I must leave now. This paper is for you. Do with it as you will.
The folded piece of paper Aimé de Bontemps left on the table revealed:
REGION
TASTERS
SCORE
RETAIL
PRICE*
BONUS
POINTS
TOTAL
POINTS
Charles Shaw: Chardonnay
California
12
$ 2.49
2
14
Charles Shaw: Merlot
California
9
$ 2.49
2
11
Cucuron Cave Coop: White
IGP Vaucluse
11
$ 1.16
3.5
14.5
Cucuron Cave Coop: Red
AOC Luberon
9
$ 1.36
3.5
12.5
*Excluding U.S. taxes and French VAT. Price based on 750 ml quantity. (While the Plonk Trophy story is a fantasy, the listed wine prices are not).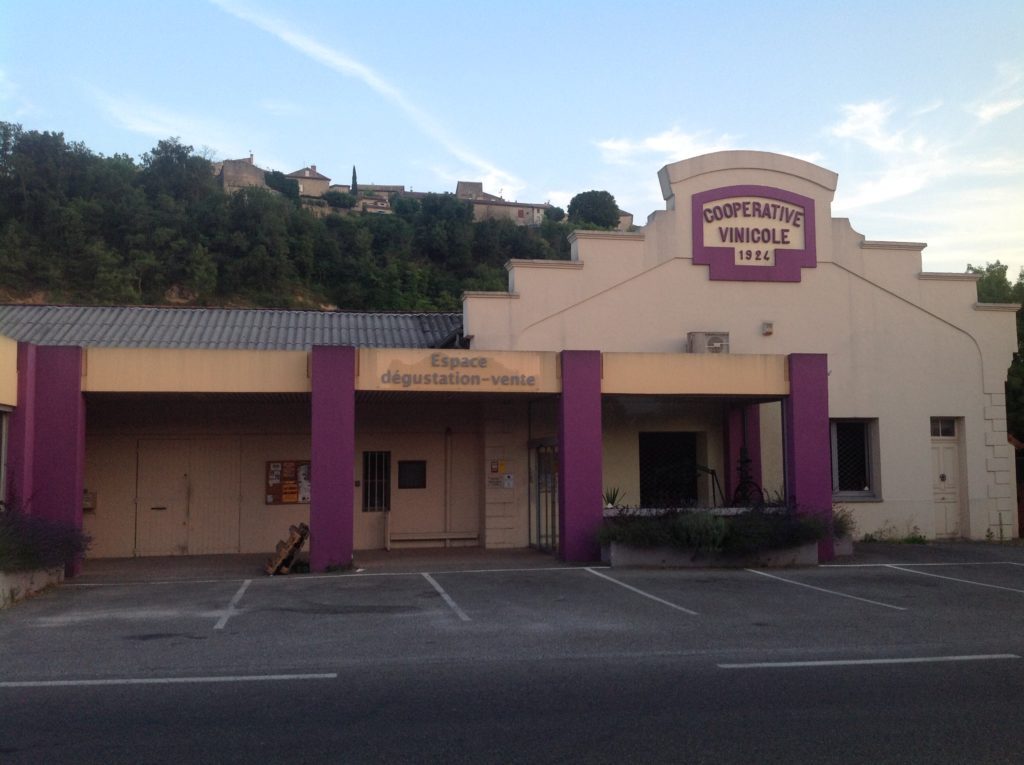 As I said in my closing to Part One, I have shopped in Cave Coops each year for the past 20 years when on holiday in Provence and I was not at all surprised to learn that a coop wine captured the trophy. Such wine competitions are so unlikely in America. They take place routinely in France, and gold, silver and bronze prizes are awarded, with small circular labels affixed to winning bottles on display at wine shops.
Just the other day I went online to peruse the 95 top-placing wines for under €5 awarded at the 2015 Concours Mondiale des Féminalise. More than 500 female wine professionals gather each spring in Beaune to taste and give an added boost in sales to the wines they chose. Why women only? Because they claim that 70% of the wine purchases in the industrialized world are made by women. Believe me, when I am back in France I am going to start paying attention to their selections. They also have < €10, < €15, and >€15 categories. Many of the winners are selections from various Caves Coopératives.
The cooperative exists to support growers that are too small to make investments in winemaking equipment, and, in many instances, lack even adequate storage for the aging process. The French coop concept dates back to the 19th century, but really took hold and became better organized in the globally difficult 1930s. Today, the French Confederacy of wine co-operatives claims to produce fully half the wine made in France, and in the case of Vin de pays (now referred to as Indication Geographique Protégée or IGP wines), almost 80% of the total.
I chose the Cucuron Cave Coop as a matter of convenience. It is only a short walk from our vacation home. One of the ten coops in the Luberon region, this one offers the same retail arrangement for walk-in shoppers as all the others:  Bottled wines on display, 750ml quantity, mostly in prices ranging from €5 to €12; Wine in boxes, both in five- and ten-liter sizes, priced around €3 per liter; and the distribution point I get such a kick out of – the wine pumps.
What are wine pumps? Think of the gas station pump and you have this defined. The client brings his or her empty container, minimum size of three liters, to be filled with a red, white, or rosé. The clerk fills it from a pump, then places the container on a scale. Prices listed are given in liters, as one kilogram equals a liter (I first learned that metric equivalent in a coop twenty years ago).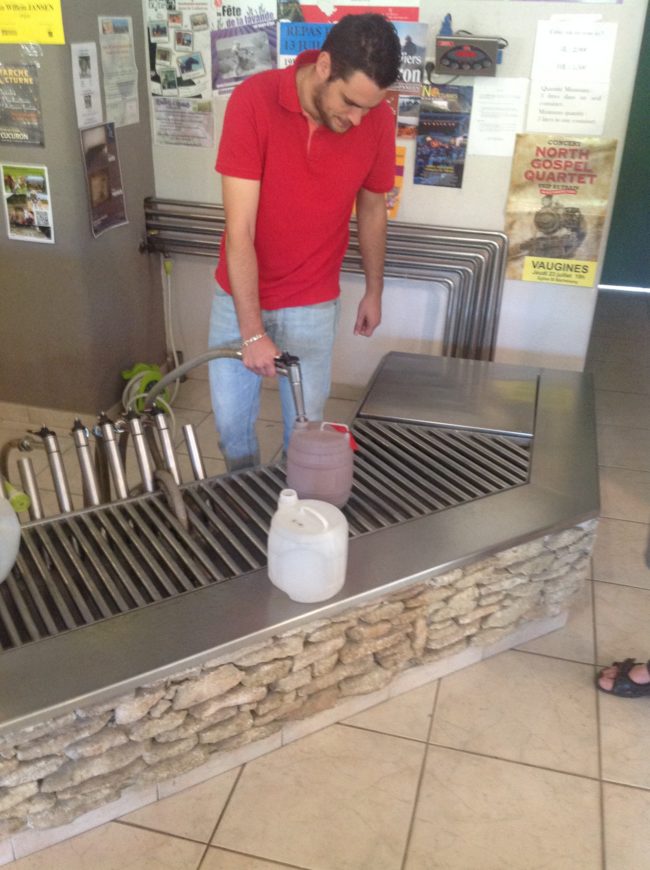 The Caves Coopératives  are part of the French culture. Do we find it in America? Yes, for the benefit of the growers, but on a much smaller scale than in France. No wine-making coop, to my knowledge, exists to serve a walk-in clientele. I don't expect that to ever change, although if one day grocery stores again sell basic dried foods out of barrels and burlap sacks, perhaps. So I continue my quest for the five-dollar bottle, the "weekday wine"that I mentioned in Part One. I have found one source out of California that has hit the mark, but only one. I disregard Two Buck Chuck as there are no Trader Joe's in my area. I hear there is an ocean of unsold wine in California, so I await the day that it shows up in my "weekday wine" category. Beringer is now offering a $7 Chardonnay (in a 15-bottle case size, rather than 12-bottle size) and it's pretty good. I hope they realize they are on to something. Meanwhile I cringe each time I pass the premium water shelves at the store and see that one of my favorites, Fuji, is more expensive than a liter of rosé in Provence.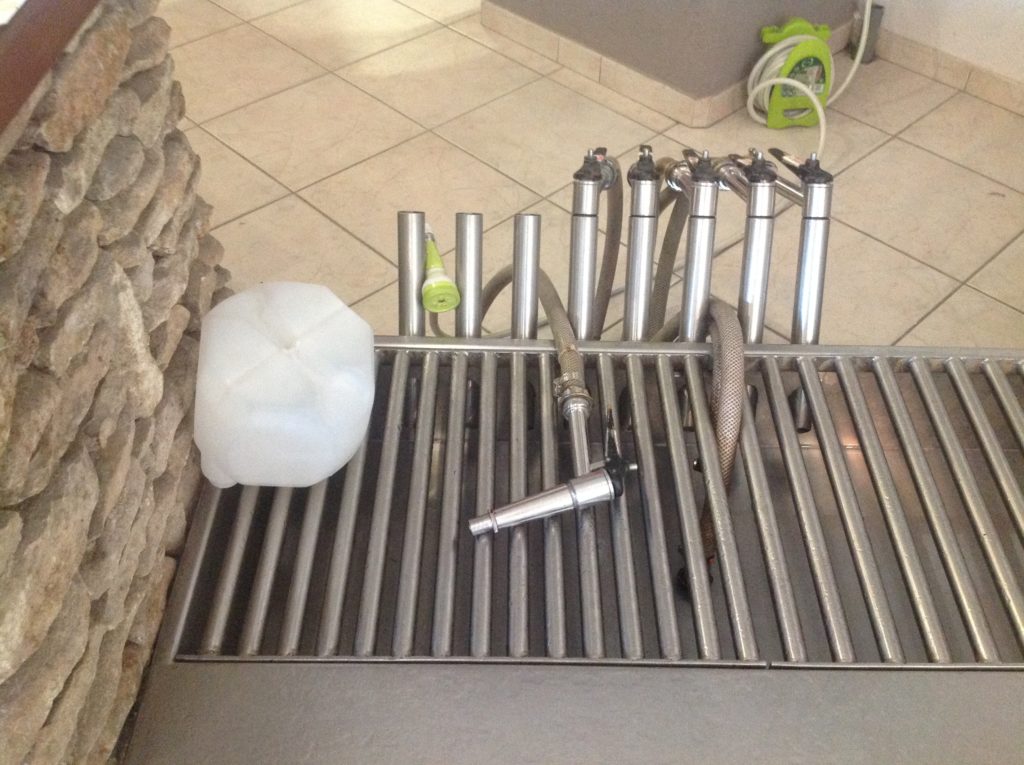 Notes:
You may also be interested in this Provence WineZine article from The Wine Snoop column: https://www.provencewinezine.com/this-is-not-your-grand-mamans-coop-wine/