Two New Rhône-Varietal Wines Added to the Line-up at Acquiesce Winery
by Susan Manfull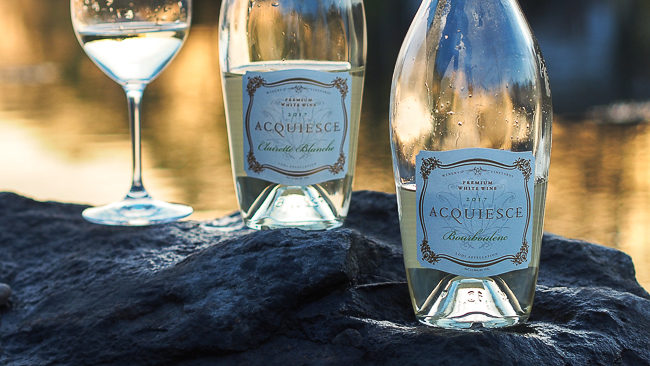 Psst. Acquiesce Winery has added two new white wines to their already exceptional portfolio of Rhône-style wines. Keep this news under your ice bucket because production is small and these 2017 single-varietals of Bourboulenc and Clairette Blanche will be coveted by those in the know. These wines join five other whites in the Acquiesce library of wines –Grenache Blanc, Picpoul Blanc, Viognier, Roussane, and a blend called Belle Blanc—as well as a Provence-style Grenache rosé.
In just a few years, Acquiesce Winery, located in Acampo, California in the Lodi American Viticultural Area (AVA), established itself as one of the top ten producers of the most interesting wines in Lodi, a region long noted for their red wines, especially Zinfandel. Today, less than ten years after their first vintage, and despite all the warnings from others that a winery without red wine would never work in Lodi, Acquiesce Winery is a highly regarded—and lauded—winery in that predominantly red AVA. These new additions will keep the bar sky high.
It was a serendipitous taste of white Châteauneuf-du-Pape in 2006 that inspired owner Susan Tipton, along with her husband and co-owner Rodney Tipton, to go renegade and grow the aforementioned Rhône grapes. Ah, but Tipton being a fastidious grower—even though winemaking was still at the "hobby" stage—did her homework and she hired a consulting winemaker, the highly respected Heather Pyle Lucas, to assist with the home winemaking. She sought to go as close to the source of her beloved Châteauneuf-du-Pape as possible and ordered cuttings (aka clones) for each of the desired grape varieties from the respective "mother vine" at Château Beaucastel, located in Châteauneuf-du-Pape and one of the Rhône Valley's most venerated Châteaux.
In 2015, the Tiptons planted Clairette Blanche and Bourboulenc. They had been on a waiting list for over three years for the Bourboulenc cuttings and, in order to accomplish these plantings, Tipton shared that they had to remove some of the income-producing Zin vines, an anxiety-producing decision because the new vines would not be producing fruit for a few years. Well, the 2017 vintage worked! Like magic, I'm telling you.
The Clairette Blanche (2017), according to the tech sheets about this wine, is a very rare varietal in California although it has been grown in France since the 16th century. Look for it in Languedoc and Provence. It is usually used as part of a blend to add aroma and acidity. Indeed the nose is remarkably aromatic and the feeling of freshness quickly sweeps over the palate and remains through the finish. Notes of lemongrass, green apple, lime, and even lychee surface on the palate. The finish is long and rewarding. Very dry and medium bodied. It paired beautifully with spicy scallops moistened with a squeeze of lime juice. It is a gem! ($28)
The Bourboulenc (2017), also long grown in France, especially Provence, has heretofore not been produced in the U.S. The Tiptons report that Acquiesce may be the first domestic winery to release a wine made from Bourboulenc (although Tablas Creek began growing it). A lot of flavor from the fulsome nose to its long and winding finish is packed into this light bodied wine. On the palate, there is pineapple, a little orange peel, and loads of freshness and minerality. My husband and I went crazy over this wine. It will not be released until mid summer. ($28)
Both wines, as are all wines produced by Acquiesce Winery, are Certified Green by Lodi Rules Sustainable Winegrowing.
Both wines are made of grapes that are permitted in that glorious blend called, simply, white Châteauneuf-du-Pape. If you are as madly in love with white Châteauneuf-du-Pape wines as I am, you must get to know Acquiesce Winery.
I recently spoke with Marc Perrin, fifth-generation vigneron at the legendary Château de Beaucastel in Châteauneuf-du-Pape and CEO of the Perrin family business. In that conversation, at The Pierre Hotel in New York City, Perrin said, "People think of red in Châteauneuf-du-Pape, but the white is amazing." Very little white wine is made in this Rhône appellation, so famous for its reds. Something akin to Acquiesce Winery in Lodi, California, I found myself thinking.
Notes:
Please call ahead for tasting room hours.
Contact info:
Acquiesce Winery
22353 N. Tretheway Road
Acampo, CA 95220
(209) 333-6102
sue@av-wine.com
Other articles you may be interested in reading: