OFF THE VIA DOMITIA
IT ALL STARTED WITH A WHITE CHÂTEAUNEUF-DU-PAPE
by Susan Manfull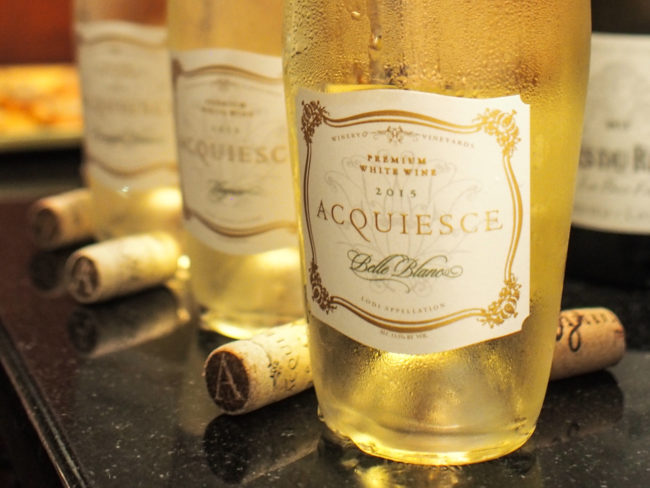 Geographically, this article veers sharply from Provence and the southern Rhône Valley; however, Acquiesce Winery in Lodi, California, the vineyard at the center of this story, was inspired by a love of white Châteauneuf-du-Pape and made successful by grapes grown from clones that originated in Château Beaucastel.
When I attended the Wine Bloggers conference in mid-August in Lodi, California—one of the largest appellations in California and one intricately tied to Old Vine Zinfandel wines—I did not expect to visit a winery dedicated to producing Rhône style white wines. But, there I was, on a particularly hot summer day, in the tasting room—a renovated, mercifully air-conditioned 100-year-old barn—of Acquiesce Winery with proprietor Susan Tipton pouring wines made from grapes like Grenache Blanc, Roussanne, and, good lord, from Picpoul, a southern French grape that somehow is said to translate to "lip stinger." Had I gone down the rabbit hole?
Acquiesce Winery, located in Acampo, California, was the first stop of our pre-conference tour and the first of many surprises in Lodi, several of which I will write about over the next few months.
In the Lodi AVA, about 100 different grape varieties are planted. In the Châteauneuf-du-Pape Appellation d'Origine Protégée (AOP), regulations permit only 13 different grape varieties.
The Lodi American Viticultural Area (AVA), established in 1986, is located 100 miles east of San Francisco, just south of the State Capital Sacramento and west of the foothills of Sierra Nevada Mountains. Very importantly, it is due east of the California Delta where the San Joaquin and Sacramento Rivers meet to form a natural inlet through which Pacific Ocean winds can reach Lodi's vineyards. About 110,000 acres are devoted to wine grapes, farmed by about 800 growers, many of whom are 4th and 5th generation farmers. This is primarily a red wine appellation where Zinfandel reins: one third of California's premium Zinfandel is produced here and Lodi is renowned for their old vine Zinfandel (with some vines dating back to the 1880s). The main white grapes are Pinot Gris (producing 25% of California's total), Chardonnay (18% of California's total), and Sauvignon Blanc (15% of the State's total). Lodi was named "2015 Wine Region of the Year" by Wine Enthusiast.
Acquiesce Winery is a predominantly white wine winery, unusual anywhere in the United States, and down-right weird in Lodi. Or, at least that's what many folks thought when Tipton made her aspirations clear. Although Tipton does produce one rosé (made from Grenache), she told me that many people told her "You will never make it without reds in the portfolio.'"
Tipton did not intend to have a niche winery. In fact, she did not intend to have a winery at all. Tipton, who owns the winery with husband Rodney Tipton but clearly sits at the helm of this venture, was born and raised in Chicago. She and her husband and three sons lived in several states and spent a short stint in Sweden, moving frequently over a 15-year period to follow her husband's job as director of field services with Tetra Pak, an aseptic-packaging company before settling in Lodi when her husband took another job in Lathrop, just south of Lodi as President of Power Automation Systems, a company specializing in developing automated warehouses. Little did he know that he would end up Managing Partner of Acquiesce Winery.
Before Lodi, the closest they got to winemaking was a love of food and entertaining, both of which had also been a part of Tipton's life growing up. "My father worked in a factory and would come home at 3:00 and watch Julia Child and then later duplicate the meal for family and friends," Tipton recalled, adding that food is probably why these grape varieties are so important to her. "These wines go so nicely with food."
By the time the Tiptons headed to California in 2000, their sons were grown up. They initially bought a tract home in Lodi and, several years later, wanting to live where they had "a better view of the sunrise and sunset," bought an 18-acre property with 12 acres of Zinfandel, about which they would not need to be bothered because the vineyard was already under contract with a large producer to annually harvest (and purchase) the grapes.
Tipton describes herself as a life-long "worker bee" by way of explaining how the seeds were sown for Acquiesce Winery. After moving in, Tipton spent a lot of time tending a small plot of Zin vines on the property, but it wasn't long before winemaking would pique her interest and pretty soon she and her husband were making wine in their garage. They were relatively content with the dry Zin rosé they were making but it was really white wines that their palates favored; so who knows where this venture might have gone if Tipton had not had a chance encounter with a white Châteauneuf-du-Pape at Bev-Mo.
When Tipton first tasted that white Châteauneuf-du-Pape in 2006, she told me," I remember thinking, 'What is this wine?' and 'How come I've never had it?'" It was a private label Châteauneuf-du-Pape cuvée made for Bev-Mo, probably one of their award-winning Vineyard Partner Collection wines. "I immediately went back for more, but there was none left."
I asked Tipton to tell me what she remembers about that first white Châteauneuf-du-Pape. "It was unoaked, bright and crisp with a delightful minerality, a great round mid-palate, floral nose and pleasingly long finish. This white was unlike any other whites I had tried before (e.g., Albarino, Pinot Grigio, Sauvingnon Blanc, Chardonnay, etc.) as the Châteauneuf-du-Pape was a broader experience in the glass, it wasn't one dimensional. It truly was an epiphany," she wrote, clearly remembering her experience in great detail.
"I did some research and saw that even in France, there is not much [white Châteauneuf-du-Pape]," Tipton said. Indeed, white Châteauneuf-du-Pape grape varieties– Grenache Blanc, Roussanne, Picpoul Blanc, Clairette Blanche, Picardan, and Bourboulenc—account for only about 7% of the grapes grown in Châteauneuf-du-Pape and only 5 to 6% of the wine produced. At that time (around 2006), aside from Grenache Blanc and Roussanne, those grapes were not likely to be found in any California vineyard.
Tipton did more research comparing the climate and terroir of Châteauneuf-du-Pape to Lodi. It turned out that monthly temperatures were remarkably similar. Described as Mediterranean in climate, Lodi has a little more sunshine and a little higher temperatures during the day while the nights are a little cooler, compared to Châteauneuf-du-Pape. A plus for Lodi is that there is no significant rainfall during growing season; Lodi grape growers can irrigate accordingly in order to realize the best flavor in their grapes, and the fruit can typically ripen fully. The soils, while varied within both appellations, are generally sandy loam. Châteauneuf-du-Pape's soil is mixed with clay or limestone and, of course, typically topped with the large stones, referred to as galets roulés in French (that are also found in some parts of the Lodi AVA). Tipton thought these white grape varieties may well do well in Lodi and, still just making wine for non-commercial purposes, decided to take the plunge to plant some Southern Rhône grapes.
By this time, Tipton had already hired a consulting winemaker to assist with the home winemaking. She contracted the highly respected Heather Pyle Lucas, who is known best by her maiden name, Heather Pyle. After 17 years with Mondavi (including working with Mondavi reserve wines, La Famiglia program, and Opus One), Pyle left to consult with start-up wineries in the Lodi AVA, Napa Valley, and throughout California. Aside from Acquiesce, her consulting portfolio includes St Jorge Winery and her winemaking portfolio includes Vicarmont Vineyards & Winery, Ilsey Vineyards, and Lucas Winery. She also owns and tends to a two-acre vineyard that provides the grapes for a Cabernet Sauvignon she makes under the label of Tangles Vineyard & Winery.
When Pyle signed up to consult with the Tipton's home winemaking hobby, I am confident neither woman envisioned the white wine path they would forge in Lodi. Tipton spoke effusively of Pyle, saying she has 40 years wine experience and, underscoring how very fortunate she feels to work with her, Tipton said, "She's a great mentor and friend."
Tipton began with a half-acre each of Grenache Blanc and Grenache Noir (for rosé). She sought to go as close to the source of her beloved Châteauneuf-du-Pape as possible and ordered cuttings (aka clones) for each of the desired grape varieties from the respective "mother vine" at Château Beaucastel, located in Châteauneuf-du-Pape and one of the Rhône Valley's most venerated Châteaux. The cuttings were imported via Paso Robles' Tablas Creek Vineyard (which is a joint venture with Château Beaucastel). Per U.S. Department of Agriculture and California Department of Food and Agriculture regulations, the vines initially went to University of California, Davis to ensure that they were disease-free and viable. Sometimes this "quarantine" can take up to five years, according to Tipton, but this was not the case for these cuttings. In the meantime, the Tiptons planted the root stocks (referred to as "101-14" which originates in France and is described as helping to keep yields low and quality high, possessing great resistance to phylloxera, good resistance to nematodes, and has been in use since 1882). Finally, in 2008, they contracted a professional grafter to remove the buds from the sticks and tape each one on to the rootstock. The end result is that the grapes that are eventually harvested from these vines would be genetically identical to those growing in Château Beaucastel.
"Our first harvest was in 2010," Tipton told me. The Tiptons were very pleased with the "great expression of fruit," a characteristic for which Lodi is well known. "In Lodi, we can pick at lower sugar [levels]" and still have the fruit-forwardness, Tipton explained, thus preventing too much manifest alcohol.
Compared to France where there may be weather issues, Tipton elaborated that, in Lodi, the grapes can be taken to ripeness. "We decide on the flavor profile," she added.
With their own expectations surpassed, the Tiptons realized that their hobby might be about to become a commercial venture. In order to get the wine where they wanted it to be, they would need to move out of the garage and "make some investments in chillers, stainless steel tanks, and keep Heather on." It was "quit or go professionally" and we said, "Oh what the heck…We can always just drink it!"
And, with that decision, they renovated the 100-year-old barn to create a vinification center. In the back, they installed the requisite pneumatic bladder press, stainless steel tanks, and temperature-control equipment and, in the front, they made the lovely tasting room where I first tasted these wines.
There are no oak barrels. Tipton's guiding philosophy is to use a minimalist approach. With stainless steel, she said, "Lodi's exquisite fruit and forward-forward profiles" can come to life. In other words, "Acquiesce to the grape so they produce their own true character."
In 2011, the Tiptons added the next round of grape varieties: one acre each of Viognier and Roussanne and 100 vines of Picpoul Blanc. These were also sourced from Château Beaucastel, via Tablas Creek who worked with NovaVine Nursery of Santa Rosa, California to graft the buds onto the 101-14 rootstock, under the auspices of UC Davis.
In 2015, another round of plantings, including Clairette Blanche and Bourboulenc, were added. They were on a waiting list for over three years for the Bourboulenc cuttings and, in order to accomplish these plantings, Tipton shared that they had to remove some of the income-producing Zin vines, an anxiety-producing decision because the new vines would not be producing fruit for years.
By now, it should be patently clear why most vintners don't plant grape varieties that are so obscure in the U.S. It is a time-consuming and costly endeavor, with no guarantee it will work. However, as Tipton said to me, "Someone has to start," and, as a consumer, I am sure glad Tipton and other vintners of like minds are taking a chance. There are organizations that support the efforts of such vineyard blazers. The Rhône Rangers, for example, provides resources about Rhône-varietal grapes in the U.S. (in addition to promoting and educating the public about American Rhône-style wines). First started in the 1980s, the group dissolved in the early 1990s but re-emerged in the late 1990s. Today, there are 150 winery members and more than 3,000 consumer members (aka, Sidekicks). Tipton has served as treasurer on the board of directors of The Rhône Rangers since January 2014.
Acquiesce, a verb meaning 'to surrender, to become quiet,' is the mantra of the Tiptons' winery — "to submit to nature, to yield to the vineyard, to acquiesce to the grapes so they present their own true character."
The Tiptons' hobby-turned business eventually took them to Châteauneuf-du-Pape, the ancestral home of many of Susan Tipton's favorite grapes. The highlight of their trip was undoubtedly visiting Château Beaucastel where they tasted two white wines, including the renowned Vielles Vignes, a single varietal Roussanne from 75-year-old vines. I am sure the Tiptons returned from the southern Rhône Region armed with renewed inspiration and a few bottles embossed with the papal coat of arms.
When I was in Lodi and first met the Tiptons, they were on the verge of their 7th harvest, beginning with Viognier. With the first white Rhône plantings in 2008 and the two subsequent plantings, there are, now, 10.5 acres devoted to Acquiesce wines. The grape varieties are: Grenache Blanc (3.0 acres); Viognier (1 acre); Roussanne (2 acres); PicPoul Blanc (1 acre and some vines); Clairette Blanche (1 acre); Bourboulenc (1 acre); and Grenache noir (for rosé, 1.5 total).
The harvest at Acquiesce Winery begins at sunrise to ensure the temperature of the grapes will be as cool as possible. Everything is harvested by hand by a "great crew" with Pyle out in the vineyard as well. The grapes are sorted as they are placed in the bins and again as they are going to press, in keeping with Tipton's diligent attention to detail. The leaves are pulled off, leaving the clusters intact for the whole cluster press. Tipton said that it takes about two hours to pick an acre and, because they judiciously prune to about two buds per spur, that they average four to five tons an acre (compared to the 12 tons an acre for the Zinfandel vines). Using a pneumatic press, the whole clusters of grapes are gently pressed (about 80 to 90 minutes), followed by fermentation in stainless steel, minimal filtering, and racking.
The bottling truck swings by the winery in mid-January, at which time those gorgeous bottles are filled. In mid-March, when the tasting room opens for the season, all the wines except the Belle Blanc and Roussanne will be available for sale. The latter two will be ready for sale during the summer.
Acquiesce Winery is "Certified Green" by Lodi Rules™, California's first third-party-certified sustainable winegrowing program. This is a holistic approach to farming that includes the promotion of practices that enhance biodiversity, soil health, and water cleanliness purity as well as further encourages responsible farming by focusing on the community through land stewardship, employee training, and safety initiatives. Lodi Rules™ serves as a model for many wine regions throughout the world that are now adopting sustainable wine growing programs.
When I spoke with Tipton recently, I asked how the harvest went. "I think the 2016 vintage looks great," she replied. "Our crop is up from last year, when crop yield was down about 25% so I think we might have more wine." With the new fruit, Tipton expects to produce about 3500 cases, up from 1500 cases last year.
Tipton expressed particular excitement to try the new grape varieties, Clairette Blanche and Bourboulenc, although they (clearly) will not be mature enough to make wine. This year, she plans to produce another single varietal Picpoul, assuming that, like 2015, the wine will be so good on its own that a single varietal will be warranted. Next harvest, she hopes, will produce enough Picpoul so that some can be used for blending purposes, as is usually done and which was Tipton's original plan. The other single-varietals Grenache Blanc, Roussane, and Viognier will also be in the portfolio as well as her cuvée called Belle Blanc which is an evenly balanced blend of Grenache Blanc, Roussanne, and Viognier.
With the initial skepticism voiced about a predominantly white winery, Tipton must feel vindicated by the many accolades and awards she has received, not to mention selling out of her wines and the 200-person waiting list to get into her wine club of 600 people.
Tipton received a serendipitous boost of confidence, I would imagine, shortly after her first harvest. In March 2011, internationally renowned wine expert Oz Clarke dropped by Lodi's Wine & Roses Spa and Resort and, in an interview with Jordan Guinn of the Lodi News-Sentinel, said that Lodi needs to make more white wine.
"Some of the big growers are planning on planting Picpoul," Tipton told me. "It is working….Someone had to start."
Although Acquiesce Vineyards came to life with that bottle of Châteauneuf-du-Pape some ten years ago and, thus far, is focused on southern Rhône white grape varieties, it is not just the "Châteauneuf-du-Pape thing," that drives Tipton. "I want to focus just on white and rosé wines to get them right," she recently told me.
"When I was in Châteauneuf-du-Pape, I asked them why the whites are more expensive," Tipton told me. The answer, echoed by many wine makers I've spoken with, is that they require more attention to detail and are harder to make well.
Our conversation inevitably led to the assemblage or blending of her Belle Blanc, her tribute to Châteauneuf-du-Pape. The blending is determined by the Tiptons and Pyle.
"Every year, you have one shot, one shot to get it right," Tipton told me when we were talking about the blending. "It is not like baking a cake in which case if it doesn't work, you toss it out and make another."
"I started in my 50s….I am 60 years old now," Tipton continued. "If I get 20 more shots, I will feel fortunate," pausing for a moment before adding, "I am really, really enjoying myself."
Tasting Notes: We tasted four of the six wines in the Acquiesce line-up. The Picpoul Blanc (2015) and Lodi Rosé (2015) were sold out (although my quick tasting in August at the vineyard revealed that they were enjoyable). We initially tasted them on their own and then accompanied by food. The hue ranged from light straw to golden fleece, all stunning in the stylish French Saverglass bottles. Each wine has its own character and all are exceptional. All are priced right around $25.00.
Acquiesce Winery (2015) Roussanne. This wine has remarkable presence. Tipton describes her wines as "bright and lively," characteristics that this wine certainly lives up to. Notes of banana on the nose, more fruit on the palate, pleasant mouthfeel, long finish with hints of honey and vanilla. Paired very nicely with our chicken liver mousse truffée paté on baguette toasts, but could easily have worked alone as an apéritif.
Acquiesce Winery (2015) Grenache Blanc. Win Rhoades said this wine "slows me down and makes me want to have another sip," sentiments with which we all agreed. Body on the light side of medium. Reminiscent of Granny Smith apples in terms of taste and tartness, this wine married very well with Tipton's recipe for "Goat Cheese with Meyer Lemon and Thyme" on baguette toasts.

Acquiesce Winery (2015) Belle Blanc. This blend of Grenache Blanc (60%), Roussanne (30%), and Viognier (10%), Tipton's homage to Châteauneuf-du-Pape was a bit of a wallflower until we paired it with food and then it sang beautifully, each grape harmonizing with the others. A very elegant wine with a light-medium body. We served it with scallops wrapped in a dry cured Ibérico ham.
Acquiesce Winery (2015) Viognier. A penetrating floral bouquet, followed by stone fruit on the palate, and more fruit–especially peaches–on the finish. Mouthfilling and complex with medium body. Like a classic French Viognier, it was not overly unctuous. "Great expression of the best qualities of Viognier," William Manfull said. We married this luscious Viognier with a Soup of Mussels in Saffron-Chardonnay Cream, a recipe from the files of PWZ's Wine and Food writer David Scott Allen, and created a pairing that Patricia Thornton said would "brighten any dark winter day."
Notes:
Acquiesce Winery & Vineyard
22353 N. Tretheway Road
Acampo, CA 95220
(209) 333-6102
http://www.acquiescevineyards.com/
Tasting Fee:$10.00. Refunded with purchase. Wines can be purchased online and at the tasting room.