GABRIEL GIUSIANO, THIRD GENERATION VIGNERON AT PEY BLANC, FOLLOWED THE GRAPES
by Susan Manfull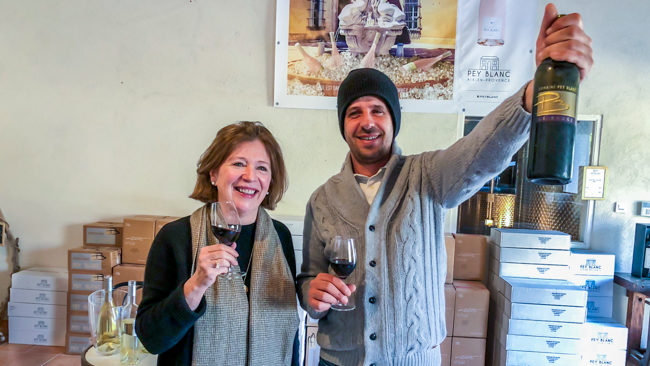 When you work in a vineyard, you are intimately involved with nature. All year long, you tend to the vines—prepping soil, pruning vines, monitoring temps, worrying, trimming canopies, thinning the crop, waiting, watching, waiting—and then you finally harvest the grapes. If you send your grapes to a cooperative, you don't know what happens to them. It feels unnatural, like something is missing. Such were the musings, translated and paraphrased by me, of Gabriel Giusiano, third generation vigneron at what is now called Domain Pey Blanc.
I had asked Giusiano, who was in his early 20s when he began his ascension to the helm, whether he had always imagined he would follow in the footsteps of his father — who took the reins from his father — to manage the vineyards of Pey Blanc. And, after some initial banter about Giusiano probably having more girls than wine on his mind when he was in school, the conversation took a more serious tone.
"It would be natural that I would work here, eventually," Giusiano began, "because I had always worked here [in the vineyards] with my father…but, when you are in the middle of it, you don't think about it."
When the time came, around 1999, to take control from his father, Giusiano knew that he would, but he wanted to follow the grapes, too. He wanted to complete the cycle: that is, like many young winemakers at that time, Giusiano wanted to part ways with the cooperative and bottle his own wines. Thus, plans for reviving the vines, building a cellar, and learning more about vinification began, and Domain Pey Blanc was born.
This was the start of a recent conversation I had with Gabriel Giusiano, who successfully navigated the challenging path from cooperative to private winery while simultaneously taking his father's place at the helm of Domaine Pey Blanc.
Giusiano stands a full head taller than I and, topped with a cap accentuating his height, he could easily take command of a room. Although the day we met he was quiet, at least initially, perhaps because English would likely be the dominant language but more likely because, as he later confessed, he really doesn't like to promote himself. It took a while, but eventually the twinkle in his eye grew brighter and the bon vivant I had heard he was came alive.
Also at this meeting and tasting were Aurélien Pont, marketing and communications consultant and founder of Lucky Wines, a commercial agency focusing on Provence wines, and Pamela O'Neill, PWZ photographer.
We met at the tasting room of Domain Pey Blanc, a relatively small property with 25 hectares (a little over 60 acres) of vines divided among three parcels of land, only one of which is adjacent to the winery in which we stood. Located just five kilometers (about 3 miles) from Aix-en-Provence, it feels lightyears away from any city. A cluster of modest buildings, including a 19th-century Provençal farm, is set back from the D17/Route d'Eguilles, one of the main local routes into Aix, and are surrounded on three sides by their vines. On the other side, lies a tiny lane (even by Provence standards) that took me sailing past my destination.

Domaine Pey Blanc is located in the center of the Coteaux d'Aix-en-Provence appellation, one of the westernmost of the nine Provence appellations. It is the second largest appellation in Provence, covering about 4000 hectares of predominantly limestone land from the Durance River in the north to the Mediterranean Sea, and from the
Rhône
River in the west to Mont Sainte-Victoire. The soil is varied across the appellation, and includes three main types: clay-limestone rocks, which best describes that of Pey Blanc; sandy and gravelly; and "cobbly" soil with a clay or loam-sand matrix near the Rivers. The Mistral wind moderates the area's Mediterranean climate.
A Little History
The seeds for Domaine Pey Blanc were planted in the 1930s when Matteo Giusiano, grandfather of Gabriel, migrated from Italy to Provence and purchased a small plot of land where the winery now stands. There, he raised cattle for his dairy farm and he planted one hectare of vines for grapes to make wine. In 1980, Gabriel's father Jean-Claude took charge and expanded the property to include about ten more hectares on which he replanted more "adapted grape varieties," the harvest of which he took to the cooperative.
Today, as reported above, there are about 25 hectares, the bounty of which has been vinified and bottled on the property under the very capable hands of Gabriel Giusiano since 2004. Giusiano credited his father, who he described as "a farmer by passion," for much of what he learned about vines. He also studied winemaking and received the Brevet de Technicien Supérieur (BTS) technician certificate specializing in oenology and, as part of that program, he apprenticed at Domaine Jacourette, a small family-owned winery located in Pourrières which lies in the center of the Sainte-Victoire "terroir designation" of Côtes de Provence," east of Aix-en-Provence. Nowadays, his father who holds an administrative position in an agricultural cooperative, drops by the cellar to taste the wine his son makes. And likes it very much! (I neglected to ask if Gabriel's mother Rose-Marie also enjoys her son's wine, but I cannot imagine that she doesn't.)
Giusiano told us that it took upwards of five years of hard work on the soil and vines in order to be confident that his own wine would be good. At the same time, he built the cellar to accommodate the equipment necessary to produce his own wine. All the while, he continued to take his grapes to the cooperative. During this period, he also worked harvests at Domaine La Dona Tigana in Cassis, where (naturally) he learned a great deal about white wine (skills he would later apply with great success).
In 2004, Giusiano produced his first vintage of two rosés which comprised 60% of production and two reds. No whites (yet).
Making such a move — from cooperative to making ones' own wine and bottling it — is riddled with challenges, Giusiano told us. "If you knew all the difficulties you would face ahead of time, you probably would never have started," he said.
Pont underscored Giusiano's sentiments: "I asked him one time if it was fun to have the winery and he said 'yes, but you have to be a bit unconscious…don't think about it, just keep moving forward.'"
Domaine Pey Blanc Today
Today, Gabriel Giusiano is the personification of Pey Blanc. Everyone knows Gabriel Giusiano and everyone knows Pey Blanc, I was told by locals, and those sentiments were also echoed by Aurélien Pont the day we visited. For someone who reportedly does not enjoy promoting his product — "I want to make the wine!" he says — I suspect he is, ironically, one of the winery's best marketing tools.
The total production is approximately 150,000 bottles. Rosé wines remain about 60% and red wines now comprise 30% because white wines have joined the party. There are three Coteaux d'Aix-en-Provence cuvées – L'Instant, Pluriel, and N°1, in ascending order – and one IGP Méditerranée red wine. (Other Pey Blanc blends, in all three colors, come in "Bag in Box" formats.)
For Provence, 30% is a lot of red (as 12.5% is the average amount of AOP red wine produced in the Coteaux d'Aix-en-Provence appellation). Pleased as I was to hear, I asked why so much red.
"We make a lot of red because a lot of clients from Aix come here, and they drink 'for the season,'" Giusiano explained, adding that as much as 80% of his wine is sold in the immediate area. "In the winters, [customers in Aix] drink red, and between April and September, they drink rosé."
We sampled all three rosés, two white wines, and three red wines, spanning a 13 year period from 2004 to 2017. All are from vines grown in clay and limestone soil in vineyards where the principles of agriculture raisonnée (sustainable agriculture) are adhered. All prices are for 750-milliliter bottles from the tasting room.
L'Instant (2017) Rosé is a blend of Grenache, Cinsault, and Syrah from vines averaging 30 years of age. Each variety is vinified separately: low-temperature maceration for a short period before pressing and into the stainless steel tank. This is a very simple rosé that begs to be served by the pool or in an outdoor café for lunch. Those people looking for something more complex will have to fork over more than the 5.90€ this humble bottle will cost you in Provence. This is a bargain.
Pluriel (2017) Rosé, composed of Grenache and Syrah (vinified separately) is delightfully fresh with notes of citrus and a little red fruit. Elegance comes to mind, along with some structure and complexity, probably from the 30-year-old vines coupled with an "extra-cold pre-fermentation on lees." It is an amazing price at 8.50€ .
N°1 (2017) Rosé, is made of Grenache and Cinsault grapes from vines approximately 30 years. Less structure than the previous rosé, leading Pont to describe it as a "gentle wine, a very, very delicate wine." It reminds me of a diaphanous blouse: light, gentle, delicate, and airy but, beautiful as it may be, it is not for every venue. I really liked it, as I would a diaphanous blouse when worn in the right place. Launched last year. Surprisingly low price of 12.00€.
Moving on to the white wines, we began with Pluriel Blanc (2017), a blend of Rolle, Clairette, and Ugni Blanc from 30-year-old vines. This wine is fine for easy sipping; but, does not have much of a presence beyond that. It's fresh and friendly and I would gladly open a bottle on a warm day and serve as an apéritif, especially at only 8.50€ as a bottle.
The pièce de la resistance is the N°1 (2017) Blanc, a stellar blend of mostly Rolle (90%) with a dab of Ugni Blanc (10%) from 15-year-old vines (on average). This is the first vintage of this cuvée and it sets a high bar. The Rolle (aka Vermentino) completes a low-temperature maceration before pressing. Both grapes have "extra-cold pre-fermentation on lees" and then into stainless steel tanks. Its very pale color makes the aromatic nose a bit of a surprise (reminding one immediately that it is mostly Rolle!). It fills the mouth with white fruits, seasoned with sea salt. A decently long, crisp finish has you craving more. Terrific. It is a steal at 12€. By the way, Giusiano is yet another vigneron to concur that 2017 is a terrific year for whites in Provence.
The red wines were a particular surprise because I did not know that they were such a prominent part of the portfolio. We began with Instinct (2016) Rouge, an IGP red wine made with Carignan, Marselan, and Grenache. Only 1500 bottles were made of this special "just for fun" wine, standing apart from the others in the portfolio because the vinification relied on ambient yeast, no added sulfur, and minimal intervention. Half of the wine was aged in wood. An interesting nose and lots of dark red fruit, garrigue, earthiness, and leather characterize this medium-bodied wine. "I made it only with grapes," Giusiano told us. This wine will soon be featured in David Scott Allen's column on Provençal Food and Wine pairings.
The Instant (2016) Rouge is another winner. Carignan and Grenache (from vines about 30 years old) comprise this 6.00€ wine that is well-balanced with both fresh and earthy flavors. Cold maceration precedes a temperature-controlled fermentation with daily pumping, followed by a short maceration on the skins and racking; finally the wine spends 12 months maturing in stainless steel. We decanted this at home but I probably liked it just as much in the tasting room, right out of the bottle.
N°1 (2016) Rouge is a Syrah and Grenache blend that is light-bodied, elegant, fresh, and very flavorful. Perfect for summer. The varieties are vinified seperately and, according to the tech sheet, "Preserved under marc [for] 20 days, then aged 24 months in half-muid of several wines, for the respect of the fruit." I thoroughly enjoyed this wine and marveled at its value at 12.00€ .
Our last wine in the line-up was a real gift: the last bottle of the very first vintage Giusiano produced. Pey Blanc 2004 Le Rouge is made of Syrah (80%) and Cabernet Sauvignon (20%) and aged for 12 months in barrel. This special wine was characterized by dark stone fruits such as black plums, retaining an impressive degree of freshness against a backdrop of earthiness spiked with vanilla and supported by very smooth tannins. At almost 14 years old, it was the perfect time to open this wine and we were the very lucky recipients. In a region renowned for its young rosés, it is always nice to demonstrate that Provence red wine, even from a very young winery, can age.
There's a great story about why Giusiano happened to have one bottle of his first vintage but I don't dare print it. If you are interested, drop by the tasting room in Aix or reach out to me on the comment section and I will tell you.
I know I am not alone in my pleasure that Giusiano chose to follow the grapes.
Notes:
A few Pey Blanc wines are available in Boston: Reach out to Provence Wine Imports and Brix Wine Shops in the South End and the Financial District to find out which ones and where they are.