VANILLA ICE CREAM À LA CHÂTEAU DE BRIGUE: TOP WITH A SPLASH OF OLIVE OIL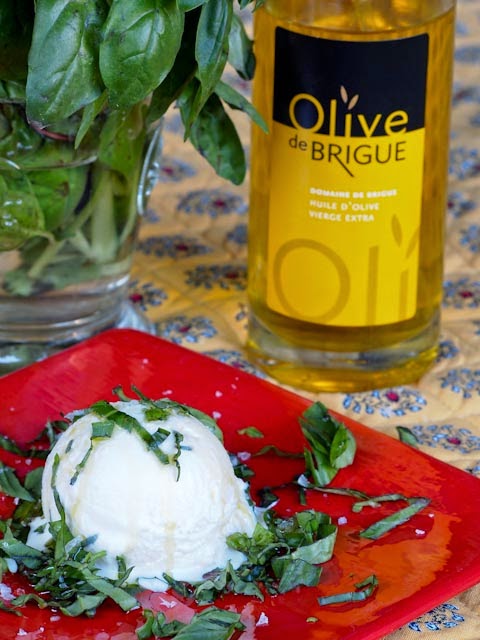 I recently visited Château de Brigue, one of largest estates owned by a single family in Provence. Located in Le Luc en Provence, with vineyards and olive groves scattered among four villages along the famous Nationale 7 road in the Var, it is a now operated by four brothers who comprise the third generation of Brun family members to sit at the helm of this estate.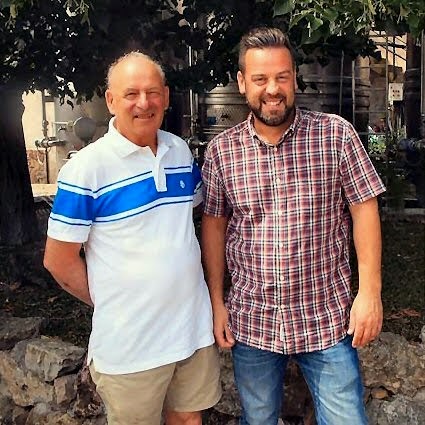 Two generations of winemakers – Father and son, Fernand and Olivier Brun. Photo by Pamela O'Neill
Photographer Pamela O'Neill and I had the pleasure of meeting with one of the brothers, Olivier Brun, and with his father Fernand Brun who held the reins until 2000 when he passed ownership on to his sons. We had an immensely interesting tour followed by tastings of their award-winning bubbly rosé and a little extra virgin olive oil made from the 2000 olive trees on their property.
Please click here to read about our visit
as well as the history of the château—in this
Modern Trobadors
post, I'd like to tell you about a dessert Olivier suggested as he wrapped our bottles of olive oil to carry home.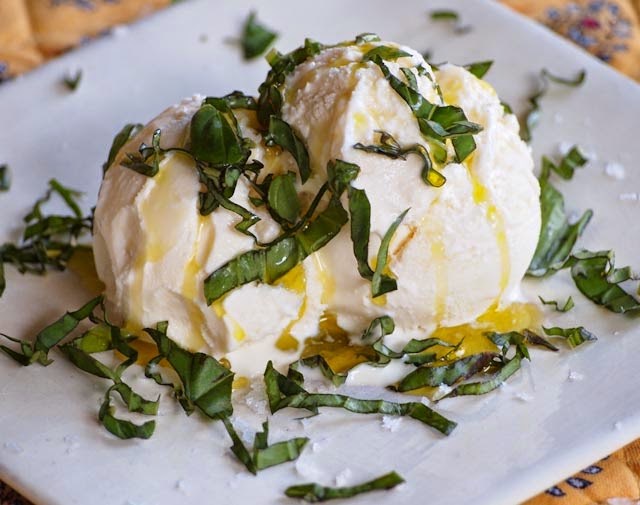 Vanilla ice cream with sea salt, basil, and olive oil. Photo by W.T. Manfull
"Put it on some vanilla ice cream," Brun said. I thought I had misunderstood—or that Brun had confused some English words—but he went on to explain that the fruitiness of the olive oil and the sweetness of the ice cream made a terrific pairing. He said it was delicious.Pam and I were intrigued. Neither of us had ever thought of such a combination and certainly had not tried it.
It is evident, however, in current culinary writing and on menus in haute cuisine restaurants, that savory and sweet desserts are very popular. One food writer recently included…
"savory sweets" as one of the top five food trends seen at the Specialty Food Association's "Sofi Awards" in New York City this past spring.
Earlier this summer, I fell in love with one such dessert at The Black Trumpet in Portsmouth, New Hampshire: Pinenut and Almond Butterballs with warm stone fruit, cashew cream, and smoked sea salt. (I am salivating as I type the name of this dessert.)
Back to Provence, en route from Château de Brigue to Lourmarin, Pam and I stopped at the Hyper-U to pick up some vanilla ice cream so that we could serve this dessert for dinner that evening. Pam suggested we sprinkle a little chopped fresh basil on top and add a dash of sea salt, both of which we had. We could hardly wait to try it.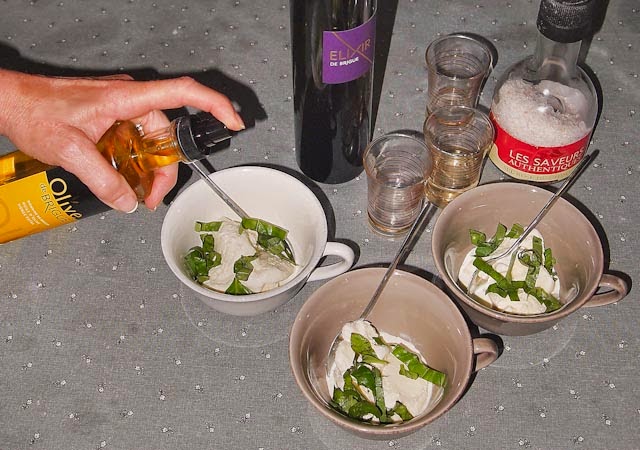 Assembling the sublime finish to our meal. Photo by Pamela O'Neill.
Viktorija Todoravska, co-author of Provence Food and Wine: The Art of Living, was joining us for dinner and we hoped she would be up for our culinary adventure. The selection of serving vessels in our apartment was minimal so the dessert could not rely on presentation to fool one's taste buds—it had to be good!
It was. Viktorija, who gave us a "thumbs up," said that she had tried something similar in Italy. I later did a google search and found, not surprisingly I suppose, that other foodies had discovered this combination several years ago. So, we weren't on the cutting edge, but it is nonetheless a delicious combination. We named it "Glace à la Vanille Château de Brigue" (although any good fruity extra virgin olive oil will work!)
With the end of summer vacation in Provence and in most other countries in the Northern Hemisphere, including, of course, the United States where the long Labor Day weekend is the de facto end of summer, many of us have a surplus of basil in our gardens and are looking for a simple seasonal dessert. Voilà.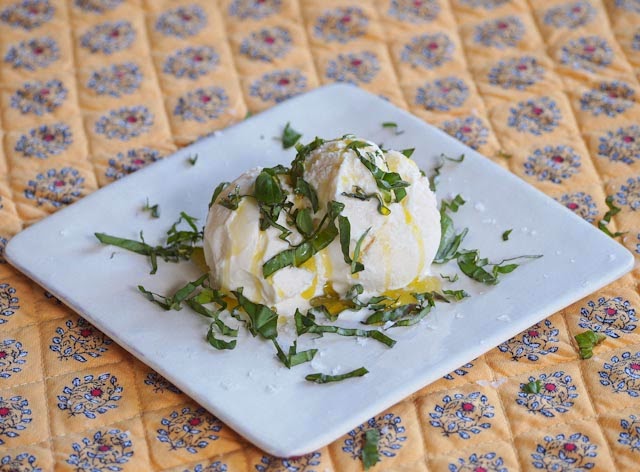 Photo by W.T. Manfull