WHISPERING ANGEL WINS THE BLIND TASTING BUT ALL EYES WERE ON GARRUS
by Susan Manfull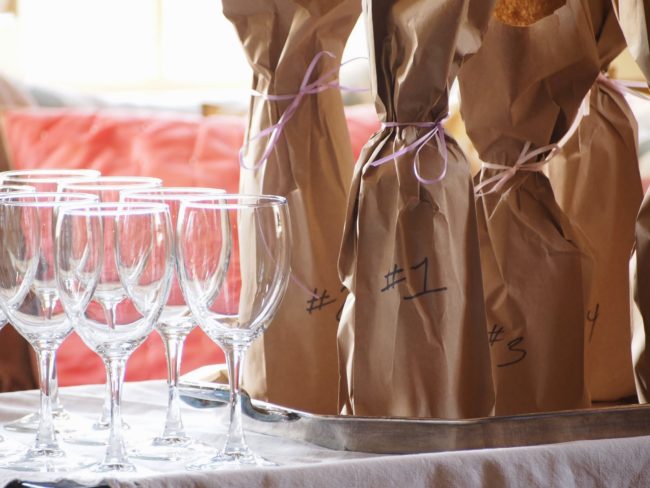 Over the weekend another Provence rosé lover, Cynthia Fenneman, and I invited some friends over for a blind tasting of five Provence rosés. Research for Provence WineZine, of course.
Some guests were very knowledgeable about Provence rosé, many were not familiar with rosé but eager to know more, and a few confessed that they were skeptical that a palatable rosé would ever cross their lips. (I had a hunch that those in the last group had visions of the sweet blush wines of the 1970s etched in their minds.)
Provence pink wines are considered the worldwide "gold standard" of rosé. France is the world's leading producer of rosé and 39% of French AOP (Appellation d'Origine) rosés hail from Provence where they have been making them for 2600 years. They are characteristically dry (maximum residual sugar is 4 grams per liter, compared to 28 grams per liter in typical American blush wines), crisp and fresh in taste, and pale rose in color.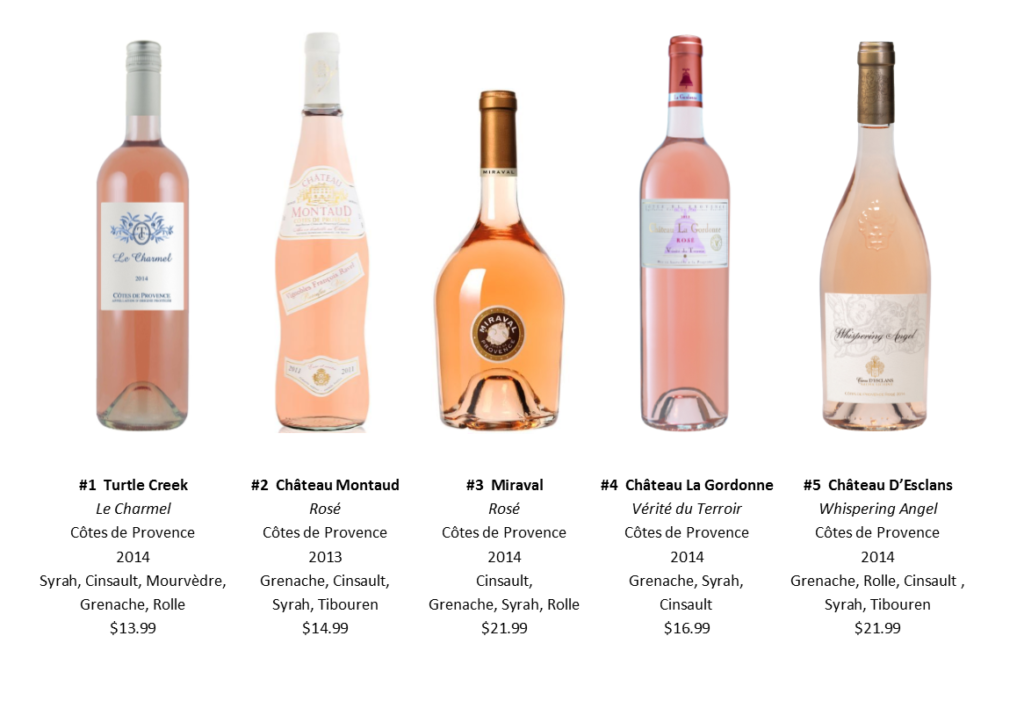 The line-up included Turtle Creek Le Charmel (2014), Château Montaud (2013), Miraval (2014), Château La Gordonne (2014), and Château d'Esclans Whispering Angel (2014), all Côtes de Provence. The price per bottle was $13.99 for the Turtle Creek; $14.99 for the Château Montaud; $16.99 for Château La Gordonne; and $21.99 for the Miraval and Château d'Esclans. Thus, all are considered "premium imported rosés," with two exceeding the average price ($16.83) of premium imported rosés.
Participants were asked to rate each wine using a scale that read:
• Loved this wine!
• Really liked it
• Liked it
• It was okay
• Didn't like it
In a blind tasting, the participants do not know the identity of the wines they are tasting. This was a very informal tasting event intended to be fun, but because most people approached the tasting with such a serious gusto—including talking to me about how to improve the validity of the ratings—I feel confident that the ratings yielded some results worth reporting. Fifty-two rating forms were collected.
Whispering Angel garnered the most "Loved this wine!" votes with 20% of the participants checking that category, followed by Château La Gordonne with 14%.
Grouping together the top three categories (that is, "loved," "really liked," and "liked") revealed that Château La Gordonne, Whispering Angel, and Miraval, in that order, were substantially favored over the rosés produced by Turtle Creek and Château Montaud.
Turtle Creek Le Charmel, a rosé I find very enjoyable—especially at $13.99 a bottle—was perhaps out of its league in this tasting and Château Montaud, another very pleasing rosé—especially at $14.99 a bottle—was perhaps at the same disadvantage in addition to being from last year's vintage. Both wines are quintessential Provence rosés, made to be quaffed by the pool or in a café along Cours Mirabeau. The other three wines are more complex rosés and the price reflects this (although I would welcome a glass from any of these bottles at the pool, in a café or just about anywhere).
Verbal feedback from participants revealed that every wine had its fans. Very few people (only 5%) reported not liking one or, at the most, two of the rosés.
The rosé that stole the show, though, was a double magnum of the highly acclaimed and much ballyhooed Garrus. Garrus is a blend of Grenache and Rolle from old vines, aged in "lightly-toasted" new 600-liter French oak barrels for about 12 months in the cellars of Château d'Esclans in Côtes de Provence.
The sheer size of a double magnum–as tall as my beagle–commands one's attention, even in a party of 60 people. Knowing that the bottle was filled with the nectar from Château d'Esclans' most prized vines—a single vineyard of 80 year-old vines at the very top of a hill that the Romans named "Garrus," the Latin word for "bear"—served to heighten the excitement in the room. By the time, Patty Allen, Château d'Esclans Ambassador, lifted the 10-pound bottle from its wooden case and popped the cork, people were giddy.
The Garrus we all admired, fondled, and eventually had the divine pleasure of tasting was from the 2012 vintage. It was, like the 2011 Garrus I first tasted a couple of years ago, bedazzling.
The color is a beautiful pale golden pink that is very inviting, especially in its elegant bottle. The intensely fragrant nose is remarkably reminiscent of a rich white burgundy. The taste is hard to describe but it feels creamy, smooth, and rich. The slightly spicy finish lingers, leaving one hoping for one more glass.
As many readers know, rosé is not typically made from such old vines nor is it aged. But there is nothing typical about Garrus (referring to both the wine and the price of about $95 for a standard 750 ml bottle).
Even the most ardent rosé detractor who attended our tasting that night couldn't resist the lure of Garrus. The first five rosés, he told me the next day, "did not fare as well as the red [wine] offered in the challis" on Sunday morning. On the other hand, he reluctantly admitted that Garrus might change his mind about rosés.
Garrus is the premiere rosé produced at Château d'Esclans. The other three, in ascending order of quality, are the aforementioned mentioned Whispering Angel, Château d'Esclans, and Les Clans. I have written extensively about this line-up as I love these wines and find proprietor Sacha Lichine's story intriguing.
The double magnum (3-liter) Garrus (equivalent to four standard 750 ml bottles) retails somewhere between $375.00 and $399.00.
As one of the Provence rosé converts said as she was leaving, "We've come a long way from White Zinfandel."