THE 2014 VINTAGE OF PROVENCE ROSÉ IS ON THE SHELVES…AND IN OUR GLASSES
by Susan Manfull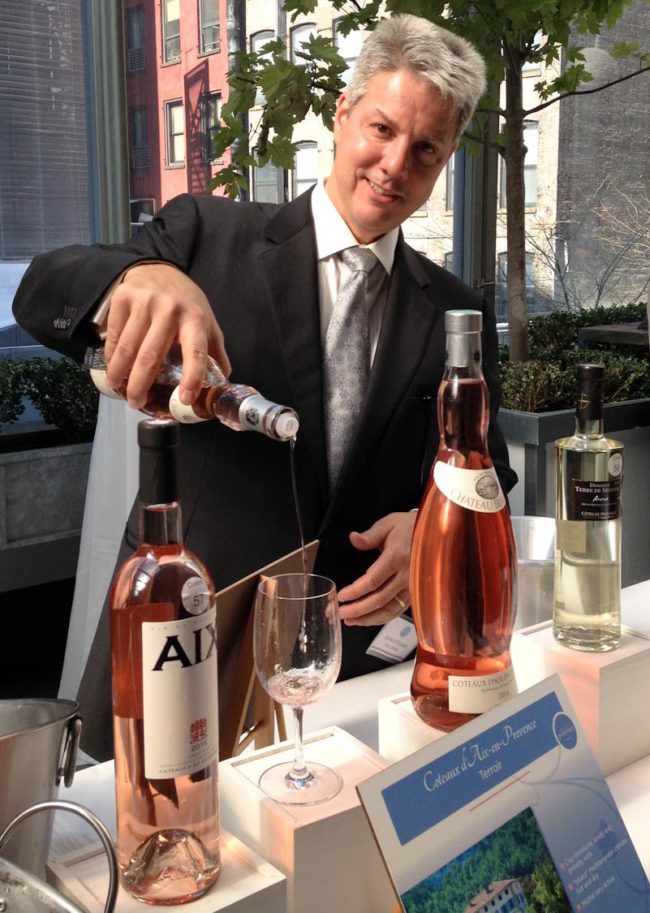 I drink rosé all year 'round. I encourage others to do the same. Pourquoi pas? As regular readers know, I take every opportunity to bemoan the predictable purge of rosés from the shelves of wine stores come the day after Labor Day.
Still, I confess that the arrival of the latest vintage of rosé is always filled with great anticipation in our home. Like the first purple crocuses that break through the snow-covered ground, we celebrate the new vintage as if we've not had the pleasure of its predecessor all year 'round.
The arrival of the 2014 bottles of rosé was marked with particular revelry here in the Northeast corner of our country where winter temperatures were historically low and snow fall was infamously high. Once we take off our woolies, I'm sure we will find that the shelves are stocked in anticipation of an even greater demand than last year for France's world renowned pink wine.
Demand for Provence rosé in the U.S. has skyrocketed. Every year since 2004, it has grown at double-digit rates. In 2014, exports from Provence grew 29% on volume and 38% on value, based on figures from the French customs agency and the Conseil Interprofessionnel des Vins de Provence (CIVP), known as the Provence Wine Council in the U.S.
Am I boasting when I write that the U.S. ranks second, after France, in its consumption of rosé? We drink 13% of all the rosé consumed in the world. The New York metropolitan area (including, yes, the the Hamptons where rosé is said to flow from fountains) and Miami account for 20% and 15%, respectively, of the rosé consumed in the U.S. I am heartened to see increasingly large amounts of shelf space devoted to rosé in wine stores in New England. Even in New Hampshire, where liquor regulations date back to Prohibition, and the wine inventory is notoriously slow to respond to market demands, more and more rosés seem to be filling the shelves (although, until very recently, few 2014s had replaced the '13s).
The amount of residual sugar in Provence rosés cannot exceed 3 or 4 grams per liter (depending on the appellation denomination) compared to American blush wines which can contain as much 28 grams per liter.
In the U.S., tapping into the market segment of serious wine drinkers has long been hampered by consumers (and retailers) lumping dry rosés—the hallmark characteristic of Provence rosés—into the same category as the sweet blush wines many of us grew up with. Clearly consumers are now learning that the differences are striking and retailers are responding. Figures released by Nielsen in September 2014 reveal that the volume share of blush wines fell over the past year (e.g., 10.5% less for White Zinfandel) at the same time that volume share for dry rosés increased 5.1%.
Set free by the knowledge that dry rosés are not in the same category as the sweet blush wines, consumers are perhaps more confident to open their wallets wider and explore what the rosé market has to offer. The U.S. demand for premium imported rosés has grown at double-digit rates for the past decade; in 2014, sales of bottles priced at $12 or more rose by 41% on volume and 53% on value (in striking contrast to 3.3% on value and 1.0% on volume for the total table wine category). The average price per bottle in the premium imported rosé category is now $16.83.
The 2014 vintage of Provence wine totaled approximately 185 million bottles, 89% of which is rosé wine.
France leads the way in fine rosé production. It is the world's leading producer of rosé and 39% of French AOP (Appellation d'Origine Protégée) rosés hail from Provence. (Seeing Appellation d'Origine on the label of your bottle of rosé is a "guarantee of authenticity and production quality.") With a 2600 year-old history of making rosé, Provence has perfected this wine. It is widely believed to be the highest quality rosé, setting the "gold standard" worldwide. Provence, a wine region consisting of 26,500 hectares (65,483 acres) of surface area, contributes 5.6% of the world's production of rosé.
The 2014 vintage of Provence rosé is expected to yield a record-breaking 165 million bottles of rosé. It was a good year in the vineyards of Provence. Although it is hard to make general statements about the weather in a region as geographically diverse as Provence, it is probably safe to say that the 2013/2014 growth period benefitted from a relatively mild winter with sufficient rainfall followed by a hot dry spring and early summer, but was challenged by frequent fast-moving downpours (and hail in some areas) well into August (the effects of which were mitigated in some fortunate areas by Mistral winds that dried the vines, keeping them free of mildew and botrytis). The result for conscientious vignerons was abundance of high quality grapes and, for us consumers, some really good rosés.
I got to sample some of the just-released bottles of rosé from Provence in early March at the Provence Wine Council's "Provence in the City" tasting in New York City. While wintery weather still prevailed, inside The Humphrey, corks were popped open and lids were twisted off from about 65 different wines. The majority were rosé, of course, but there was also one white that I didn't have a chance to try (3.5% of Provence wine is white) and a half dozen or so excellent reds (8.5% of Provence wine is red, much of it excellent, and the subject of an upcoming article).
Ouah! I was easily persuaded that 2104 was something to celebrate. I tasted some familiar cuvées and had the pleasure of tasting quite a few I had not known.
The event began with an educational seminar about Provence wine led by Valérie Lelong, Export Director for the Provence Wine Council, and a tasting led by Master Sommelier Dustin Wilson of "Somm" fame.
In this intimate setting, I was introduced to Château Trians Organic, a Coteaux Varois en Provence blend of Grenache, Cinsault, and Syrah that had a very pleasant fruity and salty taste with a rich mouth feel. Another rosé, new to me, was a very appealing Château Pas du Cerf Côtes de Provence blend of Grenache, Cinsault, and Tibouren that I found fresh and bright. I will seek out both of these wines.
A real treat was the inclusion of a very favorite of mine, Château Pigoudet Classic Coteaux d'Aix-en-Provence blend of Grenache, Cinsault, and Ugni Blanc. Very pale in color but full of fresh flavor, like the 2013 I first tried.
We were also served the Château Coussin Cuvée Cesar Côtes de Provence Sainte-Victoire, another rosé I have enjoyed and written about. However, the 2014 wine, a blend of Grenache (75%) and Syrah (25%) was not as pleasing to my palate as the 2013 blend of Grenache (60%), Cinsault (35%), and Syrah (5%) that I raved about. I think I would enjoy it much more with food, perhaps a few lightly sautéed sea scallops wrapped in bacon (otherwise known as angels on horseback).
Our final rosé was a Cuvée Premium Cru Classé made by Château Roubine from Cinsault, Grenache, Cabernet Sauvignon, Tibouren, Syrah, and Mourvèdre. This Côtes de Provence rosé was well structured but missed the mark for me on account of the powerful floral notes. However, another person I later spoke with told me this rosé was her favorite, underscoring that what is most pleasing to one person is not to another.
Having just watched "Somm," a very engaging film about the grueling pressure entailed in preparing for the Master Sommelier exam— which, I gather, requires no knowledge of rosé wine—I asked Wilson if, given its immense popularity (and long history), he thought the exam might eventually incorporate information about rosé.
"I don't see it changing any time soon," Wilson quickly replied (and might even have winced at the thought). "The focus is on classic red and white [wines]." Not deterred from learning more about rosés, I ventured into the larger room to taste a few more rosés.
Alain Riviere, Export Director of Château d'Esclans, was pouring Whispering Angel (a perennial favorite) and Garrus (a rosé in a class of its own, arguably representing the apogee of rosé evolution), both Côtes de Provence. I noted immediately that I much prefer the 2014 Whispering Angel to that of last year's vintage. The 2014 blend, consisting of Grenache, Rolle, Cinsault, Syrah, and Tibouren, seemed crisper and brighter to my palate than last year's wine. The Garrus is a blend of Grenache and Rolle that is aged in "lightly-toasted" new 600-liter oak barrels for about 12 months; it was the 2013 vintage, as the 2014 is still aging. It was, as I wrote the first time I tasted Garrus, bedazzling.
Olivier Brun, co-proprietor of Château de Brigue, was pouring two very enjoyable rosés, both Côtes de Provence, my favorite being a Grenache, Syrah, and Tibouren blend that is called "Signature." I also learned about a new red cuvée called "Heritage." Just released, this 2013 vintage is a blend of 40% Arinarnoa (40%), Egiodola (40%), and Merlot (20%). With grapes dubbed names like these, this Vin de France is already intriguing but to make it even more interesting, it is naturally-fermented and has no added sulfur. I got my hands on a bottle, which I will be opening soon.
I was introduced to several new rosés. Domaine Clos de l'Ours, represented by Fabien Brotons whose parents own the property, brought the winery's third vintage of their Côtes de Provence organic rosé, a blend of Syrah, Grenache, Carignan, Cinsault, Mouvèdre, and Rolle. It was very enjoyable, as was the story of the Brotons family's entry into wine making (to be told in a later article). I intend to visit this château in June and taste this rosé and the other wines again.
Château Saint-Maur Cru Classé is another relatively new player in Côtes de Provence (although Roger Zannier has been making wine in Portugal for twenty years). Both rosés—Clos de Capelune Cru Classé and L'Excellence Cru Classé—are blends of Grenache, Cinsault, Mourvèdre, and Rolle and both are excellent.
Philippe Bru of Château Vignelaure Coteaux d'Aix-en-Provence was pouring two rosés. My favorite cuvée was the eponymous one, a blend of Grenache, Syrah, and Cabernet Sauvignon. A very pale salmon color, this rosé was crisp, well-balanced with hints of white peaches, and a nice mouthfeel. This château is most recognized for their red wines, which I look forward to trying this summer.
Château La Mascaronne, now owned by Tom Bove, who owned Miraval before selling it to Angelina Jolie and Brad Pitt, contributed a fabulous Côtes de Provence rosé, Rosé Quat'Saisons, that I enjoyed immensely. It is a blend of Grenache, Cinsault, Mouvèdre, and Syrah. Their red, a blend of Syrah and Mourvèdre called Rouge Fazioli 2011, was part of the early tasting event and was also a real pleasure.
There were others I enjoyed and many I was unable to try—"Too Many Rosés, Too Little Time" is a bumper sticker I would actually put on my car—but I sampled enough to know that 2014 is indeed a wonderful vintage. I shall continue to drink it—and a few other age-worthy rosés—with pleasure until the 2015 vintage is released….hoping I have stockpiled enough to last past Labor Day.