A BARREL TASTING AT THE TARDIEU – LAURENT CELLARS
by Susan Manfull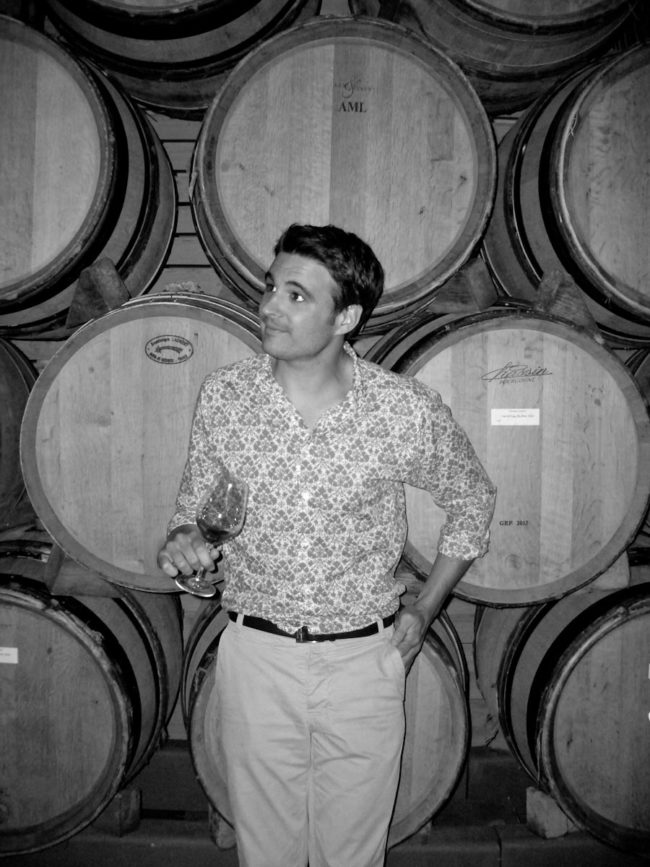 Tardieu–Laurent is one of the premiere négociants in the Rhône Valley, and their cellars happen to be located in our favorite village Lourmarin. I began to hear about them soon after we discovered Lourmarin in the late-1990s, a few years after Michel Tardieu and Dominique Laurent partnered up and established a cellar in Lourmarin's 15th-16th century château. By the time I heard about them, they had already attained a reputation for making outstanding wine, renowned for its elegance and terroir-expressive character, and our wine friends were asking why we hadn't been there.
For one reason or another, it was only recently that I had the pleasure of visiting these famous cellars, now located in a comparatively modest building on the other side of Lourmarin and now solely owned by the Tardieu family. The stellar reputation of T-L, as locals refer to this internationally renowned négociant firm, remains the same, if not even more entrenched in minds of those who know and love Rhône wines.
As good friend and long-time T–L fan Jerry Clark told me, "Whenever I see 'Tardieu–Laurent' on the label, I buy his wine."
Jerry was first introduced to Tardieu–Laurent wines in 1999 at the widely acclaimed Auberge La Fenière in Lourmarin (where Chef Reine Sammut has been perfecting her culinary creations since 1975, earning a coveted Michelin star in 1995). There, on the wine list, were three Condrieu wines.
"I knew Condrieu," Jerry told me. "We frequently visited the area when we lived in Lyon and had even been to several wine festivals in Condrieu, but I didn't know this wine…and it was the most expensive of the three [on the wine list]."
Condrieu is a white wine appellation in the northern most part of the Rhône Valley Wine Region. Created in 1940, this AOP consists of seven communes, including Condrieu, and produces only white wine made exclusively from the indigenous Viognier grape. Only 300 acres of vineyards compose the appellation, producing some 50,000 cases annually, thereby fueling its prestige and its price.
"I'm going to try it," Jerry told wife Benedicte. Jerry, as Benedicte will attest, was so enamored with the wine that the next day, he called Michel Tardieu and made an appointment to meet in the Tardieu–Laurent cellar, then in the Lourmarin Château. That was July 14, 1999. Since that time, Jerry and Benedicte have visited Tardieu–Laurent every summer. They invited me to join them last summer.
It was a rather circuitous path to wine making for Michel Tardieu. Although he is said to have developed a discerning palate at a young age, his passion for good food and wine would not manifest itself in his work for a couple of decades. He began working in the family business of manufacturing greenhouses but left after his grandfather died to begin a 16-year career with Conseil Général du Vaucluse as a chauffeur for government dignitaries. During this time, as his interest in wine began to grow, he started working with restaurants to develop their wine lists and also began to acquire the skills to become a négociant.
Dominique Laurent was already the owner of a négociant firm in Burgundy when the two men joined forces in 1994. Within a very short time, they developed a reputation in the Rhône Valley for their ability to establish close and mutually respectful relationships with the vignerons; their talent for selecting the right vines; their technical knowledge and skills of winemaking; and their expertise in the élevage stage of wine making. The result has been accolades, awards, and 90+ scores so reliably heaped upon T–L wines across the years that the fulsome allegiance to the brand is not at all surprising.
The guiding principles of Tardieu–Laurent have remained the same since its inception: 1) Use the oldest vines—ideally between 50 and 100 years old—from the best parcels in the best regions; 2) focus on expressing the grape in its terroir; 3) choose organic and biodynamic agriculture as much as possible; and 4) engender a long-term, personal relationship with the vignerons, based on mutual respect.
Michel works with upwards of 70 vignerons in the Rhône Valley, with the greatest concentration of vineyards lying in the southern Rhône, including 10 growers in Châteauneuf-du-Pape.
As a négociant, Michel does not own any vineyards nor does he tend any vineyards or harvest any grapes. He selects the parcels of vines and then relies upon the vignerons to engage in best practices so that Tardieu–Laurent can, later, realize the potential of the grapes in the final stages of the vinification process. Once the grapes are harvested, Michel engages well-known oenologist Phillippe Cambie to work with the vignerons and oversee the next stages. This work takes place at the vigneron's property. After fermentation is complete, in the case of red wines, and, after pressing is complete, in the case of white wines, the juices are poured into T–L oak barrels and later moved to the cellars in Lourmarin for élevage.
"Élevage" is a French word that generally refers to the stage of wine making between fermentation and bottling. According to the glossary of Wine Spectator, "The raw fermented juice is shaped during this period into something resembling its final form, through techniques such as barrel aging, filtering and fining. Good winemaking decisions during élevage can help the juice achieve its full potential; bad decisions can leave it flawed."
The word comes from the French infinitive, "elever," which means "to raise or to bring up." Jerry likened this stage to raising children. Perhaps Tardieu–Laurent is the prep school. Élevage, in the case of wine, however, takes only from 18 to 24 months, depending on the grape and vintage.
For our tasting and tour of the cellars last July, we met up with Michel's son, Bastien (who bears a striking resemblance to his father). He is a graduate of Lycée d'Enseignement Général et Technologique Agricole of Montpellier with degrees in viticulture and oenology and of the University of Pharmacy of Montpellier with a national diploma of oenology. In addition, he apprenticed in several wineries before working alongside his father in 2008 and stepping into the role of lead oenologist with the 2009 vintage. In striking contrast to his father, Bastien's path into the négociant business was anything but circuitous.
It was a remarkable tasting, covering a huge swath of the Rhone Valley from its northern most appellation—Condrieu—south to Châteauneuf-du-Pape. We tasted 9 cuvées of the 20 currently stored in barrels in the cellars. I jotted down a few notes which, by no means, represent a serious review. Suffice to say—spoiler alert—that we loved them all.
By the way, the modest looking building—that I must have driven past a hundred times on my way to Cucuron over the years—belies the extraordinary labrynth of barrels of various sizes and ages.
We began with three white wines. Our first pour was the Guy Louis Blanc Côtes –du-Rhône, a 2013 vintage that had just been bottled a few weeks earlier. It is a blend of Marsanne (55%), Grenache Blanc (15%), Roussanne (15%), and Viognier (15%) from six different producers in the northern and southern parts of the Rhone Valley. Each cépage was fermented separately in oak barrels. Described by Bastien as a "good vin table," I found the nose an interesting array of floral, anise, and garrigue and the wine itself well balanced with a pleasant minerality. A good buy at €14.
The next bottle, a (2013) Condrieu, had just been bottled a few days earlier. In my mind, it took center stage in the flight of white wines and was a strong candidate for that position among all the wines we tasted. I was smitten and understood why Jerry was on the telephone to Bastien's father the day after he tasted it, some 15 years earlier. It is made from 100% Viognier, harvested from two vineyards on the favored right side of the Rhône, and aged for 10 months in new oak barrels. Elegant with a very aromatic nose and delightful balance of richness and freshness. (€31)
For the next wine, we moved into the cellar and a maze of barrels. The Hermitage Blanc (2012), a blend of Marsanne (80%) and Roussanne (20%) from two separate parcels, was a treat incroyable, too. This perennial favorite commands attention with its aromatic flavors of pears, honey, and perhaps some citrus. Only 15% of the wine produced in Hermitage is white (the rest is red, one of which we would later taste). (€45)
We switched to reds–which Bastien told us would be bottled in October 2014—for the next round of tastings. Beginning with Saint Joseph Vieilles Vignes (2012), made from 100% Syrah grapes from old vines (50 to 120 years old) and aged in new oak barrels, we found a beautiful, deep violet-colored wine in our glasses. My notes remind me that the wine was delicate but infused with intense flavors of dark berries and lavender and a pleasant minerality. This wine is typical of this appellation, a narrow strip of land located on the left side of the Rhône in the northern part of the region, just south of Condrieu. The old vines, Bastien explained, "provide the best picture of the terroir" and because they go down as much as ten meters, they are "less sensitive to vintage effect." (€25)
We next tasted a Côte Rôtie (2012) made of "straight Syrah" from vines grown on the steepest slopes of the northern Rhône Valley. Aside from a "happy face," "lots of terroir" and "soft tannins," I don't have many notes for this wine, a reflection of the fun we were having rather than any displeasure with the wine. Bastien said, in comparing this wine to the next wine, that the Côte Rôtie might be described as a "prince" and the next one a "king." Hmmm. (€49)
The "king" is a 2012 Hermitage red wine that, like the "prince," is also made from 100% Syrah. Jerry's notes reveal that this was his favorite of the tasting. My notes, now significantly less detailed and difficult to decipher, suggest that I tasted black cherries and tobacco and thoroughly enjoyed this wine. We all agreed that a grilled T-bone steak would complement this wine perfectly. (€56)
Gigondas wines have long been among my very favorites. Often described as the poor man's Châteauneuf-du-Pape, Gigondas can be a bargain compared to its more famous neighbor to the west. This wine, Gigondas Vieilles Vignes (2012), was no exception. It is a blend of Grenache (90%) and Syrah (10%) from 80 to 100 year old vines and 50 year old vines, respectively. My palate detected dark chocolate and dark red fruits in this lovely wine. Nice tannins and structure. (€24 Euros)
The last two wines hailed from Châteauneuf-du-Pape: a Vieilles Vignes (2012) and a Cuvée Spéciale (2012). These were very special wines. I thoroughly enjoyed both of these predominantly Grenache-based wines and would seek out these wines, even at €42 each.
By the time we wrapped up our tasting—a veritable tour of the Rhône Valley—it was about time to light the grill for dinner. When you've tasted some of the best wines the Rhône Valley has to offer, what do you serve for the apéritif wine? A rosé from the local cooperative in Cucuron brought us back to reality.
Notes:
Maison Tardieu-Laurent
Les Grandes Bastides
Route de Cucuron
84160 Lourmarin
Phone: +33 (0)4.90.68.80.25 – Fax: +33 (0)4.90.68.22.65
Many of these wines are available in the States. All prices quoted above refer to suggested retail prices of the wines in France.