CHASING CHÂTEAU LÉOUBE'S ''SUPER ROSÉ''
by Susan Manfull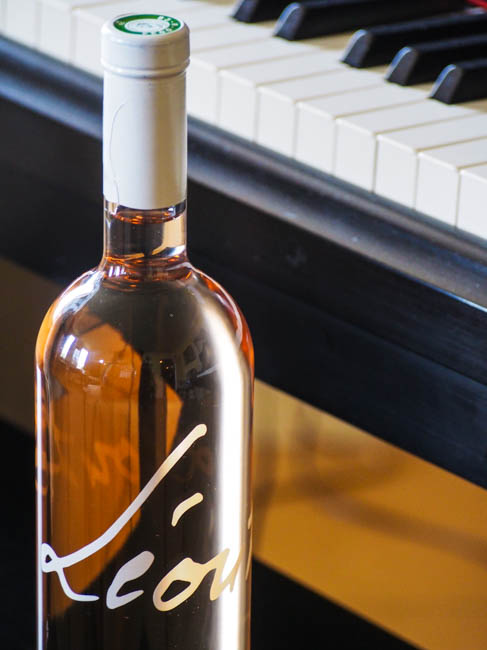 "Fini," Jérôme Pernot, Sales and Marketing Director at Château Léoube, told photographer Pamela O'Neill and me during a recent visit to the Château. "I don't even have one bottle left," he said. "Well, except for a few bottles in the owners' private cellar."
A monopole ("monopoly" in French) is practically an archaic term, primarily used in Burgundy and Champagne, referring to an estate-owned vineyard (generally a very small plot), the grapes from which are dedicated to a specific wine produced from that estate. The grapes would not be used in any other wine they make. These wines typically have greater cachet than others.
The wine at the center on our conversation was the first vintage of Château Léoube's La Londe rosé, a limited production monopole rosé that was the culmination of ten years' work by winemaker Romain Ott. A "Super Rosé," they say. Only 1500 bottles were produced, released in the late spring, and sold out by the end of June. Our disappointment was palpable.
We briefly entertained a raid on the Château private cellar, as O'Neill wrote in her recent profile of Château Léoube in Provence WineZine. Instead, we consoled ourselves—quite effectively—with sips of the two other outstanding rosés produced by the château, Rosé de Léoube and Secret de Léoube Rosé. In between the oohs and aahs elicited by these award-winning and accolade-collecting rosés, we learned that there was actually a shipment of the coveted La Londe rosé on the premises—probably with a gendarme standing sentinel—soon to be en route to the United States. I made it my mission to find out where it was headed so that I could secure a bottle.
Côtes de Provence La Londe
Château Léoube is located on the Côtes d'Azur, between Toulon and St-Tropez, in Bormes-les-Mimosas. It stretches across 4 kilometers (2.5 miles) of the Mediterranean coast, making it the largest privately owned property along the sea and the beneficiary of a temperate climate with cool nights capping off hot days as well as regular ventilation from strong sea breezes. This immense property is composed of 560-hectares (1,384-acres) of which 65 hectares (160 acres) are devoted to vines, almost all growing in the Côtes de Provence appellation.
A small portion of the estate's vines—less than one hectare—lies in the La Londe denomination of the Côtes de Provence appellation. (Note that a "denomination" is also referred to as a "sub-appellation" or "terroir designation.") This denomination, recognized in 2008, was the third of four to be officially identified in Côtes de Provence. It consists of 411 hectares (1015 acres) of available land and 154 hectares (380 acres) of cultivated land. Château Léoube is one of thirty-two AOP Côtes de Provence La Londe wineries.
Like much of the Léoube property, the La Londe denomination is especially characterized by its close proximity to the Mediterranean Sea. The sea, in fact, covered the land of this denomination as well as the Léoube property some 800 million years ago, leaving in its wake a unique composition of minerally soils that have defined the terroir of this denomination (and that of Château Léoube as well).
While the soil of Léoube is primarily characterized by varying degrees of clay, sand, quartz, and mica schist, the soil in La Londe, Pernot explained, is, by comparison, less clay and more mica schist, owing to its contiguity with the sea.
"It is stonier, less rich," Pernot said.
The soil is not what one refers to as "good soil" for growing, say, strawberries and tomatoes, but this "poor soil" creates an excellent environment for growing more flavor-concentrated grapes.
"The vines are naturally stressed, leading the roots to extend as much a three meters deep [to find the nutrients they need]," Pernot explained. Less moisture in the soil (remember stony, less clay) also contributes to vine stress, leading to deeper roots as well as smaller but juicier berries and a lower yield.
The primary grape varietals grown in the La Londe denomination are Grenache and Cinsault.¹ Rosé dominates wine production with about 75% of production dedicated to that color and the remaining 25% to red. (White wines are labeled under the broader label, Côtes de Provence.) Total rosé production (based on 2013/2014 figures) was 660,000 bottles.
Our visit to Château Léoube, including my interview with Jérôme Pernot and our tasting of the full portfolio of Léoube wines (minus Léoube La Londe, of course), served to further whet my desire to get my hands on the elusive rosé.
The Story of La Londe Monopole Rosé
Château Léoube produces three still rosés, two of which we tasted during our visit. The two exceptional Côtes de Provence rosés, Rosé de Léoube and Secret de Léoube Rosé were light but substantial, pale and dry—the hallmark qualities of Provence rosés—and characterized, to varying degrees, by a crisp, fresh, and minerally taste; a creamy mouthfeel; and an enticing finish. (My kind of rosé!) There was no evidence of intensely fruit-forward flavors in either one (not my favorite style of rosé!). The first one had perfect notes of red fruits and the second one suggested more citrus—and both had good acidity and enough structure such that food would be as welcome as sipping each one sans nourriture.
In trying to describe the La Londe rosé, Pernot told us, "It is a super concentrated rosé….If you take the other two rosés and you concentrate the flavor, [Léoube La Londe] is what you get." For this reason, among others, it's been called a "Super Rosé" akin to Italy's Super Tuscans.
"The goal was to have a small cuvée with a story," Pernot told us. "And so the story was finding the best vines from the estate, having a super, super selective harvest, even pushing the selection of the grapes more than we do normally [to create] the best of the best of the best," he added, further tantalizing us.
"We wanted to have a [noteworthy] wine that would lead people to talk about Château Léoube," Pernot elaborated. "We are still very new in the market."
There is indeed much to talk about, as we learned from Pernot on our tour of the estate and as O'Neill later discovered in her extensive research about the gorgeous property. An estate's story, for me, is integral to the full enjoyment of a lovely wine. It will never make an ordinary wine exceptional but an exceptional wine without a story will always propel me to learn more about the estate (which reveals, I suppose, why I love to meet the men and women who make my favorite wines and share their stories in Provence WineZine). With all the glasses of wine I've filled for family, friends, and the occasional stranger, I've never met anyone who, when given the opportunity, didn't want to hear about the provenance of the wine.
Château Léoube's most recent chapter of history began in 1997 when it was purchased by the current owners, Lord and Lady Bamford. Already wholly dedicated to organic and environmentally friendly farming at Daylesford Organic, the renowned sustainable farm founded by the Bamfords in the United Kingdom, this couple applied the same principles to Château Léoube. The vineyards are now certified organic (Ecocert) and also benefit from the application of biodynamic approaches and, similarly, winemaking is guided by natural principles.
The winemaker is the exceptionally talented Romain Ott, who took over from his father Jean-Jacques Ott about ten years ago (and whose great grandfather is Marcel Ott). They represent the 3rd and 4th generations of the illustrious Domaines Ott winemaking family who, at the time the Bamfords purchased the property, happened to own vineyards next door in the renowned Clos Mireille Domaine.
The guiding philosophy of Château Léoube is to "produce the best from what the land can give you with great affection and care" and the high standards that this philosophy generates and diligence with which it is applied was apparent from viticulture to vinification to bottle and into the tasting room on our visit.
La Londe rosé is a small exclusive monopole cuvée made from "the best of the best of the best" grapes from the best vines on the property. The cépage—half Grenache and half Cinsault—are from vines grown in two old plots—as much as 50 years old—in La Londe. This is the only wine made from these plots, hence its monopole status. These vines were specially tended to by Romain Ott for ten years before the resultant rosé was deemed exceptional enough to bottle under a premium label.
The maximum authorized yield in the La Londe denomination is 50 hl/ha, the average yield for this denomination is 43 hl/ha, and the yield for Château Léoube La Londe is less than 35 hl/ha.
The harvest of La Londe grapes, like all those at Léoube, is typically accomplished by highly trained locals who return every year, usually around first of September. The harvest begins early each day, around 7:00 a.m., and is completed for the day no later than noon. Because the pickers are carefully trained, particularly for the La Londe harvest, to identify the best branches and recognize perfect grapes, the sorting is accomplished in the field. There are no electronic eyes, no sorting tables in the vinification cave.
Vinification begins by combining whole clusters of the Grenache and Cinsault grapes (i.e., grapes attached to the stalks) and carefully loading them into a bladder press where the juice, primarily released via the weight of the grapes themselves rather than piercing the skins, is collected "free run." Only then is a very gentle press applied, solely to extract the residual juice already in the press. By including the stalks in the press, small gaps are created among the grapes, allowing the best juice to more freely flow out without the need to press harder (and run the risk that the skins will be damaged or seeds released, which could lead to, e.g., darker juice, increased tannins, and bitterness).
Malolactic fermentation is a process in which lactic bacteria convert sharp-tasting malic acid to softer-tasting lactic acid. Common practice in red winemaking and in the winemaking of some whites, such as Chardonnay. It is not common in rosé winemaking. The result is a rounder, creamier mouthfeel and, in the case of Chardonnary, a buttery taste.
This whole process takes less than an hour (compared to the "direct press" method used for the other two rosés which takes about 2.5 to 3 hours). The outcome is a very pale juice that is extremely fresh.
The juice is gravity fed into a chilling tank to cool down (18 – 20° C/64 – 68° F) before the first decanting of sediment takes place. Then, natural alcoholic fermentation (i.e., no yeast is added) takes place in thermal-controlled stainless steel tanks followed by full malolactic fermentation. Final blending occurs in December or January and bottling in late February. No sulphites are added during fermentation although "a very little bit" is added just before bottling.
The bottles are works of art. Lady Bamford wants consumers to focus on, even be intrigued by, the beautiful color of each of the three rosés and therefore did not want large labels, Jerome told us. She contracted designer Jacqueline Morabito of St-Paul-de-Vence to create the serographic [screen printed] labels for each of the cuvées. The La Londe bottle, in particular, is striking in its elegance and simplicity.
"The bottle [conveys] a sense of luxury," Eric Piroux, Château Léoube Sales Manager told me in a recent telephone conversation. "In French, we might call [such a bottle] a bouteille lourde," he added, literally meaning "heavy bottle."
When the 1500 La Londe bottles were filled with the highly anticipated first vintage of the Super Rosé, this must have been a very exciting occasion. Incredibly, this 2014 cuvée of rosé was ten years in the making and, notably, it marked Château Léoube's first entry into the ultra-premium tier of rosés in Provence, the region widely considered to be the home of the rosés that set the gold standard for all the world's rosé.
In October, it was an exciting time Chez Manfull—I was able to procure not just one, but two bottles of the rosé I had been chasing since mid-July! In all likelihood, these bottles were part of that shipment Pernot mentioned the day O'Neill and I were visiting the Château.
So, drum roll, what does the first vintage of Château Léoube's La Londe Monopole (2014) rosé taste like?
Tasting Notes
Sipping this lovely wine, I knew I loved it but I was stumped: how do I describe this titillating wine? As I struggled to find the words, I was reminded of our conversation with Pernot last July, as we toured the state-of-the-art cave. In retrospect, it was a heads-up to me that describing Léoube La Londe rosé in a few words would be challenging.
Referring to the full line-up of wines, Pernot said, "The beauty of Léoube is that the winemaker is not making competition-style wines," he said. "Our goal is not to make the style of [wine made by] everyone….We are making Léoube-style wines which makes them difficult to talk about," he added. In other words, these are not a cookie cutter wines. The Château Léoube Collector, for example, is a radical departure from Provence reds with its 100% Cabernet Franc, a varietal that is not even part of the Côtes de Provence appellation.
Likewise, the La Londe rosé certainly departs from what we think of when we think of Provence rosés. These sentiments were expressed by both David Campbell, proprietor of Ceres Street Wine, and Win Rhoades, former co-proprietor of South Street and Vine Wine and Cheese Store, both in Portsmouth, New Hampshire. Both of these wine connoisseurs were initially nonplussed about what to make of this wine in the rosé category, however much they liked it (which they did).
"We are playing with your senses," Pernot said, in describing Léoube, "its color, nose, taste and even the 'touch of the bottle.'"
"[We] wanted to impress the consumer in a gentle way," Pernot said, adding "[It] is a very complex wine but [also] an easy drinking one," the very same sentence I would use if my tasting notes were confined to ten words.
Echoing this description (without the benefit of hearing it beforehand), my husband Towny Manfull said, "Very pleasing to the palate and so easy to drink that one might overlook its many nuances." He also said, "A very linear wine, exceptionally pleasing from start to finish, and very elegant."
Claire Flemming, former co-proprietor of South Street and Vine, paused as she, like me, searched for the words to describe the wine. Even though the wine was a little too cold when we began the tasting with Flemming, she discerned that there was "a lot flavor in her glass" and said, "It's much richer than I had expected," observations also reported by Campbell, Rhoades, and my husband.
Rick Meyerkopf, new co-owner of South Street and Vine, summed up his feelings succinctly with "It's fantastic."
For me, I was immediately struck by its lovely, very pale salmon color. It is a medium-bodied rosé with significant structure and a very pleasing balance of acidity and red fruit. "Clean, refreshing, and a fabulously creamy mouthfeel," was what came to mind immediately. (The malolactic fermentation was no doubt responsible for the luscious mouthfeel.) Upon finding my words, I can add that on the nose, there are whiffs of raspberry that grow stronger on the palate, complementing the mineral notes and continuing through the enticing finish. On a flavor continuum with ripe fruit at one end and savory at the other, this rosé, to my great pleasure, falls more on the savory end although it is not without very pleasing hints of raspberry and strawberry well integrated into the structure of the wine. The alcohol content is 13.5% although many of us thought it might be higher, as the weight of the wine undoubtedly deceived us. Pernot predicts that this rosé will likely benefit from a little aging (although this is the first vintage so we will wait to see…if we are able).
It is immensely enjoyable as an apéritif although it is, as my husband said, emboldened with food. We thoroughly enjoyed it with our meal of scallop and shrimp skewers over caramelized lettuce and nectarines. La Londe's alter ego comes into its own with food.
One final note is that we discovered (inadvertently while setting up the photo shoots) that this rosé really opened up when it was aerated, exposing more of its delicate red fruit flavors.
Prestige Rosés
Château Léoube La Londe, like many of what might be called "ultra-premium" rosés coming out of Provence in recent years, cannot be squeezed into the typical rosé mold. These ultra-premium rosés are categorically different. They are made from grapes that come from the best plots, the oldest vines, have lower yields, and are fastidiously selected and handled; the cuvée is always small; and the vinification is much more diligently accomplished, often including elaborate cooling systems, malolactic fermentation, oak-aging, bâtonnage, and other procedures not normally associated with rosé winemaking. There is not a race to release these rosés by the first spring after bottling and they may in fact be released close to a year later. They may benefit from aging, a rarity in rosé wine.
According to Paul Chevalier, National Fine Wine Director of Shaw-Ross International Importers, and importer of Château d'Esclans rosé wines, producers of these very top-tier rosés are "trying to achieve more in the bottle." The proof of their higher status will ultimately be found in your glass.
The very top-tier rosés have "reinterpreted our idea of rosé wine," borrowing a line that Roger Voss, European Editor at Wine Enthusiast, used to describe the quartet of Château d'Esclans rosés. No one thought that some "rosés" could taste so categorically different from others—like a white burgundy, for example—and still be rosé. Some folks continue to argue, for example, that Château d'Esclans' top-of-the-top-tier Garrus rosé (retailing just under $100) is not "really" a rosé.
Until the last decade, only a handful of elite estates produced rosés that offered a reprieve from the sea of cheap pink wines for which this region of France had long been famous. Think Domaines Ott, Château de Pibarnon, Domaine Tempier, and Château Simone. The vast majority of other rosés, variously referred to as "rosés de terrasse," "café-style," "poolside pounders," and "cheap and cheerful," at best, aspire to assuage one's thirst on a hot summer day.
Then along came Sacha Lichine in 2006, having sold his château in Bordeaux for a run-down estate in the heart of the Provence where he said he would make the world's best rosé. Armed with 80-year-old vines and long-time friend Patrick Léon, world-renowned winemaker in both Burgundy and Bordeaux, Lichine slowly but surely grew what is often called the "ultra-premium" rosé market (mainly with his signature Garrus) as well as the market share of the more moderately priced "premium" rosés (epitomized by his entry-level Whispering Angel, priced around $20).
Although a multitude of factors propelled the growth of these two high-end rosé markets (read this PWZ article for a summary of this subject), Lichine's wildly successful portfolio of four rosés surely ushered in the changes by raising the bar. And, the demand for these high-end rosé markets has not gone unnoticed by other rosé producers.
"We want to show that Provence can really push the quality of wine, even with rosé." Jérôme Pernot
The ultra-premium rosés, defined by their categorically different approach to winemaking (as described above), their exceptional quality, and, inevitably, their price tag, comprise a growing segment of the rosé market. Some of the relatively new players that come to mind include Château Saint-Maur Cru Classé, Château Sainte Marguerite, Château Sainte Roséline Cru Classé, Château Coussin, Chêne Bleu, and, now, Château Léoube.
So new is this segment of ultra-premium rosés that there is no consensus as to what to call them (or what criteria to use for assigning rosés to this category). Currently, labels like "premium," "ultra-premium," and even "uber-premium" are all loosely applied and bandied about in conversations as well as publications and online literature, causing some consumer confusion and perhaps hampering the marketing of such rosés.
Chevalier, former winemaker at Champagne Veuve Clicquot, proposes that the very top-tier Provence rosé makers (what I have referred to as "ultra-premium") adopt the term, "prestige," from the Champagne region, a term long employed by the grand Champagne houses to describe their top-tier cuvées and one that is familiar to consumers (at least those who enjoy high-end champagne). Prestige cuvées of champagne are categorically separate from non-vintage champagnes and are at least two to three times the cost of the non-vintage champagnes. Using the label "prestige" rather than "ultra-premium" to distinguish the very top tier roses might set a more effective stage for consumers to understand what factors contribute to their prestige status.
Rosé has just begun to shed its lowly image. I suspect that introducing a separate—even very tiny—category with a prestige label (or any of the aforementioned other labels, e.g., premium, ultra-premium, uber-premimium) would be such a fundamental departure from the way generations of people have related to rosé, that it won't happen immediately. The significant growth of the prestige rosés and the prices they command notwithstanding, mon dieu and a roll of the eyes is the current response to the proposal!
However, it's inevitable that a label of some sort to legitimately distinguish the very top-tier rosés will be bestowed upon deserving rosés in the not-too-distant future. In the meantime—perhaps buoyed by Lichine's success—the lack of agreement on a label for the top-tier category is not deterring rosé makers from experimenting, bursting through old ceilings of quality, and having a grand old time doing so.
Released with the moniker "Super Rosé," Château Léoube La Londe is definitely among the prestige rosés produced in Provence. Lord Bamford, according to Pernot said something like, "I'm not a winemaker but I feel I've got something exceptional here," and is said to have added that he "wanted to become the best winery in Provence, the best environmentally sustainable [winery] possible, making the best wines in Provence." Why not? Lord Bamford and his wife are intimately familiar with how to transform a "simple passion" into a singular success, as in the remarkable case of Lady Bamford's incomparable Daylesford Organics.
The conversation at any tasting ultimately loops back to price. Are these prestige rosés worth what they cost? Château Léoube's La Londe rosé retails for around $50.00. A few factors should be considered when rendering a verdict. Foremost is that, unbeknownst to the average person, rosé is the most difficult wine to make well. Every single winemaker I have interviewed over the past several years has confirmed what Sacha Lichine first told me: In the most basic sense, to get "balance between fruit and acidity and to keep the freshness [in] and keep the color out [makes it] the most difficult wine that I've ever had to make, technically."
Regarding La Londe's $50 price tag, recall that this "Super Rosé" is a small-batch, monopole cuvée, a blend of grapes produced from vines as old as 50 years and tended to for 10 years before reaching a level of quality deemed high enough for this wine. The grapes were diligently selected and the yield is just 35 hl/ha. Malolactic fermentation, very unusual for a rosé wine, is included in the vinification of this wine. There is aging potential, in striking contrast to most rosés. The vineyards are certified organic with the further benefit of the application of a biodynamic approach. It's damned good wine.
Would you drink this wine every day? No. Would you drink Dom Pérignon every day? No. Not even James Bond drinks champagne every day. Few pocketbooks would accommodate such extravagance. Château Léoube La Londe rosé is a special occasion wine. (I would, however, lower the bar for what defines a special occasion.)
And finally, would price be such an issue if this wine were any other color? I think not. Even though "most wines sold [in the United States] are under $11.99," according to Chevalier, my hunch is that most people don't argue about the legitimacy of a $50 price tag for a red or white wine.
As David Scott Allen, who writes Provence Pairings: Wine with Food, said to me, "Reds and whites have been commanding high prices for a long, long time, but rosé as an premium or prestige wine is very new." By way of illustrating the gulf between rosé and the two other colors, Allen asked me, "Has anyone ever told you, 'Oh, I only drink rosé,'?" I had to confess no.
Even though the Greeks were drinking rosé over 2600 years ago when they landed in what we now call Provence, good rosé is new. It took a long time to educate the public about the huge difference between the new generation of dry rosés from Provence and the sweet rosés that dominated the shelves for decades. This effort was extraordinarily successful, certainly contributing to the double-digit growth of rosé consumption in the US. Perhaps the public could benefit from learning why the pretige rosés command such relatively high prices. To put this task in perspective, Chevalier told me that it is still a "Herculean" feat to get people to drink rosé above $20.
Next year, Pernot is hopeful that the La Londe production will be higher. Perhaps 2500 to 3000 bottles. Merci Dieu! I've got my fingers crossed 'cause, here, in the private cellar at Chez Manfull, the supply is now fini.
Footnote:
¹Côtes de Provence La Londe rosés are made chiefly from Cinsault and Grenache although up to 20% of the cuvée may come from assorted red and white grapes, including Mourvèdre, Syrah, Tibouren, and Rolle (aka Vermentino). Côtes de Provence La Londe reds are made mainly from Grenache, Syrah, and Mourvèdre; small amounts of Cabernet Sauvignon and Carignan are also allowed.
Notes:
Château Léoube
2387, route de Léoube,
83230 Bormes-Les-Mimosas,
France
Tasting room and boutique hours:
Easter to November 1 – Daily from 9am to 6:30pm
November 2 to Easter – Monday to Saturday from 9am to 5pm
Tel 00 33 (0)4 94 64 80 03
Fax 00 33 (0)4 94 71 75 40
Email info@chateauleoube.com
My husband found Léoube La Londe rosé in Héritage Fine Wines, located at in Beverly-Hills, California. Ask for Rosemary West.

Distinctly separate from the sea of pink wine I mentioned above, mercifully, Provence is blessed with many excellent bottles of rosé priced right around $20 in the US and a whole lot of them for under €10 in Provence. I call these premium rosés. Not prestige rosé and not prestige prices, this is what I choose to drink most of the time, with much pleasure. See some of my favorite rosés from a 2015 tasting here.