Provençal Pairings: Wine with Food
A Special Occasion
by David Scott Allen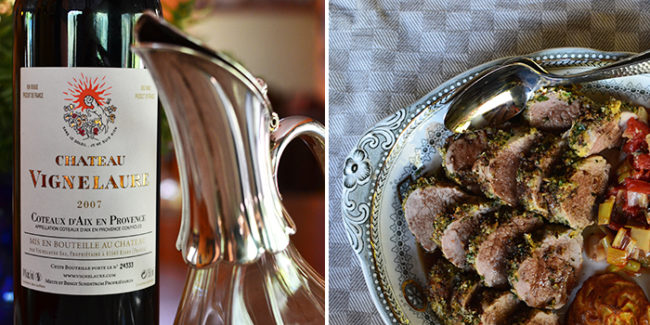 Winery: Château Vignelaure
Cuvée: Coteaux d'Aix en Provence
Appellation: Coteaux d'Aix en Provence
Type: Red
Vintage: 2007
Grape Varieties: Cabernet Sauvignon (70%) and Syrah (30%)
Alcohol: 14.5%
Average Retail Price: U.S. $18, France €16, and Great Britain £19
Special wines, and special foods, should be saved for special occasions. Today is the 10th anniversary of Mark's and my move to Tucson, and we wanted to celebrate in an appropriate fashion. The wine – a 2007 Château Vignelaure Coteaux d'Aix en Provence – was chosen to mark the day, and the meal to go with it had to be equally special. I chose to serve a roasted pork tenderloin crusted in Provençal herbs with mustard, pommes Duchesse, and sautéed leeks Niçoise. We decanted the wine a couple of hours prior to our meal, as suggested by the Château Vignelaure website. The wine had an intense nose of dark, jammy fruit: fig, blackberry, and cherry. I even got a whiff of orange zest at first. The mouth feel was velvety and soft, with flavors consistent with its nose. Lightly tannic, it is a bold wine, not one for the faint of heart. With its high alcohol content (14.5%), I wonder if earlier vintages were lower, and that this has changed over the years to meet market (American) demands. Does anyone know? The pairing was perfect: the herbs in the pork (rosemary, lavender, parsley, fennel seed, and shallot) brought out the upper notes on the palate, while the potatoes and leeks played to its darker side.
This is an excellent wine for grilled steaks, and grilled meats or fowl of any kind. I can even imagine it with a richly sauced salmon dish, although that might raise a few eyebrows. Of the many Provençal reds I have enjoyed, this wine is by far one of my favorites.
Recipes for the Roasted Pork Tenderloin Crusted in Provençal Herbs with Mustard, Pommes Duchesse, and Sautéed Leeks Niçoise may be found on Cocoa & Lavender.
Post and Photos by David Scott Allen