Provençal Pairings: Wine with Food

1958: It Was a Very Good Year
by David Scott Allen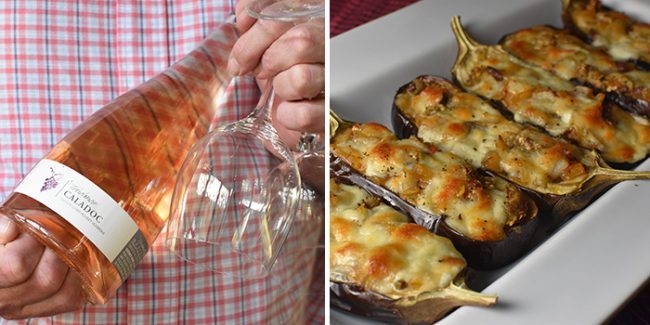 Winery: Franck & Olivier Mousset Vignerons
Cuvée: Tendance Caladoc
Appellation: IGP Méditerranée
Type: Rosé
Vintage: 2019
Grape Varieties: Caladoc
Alcohol: 13%
Average Retail Price: U.S. $15.00
It's not often that I'm able to consider bottles from a "big box" wine store for this column. With the exception of a few quality rosés I have gotten (and written about) from such stores, their selection of rosé wines is generally geared towards the Carries and Mirandas. Pretty bottles/labels, intense pink colors, low price points, high sugar content, and a devil-may-care attitude about where the grapes are grown or how the wine is made. Today's wine — a 2019 Caladoc from Franck & Olivier Mousset — just happened to be available at one such store and was a nice surprise when perusing the pink.
My pairing — for Melanzane a' Sacarpone, a Southern Italian stuffed eggplant — may not have been the perfect pairing… but it was good. To see the recipe, go to Cocoa & Lavender. I think it would have been much better had I paired it with a stuffed eggplant without the cheese, or a ratatouille — and I have a couple of other pairing ideas below.
I find it quite interesting that one seeming innocuous ingredient, such as mozzarella cheese, can make or break a wine pairing. But that's dairy for you. More often than not, dairy is the culprit for difficult wine pairings (for me) though other ingredients can have their effects, as well: spices, certain fish or seafood, and fruit (citrus, berries, etc.).
In doing a little research about the Caladoc grape, I discovered the it and I have something in common. We were both "born" in 1958. Young grape, old man. Interesting, eh? The grape, a cross between Grenache and Malbec — was bred by Paul Truel to reduce coulure, a hazard in response to adverse weather conditions that stops the grapes from forming after blossoming. We see that a lot with our citrus trees here, but I never had the word for it before.
While I immediately blamed my skills for this not-so-perfect pairing, I do have to say that this pale salmon pink wine wasn't the easiest to pair. It's nose was minimal, but had wisps of citrus; at times it smelled flinty and metallic.
On the palate, it is a tart wine, high in acidity, with medium tannins. The flavor profile includes pine, citrus, red currant, and a touch of pomegranate. It has a nice minerality, though, and a touch of salinity.
It is definitely a pleasant summer quaff (sorry I'm a bit late on that) — should you find this some in your store, I recommend opening it and tasting it before you pair it. See for yourself. I'd love to hear your thoughts. I really like my eggplant dish — and think you will, too — but I suggest instead light fish dishes and salads as good pairings. I'll be trying those next.
Happy 63rd Caladoc! Hope it's a good one for you!