Provençal Pairings: Wine with Food

Sharing is Caring
by David Scott Allen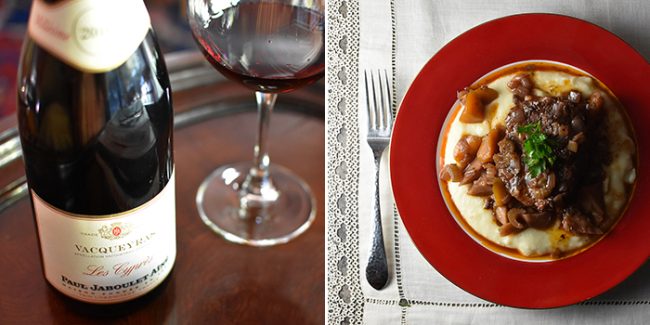 Winery: Paul Jaboulet Aîné
Cuvée: Les Cyprès
Appellation: Vacqueyras, Southern Rhône
Type: Red
Vintage: 2016
Grape Varieties: Grenache 75%, Syrah 20%, Mourvèdre 5%
Alcohol: 14.5%
Average Retail Price: U.S. $21
After a long year and a half, our good friends and neighbors Ursula and Bob returned to the neighborhood from their other home is in upstate New York, in the Catskill Mountains. It's really nice to have them back.
To celebrate their return, we had them over to dinner and wanted to share a bottle of wine I purchased — a 2016 Vacqueryas from Paul Jaboulet Aîné. I was told by the wine merchant that this $21 bottle drinks like a $42 bottle. That certainly got my attention, and it seemed appropriate for our celebration.
I decanted this deep garnet-colored wine about two hours prior to serving, and I think an additional hour might have been a good idea, as the wine opened nicely as we ate our dinner. The meal, by the way, was my Braised Oxtail with Potato and Celeriac Purée. It's quite tasty — you can find the recipe on Cocoa & Lavender.
We four had much fun talking about the wine and its attributes. The fascinating thing is how differently we each perceived the wine, both on the nose and on our palates.
On the nose, we all agreed on black cherry, but then there was a variety of other aromas sensed: leather, pipe smoke, and manure.
After our first sips, cherry and red fruits were prominent with notes of rose and orange zest. The wine is full bodied and rich and, while somewhat tannic, the tannins softened with time and the pairing with the oxtail. We generally found the wine to be comforting, and perfect for wintry foods: stews, braises, and roasts.
This Vacqueyras is a good value for the price, and worth seeking out.