LE P'TIT RESTO: A SMALL RESTAURANT WITH A GREAT WINE LIST
by Susan Manfull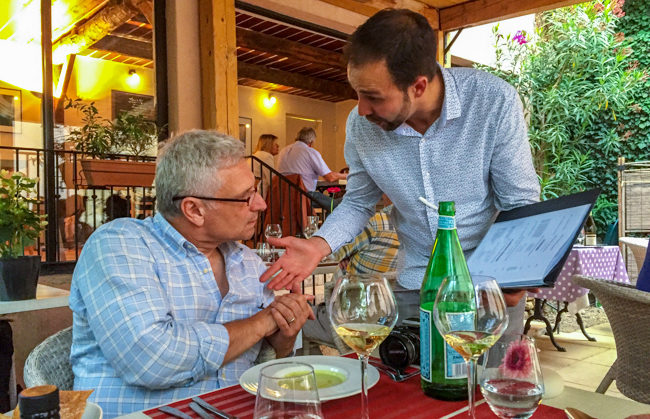 Long before I was able to score a table at Le P'tit Resto, a small restaurant, rather unassuming in appearance and tucked into the tiny Place de la Marie in the charming village of Vaugines, I had heard about its stellar wine list. How often does one find a restaurant composed of just a dozen or so tables with over 100 highly-regarded selections on its wine list? Not often, even in France. And the food is delicious and impeccably served.
The picturesque village of Vaugines (population around 500) is located in the garrigue-covered foothills of the Sud Luberon. It is about 4 kilometers northeast of Lourmarin, the village where we like to hang our hats, and about 2 kilometers northwest of Cucuron, where you are apt to find me at the market on Tuesday mornings when I'm visiting and where part of A Good Year, based on the book by the same name by famed British author Peter Mayle, was filmed.
Vaugines is famous for being the home of Peter Mayle until he passed away earlier this year in January and, among film buffs, for being the setting for Marcel Pagnol's Jean de Florette and Manon des Sources.
For those who doesn't understand the average French person's affinity for good food and wine, and the extent to which they will seek out talented chefs and knowledgeable sommeliers (no matter how remote the destination may seem), Vaugines seems a rather unlikely home for a restaurant that even has a chef or a sommelier, let alone both. I hasten to point out, though, that two Michelin-starred restaurants lie within an 8 kilometer radius of Vaugines and a third one—just 2 kilometers away in Cucuron—held a Michelin star until this year. Only in France!
Le P'tit Resto doesn't have a Michelin star, but not that it isn't within reach.1 Rather, I don't think that owners Benoît Ghironi, the somm, and Caroline Joffre, the chef, aspire to those kinds of stars. They have worked in many multi-starred restaurants and, in fact, met in 2009 at l'Auberge la Fenière (one Michelin star) just outside Lourmarin. A few years, and a couple of Michelin-starred restaurants later, after the young couple had just had their first child, it seems they aspired to a different lifestyle.
Ghironi and Joffre opened Le P'tit Resto in February 2015. Ghironi told me in an early interview, about 18 months after opening, that he wanted a lifestyle in which he could spend more time with his child, who was about three years old at the time.
Already, at age 34, Ghironi's curriculum vitae included restaurants such as Alain Ducasse's Louis XV in Monaco (3 stars), Restaurant Serge Viera in Chaudes-Aigues (2 stars), and Hotel Les Bories & Spa in Gordes (one star), and more. Joffre, originally from Germany, also had impressive gastronomic experiences, including Eric Pratt's Maison Lamelois in Chagny, Germany. As mentioned above, Reine Sammut's l'Auberge la Fenière2 is also among this talented couple's list of top-tier culinary employers.
Ghironi's passion is wine, and pairing it with food, while Joffre's is food—so they divided the work accordingly and opened Le P'tit Resto with the goal of providing "good food for a nice price." They have far exceeded their modest goal.
For months after opening, it was practically impossible to get a reservation. Walter Geiser, owner of Rent Our Home in Provence, a boutique vacation home rental and management company located in Lourmarin, was the first to tell me about the new restaurant. He said it was "the place to go," well vetted by locals "who always know the best restaurants." I tried repeatedly to secure a table when I was in Lourmarin the first summer they had opened but to no avail, despite Ghironi's best efforts as well as my own.
"It was incredible," Ghironi told me. "From April through October, we were full every day."
It would not be until the following summer, in June of 2016, that my husband and I would finally have the pleasure of dining at Le P'tit Resto and meeting Ghironi. We joined Geiser for a particularly memorable meal late one night. The details of our meal might have faded in time—aside from the fact that it was excellent and beautifully served—but I do recall what we drank. And that bedazzling Carte des Vins is firmly ensconced in my mind.
Behind such a modest façade, we discovered a wine list that is befitting of one of the aforementioned Michelin-starred restaurants. Comprised of over a hundred bottles—we later learned there are many more not listed on a given wine list—we found wines from every major wine region in France. It makes sense to order an apèritf if only to have something to sip while perusing the Carte des Vins!
The wine list, unsurprisingly, is dominated by Rhône wines (given that the Luberon appellation lies in the Rhône Valley). Two of the Châteauneuf-du-Pape red wines immediately caught our attention: a 2005 Château Pignan Rouge (exceptional vintage) and a 2004 Château Rayas Rouge (excellent vintage). As is the case throughout the wine list, there is a range of prices beginning (in this appellation) at 70€ for a bottle of 2014 Le Clos du Cailou Les Safres Châteauneuf-du-Pape (good vintage) to the aforementioned Pignan at 220€ a bottle. The Luberon red wines offer remarkable affordability, starting at 25€ a bottle.
Tardieu-Laurent, a premiere Rhône Valley négociant, located just a few kilometers from the restaurant, is also heavily represented. A bottle of wine from Tardieu-Laurent is certain to be outstanding. (Having visited the Tardieu-Laurent cellars in Lourmarin where I tasted some of the same cuvées, although different vintages, I can attest to their exceptional quality.)
Still admiring Les Vins Rouges, Domaine de Trévallon—one of my all-time favorites—is very well represented with five top vintages, including the 2012 in magnum format. Another Provence favorite, Domaine Tempier, is also on the list. Other red wines hail from Langudoc-Roussillon, Burgundy, Bordeaux, the Loire Valley, and even Savoie and Jura!
The white wines were equally as impressive. A 2000 Maison Louis Latour Les Chenevotes caught my eye (180€) as well as wine from Jura, Savoie, and Gascogne, wines not typically seen on a Carte des Vins in such a small restaurant, especially in the Luberon. There were no white Châteauneuf-du-Pape wines which might be the only disappointment I could find (although I would not be surprised if Ghironi could dig up one in what certainly is a well-stocked cellar).
Les Vins Rosés list was surprising short, but included two of my favorite Provence rosé producers (Château de Peyrasol and Domaine Tempier) as well as a Rhône producer (Domaine des Masques) that we were very glad to be introduced to.
The Carte des Vins changes with the seasons; Ghironi adapts the list to match the food menu which is tethered to the seasons. I've now dined in all four seasons and, without exception, found an outstanding wine list.
What makes this wine list a great one? In two words, meticulousness and passion. First, it has immense variety in terms of style, place, and price across all three colors. Second, there are many choices for each food menu (which changes about seven days for lunch and every 10 to 14 days for dinner). Third, it is not intimidating for the average diner. Finally, it seems to reflect Ghironi's personality (although I do have to find out why the rosé list, in an appellation that straddles the Provence and Rhône regions, is so unexpectedly short!).
Ghironi is always available for questions about the wines that comprise the list and conversation about best food and wine pairings. His tableside chats are immensely informative; Ghironi enlightened us to several wineries new to us.
At our inaugural meal, we honed in on the Condrieu selection and ordered a cuvée La Combe de Malleval produced by Stéphane Ogier. I don't recall the vintage but do vividly remember how fabulous the wine was. For the red wine (to go with our main course), Ghironi recommended an outstanding Domaine des Masques cuvée called Exception. It is a single varietal Syrah crafted by owner and winemaker Yves Cuilleron who hails from Côte Rôtie where Syrah rules. We were so smitten by this wine that we immediately added Domaine des Masques, located in Saint-Antonin sur Bayon on Cengle Plateau (550 meters) under the watch of Mont Sainte-Victoire, to our list wineries to visit.
That first meal was the start of a love affair with Le P'tit Resto. We loved the food, the wine, and the magic of their marriage. In the words of Patricia Thornton, life-long friend and integral part of our Modern Trobadors Tour team, "This is a place that is easy to return to, time and again, even in a single trip to the area."
Michelin stars don't always light the way to a memorable experience. As April Durant, who took our Modern Trobador Tour, wrote to me, "[Le P'tit Resto] was Jon and my favorite dining out spot of our trip. Le P'tit Resto was a wonderful surprise for us. We were so focused on the "big name" Michelin star restaurant going into the trip [part of the tour itinerary] but came away just loving the service, food and attention to detail we were greeted with at Le P'tit Resto. The chef made us feel right at home as did the wait staff."
Durant reminded me that they ran into the chef at the Loumarin Market a few days later: "He recognized us from our visit to his restaurant and actually gave us some shopping tips for his favorite vendors!" I guess this is evidence that the chef definitely shops locally!
I am eager to attend one of the Table Oenologique events that Ghironi and Joffre regularly offer. These are dinners in which a specific estate is featured with a menu created especially to match the wines accompanying each course. Adding to the fun, the winemaker from the estate also attends the dinner. The most recent Table Oenologique centered on Domaine Saint André de Figuière and included an apéritif followed by five courses, each paired with a different wine. The Première cuvée of Domaine Saint André de Figuière from La Londe in Côtes de Provence produces one of my favorite rosés—I would love to have attended this particular dinner. At only 70€ per person (inclusive), seems like a steal!
Fear not, it is possible, with some planning, to get one of those coveted tables at Le P'tit Resto. When you go, plan to park at l'Église Saint Barthélemy, the Romanesque church at the east end of the village (where the final scene of Marcel Pagnol's Jean de Florette was filmed). Although there are closer parking places, from the church, you can saunter through the meandering lanes of this lovely village. Note the gorgeous doorways and narrow vaulted passages. When you see the moss-covered fountain, you know you have reached Place de la Marie in the center of the village and Le P'tit Resto.
Bon Appétit!
Notes:
Le P'tit Resto
33, place de la Mairie
84160 Vaugines
www.leptitrestovaugines.com
leptitrestovaugines@gmail.com
I would love to hear about your favorite restaurants with great wine lists in Provence and the Southern Rhône Valley.
You may also be interested in these related articles:
VAUGINES MAY NOT BE IN TOUR BOOKS BUT IT RATES HIGH WITH ME…AND PETER MAYLE
A BARREL TASTING AT THE TARDIEU – LAURENT CELLARS
Footnotes:
1 According to The Michelin Guide website, restaurants are awarded stars based on the following general criteria: "Restaurants may receive zero to 3 stars for the quality of their food based on Michelin Inspectors' five criteria : quality of the ingredients used, mastery of flavour and cooking techniques, the personality of the chef in their cuisine, value for money and consistency between visits.
2 L'Auberge la Fenière is now under the direction of Nadia Sammut as well as Reine Sammut.