A Belated Salut to the Winemakers of Les Baux-de-Provence
The Wine Snoop Report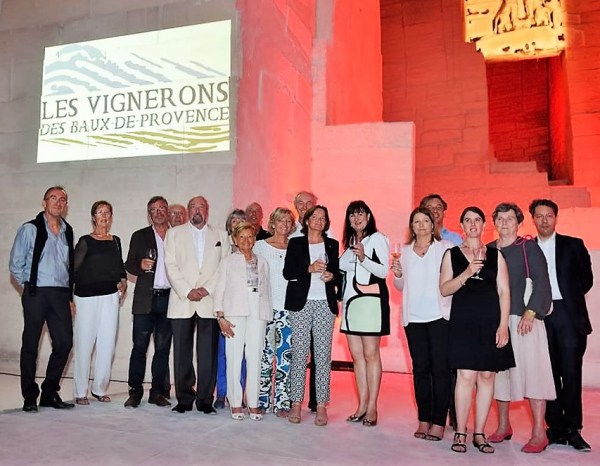 This summer the winemakers of Les Baux-de-Provence celebrated their 20-year anniversary as an appellation. The winemakers group, Les Vignerons de Baux, hosted a party at the Carrières de Lumières in Les Baux-de-Baux (a medieval commune famous for its towering citadel). The setting was particularly fitting to recognize the distinctive terroir of Les Baux wines because the venue, home to a multi-media exhibition site, is actually in the limestone quarries that were active from 200 BC to 1935. On the evening of the party, guests sipped wine while photography of the region was projected onto the 14-meter high walls of the former quarry. The event's integration of distinctive visual, textural, and taste qualities, like those in wine, reflected the unique characteristics that distinguish one appellation from another.
While Les Baux-de-Provence Appellation d'Origine Protégée (AOP) is unmistakably Provençal in landscape (think stone, herbs, olives, sun, and wind), it is neighbors with the Rhône Valley, a wine region known for their rich, red blends of Grenache, Syrah, and Mourvèdre. Les Baux red wines have the heft and body of a Southern Rhône wine, baked with the garrigue and olive essence of Provence. (Les Baux is a designated appellation for olives and olive oil.) The marriage of the two flavor palates and the dedication to sustainable, organic practices was the primary impetus, over twenty years ago, to explore separating from the Coteaux d'Aix-en-Provence appellation.
Les Baux-de-Provence is located within the Bouches du Rhône department of Provence. Although the appellation is small and relatively new, the twelve winemaking estates have earned well-deserved praise for their predominantly organic and biodynamic practices. Not yet a legislative mandate, the men and women who make wine here employ earth-friendly practices as a matter of tradition and principle. As much as 85% of the area is devoted to an organic or biodynamic approach.
In addition to being attuned to the flow of time, with harvesting and planting guided by the turn of the earth, winemakers embrace a holistic philosophy and respect for the unique personality of each wine. Eloi Dürrbach of Domaine de Trévallon, for example, prefers to produce Indication Géographique Protégée (IGP, formerly referred to as Vin de Pays) wines "rather than betray the personality of [his] wines."
A prominent feature of Les Baux-de-Provence is the mountain range known as Les Alpilles which, literally translated, means "Little Alps." These limestone hills create a distinct landscape and microclimate. The soil contains natural stone that fosters significant draining. The same fresh water springs that drew people to this area thousands of years ago continue to provide agricultural benefits for today's residents.
The region has a Mediterranean climate, characterized by lots of sun, dry air, and very hot summers. The area is such a furnace on hot summer days that it has earned the nickname Val d'Enfer (valley of Hell). The Mistral, the legendary powerful wind, brings benefits to the vineyards as it cools the vines and blows away mold-fostering humidity while the Alpilles buffet the vines from any potential damage.
The AOP produces red, rosé and white wines, with red wine production accounting for about 60%, rosé about 35%, and white a slight 5% or less of production. This balance is uncharacteristic for the broader Provence wine region, where rosé dominates. White wines were not included as part of the appellation until 2011.
The principal red grape varieties are Grenache, Cinsault, and Syrah. Red and rosé wines include a minimum of two grapes, and principal varieties must account for at least 50% of the blend. Other common blending grapes for red and rosé wines include Carignan, Cinsault, Counoise, Mourvèdre, and Cabernet Sauvignon.
White wines must include a minimum of 60% combined Clairette, Grenache Blanc, and Rolle (Vermentino), 10-30% Roussanne; Bourboulenc, Marsanne, and Ugni Blanc.
The designation covers around 300 hectares and produces around 9,000 annual hectoliters. The comparatively small yield from the region is primarily distributed locally, with a small percentage sold outside of Provence. Most local restaurants feature at least a few bottles from the appellation on the wine lists. The sustainable "shop-local" philosophy is apparent.
The winemakers of the region include:
Chateau Dalmeran, Chateau Romanin, Chateau d'Estoublon, Domaine De Lauzières, Domaine Guilbert, Domaine de la Vallongue, Domaine des Terres Blanches, Domaine Hauvette, L'Affectif, Mas de la Dame, Mas de Gourgonnier, and Mas Sainte Berthe. (See my recent article on Domaine des Terres Blanches.)
I recommend a stay at Le Chateau des Alpilles located in St. Remy-de-Provence. Lunch and dinner are also available, with or without an overnight booking. (link chateaudesalpilles.com) For a meal I suggest Maison Drouot, also in St. Remy-de-Provence. maisondrouot.blogspot.com. Both establishments offer extensive and appealing wine lists, including, of course, bottles from Les Baux-de-Provence.
It was a long battle for Les Baux to establish—or, rather, re-establish—its own appellation. You see, Les Baux-de-Provence had its own appellation in 1956 but became part of Coteaux d'Aix-en-Provence in 1972, a Vin Délimité de Qualité Supérieure (VDQS) at the time that later became an Appellation d'Origine (AOC). Most people with discriminating palates agreed that Les Baux was reflective of its unique terroir (and many agreed it was much better than its peers within Coteaux d'Aix-en-Provence).
Twenty years ago, they were awarded their own appellation although only twelve of the thirteen wineries who fought the battle decided to adopt the stricter appellation regulations. Domaine de Trévallon, as mentioned above, opts to make IGP wines.
Drop by and wish these winemakers a Bon Anniversaire as they embark on their 21st vintage. Of course, taste some wine, too!
— JB