Musings of a Wine Maven
A Postcard from the Foire aux Vins
by Jerry Clark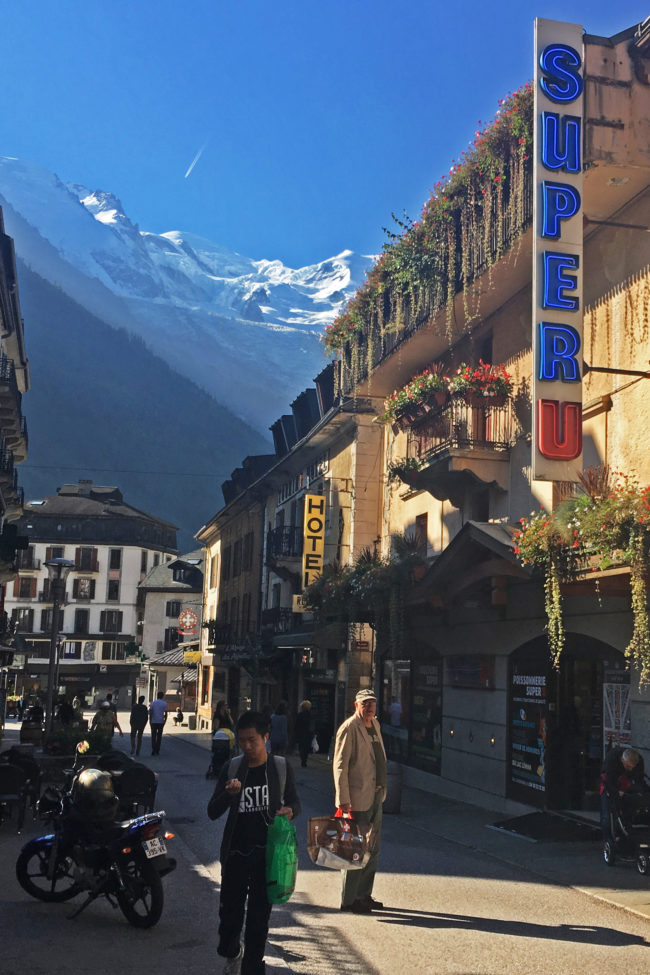 How could it be in the twenty-two years since I returned to the States after a six-year career segment based in Lyon, that I could have overlooked the huge deal the fall wine sales still are in France? I guess for one thing, we have always gone back for our annual holiday in the summer, where to the delight of my wife Benedicte the summer clothes sales are in full swing. Both wine and clothing sales are semi-annual events in France, legislated at the national level. They are eagerly anticipated and, from what I have seen, produce the desired sales activity.
Of all places, I was reminded of the wine sales while staying in the Alps last week. Our daily food shopping took us to a Super U market location in the center of Chamonix, and voilá, there were the extra stocks of wine this national chain had loaded up on for that sale. I was the proverbial kid in the candy shop. Staying at my father-in-law's apartment meant we could buy both for our daily picnic lunch excursions, as well as evening meals. Two bottles a day might exceed what the doctor recommends, but hey, when in Rome…. Adding to those immediate needs was consideration of what we might add to the stock of wine we cellar in France for use during our annual visits; thus, once I got my hands on the 62-page Foire Aux Vins catalog, I could hardly wait . What might I buy to lay down in France before we returned home to Connecticut? Perhaps, I thought, a visit to Super U might offer up a consolation for dropping Provence from our itinerary.
As expected, the catalog and I spent an enjoyable couple of hours together. Super U might be interested in their post-sales analysis to know what an American tourist purchased and perhaps I will write them at some point. In the meantime, I share my findings with you.
A political science and sociology double major in college, statistical polling studies fascinated. To a certain extent they still do, but let's not open this up to what is going on today. I will not be drawn in. Okay, I do have one point in this election period that bugs me, namely personal wealth inquiries. I don't care about The Donald's tax returns, nor do I care where Hilary and Bill get their fund contributions. What I want to know is what they are stocking in their wine cellars. Yes, you can tell a great deal about someone by what they drink, or serve (as in the case of wily Dick Nixon).
| | <€5 | <€10 | <€15 | <€25 | >€25 | Total |
| --- | --- | --- | --- | --- | --- | --- |
| Bordeaux | 12 | 17 | 14 | 13 | 5 | 61 |
| Burgundy | 1 | 10 | 10 | 3 | – | 24 |
| Rhône | 8 | 12 | 5 | 1 | 1 | 27 |
| Total | 21 | 39 | 29 | 17 | 6 | 112 |
| % of Total | 19% | 35% | 26% | 15% | 5% | 100% |
Getting back to statistics, I started deconstructing the Super U catalog offerings on a notepad. Upwards of 222 wines from 14 areas were listed. For brevity I focused on the three most populous regions, broken down into five different price grouping. I have left the pricing in euros to save conversion time on my teeny pocket calculator and because the exchange has gotten so close now that I thought of the euro as being a buck the whole time I was on vacation. (The only time I said "ouch" was in a café across from La Madelaine in Paris where I paid €3 for a very small espresso; but the sunny day and delightful people-watching made it seem acceptable.)
Now you can envy the French about many things. I know I do. There are no hormones allowed in their beef, for example, and I admit to having had steak tartare five times during this visit. But man, a choice of 60 wines from three prestigious growing areas for under 10 euros! And this just from one food retailer! There were another 15 or so chains also offering similar sales that I never got around to. Why not here in the U.S. you may ask. No chance. Our federal government rendered that impossible when, after prohibition, they turned back the responsibility for alcohol sales to the individual states. Imagine liquor control board executives from 50 states convening a meeting to organize coordinated wine sales. Their first challenge would be finding retail outlets that exist in all fifty states that would have the buying power these execs would seek. Wait a minute! How about Walmart? Target? Costco?
Flying over to France to load up and return is not really practical, though the tax on 100 bottles of still wine (don't bring back the bubbly – too high a tax) is inconsequential in light of the savings (if one is traveling to France anyway). A €10 wine from the Super U list, if found in the U.S., is likely going to sit on our shelf at around $17. Shipping and middlemen account for that uptick. But, alas, there is that excess baggage thing.
My advice is to place ads in the French newspapers seeking people who are being transferred to work in the US. Offer them a selection of American wines on their arrival if they agree to bring in a few cases of your supply as part of their household goods (for which they would not be taxed). Given that most of the sales have ended, this plan must wait a future date; but, if you want to rush over and find some great deals, the Foire aux Vins at Carrefour is on until October 10 and at Biocoop until October 17. Tempting, isn't it?