Château Barbebelle's Cuvée Madeleine Arrives in New Hampshire
by Susan Manfull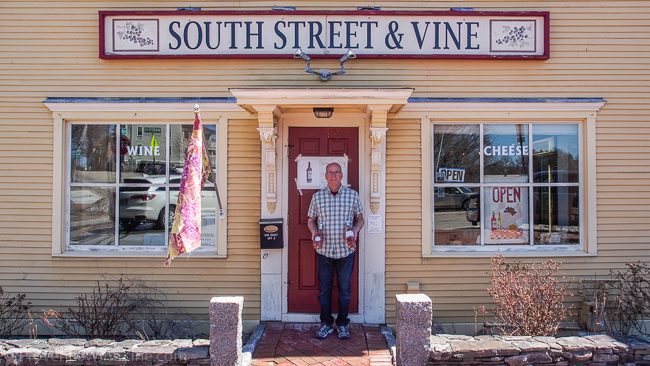 I am psyched to report that one of my go-to rosés from Provence has just arrived in New Hampshire — for the first time. Château Barbebelle Cuveé Madeleine (2016) debuted in six of the State Liquor Stores just a couple of weeks ago; it sold out quickly in most of the stores but, fortunately, more is on the way.
Even better news is that it is currently available in South Street and Vine—the charming wine and cheese shop across the street from my home in Portsmouth, New Hampshire—and in La Maison Navarre, a patisserie and salon de thé in the heart of Portsmouth (only a few blocks further from my house).
I know Château Barbebelle because the estate is located on D543 (a.k.a. the "Route d'Apt"), the narrow road we take to Lourmarin from the Marseille Airport in Marignane or from the Aix-en-Provence TGV (high-speed) railway station. There is a stretch of that route between Éguilles and Rognes where a half dozen wineries are located, all in the AOP Coteaux d'Aix-en-Provence, one of the nine appellations of the Provence Wine Region. We have stopped at Château Barbebelle many times.
The Château dates back to the 16th century (although, of course, the Romans were there well over 2000 years ago). Vines cover approximately 45 hectares (110 acres) of the 300-hectare (740-acre) property. Pine, holm oak, and cypress trees, interspersed among garrigue-covered ground, comprise the forest that surrounds the vineyard, offering protection from the harshest of the mistral winds and adding hints of Provence herbs on the palate. The clay and limestone soils serve the vines well, coupled with the 370 meter altitude that offers cool nights and relief from the warm temperatures of the days. What winds do blow across the vineyard help to keep the grapes naturally free from mildew. The property is also blessed with abundant underground water sources (that were particularly beneficial for the 2016 vintage). "Integrated Farm Management" is practiced at this estate.
The property is owned by the Herbeau family. Today, fourth-generation Madeleine Herbeau recently returned from her corporate job with Nestlé to work with her father Baron Brice Herbeau at the Château. Together, they mix modern technology with the traditional methods that have long yielded pleasing wines from this estate. They produce rosé (80%), red (15%) and white (5%).
I have only had the pleasure of tasting two of their rosés. Cuvée Madeleine, named in honor of daughter Madeleine, is a blend of Grenache (50%), Syrah (25%), and Cinsault (25%). It is an elegant wine that perfectly harmonizes red fruit, a little minerality, and very pleasant acidity, resulting in a rosé that is appealing on its own and with food. See our Tasting Notes for more details.
Héritage is the top-tier rosé. I picked up the 2015 at the Château last summer (which may have been the first vintage of this rosé) and I loved it. I have not yet tried the current vintage but Jacques Navarre, co-owner with Ken Scupp of Top Terroir LLC., the importer of Château Barbebelle rosés, told me that Héritage should arrive in a few weeks. It will be joining Cuvée Madeleine on the shelves of South Street and Vine and the wine lists of select restaurants in New Hampshire. So, I will soon try it!
Navarre, who is also a friend and part of the Provence WineZine Tasting Table, created Top Terroir in 2016 with the goal of "working collaboratively with winery owners that are truly dedicated to producing well-crafted wines, while taking in [to] consideration environmental impact." Navarre added "It has to be good and affordable." Both of these rosés are very good and affordable.
Not surprisingly, Navarre has a nose for good French wine. He grew up in the Rhône Valley, near Avignon and Châteauneuf-du-Pape. Partner Scupp is also well-versed in this region and leads tours to this area as well as other parts of France and Italy.
Cuvée Madeleine, their first import, is flying off the shelves of the State Liquor Stores. The wine is now in 17 State Liquor Stores—or rather shelf space is allocated to it—but the shelves are empty in many of the stores. In fact, my husband was in one such store this morning, standing in front of the empty shelf where Cuveé Madeleine had been stocked. He found himself in conversation with a woman, also in front of the empty shelf, who had come in with the specific purpose of buying Cuvée Madeleine. "I just had it last night and I want to buy some more," she explained to my husband. He directed her to South Street and Vine in the South End of Portsmouth.