Diary of a Master of Wine in Provence
Côtes de Provence, Prowein, and Coteaux Varois
by Elizabeth Gabay MW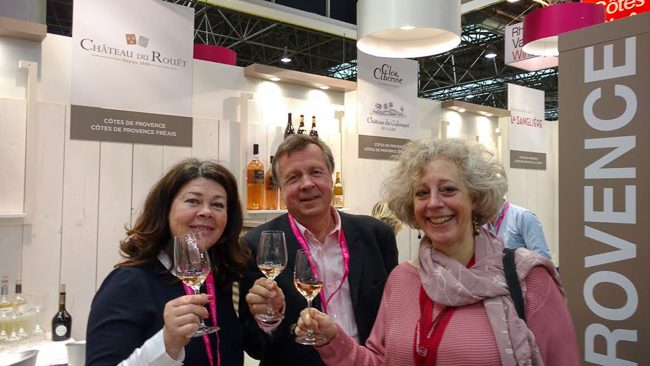 Please welcome Provence's Elizabeth Gabay MW to Provence WineZine! What a treat to have the benefit of Elizabeth's keen observations and informed opinions about what's happening in the world of Provence wine.

One region, one new vintage, two countries, three colours, three appellations, three departments, four fairs….Round one of my official tasting season is over, and now is time for a brief retrospective pause to think about them and the rosés tasted. Concentrating on research for my rosé book means that I often didn't have time to taste all the reds and whites I want to – that is something to look forward to this autumn.
The one region is Provence with three of the four tasting events being for Côtes de Provence, Coteaux Varois and Coteaux d'Aix who together make up 95% of the region's production, and held, respectively in the departments of Alpes Maritimes, Var and Bouches du Rhône. The fourth event at Prowein, in Germany, was for the three regions together. The two countries were France and Germany.
The three colours are evidently red, white and rosé and the new vintage – the majority of the rosés and white wines were from 2016.
The organising of these events is not at all simple. There are advantages for being the first – for the initial impact and for attracting the first buyers – but there is also a strong advantage to being last in the season when the rosés are starting to show their full potential. The events also have to take place on different days to allow producers to be present. The new rosés had also been shown at Vinisud, in Montpellier, at the end of January when the wines are first bottled.
The first tasting was the official Côtes de Provence at Mandelieu near Cannes on Monday 13th March. Tastings are always on the Monday because that is the day most restaurants are closed and the sommeliers are free to visit (unlike the UK when tastings can be any day of the week). This year was particularly hectic as I was due to fly to Hungary straight after the tasting, so I chose to drive down the night before and stay at a local hotel. For those used to staying in business hotels – you will know that this can be pretty soul destroying and not an inspiring start to any tasting.
So, having arrived at 5 p.m. my partner (a.k.a. my husband) and I decided to go for a walk into the hills above Mandelieu. We climbed up amongst trees bearing the last of the Mimosa and from the top we could see to the east the Baou de St Jeannet – where the wines of the Hautes Collines de Côtes d'Azur come from, and beyond that, the Var river valley and the distant hills of Bellet. To the west we could see the volcanic hills of the Esterel which, at their furthest point westwards are home to the vineyards of Frèjus. To the south we could see the islands of Lerins, where the monks of the Abbaye de Lerins make their wine. What a great start to the tasting getting such visual perspective of the region!
This was the third year that the Côtes de Provence exhibition was held in Mandelieu. Previously it was held in Hyeres on the coast. The location of the event is fraught. Hyeres is in the middle of Provence lengthwise – halfway between the big local markets of Marseille and the Côtes d'Azur – but, being on the coast, it was a long drive for everyone. By moving it to Mandelieu on the Côtes d'Azur means it is very accessible to the eastern market and there are many buyers and sommeliers from Nice, Cannes, Antibes, the yachting industry as well as the buyers from all of the restaurants and shops in the region (15% of sales of Côtes de Provence wines is to restaurants and small wine shops) but far fewer from Marseille and the Rhône. As you can imagine this has further implications for the wines, localising their reach.
There were 169 exhibitors (out of 459 producers in Côtes de Provence) and 565 attendees; there is a lot to taste and many people to meet within six short hours. I never taste as much as I plan to do so this year I decided to focus on Mourvèdre in rosés. This may sound slightly narrow, but I was considering the growth in rosé production and the need to divert grapes previously reserved to red wine to rosé, and Mourvèdre is not an obvious contender for classic fresh fruity rosés. Although difficult to ripen in all but the hottest regions, it is a variety which shines with careful winemaking, especially when there is a bit of oak. It was no surprise to see that vineyards from the hotter coastal regions had a greater amount of Mourvèdre and that the variety gave a touch more weight and structure to the wines. Rosés further from the coast with Mourvèdre were, to my taste, less successful. The Mourvèdre did not attain enough ripeness, and even with a small proportion had a slightly harder edge. Mourvèdre is also a variety which needs time to show its full potential, so the wines tasted will be re-tasted later on in the season to see how they are evolving.
Rosé containing Mourvèdre favourites were from the coastal vineyards of Château Volterra, 'Premiere' from Domaine Saint André Figuière, 'Compromis du Diable' from Domaine Perzinsky (Île de Porquerolles) and 'Angelico' from Domaine Paquette (Frèjus). Rosés with Mourvèdre from the Bassin de Beausset, behind Bandol, showed lovely fruit and freshness: Cassis producer Domaine du Paternel, 'Villa Roca' from Moulin de la Roque and 'Bélouvé' from Domaines Bunan.
Further inland, I liked Domaine Saint Andrieu's Special Cuvée 'Lily Rose' which is principally Mourvèdre, made and aged in barrels; 'R de Rimauresq' from Domaine de Rimauresq; and 'Le Carré de Laure' from Borrely-Martin.
Colour was also a big talking point. With the competition for attaining the palest ever rosé having reached its limit with some tasters questioning whether some rosés were blanc de noir or rosé, there was definitely more interest in wines with a touch more colour and character. Winemaker Richard Auther from Domaine Perzinsky aims for taste and character first, colour second.
The next tasting event was at Prowein in Dusseldorf in Germany from the 19th to 21st March. This is one of the biggest wine shows, with 9 massive halls and a massive 6500 exhibitors. On average we walked around 17 kilometers (about 10 miles) a day! The free-pour rosé table on the Provence stand is always a major attraction with buyers and journalists from around the world tasting the latest vintage.
At Prowein, I gave a masterclass on the different terroirs of Provence with six wines to illustrate the variety of rosés styles with Château de Rouët Hermes from Frèjus (showing Tibouren elegance and volcanic minerality and good aging potential), Saint Ser's 'l'Ermite' from Sainte Victoire (beautiful creamy acidity from the highest vineyards on the Ste Victoire limestone hills and, again, fantastic aging potential), Domaine Galoupet from the coastal stretch by La Londe (sunny ripe fruit and a hint of saline minerality running through its core), 'R de Rimauresq' of Domaine de Rimauresq representing the central valley (full ripe fruit from this hot region, tempered by being on the north facing slopes of the Massif des Maures), 'Clos Madon' from St Mitre in Coteaux Varois (full ripe fruit, this time tempered by altitude) and the oak-aged, slightly darker 'Grande Classique' from Domaine Pigoudet in Coteaux d'Aix (altitude and distance from the coast gives these wines great acidity and the structure, with a bit of saignée, to support oak ageing). All six wines are beautiful expressions of the variety of terroir in the region.
The third tasting was for Coteaux d'Aix on Monday 27th March. I have to admit I did not make this tasting having just returned from Germany and needing to catch up in the office. It was held, as on previous years at the Renaissance Hotel in Aix-en-Provence from 5:00 to 9:00 in the evening. I love the wines from this appellation, but driving 500 kilometers (310 miles) round-trip for an evening's tasting requires either a night away or a co-driver. By default, it attracts buyers and journalists from the west of the region. This is the smallest of the Provence appellation tastings, but its growing popularity makes me wonder whether they will soon have to move to a bigger room or premises. Currently its location in Aix is great for public transport, and makes it very central for this very large geographic region.
The final tasting was Coteaux Varois on 3rd April, in an idyllic setting in the monastic garden of the Hostellerie de l'Abbaye de la Celle, home to both the Maison des Vins de Coteaux Varois and the Alain Ducasse restaurant, and conveniently located in the central Provence town of Brignoles. Ducasse nibbles (and lunch) in glorious spring sunshine is always beautiful. This year, there were more exhibitors – 48, representing over half the producers – and 20% more visitors. The central location of this tasting meant that there were attendees from both Marseille in the west and Nice in the east. There were two blind tasting tables for rosé and white wines, encouraging tasters to make new discoveries by sampling wines they might not otherwise have selected. As usual the event was beautifully organised (well done Philippe Breban, Rachel Renault and team!)
I had previously tasted the rosés with eleven local winemakers for the Guide Hachette in early March. The rosés were all so young we were hard pressed to be excited by any of them. One month on and I have to say I was bowled over. The rosés from Coteaux Varois 2016 were outstanding – so I guess I will now need to re-taste many other rosés.
The 2016 vintage was an 'interesting' one. A swathe of vineyards along the central valley were decimated by hail and many vineyards were also heavily hit by late frosts. Depending on which vineyards were hit, meant that many wines were forced to be different. Lower yields forced concentration, some varieties unable to be included in their usual blend, and some wines not to be made at all. The summer was hot further reducing yields. Last minute rains gave some lucky vineyards an extra boost to their yields.
Château Margüi had so much extra high quality fruit that, for the first time, was able to bottle a separate IGP rosé, 'Toscane'. I was there for the first opening of this new wine – just bottled in its new bottle – and I was very impressed with both this wine and the 'Perle de Margüi' tasting. I asked Philippe Guillanton his opinion on rosé trends and he noted that his customers prefer the pale fresh fruity style with no oak.
A second first was the wines from the new estate CALA (California Los Angeles) owned by California restaurateur Joachim Splichal. Both the Classique and super elegant Prestige (fermented and aged in Stockinger) were showing well.
Conclusions? Don't judge rosés too early in the season. Taste with your palate not your eyes. Think of the terroir and varieties to get a feel of regional character. Re-taste.