COME OVER TO THE DARK SIDE
by Susan Manfull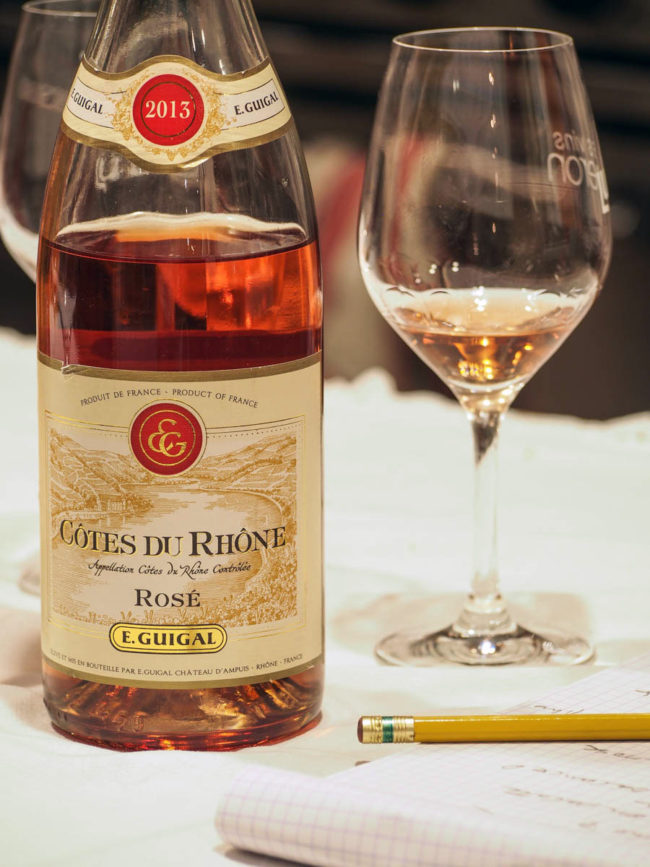 It's all about skin contact. Well, almost.
Minimal skin contact is the simplest explanation for the beautiful pale colors of the world's most popular rosés. Of course I am referring to rosés from Provence, where pink wine has been made for over 2600 years, giving winemakers there ample time to perfect their rosé to heights unmatched by any other region. Thus, wine from this region, in the southeast corner of France, is generally considered to be "the gold standard" by which the rest of the world's rosé is measured.
France is also the leading producer of this wine, making 5.6% of the world's rosé, and Provence is France's leading producer of rosés, making 40% of French AOP (Appellation d'Origine Protégée) rosés. Much of that rosé finds its way over to the United States, where 13% of all the world's rosé is consumed. We rank second, after France, in our consumption of this popular beverage.
This summer, so much rosé was poured, swirled, and sipped in our country, especially in New York City and Miami, that Vanity Fair posed the question, "When Did Rosé, Like, Become a Thing?" in an article by the same name in their August issue.
Even if you live in Kansas, surely you've heard of Provence rosé…if for no other reason than Brad and Angelina are producing an award-winning rosé, Miraval, from their château in the heart of Provence's rosé country.
Miraval rosé—and almost every other top rosé made in Provence—is light-colored. The quintessential Provence rosé is pale-colored, dry, crisp, and filled with the flavors of fruits. Readers of Provence WineZine know that I am smitten with rosés that hale from this particular region and have no doubt noted that I am often captured in photographs with a glass of rosé, colored somewhere between what I would call a very light pink and very light salmon.
Provence rosé has always been light-colored. There are darker versions, even in Provence but especially beyond its borders (and especially south of Provence).
Interesting research about the color of rosé has come out of the Center for Rosé Research (Centre de Recherche et d'Expérimentation sur le Vin Rosé), located in the village of Vidauban in the Var. They have been studying rosé (produced in Provence and beyond even the borders of France) since its inception, about 15 years ago. I visited the Center last summer and saw the diligence with which they are studying the colors of rosé, learning about how color is related to bouquet, taste, and mouthfeel as well as how the color of rosé changes across time, among many other subjects beyond color.
In an effort to facilitate accurate communication (among professionals as well as consumers), they have identified six main "Provence rosé colors," officially named Mandarin, Mango, Melon, Peach, Grapefruit, and Red Currant. (The names are just labels, not to be associated with the actual fruit.)
There is also larger nuancier (color chart) of over 100 colors. As one who frequently writes about rosé, I can attest that communication does become challenging when describing rosé colors without some point of reference and the task is near impossible to compare the colors of past vintages with the current vintage since the color of the wines changes over time.
Since I have devoted very little attention to rosés outside the pale center of the scale, I thought it was time to explore the darker side of rosé. I happened to have six such bottles in my cellar, only one from the Provence wine region but all from the south of France.
What determines the color of rosé?
The simplest answer, as I wrote above, centers on skin contact (although I hasten to add that there is nothing simple about explaining the color of rosé). Rosé is typically made with red grapes although a tiny percentage of white grapes may also be added into the mix. (In Provence, white grapes may comprise up to 10% of the co-fermentation liquid). The resulting color of the wine depends on the length of time that the skins of the grapes are in contact with the juice from the grapes as well as a few other factors discussed below.
Anthocyanin compounds are powerful antioxidants that may help boost the immune system as well as offer anti-inflammatory, anti-viral, and anti-cancer benefits.
The juice of the typical wine grape has no color—it is clear. The skin of the red and black grapes contain the phenolic compounds that give wine—red and rosé—its color. Called anthocyanins, these compounds, are responsible for the red, purple, and blue colors of grapes (the skins of grapes, to be precise) as well as many fruits, vegetables, grains, and flowers.
When making rosé (and red) wine, the winemaker typically crushes the grapes just enough to break the skins thereby exposing the insides of the grapes (the juice) to the anthocyanins. The juice gets darker as the length of contact time with skins increases. Rosés are made from juice that was in contact with the skins for a limited about of time—as little as a couple of hours—much less than that for reds (which may be as long as several weeks).
The method of vinification the rosé winemaker chooses to use is the primary factor determining the amount of skin-juice exposure. There are basically two options (although, of course, there are variations on each of these standard methods).
Direct Pressing. In this method, the slightly crushed grapes (destemmed or whole-cluster) are quickly pressed, yielding a very pale-colored juice which goes directly to the fermentation tanks. Most winemakers in Provence prefer this method because it results in the very pale rosés for which Provence is so famous.
Saignée is a French term meaning "bleeding" and originally refered to removing (bleeding off) 5 to 15% of the juice in the vat to make rosé, leaving the remaining juice (with skins, etc.) to further macerate before making a concentrated red wine. In other words, rosé was a byproduct. Nowadays, the term is used to refer to any juice that is "bled of" to make rosé (whether or not red wine is later made).
Saignée. In this method, the destemmed grapes are crushed and the pulp, skin, seeds and juice—collectively called the must—goes into a tank for maceration, a phase in which skin-juice contact lasts anywhere from 2 to 24 hours. When the desired color is reached (bearing in mind other factors such as tannins and acidity), the winemaker drains or "bleeds" the juice into fermentation tanks. This method, typically resulting in a darker colored rosé, is more widely practiced outside of Provence.
There are other factors besides skin-juice contact that play a role in determining the rosé color. The amount and types of anthocyanin vary across the range of grape varieties such that, all things being equal, darker grapes such as Syrah produce darker wines.
In addition to grape variety, there are other factors that influence anthocyanin content. Falling under the broader category of "terroir," there are soil nutrients, light exposure, and ambient temperature.
Another terroir factor, thermal amplitude, was the subject of an interesting conversation with Nathalie Pouzalgues, researcher at the Center for Rosé Research. Pouzalgues said that the Center's research revealed that the color of predominantly Grenache-based rosés differed significantly depending on which side of the N7 (highway) the grapes were grown.
Having spent the past week traveling driving along the N7 as I traversed the Var, visiting vineyards on both sides of this "truck route" (that parallels the A8 Autoroute), I was very curious about this finding. Pouzalgues went on to tell us that the Grenache south of the N7 produced rosés that were "more salmon-colored, more in the yellow spectrum," whereas those from the north side were "more pomelo in color or more pink in color."
Pouzalgues said that researchers hypothesize that, "South of the N7 and closer to the sea, there is less change of temperature between day and night while, further north, without the stabilization of the sea, there is greater change between day and night."
"More [thermal] amplitude is thought to affect the phenols [in some way]," Pouzalgues suggested, adding that more research is underway.
The acidity (pH level) of the wine itself also affects the color of the wine. The more acidity in the wine, the redder the color (which, of course, ties back to the terroir).
Finally, Provence vintners have made huge investments in technology, for example to ensure temperature control from vineyard to fermentation tank and to reduce exposure to oxygen during the vinification process. Low temperatures (ranging from 10°-20° C or 50°-68° F) set the stage for paler wines, all things being equal.
More than one winemaker has told me that rosé is the most difficult wine to make well. There is a delicate balance between achieving the coveted pale colors of Provence rosé and maintaining an aromatic, flavorful, dry rosé that refreshes and transports the drinker into the lull of Provence (without relying on excessively high alcohol content to get there!). When I sip one of my favorite rosés, I swear I can smell the sea and hear the cicadas.
What did we find on the darker side?
I collected input from my husband and six friends, one of whom turned out to be an avowed sweet rosé fan. (I didn't know I knew anyone, aside from my mother, who still preferred the likes of White Zinfandel.) The tasting was casual, initially without food, and later paired with assorted savory dishes and a platter of red fruits.
The colors were strikingly beautiful. Not the very pale pinks and salmons I have grown accustomed to seeing in my glass but darker shades of the same colors. (I could get used to these now and again, I thought to myself.) Rosés come in much, much darker shades of pink, bordering on red, such as those made in Tavel, an appellation in the Rhône Valley where AOP production is restricted to rosé. (I've never met a Tavel that really spoke to me, so we steered clear of those rosés…until another post.)
As I reported above only one rosé in our tasting line-up was produced in Provence. Can you pick it out of the line-up? (That is, excluding the Château Margüi pale rosé on the far right.) Yep, the lightest-color rosé (and the only one made using the Direct Pressing method). It was also the hands-down favorite of everyone (except the sweet rosé fan).
The grape varieties used to make the wines we tasted are all familiar players in Provence winemaking, with one exception: Merlot is not among the grapes permitted in the production of Coteaux-d'Aix-en-Provence AOP rosé (where the producer of the wine with the Merlot is located), nor is it allowed in any of the appellations in Provence. Cabernet Sauvignon is not commonly included in rosé blends in Provence (although I think its inclusion is becoming more common) and, if it is included, it is in small quantities, as part of the mix.
Our favorite rosé of the line-up, Le Page de Vignelaure 2014 produced by Château Vignelaure in Rians, broke the AOP rules with this lovely cuvée of Cabernet Sauvignon (60%) and Merlot (40%). It is a beautiful, bright salmon color with hints of melon and strawberry on the nose, a little creaminess in the mouth, and a pleasant finish. It is nicely balanced and much lighter than expected.
"Very interesting subtleties that beg your attention," was my husband astute observation.
Unfortunately, this rosé is not available in the States, but I am rooting for a landing next year. Vignelaure is primarily a "red house" but, with this rosé as well as two other excellent rosés and an impressive first vintage white to add to the exceptional portfolio of reds, there are many reasons to drop by this beautiful estate when in Provence. With the €8 price tag (roughly $10) for Le Page de Vignelaure rosé (purchased in the tasting room), I wish I had brought more home.
The second wine, produced by Terres Valdèze, a cooperative in the Luberon, is 100% Cabernet Sauvignon and like the aforementioned rosé, is an IGP (Indication Geographique Protégée) wine (formerly called a Vin de Pays or VdP). A pleasant floral nose with notes of orange peel, it was a little rustic and, in the opinion of one of our tasters, "tart." But at €5 a bottle (and less if you are a member of the coop), I'll cope with some rusticity and extra acidity. Like most of the rest of the rosés we tasted, food, taming the tannins, brought the best out in this rosé. They are what are referred to as "rosés d'assiette" "rosés for the plate." My husband described this one as "a great picnic wine."
Moving northwest further into the Rhône Valley, we tried one AOP Ventoux (2014) rosé and one AOP Côtes du Rhône (2013) rosé. Syrah, Grenache gris, Cinsault, and Grenache rouge comprise the Ventoux blend made at Château Valcombe. A pretty pink was about all one can say here (because it will only go downhill if I get into the marshmallows detected on the palate). Price is around $14.
The other Rhône rosé, E. Guigal made at Château d'Ampuis, is a blend dominated by Grenache (35%) and Cinsault (35%) with Syrah (25%) and Mourvèdre (5%) is a lovely dark salmon color that foretold its elegance and well-balanced structure, even with 14% alcohol. The bouquet brought to mind cherries and mint and the taste made me think of strawberries with a little spiciness but it was not at all a sweet wine, reminding us that color does not correlate with sweetness. The finish lured one in for another sip. This wine could be served as an apéritif or would be a terrific accompaniment to a fish soup. Price is around $14. Organic.
The last two hail from Corbières, an appellation due west of Provence in the Languedoc-Roussillon wine region. It is one of the largest regions in France but, in striking contrast to Provence, rosé represents a tiny portion of production (as little as 3%), most of which is much darker than the pale rosés of Provence (although ours were not as dark as the typical Corbières rosés).
Domaine de Fontsainte produces what they call a "Gris de Gris" rosé, typically meaning a very pale rosé (a grey rosé) but not so the case here. (It is made from some light-skinned grapes, e.g., Grenache gris and Cinsault.) And, Kermit Lynch might have gotten a little carried away when he wrote that it is "among the finest rosés on the planet." I wouldn't go higher than "decent."
Comprised of Grenache gris (50%), Grenache noir (20%), Carignan (20%), Cinsault (5%), and Mourvèdre (5%), it is a fruit forward wine balanced with sufficient acidity. My husband thought plums and I have to confess I got vanilla and strawberries interspersed with whiffs of cherry Kool-Aid (transporting me back to my childhood in Fresno, California, a far cry from Provence!). I enjoyed this wine much more with the smoked salmon canapés and my opinion would move more in the direction of Kermit's if it were accompanied by a pork loin with cranberry sauce. Price about $14.
The other Corbières rosé is a dark pink wine, not surprising with so much Syrah (98%) and only a dash of Grenache (2%). I'm generally not a fan of predominantly Syrah-based rosés and, predictably, Tenue Soirée tasted too sweet for my palate. But, it suited our friend with the affinity for sweet wines more so than any of the other rosés on the table. There are red fruits—very ripe strawberries and raspberries—with hints of vanilla on both the nose and palate with an unremarkable finish….until we served the platter of red fruit! This pairing curtailed the sweetness and extended the finish, making it very pleasing. Price about $13.
I imagine I will always gravitate to the lighter side, especially when looking for a rosé to sip by the pool or as an apéritif. Of this line-up, La Page Vignelaure and E. Guigal are the exceptions—I would happily pop the cork on either bottle for a tipple before dinner and I dare say I might smell the sea and hear cicadas when I drink them. As an accompaniment to food, the darker colors can be perfect options. Think Bouillabaise, for example. (Although I've got a lighter rosé to recommend, too, for almost any food you might want to serve.)
One of the great appeals of rosé for me is the immense variety, from something entirely fun such as the anonymous pink wines that fill the carafes served in cafés to the delicate layers of flavors in a high-end rosé such as a Domaines Ott Château Romassan Bandol AOP Rosé Marcel Ott that easily graces the finest tables. However improbable it sounds, it is possible and extraordinarily delightful to sip rosé from canapés to the cheese course, as I did recently at a gastronomic dinner hosted by Sacha Lichine (where, Provence WineZine readers can guess exactly which four rosés accompanied this seven-course meal).
I was surprised to learn that rosés from outside of Provence—in other French regions, including Tavel, and in other countries around the globe—are getting lighter. Pouzalgues said that data collected by the Rosé Research Center since 2004 show that while the chemical composition of rosé (e.g., acidity, alcohol, sugar) continues to show diversity across regions and countries, the rosés are getting paler and paler. I was disheartened to hear that the researchers suspect that, due to the huge and growing commercial success of Provence rosés, winemakers from around the world feel they should "prendre le train en marche." That would be a pity.
"The goal should be to improve the quality of rosé, not make them paler," Pouzalgues said, echoing my feelings.
I'll wander back to the dark side again soon. It's always fun to learn about more about rosé. Any recommendations?
Notes:
Un grand merci to Viktorija Todorovska, sommelière, cookbook author, and food and wine educator, for her very helpful input on part of this article.
Although most grape varieties have colorless flesh (and juice) and color pigments in the skin, teinturier (Vitis vinifera) is grape variety with a red flesh. The name comes from the French word meaning "to dye or stain." They are not used in winemaking except, perhaps, to boost the color of the wine.
Making rosé by blending red and white wine is generally not common. In France, it is illegal except in Champagne where, even there, its use is decreasing, especially for high-end producers.
Very few rosés are made to age—they are made to be drunk young, in most cases before the arrival of the next vintage—but, in case you are curious, among the negative effects of time, is the change of your pretty pink rosé to an unattractive orange-brown color. Over time, anthocyanins (and other phenolic compounds such as tannins) change (technically, they "polymerize," meaning they unite into longer molecule chains), causing your pink wine to take on said color (due to oxidation, arising from decreasing tannin levels from the already low levels in typical rosés). The darker rosés may become lighter in color (due to sediment). Drink up, rosé fans!
Le Page de Vignelaure
Château Vignelaure (located in Rians)
IGP Méditerranée (2014)
Cabernet Sauvignon (60%), Merlot (40%)
12.5% alcohol
Cabernet Sauvignon
Terres Valdèze (located in La Tour d'Aigues)
IGP Vaucluse (2014)
Cabernet Sauvignon (100%)
12.5% alcohol
Epicure
Château Valcombe
AOP Ventoux (2014)
Syrah (25%), Grenache Gris (25%), Cinsault (25%), Grenache rouge (25%)
12.5% alcohol
E. Guigal
Château d'Ampuis
AOP Côtes du Rhône (2013)
Grenache (35%), Cinsault (35%), Syrah (25%), Mourvèdre (5%)
14% alcohol
Domaine de Fontsainte
AOP Corbières (2014)
Grenache gris (50%), Grenache noir (20%), Carignan (20%), Cinsault (5%), Mourvèdre (5%)
12.5% alcohol
Tenue Soirée
Château Fontenelle
AOP Corbières (2014)
Syrah (98%), Grenache (2%)
13% alcohol