OFF THE VIA DOMITIA
HOW MARKUS NIGGLI VENTURED INTO MAKING EUROPEAN-STYLE WHITE WINES IN LODI, CALIFORNIA
by Susan Manfull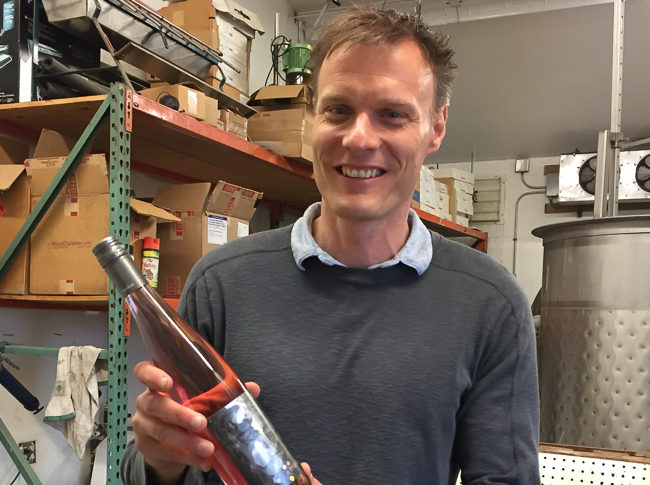 Markus Niggli—founder of Markus Wine Co. at Borra Vineyards in Lodi, California– is an exceptionally talented and savvy winemaker who started making his own small-production line of edgy, artisanal white wines in 2010. He was not quite 40 years old, having left his first career in the travel marketing industry, based in his native country Switzerland, about seven years earlier in 2003 to embark on a second career in wine. It would not be long before he added rosé and red wines to his portfolio.
Niggli came to Lodi in 2006 when Steve Borra, third generation winemaker and owner of Borra Vineyards, hired him to oversee the cellar. Niggli quickly rose to the role of winemaker in 2010. In addition, he managed the cellar and tasting room, worked with artists to design the wine labels, and oversaw all wholesale grape and wine sales.
When Niggli launched his wines—under the Borra label for the 2011 and 2012 vintages and later as a Markus Wine Co., a subventure of Borra Vineyards—he definitely took the road less traveled in Lodi. It wasn't the region's familiar Chardonnay that Niggli reached for to make his avant-garde white wines. No, for Niggli's first portfolio of wine, this Swiss winemaker returned to his roots for inspiration and opted for some more obscure varieties, all but one originating in Germany or related to German varieties. Kerner? Bacchus? Traminette? Torrontes? Who knew these grapes? And yet, those varieties—along with Gewürztraminer and Riesling–are the main grapes in Niggli's white wines.
At first, local folks wondered what he was thinking: It was 2010 and Lodi was unequivocally red country—the epicenter of big and jammy Zins. Even today, as Lodi is increasingly recognized for the diversity of grapes grown, two-thirds of the 110,000 acres (44,500 ha) in the Lodi American Viticultural Area (AVA), are devoted to red varieties like Cabernet Sauvignon, Merlot, Petite Sirah, and, as mentioned above, Zinfandel, including a whole lot of old vine Zin1.
"Are you nuts?" he said that he said to himself as he weighed the pros and cons of jumping into these contemporary-style white wines. "Or, do you want to try and be a leader in something?"
Whether or not to leave one's comfort zone to take a risk with something new is an important question for any winemaker. But, the Lodi AVA was in a unique position in the U.S. wine market that remains true today (probably more so) and understanding its position may offset concerns about taking risks. Consider: more vines are planted in the Lodi AVA than in any other AVA in the U.S.; Lodi produces roughly one quarter of California's annual crop of grapes; about 85% of Lodi's grapes (in one form or another) are sold to other wineries across the country; with such an abundance of grapes, the average price per ton of Lodi grapes is relatively low; and the best Lodi grapes are in demand at top wineries, including those in the renowned AVAs of Napa and Sonoma.
The Lodi AVA is located in the northern part of the Central Valley, about 85 miles northeast of San Francisco, between Sacramento and Stockton. It is about 60 miles east of the Napa AVA. With its Mediterranean climate, it enjoys warm days and cool nights. It became an AVA in 1986 and now has about 110,000 acres (44,500 ha) of vines. The soil, generally described as sandy loam, varies among its seven sub-AVAs. Within the Lodi AVA, over 24,000 acres (9,700 ha) are certified "Sustainable Winegrowing" under "Lodi Rules."
The bottom line is that the best Lodi grapes are exceptional in quality, but the surplus drives the price per ton down: In today's market, for example, Cabernet Sauvignon is about $700/ton in Lodi whereas in Napa, it is upwards of $6,800/ton (and much more) and in Sonoma $3,000/ton.
"In Napa, who will take a risk?" Niggli mused. "With grapes [as much as] ten grand a ton, you can't afford a failure." But, in Lodi, with its strong position in the bulk wine market (wine as well as grapes), a winemaker may be able to take a risk. Bulk wine—premium bulk wine—has your back.
"Me, I'm Swiss, so I try to take calculated risks," Niggli said, smiling. "So, even if I fail, I keep the lights on."
What further propelled Niggli to take his calculated risk, he explained, is that "with 4,206 wineries in California, the market is extremely competitive and if you are not constantly out in front…." His voice trailed off but I suspect the end of the sentence was not positive. Even just considering wineries in Lodi—over 80 of them—consumers have to have a reason to come back.
So, he said to himself, "Okay, what's next? What's new and innovative?"
Kerner. This grape variety was conceived in Germany in 1929 by crossing Riesling with the light red variety Trollinger (aka Schiava Grossa) with the goal of developing a grape similar to Riesling that would thrive in cooler climates. Not released for cultivation until 1969, today it is widely grown in its birthplace, and can also be found in Austria, Switzerland, and northern Italy. In the U.S., it was, until very recently, according to Niggli, only planted "one place west of the Mississippi." The wines are characteristically fresh and fruity, like Riesling, but with a more fragrant nose, milder acidity, greater minerality, slightly fuller body. Think tart citrus, apples, and pears.
The "one place west of the Mississippi" happens to be located not far from Borra Vineyards: Mokelumne Glen Vineyard, a 26-acre (10 ha) farm with about 15 acres (6 ha) of vines devoted to German grapes with upwards of 50 different varieties. Until the 1990s, proprietors Bob and Mary Lou Koth had grown the usual suspects—Zinfandel and Chardonnay—but, in 1990 they visited their daughter in Germany where she was studying and, as fate would have it, they fell in love with German wines. They decided to plant a "German Collection Trial Plot." The vines did exceptionally well in their new environment and the Koths, with assistance from their son Brett Koth, produced 11 vintages of rather atypical Lodi wine from these grapes.
In 2010, Mokelumne Glen halted their commercial production, and Bob Koth called Niggli to see if he was interested in the Kerner grapes because, according to Niggli, he was going to pull the vines out.
Niggli revealed in a recent interview with me that, early on, even he wondered, "How do I present Kerner to a person who doesn't know it?"
This is a simplification, but consider that at the time Niggli was contemplating the new line of white wines, Borra had a surplus of grapes that could be sold on the bulk market. There were 230 acres of vines yielding as much as 1000 tons of grapes each year2 and, according to Niggli, the winery could process about 80 tons, leaving the rest to be sold as grapes or in bulk (or in private label bottles). When the grapes and wine to be outsourced are premium quality (as Borra's are), one can command top prices, thus giving the winemaker (or winegrower) some wiggle room to take a risk to make the wine that really strikes his or her fancy—even with grapes that nobody but the winemaker knows about!
Niggli bought the Kerner grapes and was also able to source most of the other German grapes he wanted from Mokelumne Glen Vineyards, thus taking advantage of the bulk market from both sides: Selling grapes (and wine) allowed Niggli to take a risk and buying grapes allowed him to make the wines he wanted.
I had the pleasure of meeting Niggli at Mokelumne Glen in 2016 when I attended the annual Wine Bloggers Conference, held that year in Lodi. At that time, Niggli and three other winemakers— from Napa and Sonoma—all of whom sourced German and Austrian grapes for their wines were there to pour their wines for us. When Niggli was introduced, I remember saying to my friend and fellow PWZ writer Jerry Clark, "Did I hear that correctly—a Swiss man buying German grapes to make edgy white wines in a region known for their big Zins? How crazy is that?"
Thoughts about the Bulk Wine Market in the U.S. and in France
I would soon learn that, in fact, it makes a lot of sense. Lodi, as noted above, is a huge player in the bulk wine and grape market and that position affords all sorts of possibilities. For the seller, it generates immediate income which is especially important for producers of reds and whites that spend time aging and will not be released for years (and, therefore, will not bring in revenue for years). In the case of Niggli, that income will keep the lights on in the event of a failed experiment. For the buyer, it enables winemaking for winemakers without vines, increased production at established estates, or, in the case of Niggli, the opportunity to make some wine that really tickles his fancy.
This is exactly what happens in France, and its called négociant wine. However, the transparency of it all that morning at Mokelumne Glen Vineyards was very unusual (by French standards). I cannot imagine winemakers in France showing up to pour their wine in a vineyard where they source their grapes! The specific source of grapes (or wine) for a negociant wine, in the vast majority of cases, is kept rather secret. For example, with the big wineries in Provence and the Rhône Valley that include négociant wines in their portfolio (e.g., Château d'Esclans Whispering Angel, Minuty, and Miraval in Provence and Chapoutier, Guigal, and Famille Perrin in the Rhône Valley) or are all négociant (e.g., Mirabeau-en-Provence, Vidal Fleury, and Tardieu Laurent,) the consumer typically hasn't a clue which vineyards they contract with to collect the grapes or juice to make their respective wines—many consumers may not even realize they are négociant wines. Perhaps the French wineries ought to take a page out of Niggli's play book (assuming they take pride in the vineyards they choose…which I'm confident those I've listed here do).
On the contrary, for Niggli, it's all about showcasing the vineyard and expressing its authenticity: "The key is the grape quality—what the vineyard produces," Niggli emphatically told me. "The place where it's made is just a roof and walls."
To that end, Niggli makes clear on his labels where the grapes come from and, of course, has been known to meet clients and consumers in these vineyards. Whether it's Silvaspoons Vineyards, Grand Island Vineyards, or Cain Vineyards in North Carolina, there is no question about the origin of the grapes he uses (or the percentage of each one in the blend). It's all on the label and, on the website, there is even more detail about the wine (e.g., residual sugar, yeast, malo-lactic fermentation, and pH).
A recent survey taken by Wine Origins Alliance and presented at Vinexpo New York last week revealed that the region or location from which a wine comes is an factor consumers take note of when purchasing a wine and it is important to them. Niggli goes one step further and identifies the vineyard from which the grapes come.
According to a recent article by Anne Krebiehl MW in Wine Enthusiast's online publication, the bulk wine market share will continue to grow. With improved technology and alternative packaging methods (e.g., bag-in-box and pouch formats) allowing greater flexibility, speed, and quality, the percentage of bulk wine is growing in both volume and importance. As much as 40% of wine in stores is reportedly purchased in bulk right now. Lodi is poised to do well marketing much of its bulk wine in the premium wine market.
Niggli already sells bulk wine to about 12 different states and grapes to 15 different states. "It takes the pressure off," he says, although acknowledging the bulk market is not as fulfilling as "this," waving his hand around to indicate he's referring to the open house for his wines that is taking place just outside the door of his office where we are talking.
"Here, this is pure enjoyment and through that, I can focus and make a better wine versus [having] that pressure on the back, saying 'how do we keep open?' and 'how do we make this work?'"
"Honestly," he said, "Go around to small wineries and they are all in the same boat…the competition is so fierce."
"The connection to the vineyard and to quality is lost when you grow so much" – Markus Niggli
Niggli explains how the bulk market works for him: "I have a fresh product I need to get out to customers ASAP. I am one of the only ones who can get them out fast. For example, let's say Joey Medaloni [from North Carolina] calls and says, hey, I need two tons or three tons of Merlot. So I pick them. I pack them. I chill them. I organize trucking for him. And the only thing he has to do is open the truck in North Carolina."
"The market is in the Midwest and East Coast," Niggli explains. "The market is not here—there are so much supply here and more and more competition is coming from Chili bulk wine, Argentina bulk wine, Italy bulk wine, and Spain bulk wine. They flood the market with $4.50 a gallon wine delivered to California." By comparison, Lodi Cabernet Sauvignon bulk wine goes for $14.00 a gallon.
"This is fun, this is pleasure, but I cannot survive on this," Markus said of his own wines
In Provence, wine co-operatives (cave cooperatives) have long played a similar role for winemakers (or growers) who want to make some quick money by selling their grapes (although participation in co-operatives can take other forms as well). I could not find statistics for the number of winemakers/growers who partake as such, but it is clear that about half of all wine in France is produced by co-operatives, including 38% of AOP wines and 69% of IGP wines (2014 data from Vignerons Coopérateurs de France or CCVF). In the Var, the department encompassing most of the Provence wine region, 57% of the region's production is made in co-operatives (2012 data from CCVF).
It is unclear what percentage of wine is sold in bulk (vin en vrac) to private winemakers in France who want to supplement their own production or to négociants who don't have vinification facilities, but my guess is that it is substantial. I was surprised to learn recently that in Châteauneuf-du-Pape, as much as 50% of the production from this prestigious region is sold as bulk wine. It would certainly be a reliable source of income for estate owners in a region in which the return on a given vintage of red wine may not be seen for several years.
In Provence, where the global demand for its rosé has skyrocketed and completely changed the market over the past twenty years, estate rosé production itself has easily provided the winery owner with quick income that allows him or her to make the wines he or she is really interested in, often reds and whites that aren't as appealing to the market but are the darlings of the winemaker or estate owner. Probably half of the vignerons I have interviewed have volunteered that making rosé allows them to make the reds that need to age a couple of years or the really expensive rosés that are low production with high prices (think Garrus). Outside of Côtes de Provence, where rosé production is nearly 90%, this may be especially true (think Bandol and Cassis).
With the marked decrease in production in 2017 across all of Provence and the Southern Rhône Valley (due to drought conditions and a destructive April frost), the demand for bulk wine and grapes to make rosé was quite high and prices rose significantly — up 26% — to 2.6 – 2.7 euros per liter (about $12 a gallon), according to Brice Eymard, Director of the Conseil Interprofessionnel des Vins de Provence (CIVP), as reported in Le Monde on March 3, 2018.
Of course, the world-wide demand for Provence rosé has propelled the bigger producers to buy increasingly larger amounts of bulk rosé wine, grapes and/or private label wines. I mentioned some names earlier but it is worth underscoring that interesting transactions take place across borders, too: E & J Gallo, for example, contracts winemaking from Les Maïtres Vignerons de la Presqu'île de Saint-Tropez in Provence for their Fleur de Mer rosé that is sold the U.S. market. It can be very complicated.
As with bottles of wine, the range of quality in bulk wine (and grapes) is quite wide. As with winemakers, the range of talent is huge. Bulk wine and grape buyers do their homework and savvy consumers should do the same. Get to know the winemakers and the négociants. The origin of the wine or grapes should be clear on the label.
Markus Wine Co. White Wines
I was captivated by Niggli's wines from the moment I tasted them in the middle of Mokelumne Glen Vineyards that August 2016. I have since had each of them with a wide variety of foods, from white fish and raw oysters to chicken with Dijon cream sauce and ratatouille. They are very versatile wines. They are svelte and graceful and have presence but, as a friend said of them, "they don't shout, they whisper."
Food brings out the best in them. By far, my very favorite pairing with these gems was with Pork Chops atop Sauerkraut and Green Apples, a classic marriage with Riesling but we thought we would have a tasting of all four white wines, initially on their own and then with our meal.
Nativo (2016) is a blend of three grapes from Mokelumne Glen Vineyards: Kerner (69%), Riesling (21%), and Bacchus (10%). This is a very dry wine that fills your mouth with the impression of citrus and perhaps guava flavors with a pinch of something floral. One taster was reminded of the zest of a pomelo fruit, a rather esoteric image but Niggli's wines, with their layers of flavors send tasters to the recesses of their memories for descriptors. The finish lingered, in the words of the same taster, "dancing on the tongue." Words like zippy and edgy were bandied around the table. Nativo cozied right up to our plate of pork chops. (88 points from Wine Enthusiast)
Insieme (2016) is predominantly Torrontes (95%) from Silvaspoons Vineyards in Lodi with a dash of Traminette sourced from Cain Vineyards in North Carolina, owned by a friend of Niggli's, Joey Medaloni. (Thus, the name Markus Joey on the label.) "Not an empty place in my mouth," was how one taster began. On the aromatic nose, we detected floral notes from perhaps orange blossoms followed by green apple and cut grass which segued into the mouth as white peach with a sprinkling of salt. Flavors seemed to jump around our mouths and across time but by the end of the meal, the wine was tamer, more integrated, and less tart. It was not the best match for our dinner but it worked when there was more apple in the bite. (92 points from Wine Enthusiast)
Nuvola (2016) is a single varietal Gewürztraminer made from grapes from Grand Island Vineyards in the Clarksburg AVA, just north of Lodi. "It's like being in a patch of flowers," one taster said. We all noted the characteristic lychee on the nose although this is definitely a dry wine (residual sugar: 2.20 g/L). It was exquisite as evidenced by a taster's comment: "I don't think I've ever had a Gewürztraminer as good as this one." Its minerality and flintiness made one of our taster think of freshly cut trout as a good partner although it was a great date for our charcuterie. Well balanced, real persistence of flavors, a true delight. (90 points from WineEnthusiast)
Nimmo (2016) is a blend of Kerner (64%), Riesling (16%, and Bacchus (5%) from Mokelumne Glen Vineyards and Gewürztraminer (15%) from Grand Island Vineyards in the Clarksburg AVA, just north of Lodi. This is the only cuvée of Niggli's white line-up to see some oak: 60% spent five months in new French oak, on lees. In contrast to a 2014 Nimmo I had had earlier, the oak was not as well integrated in this 2016 bottle and didn't work with the meal quite as well as I had hoped; nonetheless, it is a fantastically interesting array of aromas that harmoniously transitioned into the interesting action on the palate. Nice structure and body and Niggli's trademark acidity is great! (91 points from Wine Enthusiast)
All of Markus Wines Co. wines are small productions, each cuvée ranging from 55 cases to 105 cases, with native yeast and minimal intervention in the cellar. The prices range from $22 to $24.
Then came Rosé and Red Wines from Markus Wine Co.
Niggli introduced his singular rosé Zeal in 2017, a wonderful cuvée of Syrah (two-thirds) and Old vine Carignan (one-third) from Borra Vineyard's 2016 harvest. It garnered 90 points from Wine Enthusiast but I was more impressed by my Swiss friend's response when I poured a glass for him in Provence last summer: his eyes widened with pleasure and he was briefly speechless before smiling broadly and saying, "Ooooh, this didn't come from around here, did it?" This rosé has its own personality. Starting with its very appealing color which I'll settle on describing as dark coral with tinges of pink. It is unlike the typical California or Provence rosé: there's not a lot of the usual red fruit or floral notes on the nose (which pleases me). On the palette, the apparent fruit seems to be watermelon and white grapefruit; one taster identified what she described as a savory quality. A lively acidity and minerality contributes to its freshness, sleekness. As we struggle to describe this lovely rosé, take my word for it: it's a winner. (Priced at $22)
A few months ago, in the fall of 2017, Niggli added red wine to his portfolio—four reds from the 2015 vintage. I am champing at the bit to try these as the accolades are already very impressive. For example, Wine Enthusiast awarded 94 points and the Wine Enthusiast Editors' Choice nod of approval to Sol, a blend of 42% Petite Sirah from Borra Vineyards Church Block; 37% Syrah Clone 877 from Borra Vineyards Gill Creek Ranch; and 21% Mourvèdre from Silvaspoons Vineyards. The predominantly Zinfandel Blue garnered 90 points from the Wine Enthusiast. The Zinfandel came from Borra Vineyards Gill Creek Ranch (80%) and Spenker Ranch (10%); the Petite Verdot (5%) came from Spenker Ranch; and the Petite Sirah (5%) was provided by Borra Vineyards Church Block. (All priced at $39 a bottle)
Looking ahead with Markus Niggli
At the end of 2017, in a move long planned, Borra handed the reins of Borra Vineyards to Niggli. So, currently, Markus Wine Co. is undergoing a transition from its role as a subventure of Borra Vineyards to an independent entity. To that end, Niggli has just purchased a warehouse where he will move "every barrel and every tank" and set up a new vinification center. Securing a new venue took much longer than he anticipated—he looked at 60 places! He is still looking for a new tasting room, which, Niggli told me, will probably not happen until the end of the year.
I spoke with Niggli last week to get the scoop on what's in store from the 2017 vintage. Don't expect the Kerner wines this year because it was a tough year with historic flooding in parts of Lodi, including Mokelumne Glen Vineyards where the Kerner vines were up to their knees in water for over three months. But, there will be Markus Nuvola and Markus Joey Insieme white wines; the Zeal rosé; and the four red wines.
And, by the way, Kerner has caught on in California. For example, in 2014, David Ramey whose acclaimed Ramey Wine Cellars in Healdsburg, California produces both Napa and Sonoma wines, created a second label, Sidebar, which produces a single varietal Kerner. The Koths did not pull out their Kerner vines. Instead, they have a waiting list for these grapes.
When Niggli took the plunge into edgy, lean white wines—made with grapes scarcely known in California—he took, as he put it, "a calculated risk." It has certainly paid off in many ways.
"I love what I'm doing," he told me. "I just want to make wines that make people happy," Niggli summed up perfectly…and they do make people happy!
Footnotes
1While big jammy Zinfandels may still dominate the perception of the quintessential Lodi red wine, there are some outstanding Zinfandels that hail from this AVA. The Lodi Native Zins, for example, are among the best Zinfandels I've ever had the pleasure of drinking.
2Currently, Borra Vineyards has about 160 acres (65 ha) of vines (yielding about 800 tons of grapes) and some walnut trees.
Notes
For more information about Markus Wine Company, visit http://markuswine.com/
Markus Wine Co. wines are available online, at the Lodi Tasting Room, and in a few Lodi restaurants
The recipe for Pork Chops atop Sauerkraut and Green Apples came from The Wine Lover's Cookbook by Sid Goldstein.
Other articles you may be interested in reading:
It all Started with a White Châteauneuf-du-Pape by Susan Manfull in Provence WineZine is about another Lodi winemaker who veered away from the typical Lodi varieties to make Rhone-style white wines.